Dakine Nomad 18L Pack & Dakine Drafter 12L Packs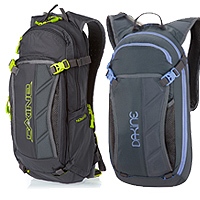 Dakine was founded in 1979 by Rob Kaplan in Maui, Hawaii. Dakine comes from the Hawaiian work DA KINE (the kind, or the best). Dakine's first product was a surf leash. They now produce much more than surf gear, and sponsor over 70 athletes. Dakine was bought by Billabong in 2008, and currently has their base in Hood River OR.
Dakine is well known for developing top of the line specialized backpacks for the boardsports and biking industries. With a much loved, well used Dakine pack in my gear collection already, I was amped to test out a couple of brand new products. The two I will describe below are the men's 18L Nomad and the women's 12L Drafter, both designed specifically for biking.
Men's vs Women's
Since biking packs are typically on the smaller side volume wise, I was curious to see how much different the men's specific was from the women's. Turns out there's only half an inch difference in length, so both were a great fit, even on a shorty like me. The women's pack is a little bit more narrow through the back and shoulders, but after wearing both packs for 6 weeks of testing, I can honestly say both products felt and worked great.
The women's pack has more girly colors, and a girly version of Dakine's logo (which is not as cool in my opinion). Dakine makes just three biking packs for women, the 12L Drafter being the biggest. If you're a lady looking for more carrying capacity, the men's line, which goes up to 26L (plus a 29L builder's pack) would be a good option. I found both packs extremely comfortable to ride with overall, so my decision on which to take out on the trails came down to whether I needed the 18L or 12L that day.
The Dakine Drafter with and without the helmet carrier deployed.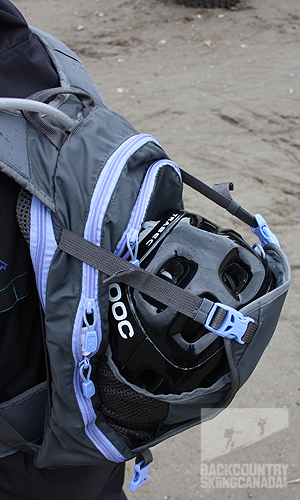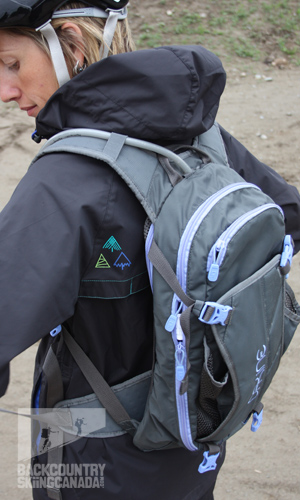 What they carry
Both packs come with a Hydrapak hydration system, which uses a 3L Shape-Loc reservoir. The Shape-Loc system has a seam running lengthwise down the middle of the reservoir to maintain the it's upright shape. There is a velcro strap integrated into the pack design to fasten the Hydrapak securely into its' own dedicated pocket. The entire top of the reservoir opens up for filling, which you then fold over and clip shut. This design makes it easy to fill, squeeze out excess air and is great for drying it out after the ride. For me, the shape of the bag was excellent but the mouth piece was a bit hard to bite down on and the flow wasn't very good. I wasn't completely sold on it. The Camelback bladder I already had fit in into both packs, but was not totally compatible with Dakine's velcro strap to hold it in place at the top.

Both packs have a fleece sunglass pocket and fleece cell phone pocket, plus a number of mesh interior pockets and a waterproof map pocket. The 18L Nomad has extra pockets on both sides at the hip, and another interior pocket for more gear. Both packs have pockets designed specifically to fit a bike pump, and there are perfect places to put tools, tube, and snacks. There is a separate water compartment, so the reservoir is completely out of the way of your stuff, which is pretty nice.
I tried out the helmet carry on both backpacks with both full face and XC helmets and they fit perfectly. The armor carry on the bottom takes care of the rest of your gear, and also disappears into the bag when not in use. Same with the waist straps - they have a place to tuck into, completely out of the way. I loved the way these bags could hold the bigger gear while still being small and compact themselves.
Every detail has been thoughtfully designed and constructed. The key benefit of using a backpack created specifically for your sport is that everything is customized for maximum performance. Instead of digging around in a big compartment for your pump, it's right there in the pump sized pocket, and there are your sunglasses, in an easy access fleecy pocket so you don't need to bother with a case. Top marks for Dakine in the design department.
The Dakine Nomad on the trails around Whistler.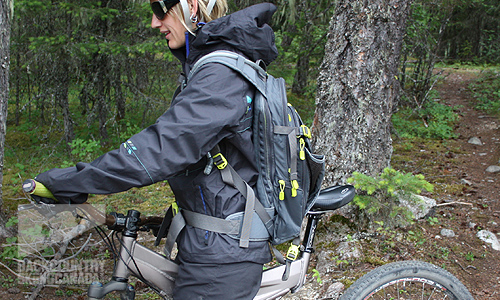 How they work
Both the 18L Nomad and 12L Drafter are made with 630D Nylon. The D refers to 'Denier', which measures the thickness of the nylon strands. To give you an idea of how strong these biking packs are, your typical daypack is somewhere around 210D, so these have about triple the strength (and weight). They are built to survive use in all kinds of terrain, crash landings, and being hucked around in the back of a truck with a bunch of bikes and other gear. These are by far the heftiest packs in my gear closet, and can easily handle the thick coating of west coast mud and rougher use.
The 12L Drafter has a ventilated Air Mesh back panel, which allows the air to flow through to keep you cooler and drier. I found this design extremely comfortable to wear, much more so than the hiking packs I've worn with a similar design.
The 18L Nomad has a molded back panel with Air Channel ventilation, which is a row of vertical bands that allow air to flow through, while the pack is still sitting directly on your back. Personally, I preferred this design to the Air Mesh because it doesn't pull the bag out quite so far from your body, however both were very comfortable.
Both packs have a good waist belt (which is a bit smaller on the women's version), with a big buckle that you can easily undo with gloves on. When are the straps are fastened, the Dakine packs become part of your body and don't move around on the ride.
The Dakine Nomad with built in helmet carrier.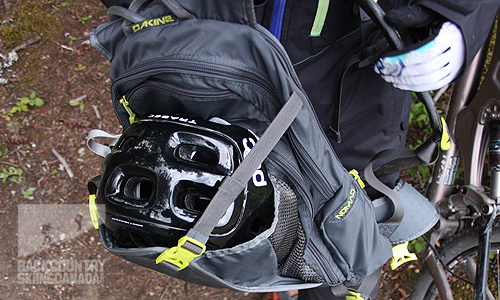 ---
Men's Nomad 18L
Price: $120CDN
Sizing: 18.5 x 9 x 7"
Volume: 18L
Fit: Men's specific
Colors: Black, blue, blocks (green + black), grey, palapa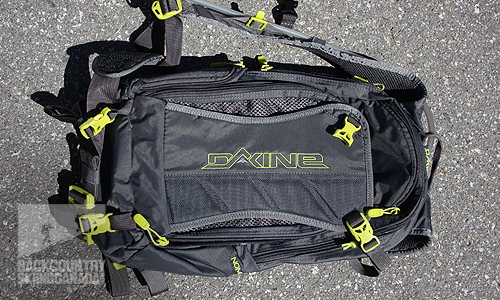 Features: 3L Shape-Loc hydration reservoir; molded back panel with Air Channel Ventilation; Full face or XC helmet carry; Armor carry straps; Fleece lined padded phone pocket; Internal organizer pockets; Fleece sunglass pocket, Removable waist belt; Waterproof pocket
Materials: 630D Nylon, 1260D Ballistic Nylon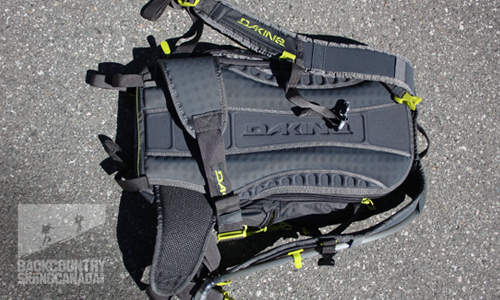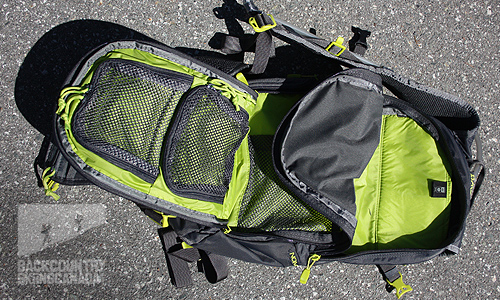 ---
Women's Drafter 12L
Price: $110CDN
Sizing: 18 x 7.5 x 5"
Volume: 12L
Fit: Women's specific
>Colors: Charcoal, ginger, meridian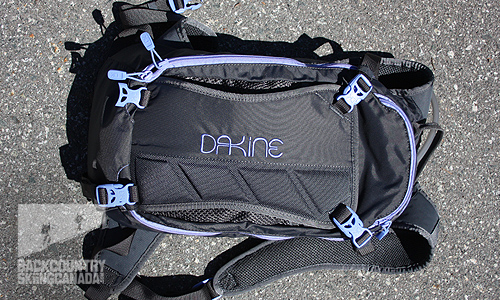 Features: 3L Shape-Loc hydration reservoir; suspended back panel with Air Mesh; Full face or XC helmet carry; Armor carry straps; Fleece lined padded phone pocket; Internal organizer pockets; Fleece sunglass pocket, Removable waist belt; Waterproof pocket
Materials: 630D Nylon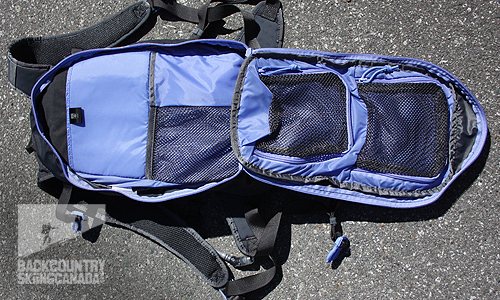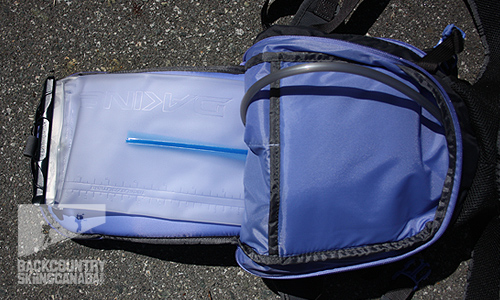 Verdict:
I love both of these Dakine packs and would highly recommend them to any biker looking to buy a new pack. The construction and design are incredible, and quality is top notch. For just over $100, these packs are great value for what you get. Judging by how great my old Dakine pack still looks, I think I'll have these new ones a long long time as well.
PROS:
Dakine's backpacks are top of the line, beautifully constructed and thoughtfully designed. They feel good, do exactly what they are supposed to, and look like they are going to last forever, thanks to the bomber materials. The dedicated pockets are all useful, and the hidden compartments to house carry straps and waist belt allow you to choose what parts to use, depending on what you're doing.
CONS:
It would be nice if both packs were a tiny bit lighter in weight. All of the straps are super long and need to be fastened down properly. I am tempted to cut them all shorter, as the excess just gets in the way. I was not a huge fan of the Hydrapak hydration system - the mouth piece is super hard to bite and the flow isn't the best. The tube is also a bit short; you have to unhook it each time you want to have a drink.
Men's Nomad 18L Rating: 9.5/10
Innovation 2/2
Function 2/2
Aesthetics / Fit 2/2
Features 1.5/2
Quality / Price 2/2
Women's Drafter 12L Rating: 9/10
Innovation 2/2
Function 2/2
Aesthetics / Fit 1.5/2
Features 1.5/2
Quality / Price 2/2

This is only our opinion. Do you disagree? Did we miss something? Are we totally out to lunch? Join the discussion in the forums here, and let us know what you think. People like/dislike gear for different reasons so chime in and we'll get a well-rounded evaluation.
Back to the rest of the reviews.
---