Dakine Helena Jacket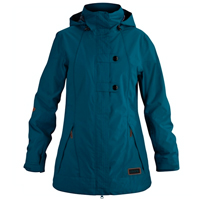 The Dakine Helena jacket arrived just as the first dusting of snow appeared on the mountains around my house. I began having skiing dreams. I put on the jacket and wore it around town. I checked out its' feature list, and wondered how it would perform when it was time to get the skis out.
Like everything Dakine makes, the Helena jacket is beautifully constructed with top notch materials, and thoughtful design. If you live on the west coast, you'll be familiar with the unpredictable weather - rain in January, snow in September type of thing (it's +7C in the alpine in early January as I write this). Even the top and bottom of the mountain can hand out completely different conditions, making a waterproof shell very valuable on my personal scale of usefulness.
Dakine got into the winter outerwear game last year, so this jacket is part of their year two line-up. If you have a Dakine pack or gloves you love, chances are you're going to dig the jackets as well.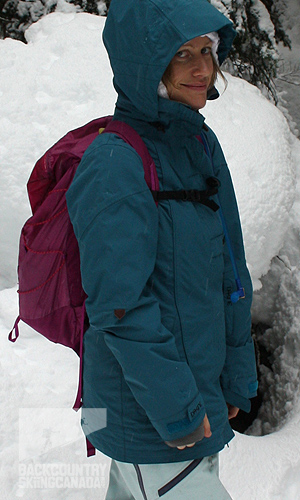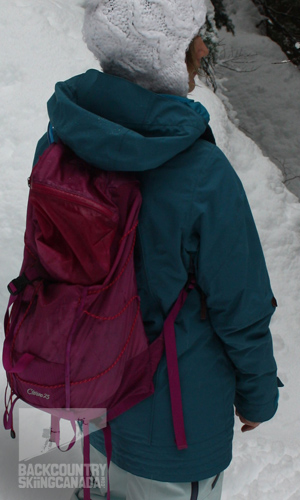 The Details:
Dakine's line of women's jackets ranges from the town puffy, trimmed with fur, to a number of insulated jackets, down jackets, and insulation layers, plus one shell design, the jacket I am describing. The Helena jacket is a 2L plain weave shell, with a DWR finish, and 10K laminate. The 2L refers to 2 layers, and the DWR stands for Durable Waterproof Repellent, a coating that is applied to fabric, making it waterproof and breathable. DWR gear does need to be re-coated to maintain its' waterproof ability, and you can do this by using a spray on or wash in product. The 10K part is a rating of how waterproof a fabric is, measured in mm. The scale goes from 0mm to 20,000mm, 10K being 10,000mm. 10K can withstand light rain, average snow and light pressure, or rainproof and waterproof under light pressure.
The Helena shell is a stylish and functional heavy duty shell. It has tougher materials than your typical alpine hardshell, ready to withstand terrain park wipeouts, and other impacts with snow, ice, tree branches, and hidden winter obstacles. Dakine creates gear that can take a beating, and still look just as good as the day you first brought it home, and the Helena jacket is no exception. I have a couple of hardshells in my jacket collection, and this one is by far the most durable, which incidentally also makes it the heaviest. For the ladies out there who spend most of their time at the resort, I would recommend this jacket without hesitation.
If you spend your winter doing a lot of backcountry travel, you may find the Helena a tiny bit too heavy for your go-to outer shell layer. On the other hand, if you're not overly concerned with every last gram of material on your back, this shell has many features of a good backcountry jacket - underarm zips, breathable waterproof coating, excellent range of movement, and a great hood with multiple adjustments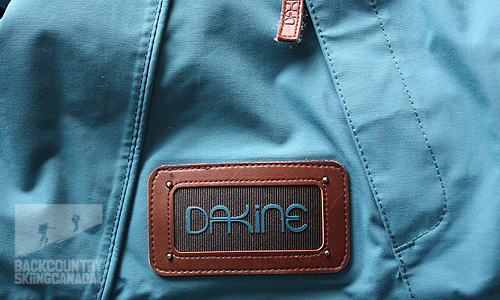 The Look:
Dakine knows how to add some nice details without going overboard. There are two cute buttoning flaps on the front of the jacket, and it is cut just long enough to keep you warm without restricting movement. The longer cut is ideal for snowboarding (especially if you sit down to strap in), riding the chair, and offers a bit more protection on the butt skids and crash landings. This is where those nice durable materials come into play as well.
The Helena comes in four colors (I reviewed the Ink version). Dakine managed to sneak one of their crazy patterns into the hood lining and interior lining, but the rest of the jacket is one beautiful shade of dark green/teal/blue. There's a fleecy lining next to your skin on the hood flap that touches your cheek and chin, and leather zipper tabs.
Features:
There is a big hood with multiple adjustments, zippered pass pocket on the forearm, headphone/music compartment, mesh goggle pocket, two-way zippers at the underarm vents, and some awesome double wrist gaiters. I say awesome because these little pieces of fabric do wonders for keeping the snow out of your jacket. They also keep your hards warm when you have your mitts off to take a photo or have a snack. Adjustable cuffs, drawcord system at the waist, fully sealed seams, and detachable powder skirt round out the feature list.
The Performance:
So it looks slick and is well built, but does it work? In a word, yes! This jacket is extremely comfortable to wear thanks to its' design team taking extra care in making the proportions just right. For example, the sleeves are cut precisely to the right length, and the entire jacket is fit to a woman's frame. It's perfect through the shoulders, giving plenty of space for movement without being too generous.
As I mentioned above, this is a great shell to wear on the ski hill, not to mention around town. I put it to the test on the skin track, and while it was incredibly comfortable, I did find it a tad heavy to be my go to jacket in the backcountry, where light and fast are the priorities. For overnight backcountry travel, the 10K rating falls a bit short - I like to know that I'll stay dry in a downpour when I'm a long way from home. I doubt that multi-day travel is what this jacket is built for though, so I will end the camping comments here.
If Dakine can crank out a jacket this good in year two, I can't wait to see what they come up with as time goes on.
Feature List:
- Shell: 2L Plain Weave
- Face: DWR Finish
- Backing: 10K / 10K Laminate
- Lining: Taffeta, Brushed Tricot, Closed Cell Mesh, Brushed Mesh
- Exterior: Attached Drop Hood with Inner Collar, Bonded Hood Brim, Drawcord System at Front and Back of Hood, Outer Storm Flap, YKK® Regular and Vislon® Zippers, Two-way Opening Center Front Zipper, Drawcord System in Front Hand Pockets, Bonded Cuff Tabs, Adjustable Cuffs, Double Wrist Gaiters, Zipper Pass Pocket, Two-way Closing Zippers at Underarm Vents
- Interior: Compatible With Valeria Insulator Jacket, Fully Taped Seams, Inner Upper Storm Flap, Storage Pocket, Mesh Goggle Pocket, Detachable Powder Skirt with Lycra
Layering options.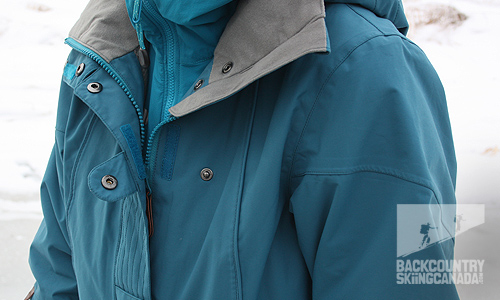 Hood adjustments.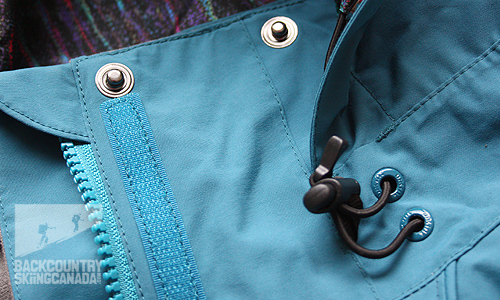 Ski resort pass pocket.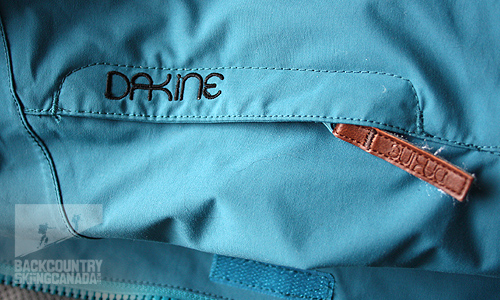 Thumb loops on the cuffs to keep the snow out.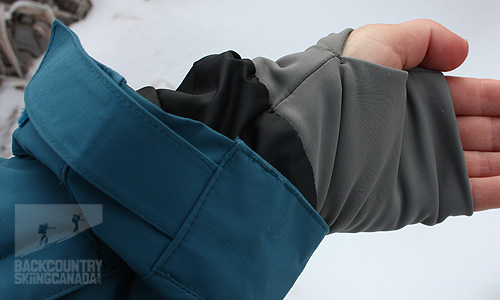 Adjustable velcro cuffs.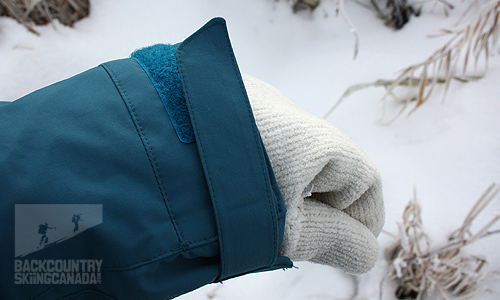 Media pocket with head phone cord pass through.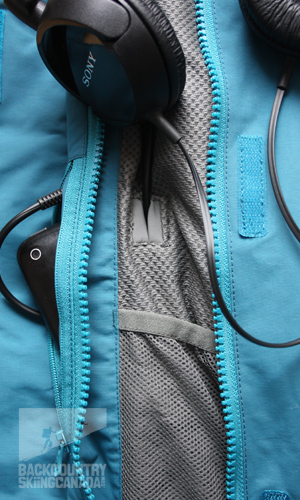 Verdict:
As with other Dakine products I have reviewed, it's tough to find fault with a good piece of gear. Although winter outerwear is new to the Dakine line-up, they are nailing it. I tried out a number of layering options - fleece, Coreloft and down - and everything fit well under this shell. You can also pair it with the Dakine Valeria Insulator jacket. It's comfortable, stylish, well constructed, and performs as it should - what more could you ask of a jacket really?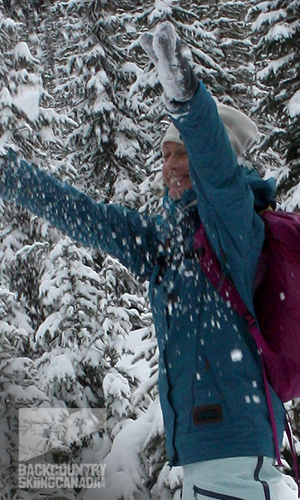 SPECS:
Price: $309 CAN
Sizes: XS, S, M, L
Fit: Standard fit, with added length
Colours: aurora red, charcoal, ink, white
PROS:
Great materials, bomber construction, nice fit, cool color, works hard and plays hard.
CONS:
For the west coast weather, it would be great to up the 10K waterproof rating as it can rain (or snow) at any point during the winter. This is not your typical ski touring shell, but more of an adventure / big city jacket - it kind of does it all. I wish this jacket was a bit lighter for my own adventure agenda, but this is probably just me searching for something to fill this 'con' paragraph, as I am having a hard time thinking of ways to improve it.
Rating: 8/10
Fit 2/2
Packability 1/2
Warmth 2/2
Features 1.5/2
Quality / Price 1.5/2

Join the discussion in the forums here, and let us know what you think. People like/dislike gear for different reasons so chime in and we'll get a well-rounded evaluation.