Peak Design Capture Pro Camera Clip
& Accessories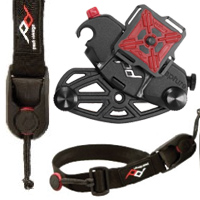 Peak Design is a fairly new company that Peter Dering started in 2010. He invented the Capture Camera Clip and launched it on Kickstarter. The original Kickstarter campaign raised $364,699 and the upgraded model raised $819,109 both times far exceeding the goals set by the company. In a nut shell the Capture Camera Clip is a quick release mount for your backpack shoulder strap. The Capture Camera Clip will hold your camera securely to your pack, freeing up your hands for more important things. When you want your camera to capture that magic moment in an instant its just a quick click away as the Capture Camera Clip has a quick release so it takes only seconds to retrieve your camera instead of minutes if it is buried at the bottom of you pack.
Capture Pro Camera Clip
When I started using the Capture Pro it was then that I realized how nice it was to have a sturdy place to clip my camera and free up my hands. It's very quick to unclip the camera and with practice, re-clipping is quick too. I really trust the design, which is imperative because it keeps my camera from smashing to the ground.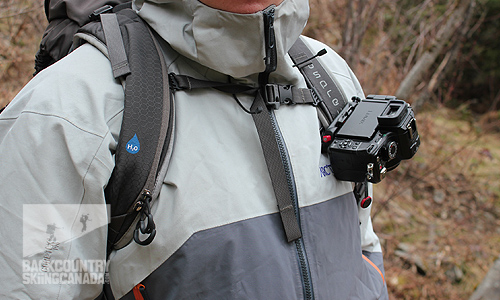 After spending some time with this product I've decided that it does a great job of solving the issue of securing your camera while still making it handy to retrieve, however there is another half to this story. It's great that you can quickly grab your camera but unfortunately it doesn't replace a camera bag for most conditions, for example backcountry ski touring. It would be nice to see some protection built in somehow to cover the camera protecting it against weather and in this case snow and unexpected falls by the wearer (think skiing again).
I spoke to another Capture user and they said that where this system came in really handy was at a trade show where it kept his camera in a safe, secure place without having it dangling around his neck or loosing it by setting it down somewhere and inadvertently forgetting about it. With an indoors setting like this I see very few drawbacks.
I think that if you were on hike on a nice day you could leave the camera bag at home but I would probably still bring it with me in my back pack on longer days just in case the weather turned bad.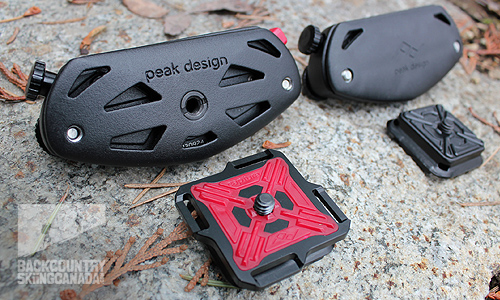 Peak Design has two versions of the Capture Camera Clip, the Pro Model body being made of aluminum has a few new features, most notably ARCA tripod compatibility and a tripod mounting hole for use it as a quick release mounting plate on a tripod or mono pod. The Pro is also designed with an ultra-rugged all-aluminum body.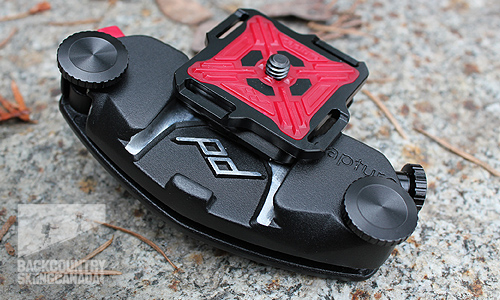 The camera plate slides in smoothly and securely and releases with the red quick release button.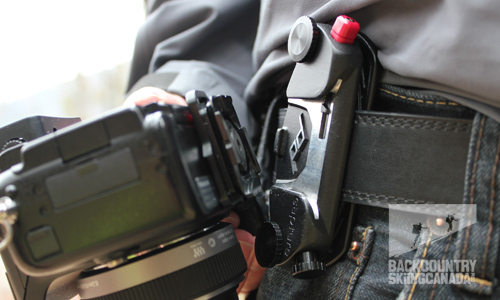 The Capture Pro camera clip secures easily to a belt putting your camera at an easy to access hip position. Once in place you can then slide the plate attached to your camera in from the side and it locks in place.
The Capture Pro in action as a tripod quick release plate.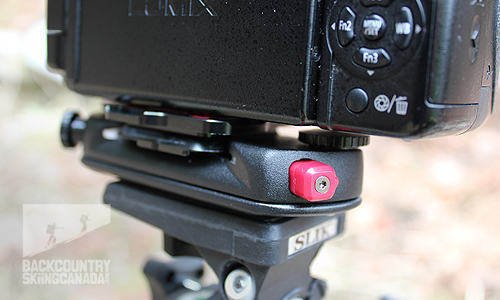 Sliding the camera into position is simple and creates a secure connection.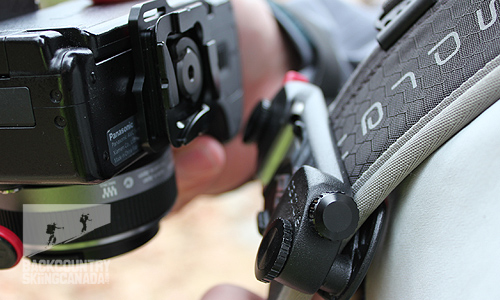 The Capture Pro mounted securely to a back pack strap gives the user easy access to their camera.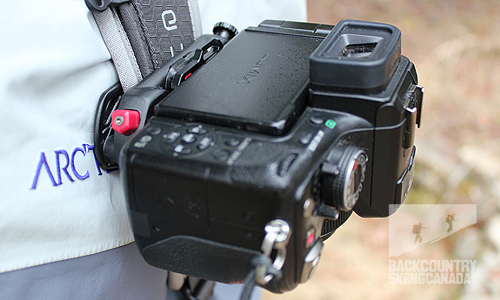 Features:
- Rigidly holds your camera on any strap or belt.
- Works with any camera from full-frame DSLR down to compact -mirrorless and point & shoot.
- Quick- release button with safety-lock.
- Quick release plate fits in Arca-type tripods.
- Tripod mounting hole for use as monopod or tripod quick-release clamp.
- All aluminum construction, suited for heavy gear and extreme use.
---
Additional Accessories
In addition to the Capture Camera clip, I was given the Cuff wrist strap, Leash camera strap and P.O.V. kit to review. Both straps work with an innovative quick clip anchor system that allows you to customize how you attach your strap/wrist strap. It also allows you to detach the straps quickly from the camera to accommodate alternative set ups or functions. Both these items are quite useful.
The Leash and Cuff wrist strap are nice add on accessories to the Capture Pro Camera Clip.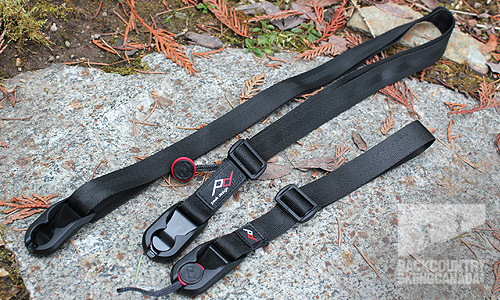 The Nylon webbing is smooth, comfortable and easy to adjust. I really like the quick release anchor.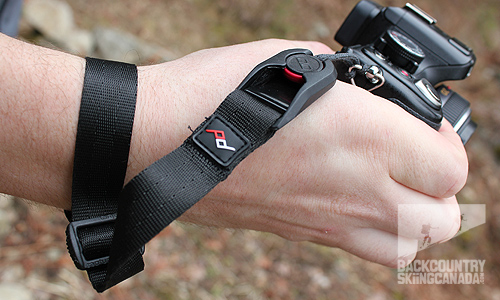 Cuff Features
A good quality nylon webbing wrist strap with a unique anchor system, I really liked this strap and how it easily detaches from the camera, wasn't really into using it as a bracelet when not in use, seemed like a gimmicky idea.
- Smooth webbing makes size adjustments easy.
- Works with any camera.
- Rated to over 100 Lbs
- Quick and Intuitive anchor attachment system.
- Instantly switch between anchor locations.
- Ultra-light and compact, fits in your pocket.
- Converts into a simple bracelet when not in use.
- Use with Capture Camera Clip or by itself.
Leash Features
- Works with any camera.
- Rated to over 100 Lbs
- Quick and Intuitive attachment system.
- Ultra-light and compact, fits in your pocket.
- Smooth webbing glides over clothing and gear.
- Adjustable from 19" (48 cm) to 60" (152 cm)
- Use with capture Camera Clip or by itself
The Leash works well as a neck strap with plenty of leeway for adjustment.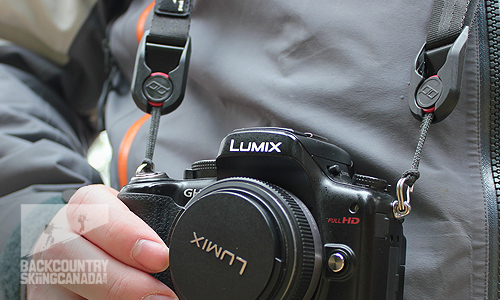 If you want more freedom you can use the strap as a tether with only one attachment point to the camera. The looped end can go around your shoulder or even around your belt.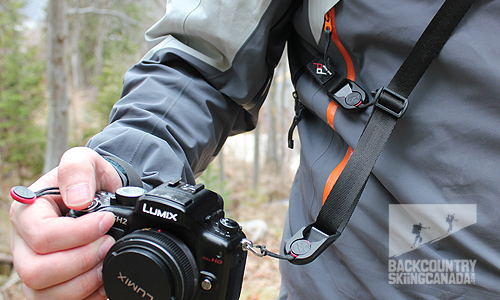 The Leash can also be attached to the Capture Pro Camera Clip allowing you to tether to the bottom of the camera. (not shown)
POV Kit
The POV kit allows you to turn your Capture Camera Clip into a mount for any GoPro or point and shoot camera in order to take POV video. This could allow you to attach your GoPro to your belt or the shoulder strap of your back pack. All the pieces to this kit are well made and the design is intuitive.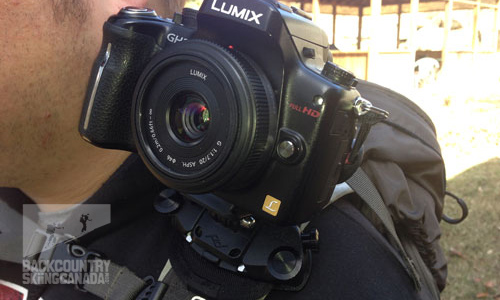 The POV kit comes with a mounting screw, quick attachment plate, POV camera mount, threaded camera base plate and a strap stabilizer pad. For use with the Capture Camera Clip, the POV kit allows you to change the angle that your camera faces either for POV shooting or a lower profile carrying position.
Mounted to a shoulder strap with Capture you can get a good shooting position, heavier cameras benefitted from the strap stabilizer pad. This kit allows you to mount any camera with a threaded tripod mounting hole in a POV position on a belt or strap using the Capture Camera Clip. You can also mount most POV cameras in the same manner using the alternate attachment, GOPro on your shoulder anyone?
---
Verdict:
Peak Design has made some very practical well thought out camera products. My favourite has to be the Capture Pro camera clip which I look forward to using more this summer in the mountains and around town. I find it works great on my belt, keeping my camera available within hands reach.
If you are looking to get a great deal on Peak Design gear then click here and shop away and also be sure to check out Peak Design's new Travel Tripod, it'll blow you away.
SPECS:
Capture Pro Camera Clip Price: $79.95 US
Capture Camera Clip Price: $59.95 US
Cuff Price: $19.95 US
Leash Price: $34.95 US
POV Kit Price: $29.95 US
PROS:
- Unique product that's very well made and thought out.
- Cool independnet company with a great story.
- Clipping and Unclipping the camera is quick.
- Camera is held very secure in the clip system.
CONS:
- I don't feel safe doing activities such as skiing with my camera out in the open in case of bad weather or a crash.
- Sometimes clipping the camera to the plate takes a few tries, could end up in a drop.
Rating: 8.5/10
Ease of use 1.5/2
Features 1.5/2
Quality 2/2
Size / Weight 1.5/2
Price 2/2

This is only our opinion. Do you disagree? Did we miss something? Are we totally out to lunch? Join the discussion in the forums here, and let us know what you think. People like/dislike gear for different reasons so chime in and we'll get a well-rounded evaluation.
Back to the rest of the reviews.
---
---
Backcountry skiing is an inherently dangerous activity that requires experience and knowledge to travel safely. Any of the routes on this site may be dangerous depending on conditions. You are responsible for your own safety in the backcounty—the team behind backcountryskiingcanada.com disclaim any responsibility for any injury resulting from people travelling on routes described on this site. To read our Terms of Use and get all the details, read HERE.
---