Camelbak L.U.X.E. Pack, Groove bottle and Elixir tablets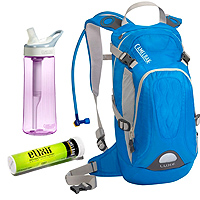 Reading Marian's review of The North Face Patrol 34 Pack really struck a cord with me; I too have spent years trying to use a few backpacks for many purposes. I've always had one backpack for trail running and mountain biking and another pack for everything else (rock climbing, alpine climbing, hiking, ski touring). I've generally found that the smaller backpack was a good size for running, but too small for most mountain bike rides. Similarly, my larger pack was great for gear intensive pursuits such as rock climbing, but really was too large for most day hikes. Enter Camelbak's L.U.X.E 2012.
The Camelbak L.U.X.E is a women's specific pack meant for three hours plus of riding. It has three pockets (main, media and tool organizer), a compartment for the reservoir as well as an extendable overflow area. It is designed to carry: a helmet, pump, multitool, spare tube, extra layer, lunch, MP3, phone, wallet, and keys. For biking I was also able to fit in a first aid kit, which I often left at home with my old backpack. In addition to being a fantastic size for longer rides I also found the L.U.X.E. worked great for day hiking trips. For hiking, where I did not have any tools or a helmet to carry, I fit in lunch, an extra layer, bear spray, sunglasses case, rain layer and my camera.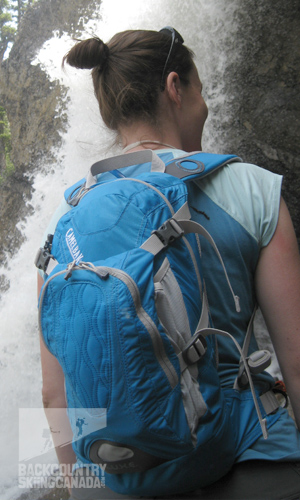 Features:
Media pocket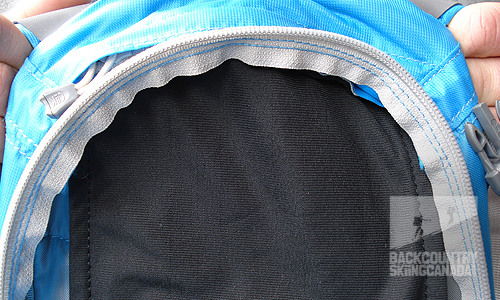 I don't usually carry an MP3 player, but I did find the media pocket a great place for my phone as I could get at it quickly when it was ringing without having to pull other items out of the way. It was also very convenient for a camera.
Overflow area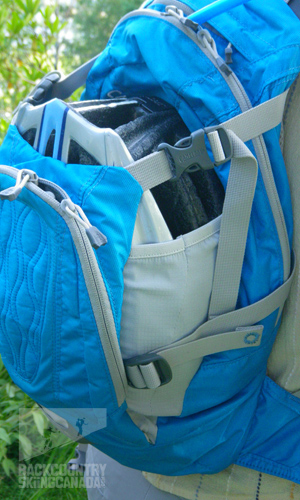 The overflow area on the L.U.X.E. is great for a helmet or other awkwardly shaped items, like bear spray or sandals (for creek crossings). I like that the upper straps have releasable buckles that you can use to secure the items so you don't loose them along the way. Having four adjustable straps also means that you can pull them in tight when the overflow area is empty.
Tool organizer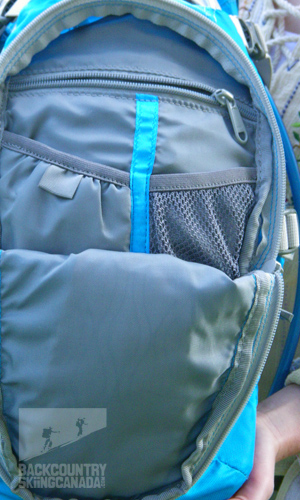 I love the three compartments in the tool organizer pocket as they really allow you to keep your stuff organized and easily accessible. I like that the largest of the three pockets has a zipper so, even when your pack gets jostled, things stay in place. There is also a key fob in the pocket that is very handy.
Reservoir compartment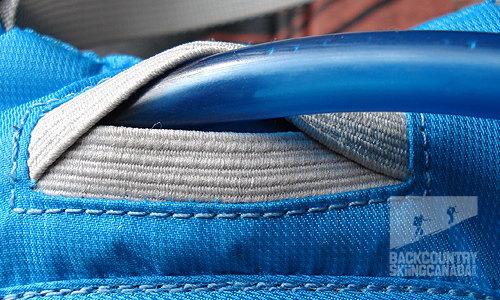 I really liked having a separate section for the reservoir because even when the outside of the reservoir was wet, like after filling it in a creek, it didn't get any of the other items in the pack wet. I also like that the hole that the reservoir tube passes through is really flexible; meaning that, unlike with many packs, it is very easy to pull the tube through to the outside.
Design:
I found the L.U.X.E. very comfortable to wear. This was definitely due in part to the female friendly features, which include: a shorter torso, s-curved shoulder straps, and lower placement of the shoulder strap adjustment buckles (to reduce potential friction spots). Another key reason the pack is so awesome to wear is that the shoulder straps on the L.U.X.E are padded with Velvetex™ and, therefore, are super soft and comfortable. Furthermore, the sternum strap on the L.U.X.E. is very adjustable vertically, which I really liked as it is easy to adjust to the right height. I did find that it would have been better if it could go a bit smaller in the horizontal direction to really secure it in place especially on smaller chests.
Air Director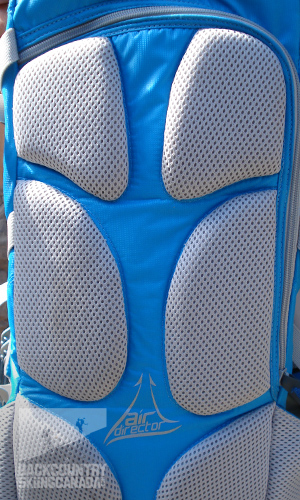 The back of the L.U.X.E includes an air director system that is designed to allow air to move between your back and the pack, allowing your back to remain cooler. I did find that the system seemed to allow movement of air and, therefore, decrease sweat. Unfortunately, I also found that the white fabric on the back, which includes holes as part of the design, became dirty easily as dirt stuck in the holes and the white showed the dirt.
Camelbak's Antidote reservoir:
The L.U.X.E comes with Camelbak's Antidote reservoir which was redesigned for 2012.
Features:
Material: BPA free
Tube: Pure-flow, Quick Link attachment system
Baffles: One baffle to reduce bulk
Big Bite™ Bite Valve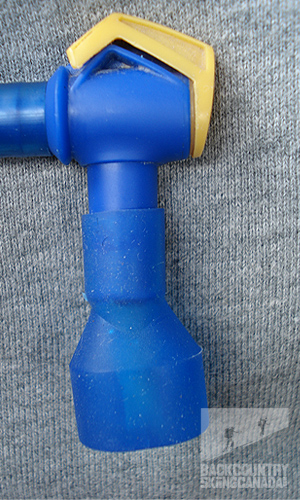 I like the valve system on the Antidote; thanks to the two-part system (turn the latch and bite the valve) it is easy to drink the water, however, it is unlikely that water will spill out when you are not drinking.
Drier Arms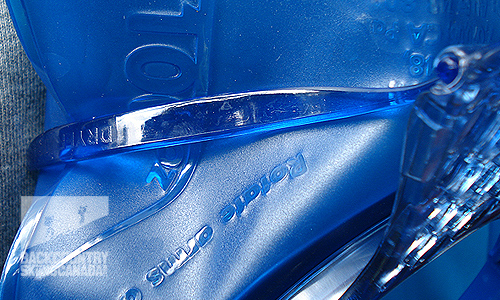 The drier arms on the Antidote are a great idea in theory. Every reservoir user has struggled with how to dry it properly after use. I found that the drier arms did keep the part of the reservoir directly behind the mouth open to let air through, it did not; however, seem to make much of a difference for the bottom or very top of the reservoir.
Wide mouth opening, ¼ turn easy open/close cap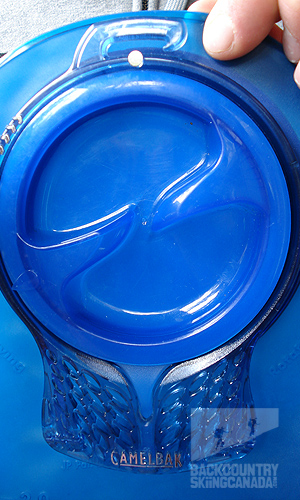 The size of the opening on the Antidote is great both for cleaning and for filling it in creeks. There is also a plastic piece below the opening, which you can hold on to, to ensure the reservoir goes not get away from you in the a or to hold it open when filling under the tap.
I did find that the hook at the top of the Antidote was too small to hang the reservoir on most wall hooks making it difficult to hang to dry. I ended up forming a circle with a twist tie and sliding it through the hook in order to hang the reservoir.
---
Camelbak Groove water bottle:
In addition to the L.U.X.E. Camelbak sent us two water bottles, the Groove and the Eddy. Although at first I thought the water bottles were dorky looking and impractical with their big handles, I was quickly won over and they are now my bottles of choice for around town.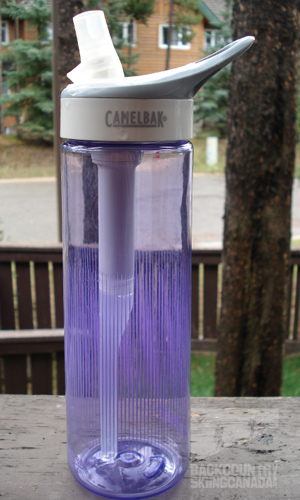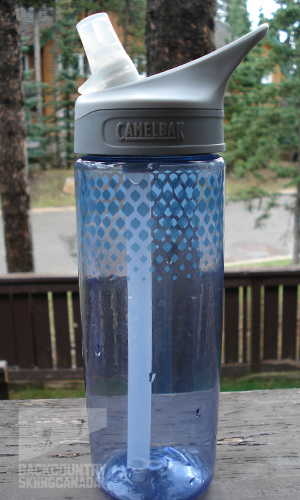 At first glance the Eddy and the Groove look to be the same bottle. Look closer though and you'll see that actually the Groove contains a filter designed to filter out gross tasting elements leaving the water tastier to drink. When I first used the Groove I didn't notice much difference in the taste of the water, but then I brought it down to Invermere (where the water downtown has a very strong taste) and wow, what a difference. It has gone from me making sure to pack enough water to use for the three days I work in Invermere to only having to pack my Groove!
Although I haven't had the Groove long enough to verify, Camelbak claims that the filter is good for 3 months or 180 litres.
Also, if you are looking for an alternative to ordinary drinking water you may want to consider Camelbak's new Elixir flavoured tablets. These babies give your water a great sugar-free taste which provides a nice sodium and electrolyte kick that your body needs during extended activity. Each Camelbak Elixir tube contains twelve self-disolving, 6.1 gram tablets which makes 24oz of bevies. Best of all, the Camelbak Elixirs are designed to not leave any gunk behind in your hydration set-up thanks to their sugar-free ingredients.
Features:
Types: non-insulated, insulated
BPA: free
Guarantee: lifetime
Handle: loop handle
Valve: Big Bite™ Valve, medical grade silicone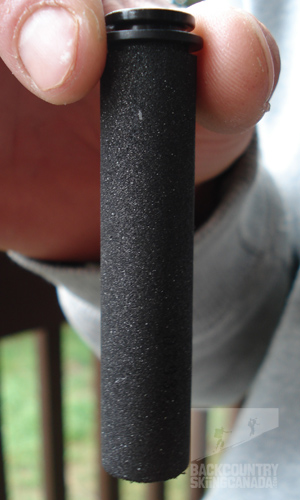 Verdict:
Overall this is a great pack! I love the size for longer bike rides or rides with possible bad weather as well as for shorter day hikes. Having the separate compartment for the reservoir means that your stuff stays dry even when the outside of the reservoir is wet. The smaller pockets within the tool organizer pocket really help to keep things tidy and easy to access and having the overflow area means it is easy to carry your helmet or other larger items. Also, I love the soft shoulder straps and found them to be super comfortable. I also like that the sternum strap is easily adjustable up and down and that it is easy to feed the reservoir tube through the hole.
There are very few things that I would change about this pack and no major changes at all. A few possible things include: perhaps a different colour for the back panels, the possibility to make the sternum strap smaller across the chest and maybe a larger hanging hook on the reservoir, but that's about it really.
The Camelbak Groove actually made a difference in the taste of some water I drank and the handle was easy to use for carrying but at the same time this made it difficult to pack away.
Ratings: Camelbak L.U.X.E 9/10, Camelbak Groove and Eddy water bottles 8/10, Camelbak Antidote Reservoir 8.5/10
SPECS:
Camelbak L.U.X.E. Pack and Antidote reservoir.
Price: $130 CAN
Colours: Diva Blue, Green Mango, Imperial Purple, Shale
Guarantee: Lifetime
Total Capacity: 519 cu in (8.5L)
>Hydration Capacity: 100oz (3L)
Weight: 1.41lbs (0.64kg)
Dimensions: 18 x 8 x 9.5 in (45 x 20 x 24cm)
Fabric: 70D/14OD Dobby with DWR and 1000mm PU coating
Torso Length: 15 in (38cm)
Camelbak Groove water bottle:
Price: $30 CAN
Colours: Non-insulated 0.6L -Blush, Cool Blue, Graphite, Lime / Non-insultated 0.75L-Graphite, Violet / Insulated 0.6L –Amethyst, Aqua, Graphite / Stainless Steel-White, Natural(grey)
Filter: plant based carbon, filters 48 gallons (180L) of water
Certifications: certified by NSF International to reduce chlorine, taste and ordor
Sizes: 0.6L, 0.75L
Materials: Tritan or stainless steal
PROS:
Camelbak L.U.X.E. Pack:
Elastic lined hole easy to bring reservoir tube though, perfect size for longer bike ride or shorter day hike, women specific fit, DWR coated, height adjustable sternum strap, many pockets to keep things organized, great colours.
Camelbak Groove water bottle:
Purchase supports water.org, makes it easy to enjoy good tasting water, dishwasher friendly, removable bite valve, handle makes bottle easy to carry when your hands are full
CONS:
Camelbak L.U.X.E. Pack:
No hook to hang reservoir to dry, white on back gets dirty easily
Camelbak Groove water bottle:
Loop handle makes bottle difficult to pack, filter increases weight of bottle

This is only our opinion. Do you disagree? Did we miss something? Are we totally out to lunch? Join the discussion in the forums here, and let us know what you think. People like/dislike gear for different reasons so chime in and we'll get a well-rounded evaluation.
Back to the rest of the reviews.
---