Brooks-Range Quick Tent, Guide Tarp and Kiss Ground Cloth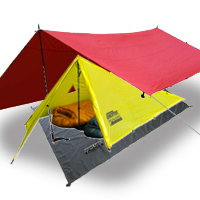 Brooks-Range is a small company with big ideas. They have been innovating mountaineering and ski equipment for many years now with a focus on rescue and safety products. To date we have reviewed several Brooks-Range products including the Brooks-Range Alpini 15 Down Sleeping bag, Brooks-Range Ultralite Rescue Sled, Brooks-Range Multi-tool, and the Brooks-Range Alpini Bivy Sac.
In this review we are going to look at three products which can be used in unison for ultra-light four season camping (weather permitting) or used individually for their intended use. They are the Brooks-Range UltraLite Quick Tent, Brooks-Range UltraLite Guide Tarp and the Brooks-Range Kiss Ground Cloth. The reason these products were selected for review is because they all have a practical use for backcountry skiing as well as summer mountaineering and hiking/camping trips. They also provide a dual function of being ideal to include in your first aid/emergency kit. The other requirement we had was that they must be compact and of course lightweight.
Brooks-Range UltraLite Quick Tent:
If you are serious about weight savings in your backcountry pack then the first place you should look is your tent. Most two person tents weigh in at around 6 - 8 pounds due to the myriad of poles required and the fly and ground material. The Brooks-Range UltraLite Quick Tent weighs in at just under one pound because it contains no fly, no poles and no floor. It is designed to set up with a single ski or trekking pole. You will need some sort of anchor system as well, traditionally metal tent pegs for summer use. In winter you can bury skis, poles or avi shovels. We had a set of SMC (Seattle Manufacturing Corporation) aluminum T anchors distributed by Trango which worked extremely well and were pretty light at only 112g for a set of four (these are also ideal for beach camping in the sand).
The Brooks-Range UltraLite Quick Tent has no zippered door but instead uses a staked overlapping flap system that works well enough and again saves on precious weight. On solid ground the Quick Tent sets up quickly with a single trekking pole and 6 tent pegs (not included). In winter things get a little more complicated as you need to bury anchors in the snow and have your tensions just right so that the tent does not sag. Practice makes perfect on this one and the SMC T anchors mentioned above are ideal for this. To ensure the main pole does not slip out in wind a reinforced pole cap is integrated into the tent. To keep things taught there are a total of 21 webbing tie loops on the Brooks-Range UltraLite Quick Tent including one above the main pole so that you can suspend from overhead.
Specs:
Price: $170 US
Weight: 16oz. / 470 g
Colour: Yellow / Red
Dimensions: 5ft x 9ft / 1.52m x 2.75 m
Height (at apex): 3.5ft / 1.07 m
Capacity: 2 persons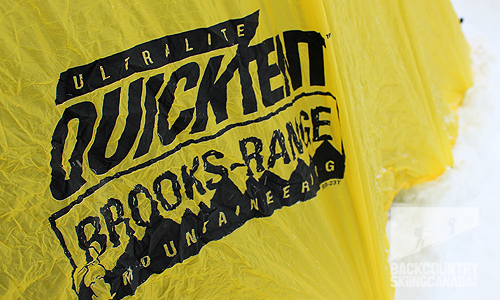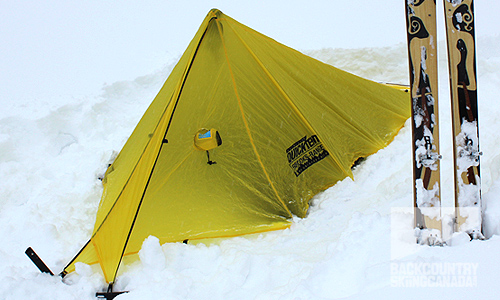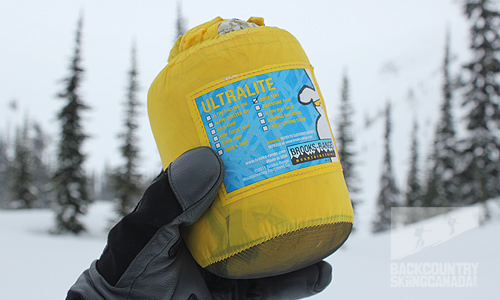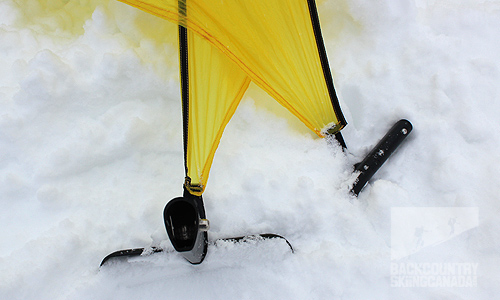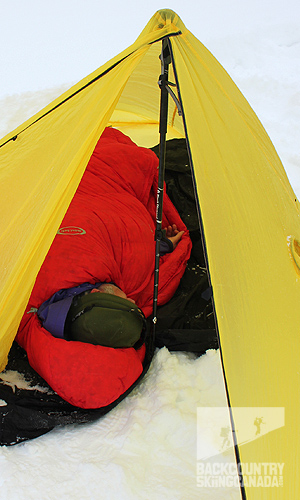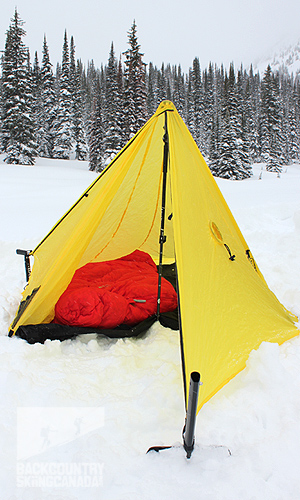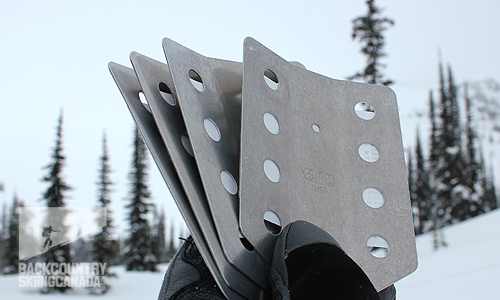 Brooks-Range UltraLite Guide Tarp:
The Brooks-Range UltraLite Guide Tarp is a rectangular 8' x 10' tarp made from Ultralight™ water-resistant, ripstop nylon. When used as a ground sheet or shelter it can accommodate 2-3 people. It can also be rigged as a tent awning, wind shelter or even a bivy bag thanks to the micro velcro around three sides of the tarp. Eighteen lightweight nylon loops are spaced around the edge of the tarp at two foot increments to offer a multitude of pitching options with nothing more that some rope (not included) and a few ski or trekking poles.
Brooks-Range Ultralite™ Fabric:
Brooks-Range specifically designed this fabric for all of their Ultralite™ products to keep the weight down while still providing water and wind proof resistant shelter systems. This is reportedly the lightest water-resistant fabric available for backcountry use. The magic is achieved by the hot roll calendering process that provides a waterproof fabric capable of repelling water at 1 lb per square inch. This is typically more that most rain storms produce so your stuff should stay nice and dry in the off season or on a trip when a "Pineapple Express" is headed your way. At only 470 grams and with a variety of crucial uses in the backcountry, in my opinion, it is a no brainer to add this to your backcountry kit.
Specs:
Price: $145 US
Weight: 12.5 oz / 355g
Colour: Red / Camo
Dimensions: 8ft x 10ft / 2.44m x 3.05 m
Surface Area: 80ft.2 / 7.44 m2
Capacity: 2 -3 persons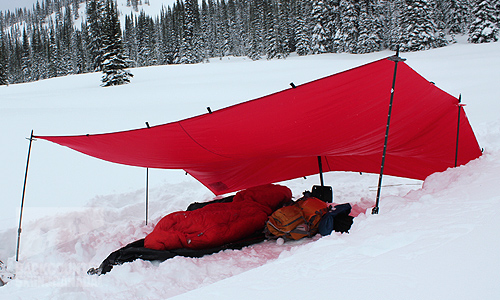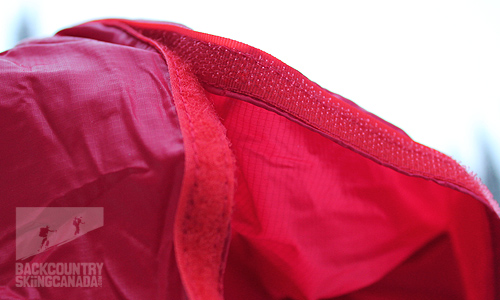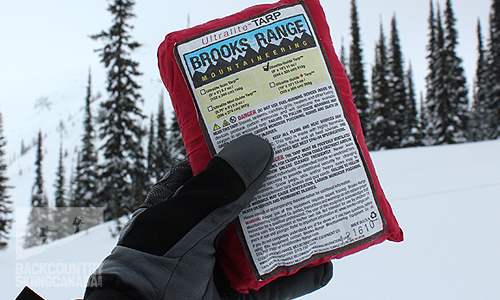 Brooks-Range Kiss Ground Cloth:
If you camp overnight in a tent or bivy out, no matter if it is summer or winter a ground sheet can be essential. The Brooks-Range Kiss Ground Cloth provides protection from moisture, dirt and sharp objects that may harm your tent or bivy. It is large enough for two people to sleep on (142cm x 213cm) and can be wrapped around a single person to keep them warm in an emergency. Because the Brooks-Range Kiss Ground has integrated light webbing stake out loops in the corners is can provide shelter from the rain/wind in a pinch. Made from Brooks-Range Ultralite™ fabric is weighs in at only 142g and is true to the Kiss principle (Keep It Simple Stupid).
Specs:
Price: $40 US
Weight: 5oz / 142g
Colour: Black
Dimensions: 56" x84" / 142cm x 213cm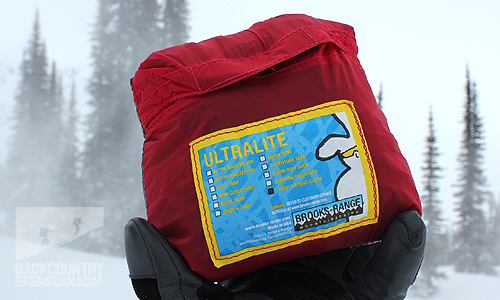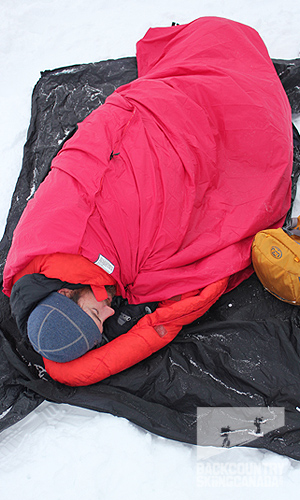 Verdict:
Each of these products are very compact and light weight and offer a multitude of uses to keep you warm and dry. Because of this, any or all of them are ideal as part of your first aid/emergency kit. I have been packing the Brooks-Range Guide Tarp in my backcountry skiing pack for several weeks now as part of my safety kit (the need to use it has never risen yet, thankfully). I have chosen to carry this over the Brooks-Range Kiss Ground Cloth and Brooks-Range UltraLite Quick Tent as it is a third lighter than the Quick Tent and more versatile than the Ground Cloth. Spending a night out in winter would require keeping yourself dry from the ground and sheltered from the wind and falling snow and this is where the Brooks-Range UltraLite Guide Tarp shines. To do this with the Brooks-Range UltraLite Quick Tent you would also need the Brooks-Range Kiss Ground Cloth and this suddenly tops the weight out at 612 grams instead of 355 grams for just the Brooks-Range UltraLite Guide Tarp. The Guide Tarp also doubles as a make-shift bivy thanks to the micro velcro around three edges. The Brooks-Range UltraLite Quick Tent works in winter but with out a dedicated floor you will continually be fighting the snow coming in which could get your gear wet. In my opinion this item is better suited to summer use for fast and light ascents. The Brooks-Range Kiss Ground Cloth is essentially the same as the Guide tarp except it has no velcro edges to aid in constructing a reliable bivy and has fewer attachment loops. It is also about 35% smaller and would not provide as much protection from the elements if this was your only piece of protection, having said that it would be better than nothing.
The ultimate set-up would of course be all three items together, the Brooks-Range UltraLite Quick Tent to keep you warm and dry, the Brooks-Range UltraLite Guide Tarp to keep the wind and snow from blowing in at you and the Brooks-Range Kiss Ground Cloth to keep you dry and clean from below. Total weight: 2lbs. Just 1/3rd the weight of your average 2 person tent, perhaps not as easy and quick to set up and not totally bomber should you have to sit out a storm but it works well if the conditions are right.
PROS:
Lightweight, waterproof and compact emergency protection or for those that want to go 'light & fast' when the weather permits. The dual use of the guide tarp as a bivy (thanks to the included micro velcro) is genius.
CONS:
The self stuff sac for the Brooks-Range Quick Tent and KISS Ground Cloth are about 15% too small. The Primary red, yellow, blue colours make the products look cheap. The Ultra-lite Quick Tent is much more difficult to set up for winter use - but it can be done.
Rating: 8/10
Innovation 1.5/2
Function 1.5/2
Features 1.5/2
Weight 2/2
Quality / Price 1.5/2

This is only our opinion. Do you disagree? Did we miss something? Are we totally out to lunch? Join the discussion in the forums here, and let us know what you think. People like/dislike gear for different reasons so chime in and we'll get a well-rounded evaluation.
Back to the rest of the reviews.
---