Braven 855s Bluetooth Speaker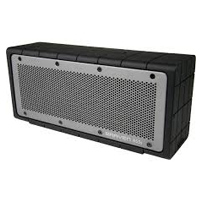 Kicking off in 2011, Braven is a relatively new player in the market that's totally focused on Bluetooth speakers (OK…they also offer a power bank—but just one). Though they were founded in Provo, Utah, it looks like their head office is now in Irvine, CA and just their R&D is in Provo. Their products are characterized by good-looking design, a compact form factor and ease of use.
We've had the Braven 855s for a few months and have put it to the test in many types of conditions. This particular item is of interest because we spend a lot of time outdoors in unpredictable weather. Nothing would be as depressing as frying your unit at the beginning of a long weekend in the wilderness because of a little flash rain storm. Thanks to weatherproofing, the Braven 855s is able to withstand light rain and wet weather. The rubberish shell means that it can live through the bumps and grinds of everyday life. We've run ours for outdoor porch parties, a weekend at a backcountry ski hut, and two canoe/fishing trips.
Note that this thing delivers a pretty big sound so if you are within earshot of other campers or wilderness admirers, don't crank the death metal--especially after 10:00 p.m. If you've tried Bluetooth speakers before, you know how mindblowingly handy they are. They basically mean you can go totally mobile, having your music on your phone (or other Bluetooth device). If you want to save power, consider using the included cable that goes from your music player's headphone jack the Braven's AUX slot.
Comfortable in the snow. Not a plug-in sight.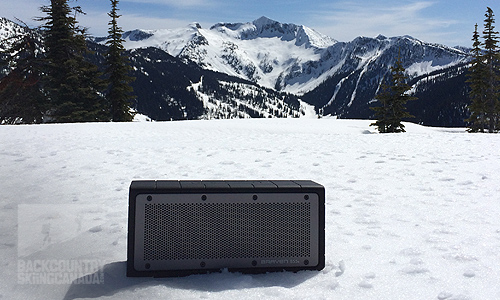 Same trip. The author included for perspective.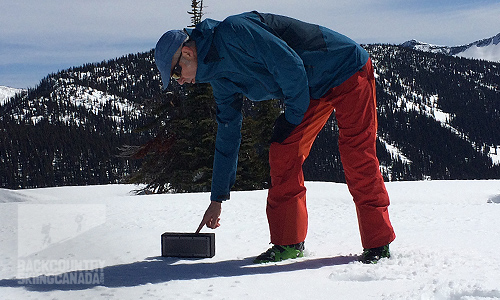 Simple controls on top of the unit.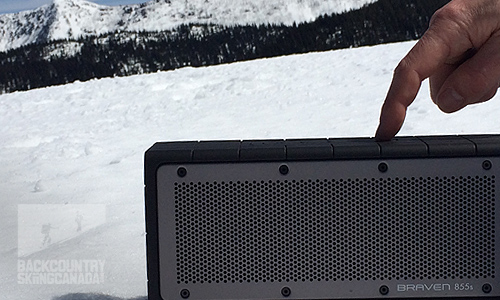 Speaking of controls, let's fast forward to another, summer trip. Five simple buttons on top. Power, phone, play, up/down volume (which also lets you skip ahead or back a track)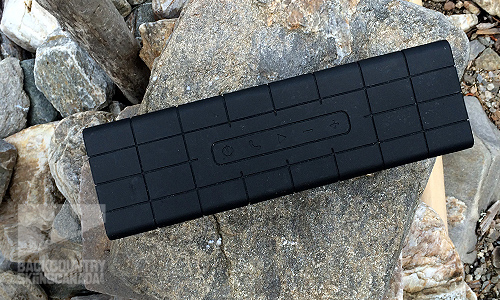 Here's the side, again very simple. The USB OUT jack, let's you use the built-in power bank as a means to charge up your phone or even your tablet. The AUX, as I explained, let's you connect the Braven directly to your music player. This may improve the sound and it definitely helps preserve the power (especially in your phone). The IN jack is if you are at home and want to run AC power (cable and adapter provided). If I am at home for a while, I leave the speaker plugged-in in the kitchen. That way, anybody with a smartphone can play their music. Those dots that you see next to the battery button are indicators. When lit up, each dot indicates 20% power.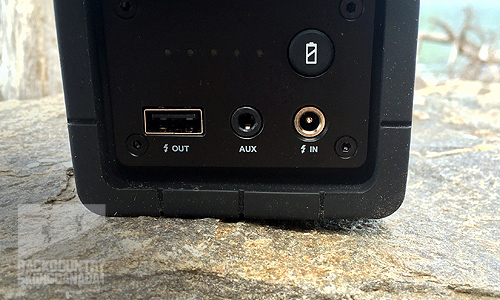 All up in the grill, which is made of "aircraft-grade" aluminum. 'not sure what that means but I guess it's sturdy because this speaker can take a beating. The slightly protruding rubber gasket/door at left is what covers up the jacks in the photo above. It tucks in perfectly and flush with a little effort.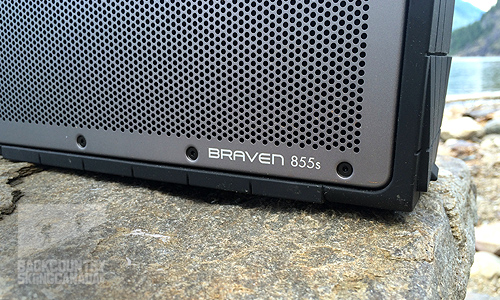 Here's another shot, pulled back a bit. Nice, bomb-proof aesthetic.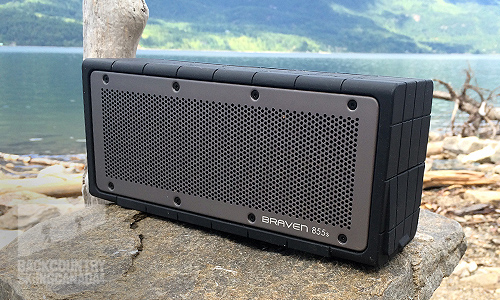 Einstein on the beach. Here's the Braven 855s occupying its place for the weekend next to the fire ring. We're literally miles from any power source (and that's not easy to say these days).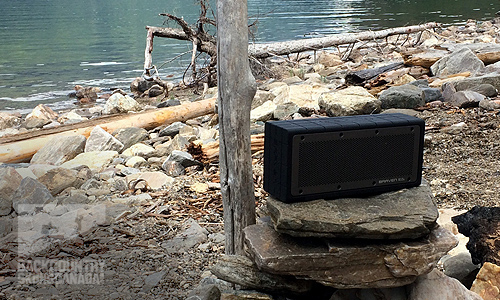 We also had a Solio BOLT solar power source along with us on this particular weekend for the occasional boost. We had the Braven going for about 25 hours without a recharge. Wow.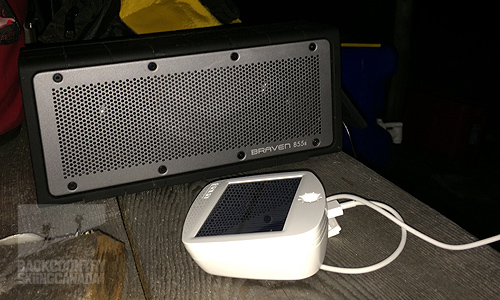 Good tunes mean fun. With tools like the Braven 855s, now you can take it with you—rain or shine.
Verdict:
Love it. I have a smaller Bluetooth speaker from Jambox and I really like the additional uuumph that the Braven delivers, in comparison. The 855s performs as advertised and easily fills up an outdoor space. There's a "daisy-chaining" option which means if you buy another Braven 855s or the Braven 850, they can act as two stereo speakers. I don't even want to think about this because it makes me want to spend the extra $300 and go for the full effect. Be happy with the one. It'll add a lot of enjoyment to anywhere w/o power (or even with).
I am not an audiophile but I own a reasonably high-end home stereo and I, pretty much, am always playing music. I also host a radio show on the local community radio station. In other words, music is a big part of my life. I'd say the sound quality for me is about an 8/10. I think the weatherproofness—and the fact that the speakers need to be somewhat sealed—make the sound slightly less "bright" than they might otherwise be. I enjoy a variety of music—everything from classical to jazz to metal to electronic. There is a feature called SRS WOW HD that's intended to increase clarity and bass response. I tend to leave it off.
Overall, I'd suggest getting the Braven 855s if you are looking for a good Bluetooth speaker that'll withstand a little weather and knocking around. If it's for more predicable environments, I'd recommend the 850 or one of the models in the "Design Series."
SPECS:
Price: $329CAN
Size: 24cm X 7cm X 10.1cm / 9.5" X 2.75" X 4"
Weight: 1.52 kg / 3 lbs 5.5 oz
Play time: 8800mAh battery will play for 20 hours (confirmed)
Output: 20W of stereo
Water resistant: IPX3 water resistant (not meant to be submerged)
Codec: aptX for lossless clarity
PROS:
- Great speaker that can put up with harsh conditions and take a mild beating.
- Nice design aesthetic.
- Power bank allows you to charge up a smartphone.
- Perfect for canoe camping and heli-assisted, hut-based ski touring.
- Works wonderfully with and Apple iPhone 5s.
CONS:
- At 1.52kg, it's not suited to fast and light expeditions.
- Buttons are a bit fiddly and tough to see. Backlighting or contrasting colour might be an idea.
- Sound could be brighter—trade-off for weatherproofing.
- Doesn't want to work with any 2nd gen. iPad – but I can probably figure it out.
Rating: 8.5/10
Ease of use 1.5/2
Features 2/2
Sound Quality 1.5/2
Form Factor 2/2
Price 1.5/2

This is only our opinion. Do you disagree? Did we miss something? Are we totally out to lunch? Join the discussion in the forums here, and let us know what you think. People like/dislike gear for different reasons so chime in and we'll get a well-rounded evaluation.
Back to the rest of the reviews.
---
---
Backcountry skiing is an inherently dangerous activity that requires experience and knowledge to travel safely. Any of the routes on this site may be dangerous depending on conditions. You are responsible for your own safety in the backcounty—the team behind backcountryskiingcanada.com disclaim any responsibility for any injury resulting from people travelling on routes described on this site. To read our Terms of Use and get all the details, read HERE.
---