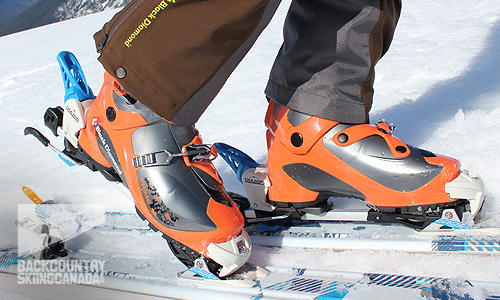 If you are already a proud owner of the previous version of the Black Diamond Prime AT Ski Boot then fret-not, you already own a pretty solid touring boot. The main areas where the Prime has improved are the colour palette (a little manlier in my honest opinion) and the liners. Black Diamond changed the liners based on user feedback; people said the old liners were cold and got sloppy as body heat made them feel like a loose old slipper. The new redesigned Efficient Fit AT Light Liners are much thicker and hence warmer with improved articulating zones for better tour and ski fit.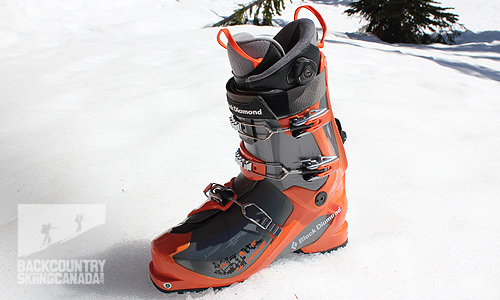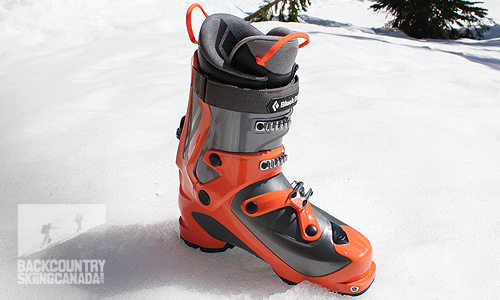 If you are new to the Black Diamond Prime AT Ski Boot and considering a purchase then here's the low down on what they have to offer:
Comfort
As we said above, the redesigned Efficient Fit AT Light liners are thicker and better fitting than previous versions. These chances add to some great features the liners have had all along. These include: the liner's ability to lock your heal down without crushing your instep, a big roomy toe box and the Triax Pivoting cuff which make the BD Prime boots as comfortable to walk in as they are to ski in.
Light weight
While the Prime Ski Boots are not the lightest on the market by any means they do offer great skiing performance for a boot, in what I call, the ideal ski touring weight range of 1.5 - 1.75kg per boot. The BD Primes beat out the Dalbello 2/8 Sherpas by 270 grams per boot and the Salomon Quest 120 Max Boots by a whopping 600 grams but trail the Dynafit One AT boots by 280 grams. This qualifies them as a lightweight dedicated ski touring contender in our books. See the chart over here for a full comparison of all the alpine touring boots we have reviewed to date.
Grip
When evaluating alpine touring boots, many backcountry skiers rate a solid sole as one of the more important qualities in a boot. The Black Diamond Prime AT Ski Boots have a rockered rubber outsole which provides good grip on rocky scrambles and more technical routes. It would be nice to see the rubber sole wrap more around the lower boot to offer up even more grip and protection but what they have now is more than adequate.
The Pebax shell is very soft so expect lots of scratches if you go ski mountaineering.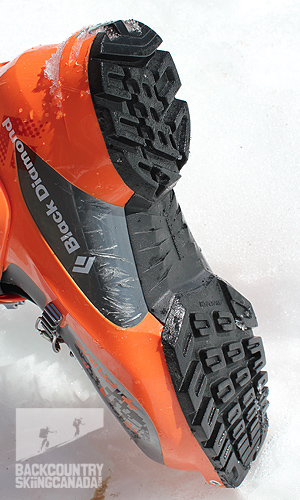 Less is more
Why have a fourth buckle when three will do? The Prime boots perform every bit as well as any 4 buckle boot I have skied. This may be due, at least in part, to the design of the buckles themselves. Black Diamond has done an admirable design job of creating a very strong adjustable wire frame buckle that does not get in the way when undone. The top two buckles also have a buckle bail retention system that is as simple as it gets; curved ends ensure that the buckle cannot pop out on its own or while in tour mode. Theoretically, this means that you can switch from ski to tour mode without re-buckling. I am still experimenting with this one to perfect my system and I still adjust each time I switch over but hope to have it dialled soon.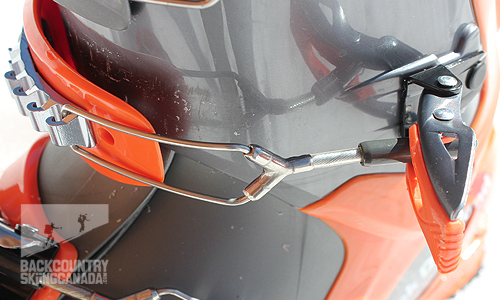 Triax Pivoting Cuff Technology
This is fancy marketing speak for a pretty simple principle. Basically it means that there is a sliding pivot point that allows the upper cuff to pivot while in walk mode (watch the video if you are scratching your head with this one), whereas the bottom pivot point is fixed and transmits power in ski mode. This feature helps allows for 40 degrees of motion in walk mode (20 to the front and 20 to the back).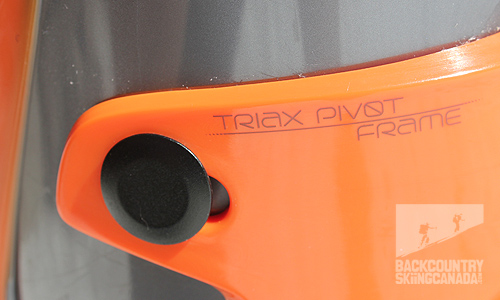 Features:
Frame Technology: Triax Pivot
Flex Index: 110
Forward Lean: 14 or 18º
Shell Material: Pebax
Cuff Material: Polyolefin
Soles: Rockered, rubber outsole with integrated tech inserts provides dramatic grip and durability
Last: 103 mm V-shaped
Liner: Efficient Fit AT Light Liner with Boa Closure system (thermoform-able)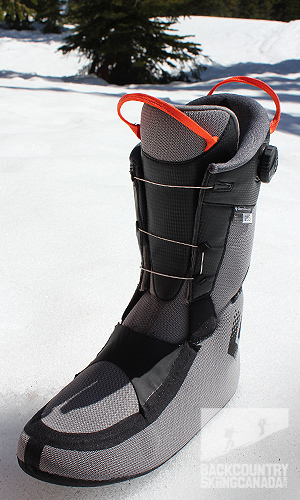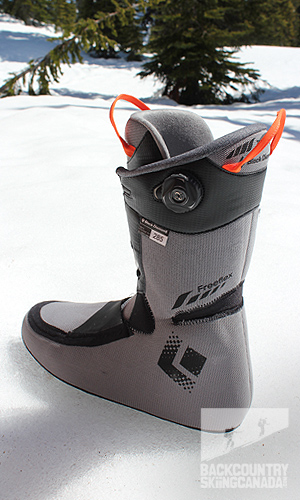 The Boa closure system up close.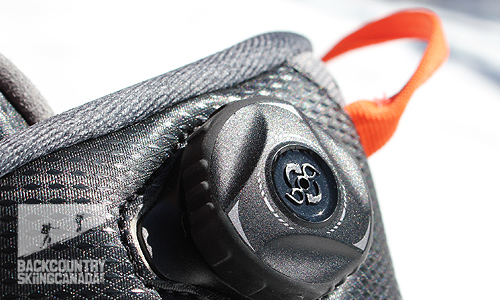 Tour mode flex: 40 degrees of flex in touring mode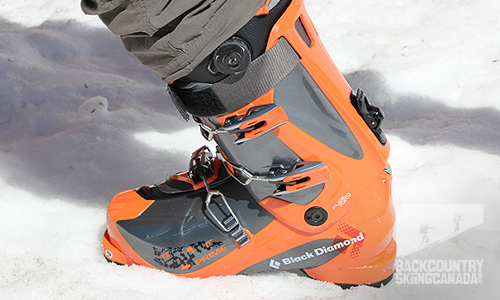 Buckles: 3 in total with locking QuickWire cuff buckles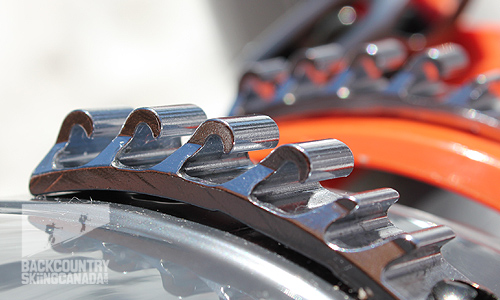 Walk mode is just a flick of the switch.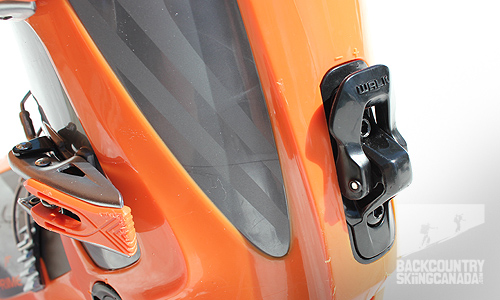 Tech fittings are standard issue.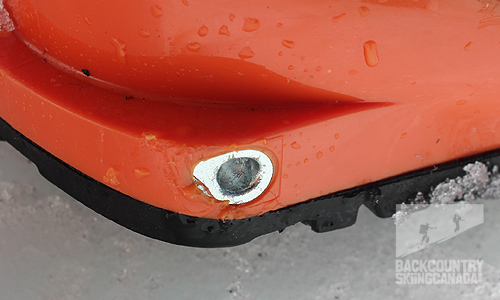 Verdict:
You can likely tell by now that I am a fan of the Black Diamond Prime AT Ski Boots. I have found them to be one of the few touring boots that actually provides as much forward flex as back flex when in tour mode (20 degrees both ways). This is a huge benefit.
The weakness that we found in the Black Diamond Quadrant AT boots three years ago was their liner. It's nice to see BD address this issue in their new 2012/13 line up. The Efficient Fit AT Light Liners, as they are called, are far superior with better flex design, improved comfort and increased padding to keep your feet warmer. They also offer up a super roomy toe box which helps keep my digits warm on those colder touring days. The Boa closure system integrated into the liners is convenient, there is no doubt about that, but all those micro laces frequently get caught when I am getting into the Prime Boots and I am sure I will bust one of them before too long. So far they have held up and I am learning to be more careful and take my time. I am typically a big fan of Intuition liners, but so far I have kept the stock Efficient Fit AT Light Liner with Boa closure system as they're working out well.
I have already mentioned that you are not sacrificing anything performance wise by only having three buckles on the Prime Boots compared to other 4 buckle boots I have tested and, of course, the 150 grams / 6 ounces saved is more than welcome to this aging backcountry skier.
So who is this boot for? Any backcountry skier who wants a single boot with tech fittings for resort and backcountry skiing that is a light weight overlap boot design which does not sacrifice comfort or weight for performance. If you are one of our female readers then not to worry as we have also previously reviewed the Black Diamond Swift Boots for her.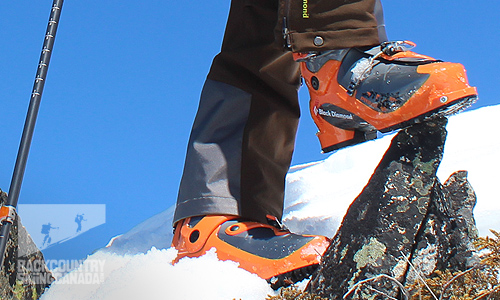 SPECS:
Price: $599 US
Weight: 3.28 kg, 7 lb 4 oz (size 27)
Sizes: Mondo 24 - 30.5 in half sizes
Colours: Orange /Grey
PROS:
- Great 40 degree forward/back range of motion in tour mode (thanks to the Pivoting Cuff Technology
- Very comfortable liners right out of the box (much better than previous versions)
- Tech fittings
- Large toe box to keep your digits warm
CONS:
- Liners are almost too warm for spring touring
- Buckles are hard to undo thanks to the clasps that keep them connected while in walk mode
- Boa Closure system gets in the way and seems to be a complex solution to a simple problem
Rating: 8.5/10
Fit/Comfort 2/2
Cuff Rotation 2/2
Function 1.5/2
Weight 1.5/2
Quality / Price 1.5/2

Join the discussion in the forums here, and let us know what you think. People like/dislike gear for different reasons so chime in and we'll get a well-rounded evaluation.
Back to the rest of the reviews.
---