Black Diamond Swift Alpine Touring Ski Boot for Women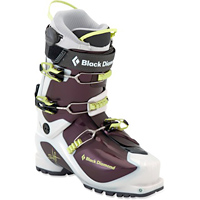 Stepping into the Black Diamond Swift Ski Boot this season in combination with switching to an ultra lightweight ski and binding* has shaved 3 kg of weight from my set up. Yep that's a lot of weight. I've since read on MythBusters forums that it is 6.4 times more expensive to carry weight on the feet as compared to the back (this was supported by MythBusters). In other words carrying that additional 3kg on my feet is the equivalent of carrying 19.3kg on my back… now we're talking. Shaving the equivalent of 19.3kg from my pack weight is incredibly comforting given I am about to embark on the 5-day Wapta ski traverse. Beyond that I have discovered over the last few months that these boots are built for long days hiking up and skiing down mountains and this includes carrying weight.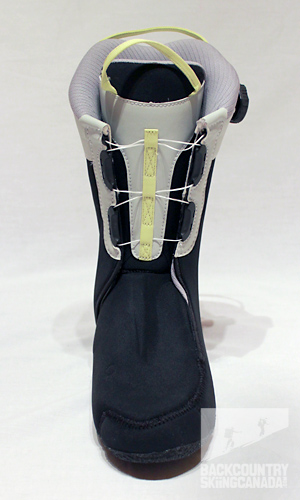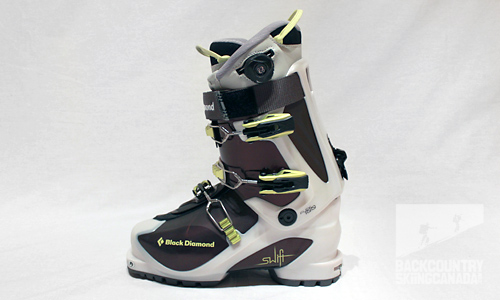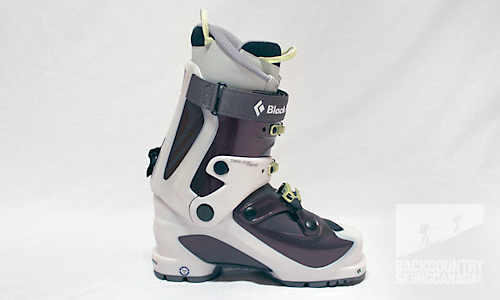 Part of Black Diamond's Efficient Series of ski boots, the Swift is the feminine version of the Black Diamond Quadrant alpine touring boot. Whilst not the lightest weight boot on the market the Swift is up there at just 3kg per pair. There is a fine balance between designing for the uphill and optimizing performance on the ski down. A balance that Black Diamond has endeavoured to achieve with the Swift using the following design goals – Fit, Flex, Access.
Fit
The Swift is based on a 103mm last (toe box width), with a 74mm-wide heel pocket. It's a little wider than the Black Diamond Shiva (102mm forefoot, 73mm heel pocket). The thermoformable liner is stitched to a women's specific fit with a custom calf shape and increased angle in the boot board to enhance performance.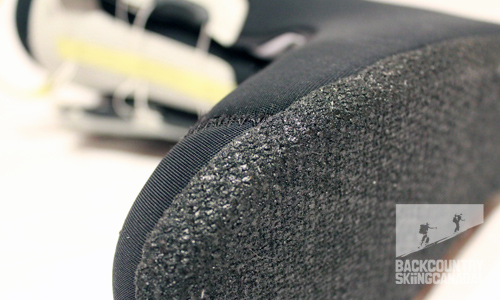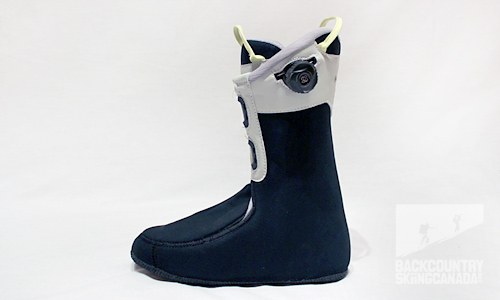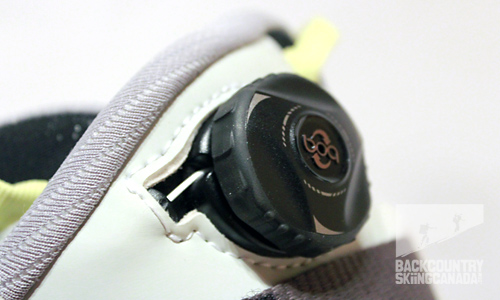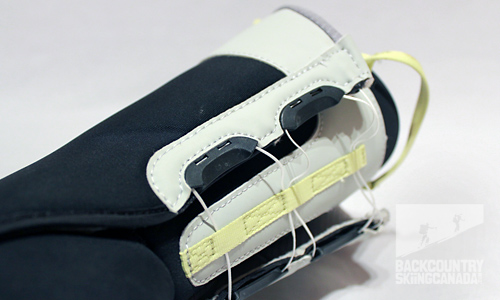 The liner is hugs your calf using the Boa closure, a proprietary closure system of steel Lace, nylon guides and a mechanical reel which allows the liner to be cinched tight, offering stability. The boot fit itself can be fine tuned in the field using the three micro-adjustable buckles (you won't miss the fourth buckle).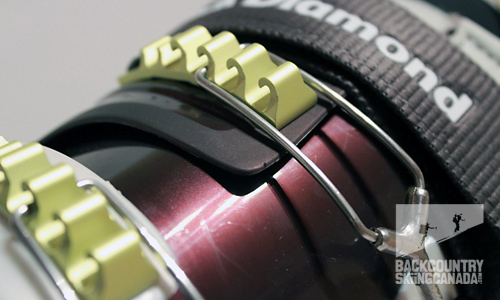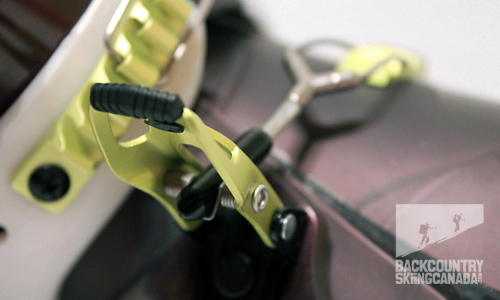 Flex
This gets to the core of the boot design. In making the boot, Black Diamond tested the flex of the boot 360 degrees to ensure there was enough support whether you're carving hard or in the back seat, even if you're carrying additional weight such as an overnight backpack. Three different density plastics are utilized to facilitate power transfer - what they call the Triax Pivot Frame. This in turn enables Black Diamonds Alpine Overlap Construction where the tongue is removed altogether innovating the walk mode (see below).
Access (Walk Mode)
The Swift walk mode allows for 40 degrees range of motion–resistance free. That's 20 degrees forward and backward. No other boot on the market can match this to date.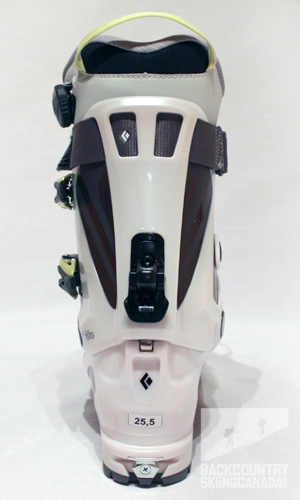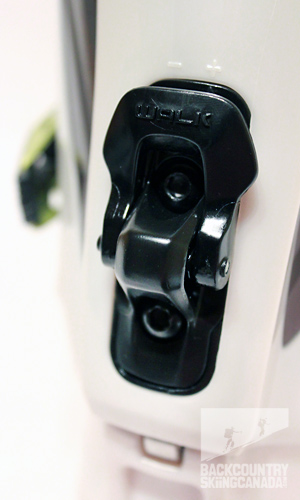 A Vibram sole will keep you from slipping on rocks when you're on your way to bag that peak.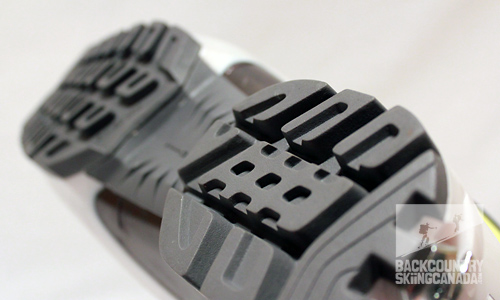 Built to be light and fast the Swifts are naturally tech binding compatible.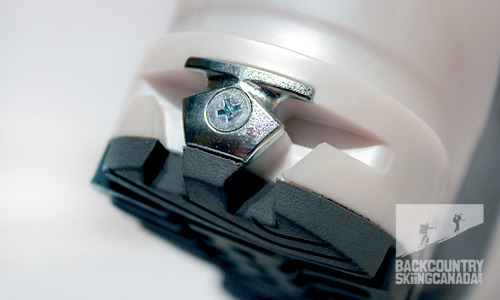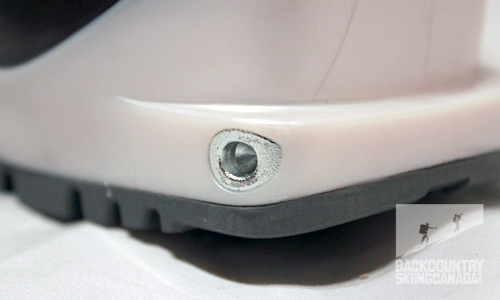 VERDICT:
The Swift boots live up to their name. They're designed for freedom of movement and freedom is what you get when you're on the up track with these babies. One thing I didn't realize until I did my research was that to receive the full 40º flex from the overlap construction you need to have the middle buckle loosened off, I wasn't blown away until I worked this out. The overlap construction can be a little more work to get into if the boots are cold, a small thing to live with in exchange for ability to walk easily.
The boots fit snug straight out of the box. I had them custom moulded which gave me a little more toe space. I have narrow, low volume foot which is difficult to fit at the best of times. In my last pair of boots I had a lot of trouble locking my heel down because the heel design was based on a man's heel (even though it was a woman's boot). The heel fit is a lot snugger in the Swift liners, probably because the liner itself is articulated to a female fit. I love the boa closure system, it feels great to have the liners really hug your feet and it's tight enough that the liner tongue doesn't move around as it does with laces. The one issue I found with the liner is that is softens up a lot over the day especially on warmer days. I find myself tightening my buckles as the day goes on at times. Rumour has it that Black Diamond have updated the liners in the 2012/13 edition of the Swift, worth keeping an eye on as they may have addressed this.
Removing features to keep the weight down can compromise on ski performance, I would say Black Diamond has struck the balance here. I've tested these boots extensively inbounds, in all conditions. In fact, they have been my one and only ski boot all season. I'll take comfort and efficiency over pain and rigidity any day but that's me. On hard pack and hard bumps or if you are an aggressive skier you may be left looking for extra support. If you are used to a touring stye boot they perform well the majority of the time in bounds but they will really shine in the backcountry. They were, after all, made for backcountry skiing.
SPECS:
Price: $550CAN
Weight per pair: 3.04 kg, 6 lb 11 oz (size 25)
Flex: 100
Sizes: 23 – 26.5
PROS:
Feather-light, awesome range of motion, very comfortable. Nice looking boot.
CONS:
Liners soften up a lot over a day of skiing - more so on warmer days.
*The lightweight set up mentioned in the intro included the Black Diamond Starlet with a Dynafit tech binding.
Rating: 7.5/10
Fit/Comfort 1.5/2
Cuff Rotation 1/2
Function 1.5/2
Weight 2/2
Quality / Price 1.5/2

Join the discussion in the forums here, and let us know what you think. People like/dislike gear for different reasons so chime in and we'll get a well-rounded evaluation.
Back to the rest of the reviews
---