Backcountry Access BC Links Radio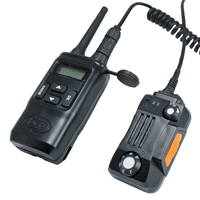 They say information is power and with regards to backcountry skiing nothing could be more accurate. To demonstrate this point is the fact that you'll never see a guide without a radio. It is also true that as recreational backcountry skiers we should all be carrying some sort of communication device be it a two-way FSR (Family Radio Service) or UHF/VHF radio. Communication within a large group or just with your ski buddy is limited at the best of times while backcountry skiing. It could be that you are in thick trees and your voice simply doesn't carry or you are spread out along a ridge with howling winds that muffles your message; however whatever the scenario communication is still crucial. You need to ensure everyone is happy and healthy in your group and on-board with the ever-changing game plan. Managing terrain is the best way to avoid avalanche danger and discussions should be occurring regularly throughout the day as conditions, energy levels and weather change. The Links Radio allows these discussions to happen on an ongoing basis rather than only when the group is all together.

Backcountry Access has since released a 2.0 version of the Link Radio so be sure to read that here, but not to worry as of Winter 2019 you could still purchase the original.
Like the BCA Tracker and Tracker 2 the Backcountry Access Backcountry (BC) Links Radio has a simple interface design. BCA likes to reduce clutter and focus on the required functions only and they definitely used this philosophy on the BC Link Radio's feature set as it's all you'll need and nothing more. Some FSR radios require a thick manual and multiple hours to figure out how to use them, (even though most of us forget the details before our next use) but it is not so with the BCA BC Link Radio. The BC Link Radio contains all the major controls (except for channel settings and menu options) on the Smart Mic which is clipped to your pack strap while the radio's base unit is stowed safely in your pack. Since the base unit is not on your body there is less chance of it interfering with your transceiver (some say the minimum distance between electronics and a transceiver should be 12", others say 20") and you're also less likely to lose the radio in the snow from a careless drop or open pocket. Like a camera or water bottle, a radio has to be easily accessible in order for you to use it often, hence the controls being located on the Smart Mic. Once you program your pre-determined six FRS / GMRS (General Mobile Radio Service) frequencies into the base unit you can easily switch between them by using the glove-friendly alphabetical dial on the Smart Mic. The Smart Mic also contains a speaker and mic (obviously), as well as an on/off control and push-to-talk (PTT) button. Two LED lights on the Smart Mic show when it's powered on and also when you are transmitting. On the back of the Smart Mic there is an extra large alligator clip that swivels 360° so you can clip it to various locations on your pack in any orientation you fancy.
The Smart Mic and base unit are well designed and fairly small.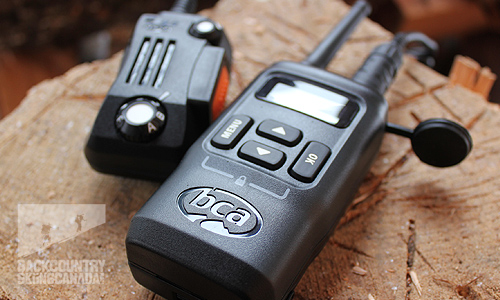 The waterproof design of the BCA BC Links Radio is said to meet IP56 standards. IP stands for Ingress Protection Rating and the 5 means that the unit is dust protected but the ingress of dust is not entirely prevented. The 6 refers to liquid ingress protection and here the BC Links Radio is protected from powerful water jets (ie. driving rain) but not immersion.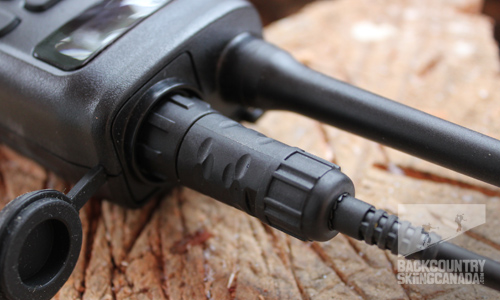 The base unit is fairly small and compact compared with other radios of similar value on the market. It could however always be smaller as is the case with anything technology based these days. The base unit has a 'menu' button, two selection buttons and an 'ok' button and the unit can be locked with the simultaneous depression of the 'menu' and 'ok' buttons. The cord from the base unit to the Smart Mic is a sufficient length and there is a coiled section that extends its reach even further.

Simplified interface keeps things super simple when in the field.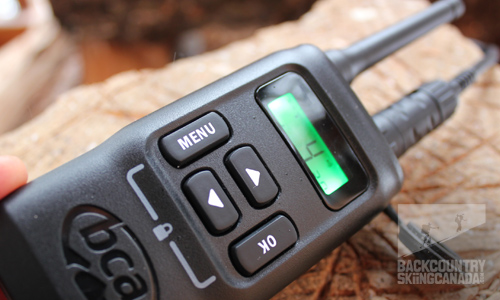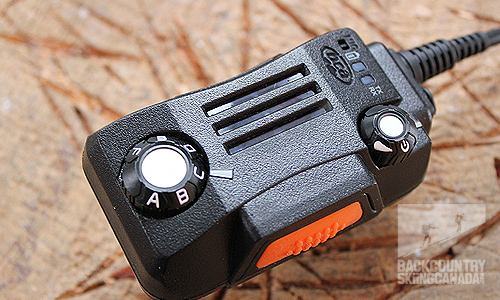 The Smart Mic has a swivel alligator clip for attaching to a pack shoulder strap (or anything else) in any configuration.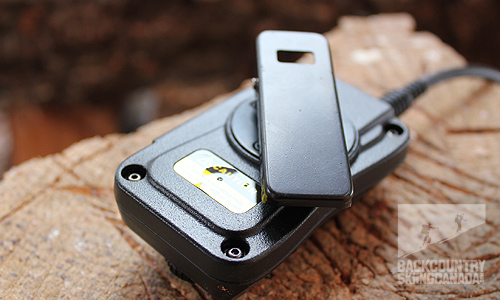 Features:
- Waterproof to IP56 standards
- Power outage 1 Watt for GMRS (larger range, shorter battery life), and .5 Watt outage for FRS (less range, longer battery life)
- 4.0 km line of sight with 140 hours of battery life.
Smart Mic:
- 22 FRS and GMRS channels + 121 sub-channels ensure minimal interference.
- Radio includes an option for pre-set channel selections.
- Compatible with all standard FRS/GMRS radios.
- Designed to be worn with all backpacks.
- Secure cord connection and alligator clip for shoulder or sternum strap.
- Glove-friendly controls, optimized for easy handling.
- On/off and volume control.
- Channel control.
- Push-to-talk button.
- Loudspeaker.
Base Unit
- Rechargeable 3.7-Volt lithium ion battery provides long battery life.
- The base unit can be clipped to a belt or stashed inside a backpack.
Worn on the shoulder strap the Smart Mic is always available. On the Osprey Kode 42 the Smart Mic luckily fits in the hydration compatible shoulder strap to protect it during transport and storage.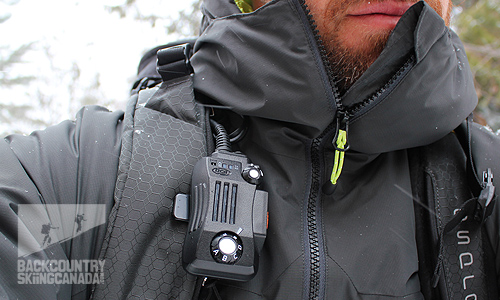 The BCA BC Link base unit goes in the hydration sleeve within the pack and is in an optimized vertical orientation.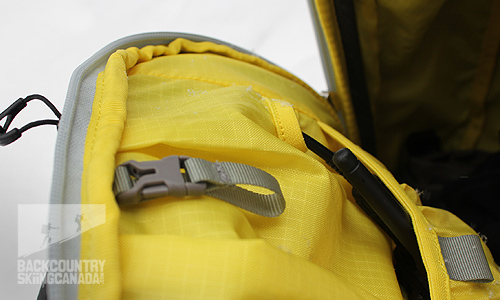 Verdict:
Backcountry Access is a company built on the principle of keeping backcountry skiers safe. All of their products are safety oriented and the BC Links Radio is no exception. It's compact and simple to use even if you have never picked up a radio before.
In order to charge the BC Link Radio the included charger and USB cord plugs directly into a standard wall outlet or you can charge via USB from a computer, solar charger in the field or even from your car these days. Some would say that the ability to use AA batteries would be an improvement but I disagree as solar charging in the backcountry is beginning to be commonplace and small power storage devices are available to provide a charge on cloudy days. While I did not test the BCA BC Links Radio on a multi-day ski tour I did use it for many, many weeks over the ski season on multiple day tours and I plan to use it in the field on hiking and mountaineering trips this summer. The battery life was more than adequate over several days and re-charging was fairly fast at night via a wall socket or computer USB connection.
Here in Canada, you do not need any license to use an FSR/GMRS radio but in the US of A you are required to purchase a $75 FCC license. The other difference for those of us North of the border is that the pre-programmed weather channels will not function as they are for American states only so we are SOL - bummer.
In order to maximize the range and effectiveness of the Backcountry Access BC Links Radio, it is important to have the base unit in a vertical orientation in your pack. This is not always easy as the first place you would think to place it is in the top pocket of your pack away from the innards of your pack, but this would be a horizontal orientation. I placed mine in the water bladder sleeve of my Osprey Kode 42L pack (LINK) as I don't use this pack feature in winter. The Smart Mic cord can then go out through the hydration hole in the pack and I even store my Smart Mic in the shoulder strap where the hydration valve would normally reside. It works perfectly, however, if you are not into this MacGyvered configuration then invest in a BCA stash pack as they come pre-configured to accommodate your BC Links Radio.
The Links Radio comes with multiple channels and although none of the channels has a specific use there are some general guidelines you may want to follow. Channel 1 will tend to have the most chatter on it if you are backcountry skiing around a resort so I would recommend a higher channel—the higher the better. Channel 20 with quiet code 22 is said to be used for emergencies but it is not monitored by any official rescue body or agency. Keep in mind that channels 8-14 are transmitting at 1/2 watt so they are best used to conserve power but these channels will also have a shorter transmission range. This is ideal for multi-day ski tours where your group is all relatively close by. Channels 2-7 and 15-22 transmit at a full watt so the range will be increased but so will the demands on the battery.
Be sure that you are aware that the Backcountry Access BC Links Radio is for recreational use only in that it is not a UHF/VHF radio but rather an FRS/GMRS radio. It's ideal for group communications for but not ideal for professional rescue scenarios where outside help is required, i.e. communication with helicopters, search and rescue, resort operations and backcountry lodges. While I do like the BC Link Radio and think it will help group communications and ultimately save lives I am hoping that this is just the start for BCA and the next BC Link Radio will be a full VHF/UHF radio perhaps. This UHF/VHF category is, however, a much more expensive one and requires a license for operators since it would be over the 1/2 watt limit so I can understand why BCA has targetted the recreational space instead, one can wish though.
SPECS:
Price: $175
Weight: 340g / 12oz
Smart Mic dimensions: 8.0 x 4.0 x 4.5 cm / 3.3" x 1.0" x 1.8"
Base Unit dimensions: 6 x 5 x 15 cm / 2.5" x 2.0" x 6.0"
Battery: 3.7 VDC Li-ion with 2200mAh of usable capacity, 140 hours per charge
Range: Approximately 4.0 km in a typical backcountry environment
PROS:
- USB charging means you can charge off of a computer and don't need to carry the full charger with you into backcountry huts.
- Good battery life.
- Swivel clip on the mic provides versatility to clip anywhere on your pack and it even works for lefties.
- All new BCA Stash Packs will have a dedicated location for the Link Radio as well as a zipped sleeve in the shoulder strap (similar to their sleeve for water bladders).
- Basic controls (glove friendly) are on the Smart Mic and not on the base unit buried in your pack.
CONS:
- Not a VHF/UHF radio
- The external Smart Mic cover is not removable so it just hangs there flapping around - not ideal as you cannot use the radio without the mic so I'm not sure why one would ever need the cover.
- The USB charging cover gets in the way when you try to plug the cable in; the cover simply needs a longer tether.
- The pre-set weather channels only cover the US and not us Canucks.
- There is no on-screen charging indicator for when you charge via USB and not with the wall plug.
- Not all buttons are as glove friendly as they could be.
Rating: 7.5/10
Ease of Use 1.5/2
Technology 1.5/2
Features 1/2
Weight 2/2
Quality / Price 1.5/2

This is only our opinion. Do you disagree? Did we miss something? Are we totally out to lunch? Join the discussion in the forums here, and let us know what you think. People like/dislike gear for different reasons so chime in and we'll get a well-rounded evaluation.
Back to the rest of the reviews.
---