BCA Stealth Quick Lock 260 Carbon and 270 Probe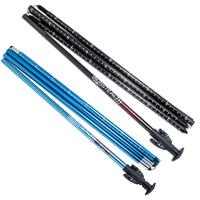 Every backcountry skier needs a probe and Backcountry Access (BCA) has sent us a few to have a look at. Specifically the BCA Stealth 260 Quick Lock Carbon and the BCA Stealth 270 Quick Lock. A few things you should consider when you're shopping for a new probe include:
- Is this probe for professional or recreational use? Professionals may wish to invest in a heavier-duty piece of equipment that may better withstand rugged daily use and abuse. Recreationalists may prefer weight savings over burliness.
- Will this probe be carried on your back, or by snowmobile, snowcat, or helicopter? Again, self-propelled people may wish to compromise slightly on durability to keep the weight down.
- What is the nature of the snowpack where this probe is most likely to be used? In BC we have some of the deepest snowpacks in the world, so longer probes are often used here as opposed to in Europe or the Rockies. This is a personal decision, again taking weight into consideration.
- Will this probe be used by one person or multiple different people? For a probe that is shared, or used by occasional users in a guided situation, ease of use of the assembly is of paramount importance. A single user can learn to operate a probe with a more finicky locking system quickly, but a rescue scenario is not the time to be teaching a novice how to put the probe together.
Luckily, there are probes on the market these days that tick all those boxes and Backcountry Access (BCA) has some great offerings this season, for pretty reasonable prices.
---
BCA Stealth 260 Quick Lock Carbon Probe:
Price: $79.95 US
Weight: 213g / 7.5 oz
Length extended: 260cm / 8'6"
Length collapsed: 42 cm / 16.5"
Diameter: 1cm / 0.403"
The full carbon fiber probe is one of the lightest on the market and as BCA states "guarantees the easiest and fastest assembly on the market". The new "quick lock" assembly system sees the first segment of the probe nesting into the second segment. This means no cable hanging out, 2-second deployment and locking, and a super-easy locking mechanism. It is light, fast, and simple. The rounded ends on each segment eliminate hang-ups when you're locking the probe into working position. The silk screened markings mean you don't have to carry a 2 meter ruler for your snow study pits.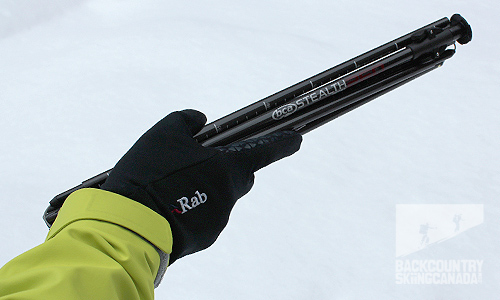 BCA Stealth 260 Quick Lock Carbon Probe collapsed.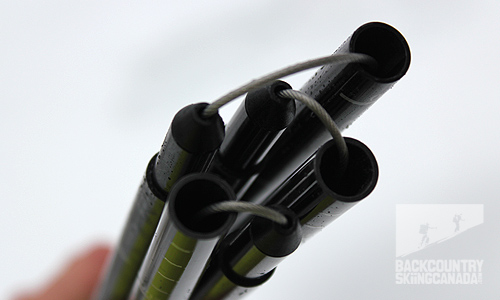 The locking mechanism pressed to release.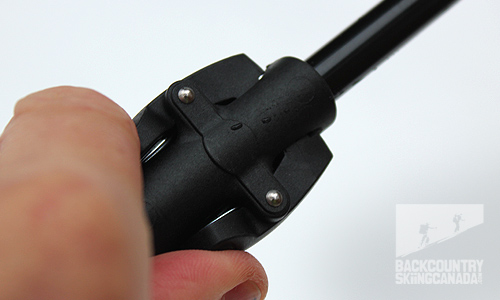 Top of the probe.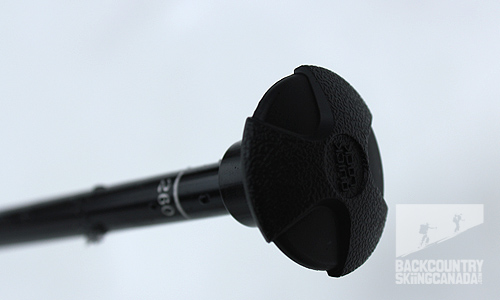 Locking mechanism engaged.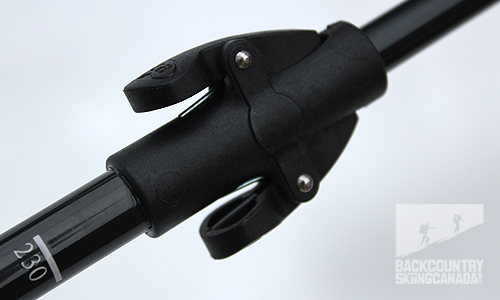 Silk screened grtaphics and measurements.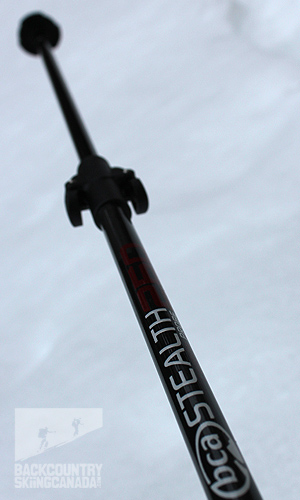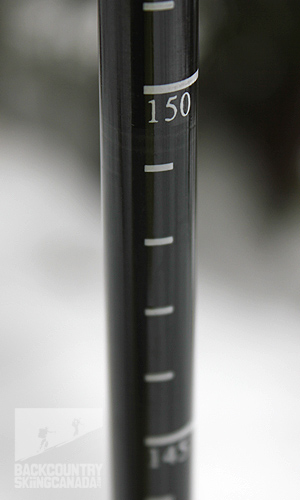 BCA Stealth 260 Quick Lock Carbon Probe in action.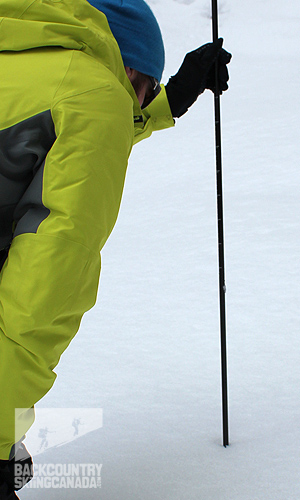 ---
BCA Stealth 270 Quick Lock Probe:
Price: $55 US
Weight: 298g / 10.5oz
Length extended: 270cm / 8'10"
Length collapsed: 47cm / 18.5"
Diameter: 1.24 cm / 1/2"

The Stealth 270 alloy version is a little bit beefier, but has the same quick lock assembly, rounded segment ends, and laser etching. You save a bit of money and pay a bit in the weight department. Alloy probes tend to be a bit tougher than carbon, which make for a good choice if they will be employed in daily use in a guided operation, or by a ski pro. Again this probe packs away neatly, and deploys in an instant. BCA also offers alloy probes in 240 and 300 cm lengths, as well as the B1 probe, which fits inside the B1 shovel handle.
The BCA Stealth 270 Quick Lock Probe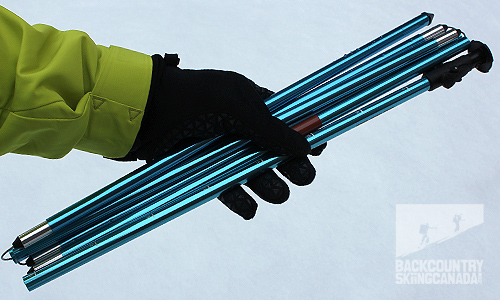 Collapsed probe, note the added width.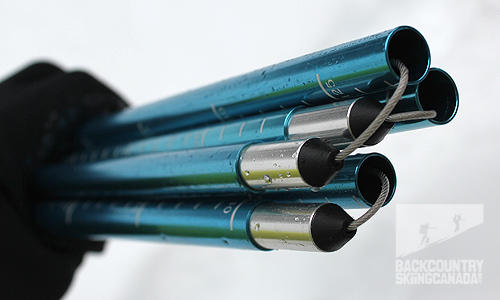 Locking mechanism is the same on both BCA models.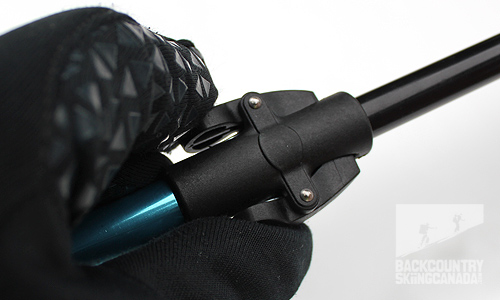 The BCA Stealth 270 Quick Lock Probe folded.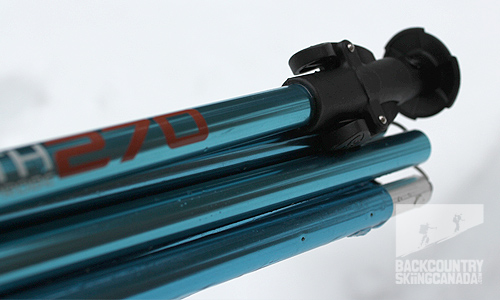 Top of the probe and locking mechanism engaged.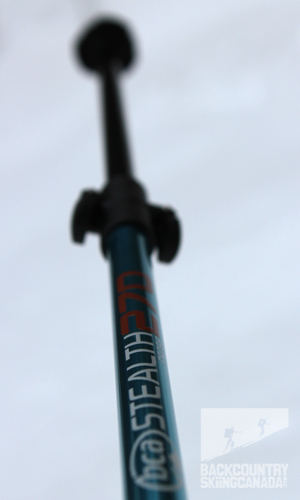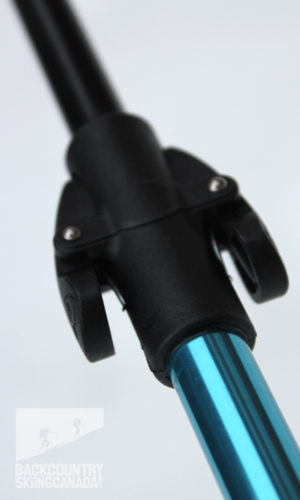 Silk screened measurements and again in the field.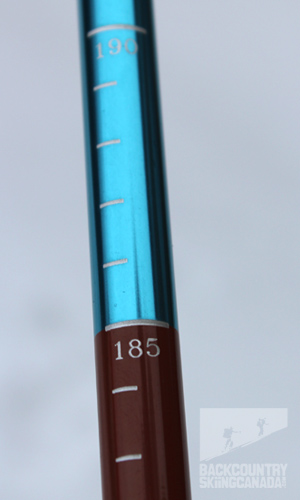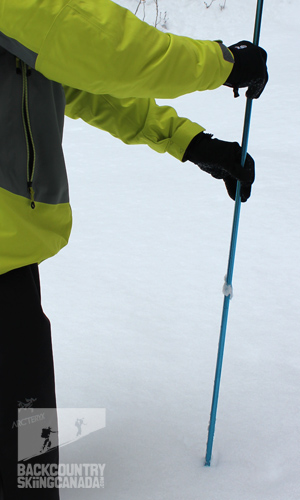 Verdict:
Whichever version you choose, you can be sure that a BCA probe will provide years of faithful service as they are solidly built, feature-filled probes with an awesome locking mechanism.
PROS:
- Small and lightweight, lots of great featurest
- relativley inexpensive
CONS:
- Silk screen lengths eventually get scratched off, something more permanent would be ideal
Rating: 9/10
Ease of Use 2/2
Technology 1.5/2
Features 2/2
Weight 2/2
Quality / Price 1.5/2

This is only our opinion. Do you disagree? Did we miss something? Are we totally out to lunch? Join the discussion in the forums here, and let us know what you think. People like/dislike gear for different reasons so chime in and we'll get a well-rounded evaluation.
Back to the rest of the reviews.
---