Summit Mountain Guides AST2 Course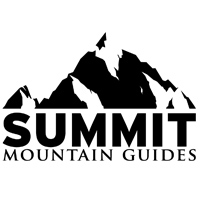 The question should not be whether to take an Avalanche Skills Training class; rather, it should be when, where and with whom. Taking a course is one of the indisputable ways to increase your safety in the backcountry. Fortunately, people are starting to figure this out and more and more people are signing on to learn.

This write-up is on the AST 2 course offered by David Lussier of Summit Mountain Guides (SMG) based in Nelson, BC. It's the second review we've done on a Summit Mountain Guide AST course, the AST 1 review is here. You may refer to this earlier piece for background info on the Canadian Avalanche Centre curricula, and more.

There are several ski guides in the Kootenays and I have had the pleasure of skiing with many of them. David Lussier is a little special because he is an IFMGA-certified guide, meaning he is expert in all disciplines, not skiing alone. Summit Mountain Guides is also, perhaps, the most organized and establish guiding program in the Nelson area. With the help of his partner Miranda and other guides, David works in all seasons, guiding in special spots throughout North America and Europe.

Back to the course… AST 2 is the highest level training you can take as a recreationalist. Next level up is professional. AST 2, as prescribed by the Canadian Avalanche Centre, is a 3 ½ day course comprised of one, four-hour classroom session the first night and three days in the backcountry followed by two hours in the classroom on the 2nd and 3rd nights. This particular course was in January (during the cold snap). Our three days in the backcountry were as follows: day 1 Evening Ridge, day 2 Kootenay Pass and Day 3 Five Mile Basin. It was a luxury to ski in these spots accompanied by a ski guide—truth is though, the time in the backcountry was more about learning than it was about skiing (as it should be).

Class time is a key part of the program. It was very helpful to look at various terrain features and talk amongst the group about choices and the best ascent route (if there was one).

The course was held during a cold snap. Here we are at the 'Pass parking lot warming up with a round of jumping jacks. It was a great group.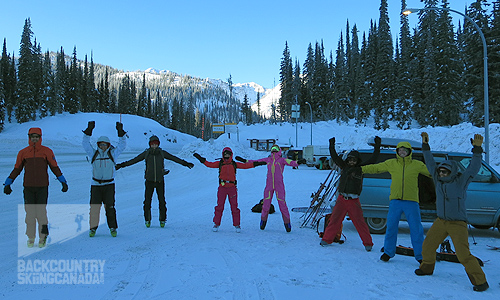 Here is David and the three Aussies digging a pit on the same Kootenay Pass slope we decided not to ski.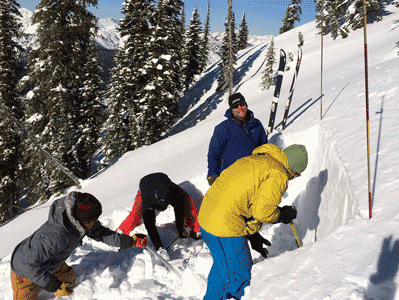 Here, a course participant, about to stomp above the same pit as part of the Rutschblock test we conducted. Nice hat!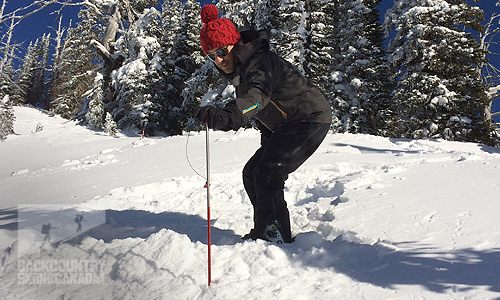 David Lussier, Summit Mountain Guide's fearless leader, co-owner and operator, extolling the virtues of a simple map and compass. Two participants putting the simple tools to good use. We used altimeter watches but no GPS. Fine by me.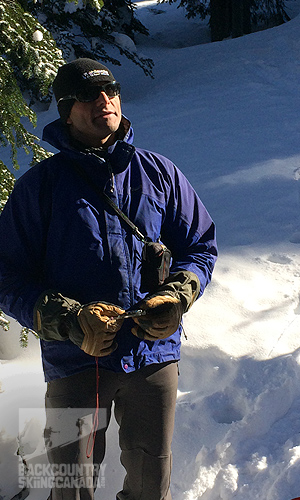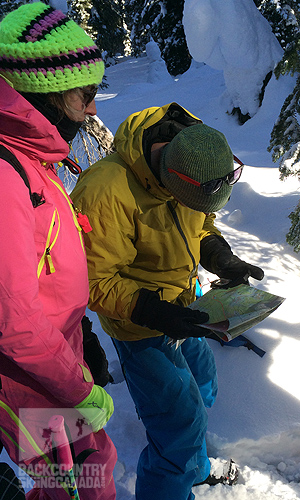 Group map and compass, Kootenay Pass day.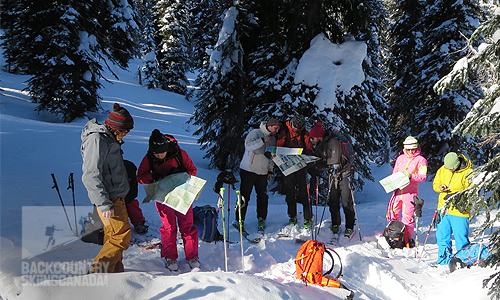 Verdict:
This was an excellent course and a fitting follow-up to AST 1. The theory part of the class was a great way to get refreshed and start our avalanche brains working. Bruce Tremper's Staying Alive in Avalanche Terrain was suggested reading before the course so that helped also. It's a great book by the way—'should be required reading for anyone heading out into the backcountry. The Summit Mountain Guide folks also provided us with a list of questions to consider over the weeks prior to the class. The intention here was to aid us in "hitting the ground running" at the start of the course. Inevitably, the first night of theory is also about learning about each other, our various skill levels and backgrounds. It was a diverse group comprised of different ages, skill/comfort levels and personalities. Good stuff.
The beauty of the course was the time spent in the backcountry feeling our way around the terrain, stopping to talk about what we saw, using the tools at our disposal, and digging pits to make informed decisions on whether or not we should move ahead. This kind of experiential learning is best for me and, I imagine, for many people. The theoretical aspects are key but I tend to learn more in the field than in the classroom.

Conditions dictated where we skied and the snowpack at that point in the season wasn't as interesting for study as it had been in some years past. In other words, digging pits didn't expose all kinds of interesting weak layers deep down (other than one). We did experience a good dosage of windslab and learnt to appreciate the associated risks and ways to mitigate. Props to David for keeping us all engaged in the cold conditions and making the best out of so-so learning conditions.

There was one particularly valuable learning occasion on the day we were at Kootenay Pass. We were all a little hungry to ski some pow and the slope directly below where we had dug a pit looked really promising—from what we could see. Instructor David encouraged us to think about what we had seen in the snow pit, acknowledge the fact that we couldn't see the slope we wanted to ski, consider the aspect, time of day and a few other factors. Though it wasn't easy, we decided as a group that it would be best to ski down the way we came up. Once we were lower, we were able to look back up at the slope and see that it was a little cliffed-out and it wouldn't have been good (or safe) skiing. The group came to a similar decision when we spent a day at Evening Ridge. We decided not to drop in off the back/north side but, rather, contoured around and hit Hummingbird Pass and the trial home. Again, in retrospect, this was a good decision. Some of the best learning came in deciding how not to proceed.

As with the AST 1 course, I gained a better understanding and appreciation for the use of proven processes and tools in decision making. We used the Avaluator V2, the Decision Making in Avalanche Terrain field book from the CAC and the little Companion Rescue card (also from the CAC). We also discussed ATES ratings and studied the CAC avalanche bulletins and various weather "products" in depth. All of these resources help in gathering good information for decision making and in following the proper steps if an avalanche accident occurs.

Many of these comments might be applied to an AST 2 course given by just about any instructor or outfit. It all came together in the Summit Mountain Guides/David Lussier program because David has such a depth of experience, great people skills, indefatigable spirit and love for the mountains. David, simply, makes learning fun. I totally recommend taking AST 2 with David and Summit'. I haven't experienced any of the other instructors on the team, but I hear they too are top notch.
One of the many scenarios we ran—this one at valley bottom in Five Mile Basin. It's so important to do this a few times a season. The chaos and adrenaline experienced is likely only about 10% of a real-life accident. Great practice.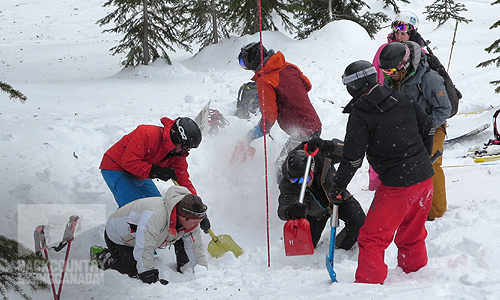 Yes. We managed to find some pow.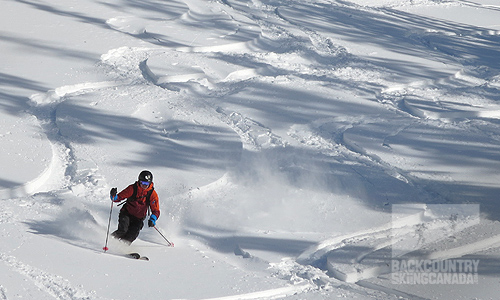 The group on the ridge after a day in Five Mile. Whitewater's Ymir Peak in the background.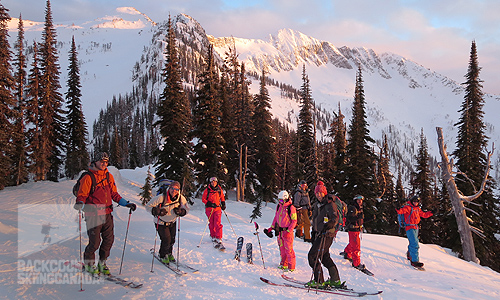 Who's this guy wearing four jackets? (the author)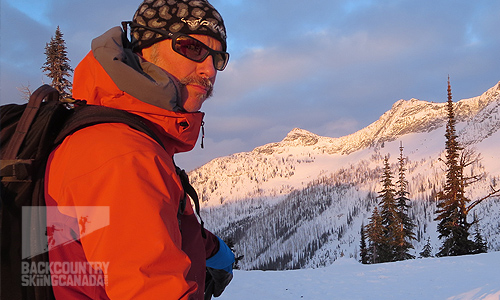 SPECS:
Price: $445 plus tax per person (includes Avalanche Canada fee, advanced avalanche manual, AST 2 cert)
Group size: 6-8
When: 3 or 4 times a year. Check out Summit Mountain Guides' site (summitmountainguides.com) for up-to-date details on AST1, AST2 and the new "Companion Rescue Course." There's also a combo AST 1 & 2 course on offer.
Where: Nelson, BC and environs. Backcountry days are conditions dependent.
PROS:
Probably the best way of sharpening your skills and knowledge to make smarter decisions in avalanche terrain. David is an excellent teacher and you'll likely enjoy spending time with your fellow participants. Like-minded folks tend to enjoy each other's company.
CONS:
None to speak of. It was cold but that had nothing to do with the quality of instruction. The handouts had 6 PowerPoint slides to a page so they were a little difficult to read. No biggie.
Rating: 9/10
Curriculum 2/2
Instructor 2/2
Handouts 1.5/2
In Field 1.5/2
Value 2/2
This is only our opinion. Do you disagree? Did we miss something? Are we totally out to lunch? Join the discussion in the forums here, and let us know what you think. People like/dislike gear for different reasons so chime in and we'll get a well-rounded evaluation.