The Atomic Charter Skis.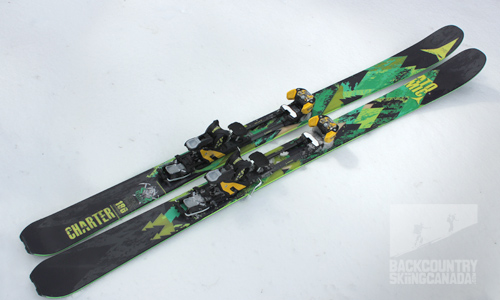 And of course the Atomic Charter pre-cut skins.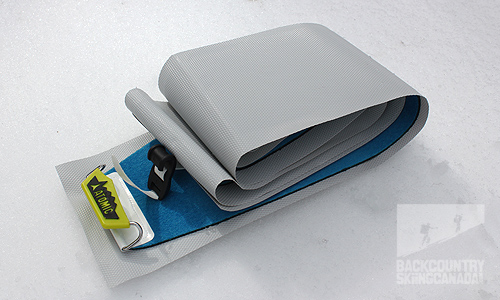 Features:
• "Powder Rocker" shape that incorporates 80% camber and 20% tip rocker
• Step down sidewall construction
• Lite wood core
• "Titanium Mega Grip" edges
• Half-cap construction at the tip and tail
• Partial Twin Tip Tail
The tips and of course the tails below.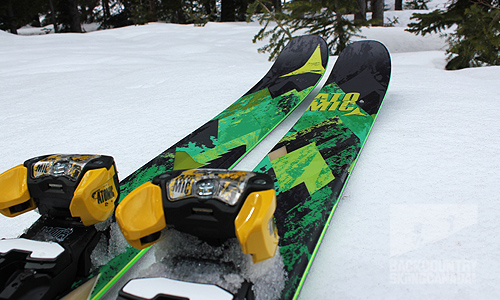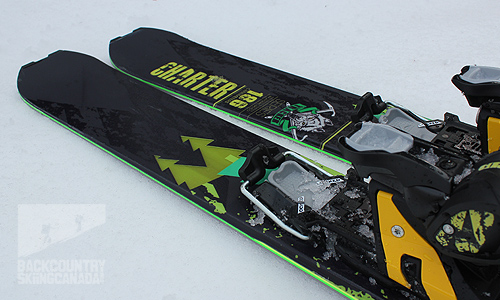 The cap construction close up and the textured top sheet graphics, you either love 'em or hate 'em.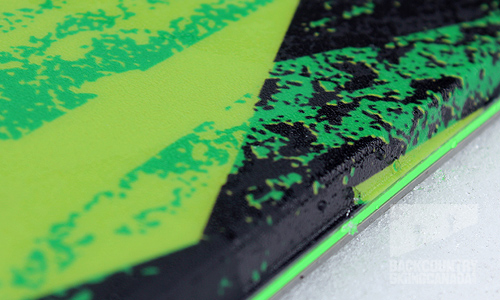 Tail notch for the Atomic Charter pre-cut skins and the obvious camber underfoot.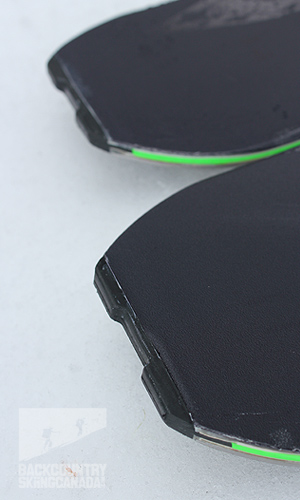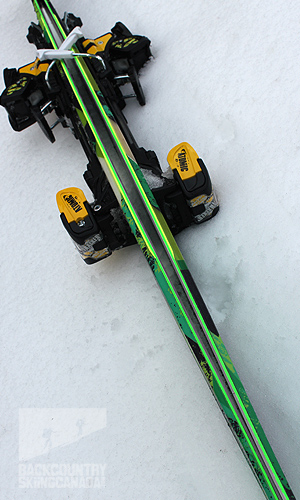 Early tip rise and a little bit on tail.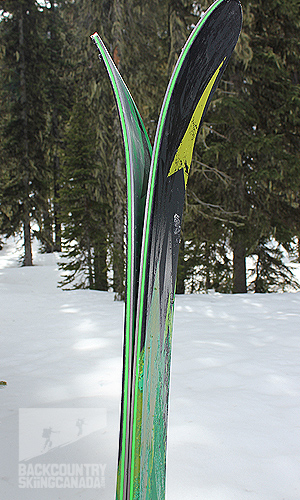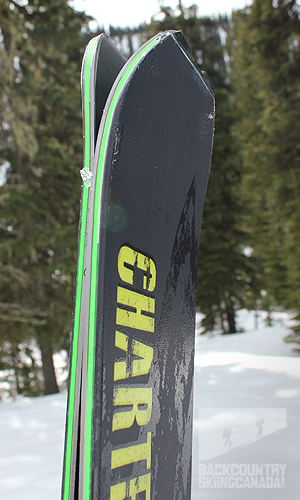 Verdict:
Atomic claims their Charter is the "all mountain ski" in their quiver of offerings and while I won't dispute this fact, I will say it's a great resort ski that gives you the freedom to go sidecountry. The reason this is a good on-hill ski is because of its construction: the titanium insert below the binding provides a lot of rigidity while encouraging the transfer of power to the edges directly. And the traditional camber underfoot allows you to shift from edge to edge quickly. In other words, this ski slays the hard-pack groomers. That said, the 100mm waist width and rockered tip ensures good flotation and the 10% rocker on the tail allows the ski to come around easier in variable conditions. In one particular instance, I took this ski out in super-heavy schmoo and was surprised at how well it stayed afloat, despite its overall rigidity. That said, these are not what I would call playful skis, nor are they the most sturdy I've been on this season. If I were to compare the Atomic Charter to an animal I'd say it was the coyote of skis: it'll survive in every type of environment but it's not as strong as a wolf nor as playful as a Jack Russell. It's also ugly as a junkyard dog – the speckled texture of the top sheet combined with smeared graphics of black and green coniferous trees is reminiscent of a finger painting I once gave my mom for Christmas when I was five. Overall the Charter tries to be all things for all people and I believe it's a good fit for those resort goers who occasionally hit the sidecountry but who just want to have one pair of skis in their closet.
As for the Atomic Charter Skins, they are made of 100% mohair and are precut to the Charter Skis. (They're sold separately.) They have a metal loop at the tip and at the base is a plastic clip, which is a bit surprising. The jury's still out as to whether that clip will hold up in the long run. That said it's easy to adjust them, even with gloves on, and they effortlessly clip onto the ski, thanks to the dedicated divot carved into the tail. The best part about these skins is they're super light. I'm the kind of skier who shoves my skins into my jacket before ripping down and, when I folded up the Charter Skins, their surface area was small enough that I barely noticed them. I haven't had these out in icier conditions yet so I'm not positive about their overall grip strength but I can attest to the fact that they have excellent grip in powder, heavy snow and compact up tracks. Also, in my experience the glue worked well in conditions ranging from –8°C to +3°C.
The tail clip is made of some sort of plastic which hopefully stands up to the test of time.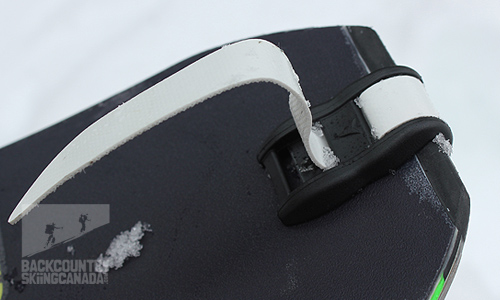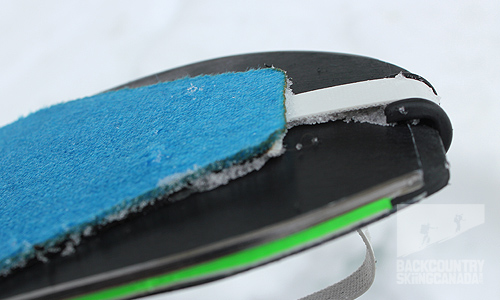 The pre-cut skin has a super easy tip connector.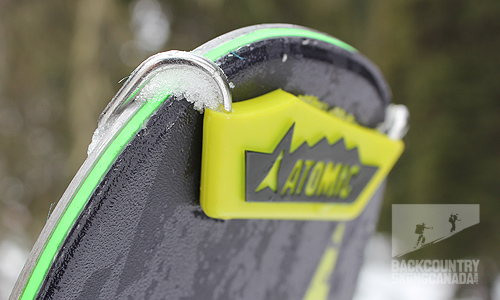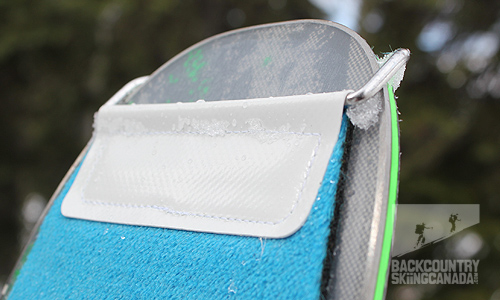 Close up of the skin material and one more shot of the tips.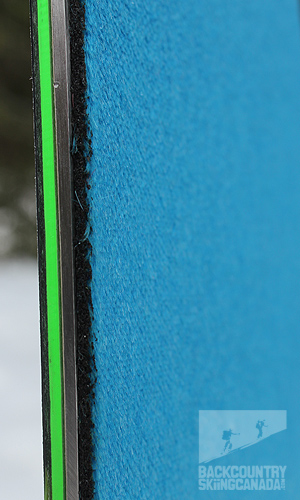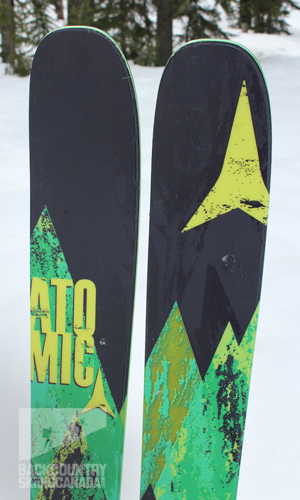 SPECS:
Charter Skis:
Price: $549 US
Length: 166, 176, 186 cm
Weight: 166cm: 6lb 8oz; 176cm: 7lb 8oz; 186cm: 8lb 4oz
Dimensions: (Tip width, Waist, Tail width, Radius)
166cm: 128.5/100/118.5, 17m
176cm: 129.5/100/119.5 mm, 18m
186cm: 130.5/100/120.5 mm, 19m
Charter Skins:
Price: $172 US
Length: 166, 176, 186 cm
Dimensions: Precut for each size of Charter Ski
PROS:
- Ski construction allows it to float in powder but also provide good rigidity underfoot.
- Sidewall construction is burly and stands up well to wear and tear.
- The Charter Skins are extremely light.
CONS:
- Ugly graphics on the top sheet.
- Not the most playful or robust ski on the market.
- The Charter Skins have a plastic clip on the tail which may not stand up well to long-term use.
Rating: 8/10
Grip/Glide 2/2
Glue 1.5/2
Attachments 1/2
Weight 2/2
Quality / Price 1.5/2

This is only our opinion. Do you disagree? Did we miss something? Are we totally out to lunch? Join the discussion in the forums here, and let us know what you think. People like/dislike gear for different reasons so chime in and we'll get a well-rounded evaluation.
Back to the rest of the reviews.
---