Atomic Tracker 110 ski boots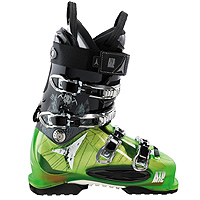 With the expanding interest of backcountry skiing it's no surprise that each season more and more companies are entering the fray when it comes to gear that is intended to get you out past the ski area boundaries and into the goods. Atomic is one such company and has introduced a number of products this season which focus on getting more people into the backcountry. The trend with the Tracker series of boots (Available in a 110, 120 and 130 flex rating) is to provide adequate touring features while not losing downhill performance. I had the opportunity to try the Atomic Tracker in a 110 flex and it tries to achieve this by giving you a mild weight savings from a standard alpine boot, good grip from the Sky Walk out sole and a bit of extra range in the walk mode. I think the strengths of this boot over its direct competition is the very distinct fit and the excellent lockout for down hill skiing. I found that this boot was very precise into the heel, very good for people with a narrow foot and small ankles. The Live Fit portion as detailed in the photo below really does make for a roomy and comfortable feel on the sensitive fleshy portion of the outside of the foot.
Left, front and right mug shots.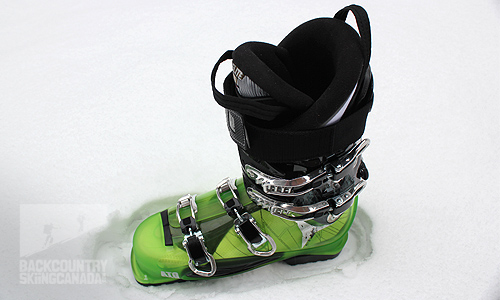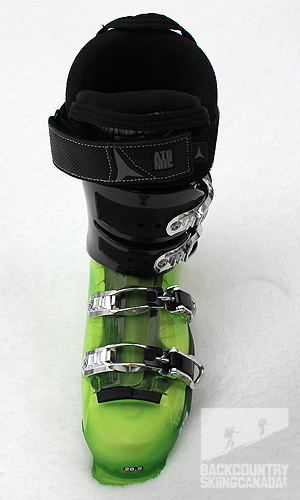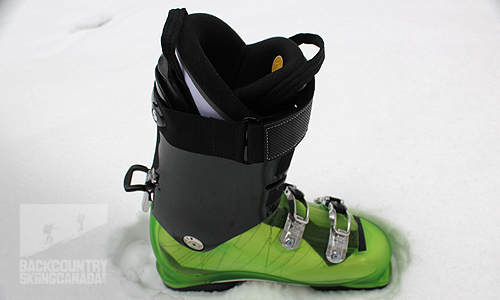 This is a 98mm lasted boot with a precise fitting Sidas semi-custom mouldable liner included. I didn't research any affiliation between the two brands but I think it's great when boot companies partner with technology companies to give a more well rounded product. This liner is good quality but it does lack a bit in overall thickness and my foot did get cold on a long day tour away from the Lodge. Depending on shape of your foot you could swap to an Intuition style liner to save some weight and gain a bit more padding and warmth but because the shell is so precise fitting I would caution that this would only work with someone who had a low volume foot. With my foot I was forced to use the stock liner and just deal with the lack of insulation and overall padding that this boot provides out of the box.
It's always been a challenge to have a boot, ski or binding to do it all and the new Tracker series boots from Atomic are a reasonable attempt to produce boots that offer high performance on the down hill and some added comfort on the up track. This boot includes a few innovations that I noted as I unpacked them from the box. The first detail that I noticed was the unique addition of what Atomic calls Live Fit. This modification to the outside of the boot allows the foot to spread naturally, this allows for better comfort on a tour and also just plain allow the boot to accommodate a wider range of foot shapes. Essentially Live Fit is a cut away on the outside edge of the boot that has then been covered by a reinforced rubber piece which allows for an amazing amount of fit flexibility in that area. On the Tracker series boots Live Fit exists only on the outside of each boot in what a lot of people would refer to as the "sixth toe" area. I like this feature, but for some the loss in power from lack of contact in that area could be a concern. The other significant detail that I noticed is the way that they designed the ski/walk mode. In ski mode there is a block between the upper cuff and lower boot that acts to join the two pieces together smoothly. As the lever is moved to to walk mode this block is moved away from the lower boot which opens up a gap allowing for increased range of motion in the upper cuff. I feel like this method of cuff locking and release is very good for maintaining power in the spine of the boot without allowing for much if any back flex. Also because there is no pin or sliding rails it seems like there would be less issues with breakage. The actual range of motion that exists in walk mode is very slight even for a "downhill boot that tours" and when compared to the boots available on the market intended for extended days touring, this boot really does not compete.
Features:
- 35MM Power Strap
- Elastic Live Fit zone on outside of foot
- Recco Avalanche Reflector Built into power Strap
- Canting devices on both sides of Cuff
- Power Control Release walk mode with 20 Degrees of motion
Liner: Sidas Elite T3 Mouldable Liner with Laces.
Sole: A removable custom Sky Walk sole with a DIN plate and extra grip in the mid step.
Buckles: 4 Aluminum "Carabiner" Style Buckles with Micro Adjustments, 3 Positions on the cuff to accommodate various lower leg sizes.
Compatibility: No Tech Fittings.
Heavy duty buckles.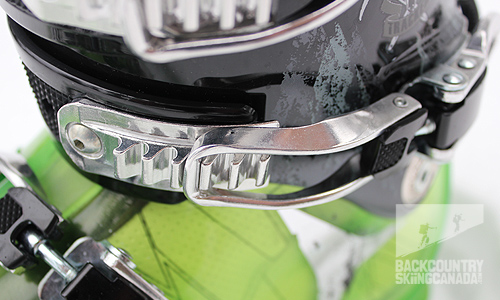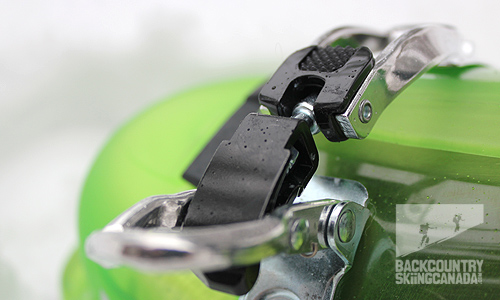 Ski/walk mode is also pretty beefy.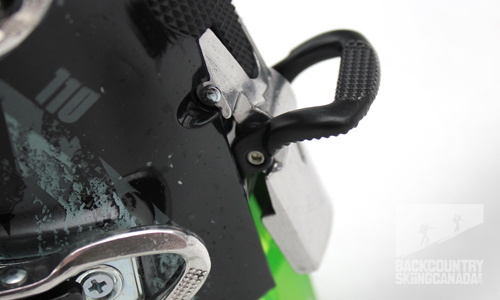 Elastic Live Fit zone close up.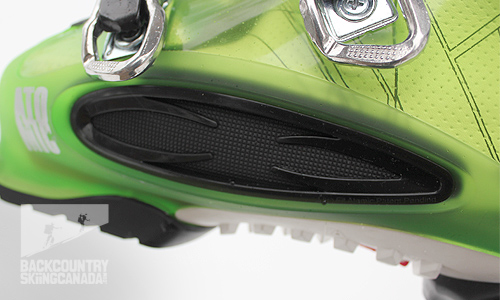 Grippy treads even under the arch.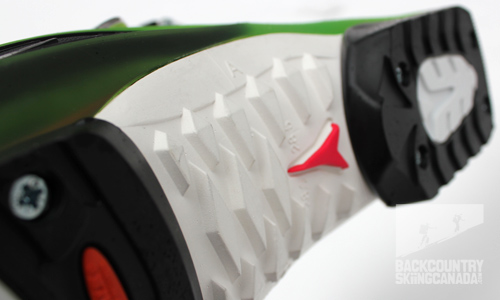 Canting on lower cuff.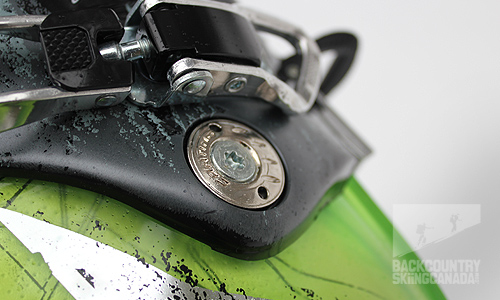 Powerstrap and shell interior.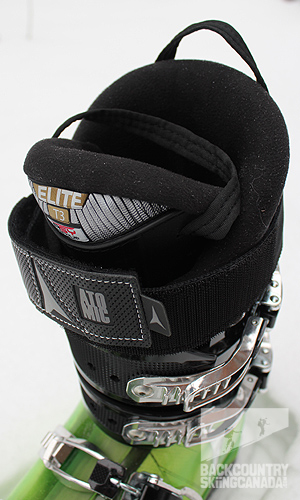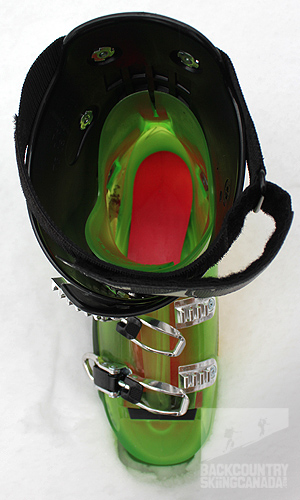 Liner is cushy-comfy with optional laces to snug things up.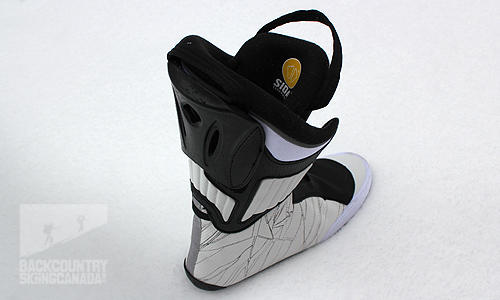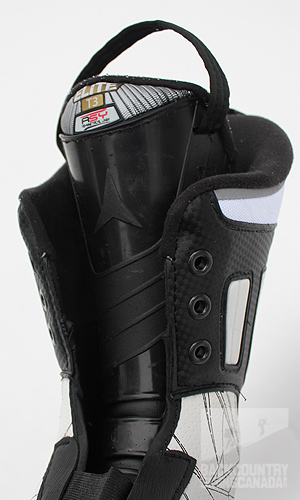 Verdict:
The Atomic Tracker 110 Men's Ski Boot is a stout high performance boot with a precise fit, suitable for a narrow to medium volume foot. This boot is very unique in the amount of comfort it gives to the outside of the foot and the toe area while maintaining contact through the inside of the boot. The Live Fit feature removes a very common fit concern in an effective way while providing a natural space for your foot to spread through this area. The walk mode is very simple and elegant and should prove to be reliable with very few moving parts. Range of motion in walk mode is ok for a boot in this category but I've seen better. The liner is very high quality but seems a bit thin for true comfort and warmth and is definitely geared more towards performance. All in all, this boot suits its intended audience of skiers who want a high performance boot with a walk mode and good sole grip. Although it falls short when it comes to weight, warmth, comfort and tech fittings when compared to true Alpine Touring boots this boot stacks up well against similar offerings from Tecnica, Salomon and Lange. This is a very well made boot that would be very much at home at the resort on a daily basis with the plan for occasional short trips into the backcountry. The DIN sole makes this boot compatible with a wide range of platform touring bindings and all down hill bindings. If you have a low volume or narrow foot and want a boot that will give you a modern alpine overlap performance I would suggest giving the Atomic Tracker line of boots a good look.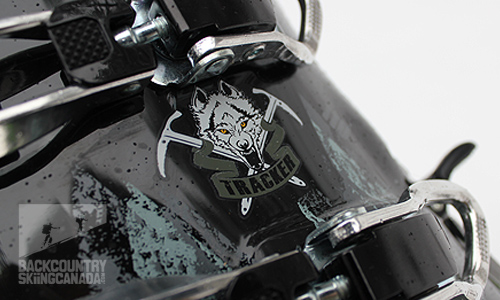 SPECS:
Price: $549.99
Weight: 3.88kg / 8.55lb (pair)
Sizes: 25.5-29.5 (half sizes only)
Last: 98 mm
Flex index: 110
Liner: Sidas semi-custom mouldable liner
Power Strap: 40mm
Canting: +/- 1 degree
PROS:
High end performance liner and foot bed included, extra grip in the mid step, precise fit and good ability to drive a ski to edge. Comfy in toes and outside of the foot thanks to the Live Fit Feature. Easy to get into for an alpine wrap style boot. They look cool thanks to the transparent green and shiny aluminum buckles.
CONS:
The walk mode was not very effective, these boots are not pleasant to ski tour in. I felt like the forward flex was very soft at the top of the range of motion which led to a lack of energy and shock absorption. The liner didn't leave much in the way of cushioning or warmth and I wouldn't trust this boot out on a long day to keep my feet warm or comfortable. I think that as more brands enter the back country skiing market gear will just benefit from more and more innovation. However, this boot doesn't really belong on a long hike, far away from some where I can take them off and put my feet next to a fire.
Rating: 6.5/10
Fit/Comfort 1.5/2
Cuff Rotation 1/2
Function 1.5/2
Weight 1/2
Quality / Price 1.5/2

Join the discussion in the forums here, and let us know what you think. People like/dislike gear for different reasons so chime in and we'll get a well-rounded evaluation.
Back to the rest of the reviews
---