Arc'teryx Silo 30 Pack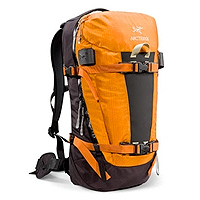 Our video review of the Silo 30 pack has been up on the site for a while now but we thought we'd round it out with a few more photos and information after almost a season's worth of testing in the backcountry. To see the video (boy that was a nice day) just scroll below. Our impressions of the Silo 30 haven't changed much; we continue to give it the thumbs up. It's a perfect pack for a full day of backcountry ski touring—the size is just right for the probe/shovel/transceiver combo, a down layer, snacks, extra goggles, first aid kit and anything else you'd want to stuff in there (within reason).
In the video, we commented that the outer pocket may have been a little small for a shovel blade. This is true for bigger Voile shovels and last season's BCA digger. The more compact shovels, like offerings from G3, BD and BCA this coming season, will likely fit. Speaking of fit, the Silo 30 is a well fitting pack. It actually feels like it's not even on your back—which is a plus. The removable hip belt seems a little flimsy at first, and then it becomes clear that it has been developed to limit weight—and it's perfectly comfortable.
The main compartment has one little "tuck away" pocket up top and, as well as the main space, there's a hydration bladder sleeve and a drawcord-tightenable area at the bottom for storing items you want to keep dry and protect from the traffic in the main compartment. I put fragile and important things in here (like a down layer) and leave other things I care less about in the main compartment (shovel blade, lunch-in-a-tupperware, spare gloves, etc. This program is what I find works for me.
The diagonal ski carry feature in action
Close-up of ski carry feature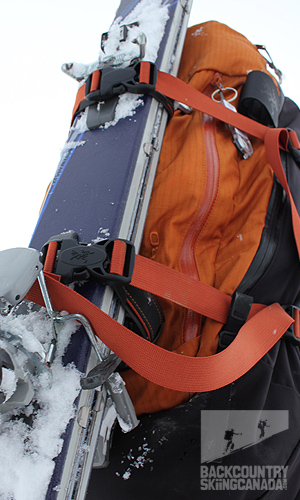 Clam-shell design makes for easy access