Ahnu Footwear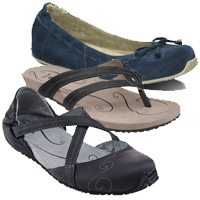 As a child my mom always insisted that we wear practical footwear. "It's important for everything from your feet to your back" she used to tell us. My mom's common sense approach to footwear has stayed with me over the years and although I am sure that it has helped all of my joints it has definitely prevented me from wearing "cute" shoes on many occasions. It's hard to find cute shoes that are also practical and would meet my mom's standards. It was because of these experiences that I was so excited to discover Ahnu. Created in 2007, Ahnu is known for creating super cute shoes that still have good soles, are well made and provide support. My mother's dream!
In Celtic mythology Ahnu is the goddess of balance and well being. On their website, the creators of Ahnu discuss how they work to achieve a balance between work and play as well as a balance between their business goals and their social and environmental responsibilities. A quick internet search shows that Ahnu does indeed work hard to achieve this balance. For example, since 2007 Ahun has donated around $250,000 to charitable organizations, including the Wilderness Land Trust, Team Farsight and the Breast Cancer Fund to name a few. They have also teamed up with Plus 3 Network- a social networking site that pairs worthy causes with corporate sponsors who donate 5 cents for each mile a participant bikes, swims, runs etc. On the production side of things, Ahnu complies to Decker's Ethical Supply Chain Standards in the design and creation of their products. Here is a company where you can love your shoes and feel great about where they came from.
We reviewed three pairs of Ahnu shoes: the Karma, the Arabesque and the Hanaa. All three of these shoes are new to the Ahnu collection and fit in their Yoga Lifestyle category. They are also all built with the the same materials for the sole, footbed and topsole. The soles are made of non marking rubber with a distinct Ahnu pattern for traction. They also all have an EVA footbed for cushioning and light arch support and a microfiber suede topsole that is comfortable against barefeet and resistant to retaining smells. All three of the shoes are super cute and are versatile enough to be worn with dresses, capris or pants.
Women's Ahnu Karma Shoes:
Price: $109.99 CAN
Colours: Mood Indigo, Black, Silver sage, Sea Spray, Misty Rose, Lead, Chocolate Chip, Smokey Brown, Port Royale
Sizes: 6-11 (including half sizes), some models available in size 5
A cute comfortable and versatile shoe, the Karmas make a great summer shoe and the soft heel makes the shoes easy to slip on.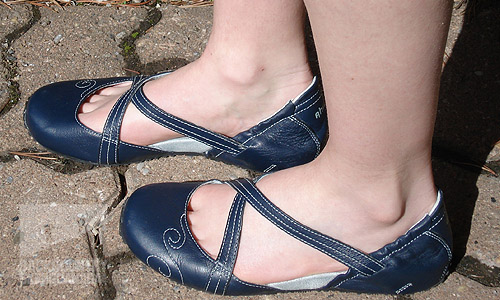 These are great shoes! They are cute, comfortable and easy to wear.
I like to have my toes covered at work which, in the past, has made it difficult to find summer work shoes. The Karmas are the prefect choice; while my toes are covered, the sides are open so my feet stay reasonably cool. Like I said above, they are also really comfortable and are easy to wear all day long. The Karmas have some arch support and are flexible enough to be comfortable but stiff enough to be supportive.
The heels of the Karmas are soft and stretchy which makes them easy to slip on but they still stay on without ever slipping off. It also means the heels folds down flat, making these shoes easy to pack.
For me these have been fantastic shoes and I look forward to wearing them all summer long!
Features:
Materials: Soft, supple, full grain leathers
Heel: Stretchy back heel
Footbed: Sculpted EVA footbed
Sockliner: Microfiber sockliner with antimicrobial treatment
Warranty: Guaranteed to be free of defective materials or faulty manufacturing for one year
Designed for: Commuting, Travel and Apres Yoga
Open sides help keep your feet cool.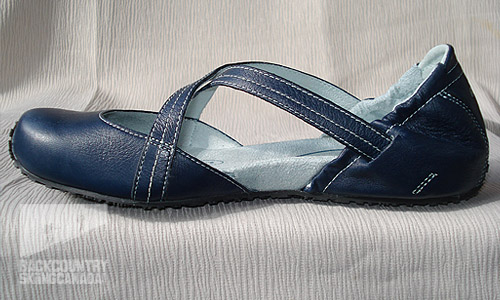 Crossing embroidered straps looks great and keep the shoes in place.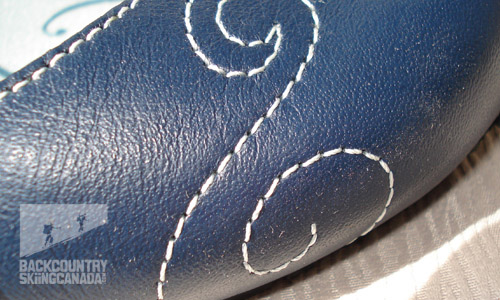 A simple pattern looks great on the Karmas.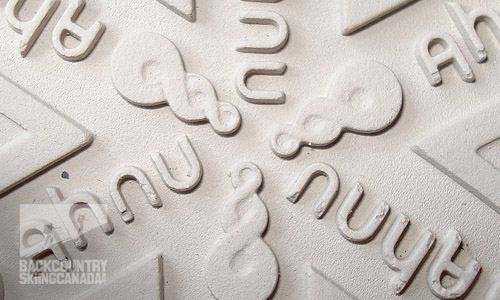 PROS:
- Available in 10 different colours
- Available in 2 fabric types
- Comfortable
- They cover your toes but have open sides
- Cue embroidery
- Easy to slip on
- Stay on when walking
CONS:
- Toe box a few millimetres too short
Rating: 9/10
Innovation 1.5/2
Function 2 /2
Aesthetics / Fit 1.5/2
Features 2 /2
Quality / Price 2/2
---
Women's Ahnu Hanaa Shoes:
Price: $79.99 CAN
Colours: Sea Spray, Lead, Smokey Brown, Black
Sizes: 5-11 (no half sizes)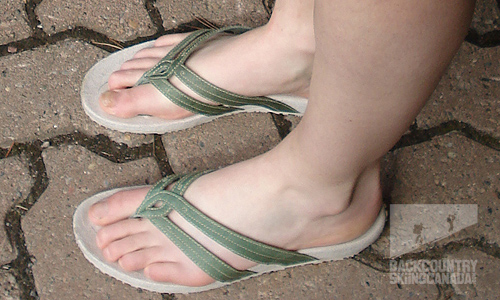 Like with the Karmas, I found the Hanaas to be really comfortable. The midsole has just the right amount of cushioning for my feet; not too soft but not too stiff either. The light arch support also works well with my feet as it provided some support but did not rub or cause blisters.
The straps on the Hanaas are super cute. There are two straps on each side and the lower straps cross to make a pattern where they meet your toes. The straps also have some simple embroidery on them which works to dress them up. I found the straps stretched a little over time but so far the Hanaas still stay on my feet well.
The topsoles on the Hanaas are white and I'm not sure this is the best colour. After only a few wears the topsole is starting to show the dirt.
Features:
Uppers Materials: Soft leather
Footbed Materials: Microfiber suede with antimicobial treatment
Designed for: Commuting, Travel, Casual everyday wear, Apres yoga
In keeping with Ahnu's philosophy, these flip flops are a balance of fun and function.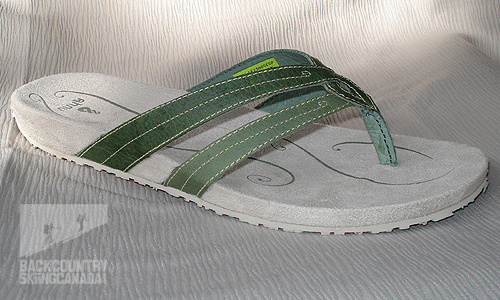 The four embroidered straps cross into a pattern on top of the foot.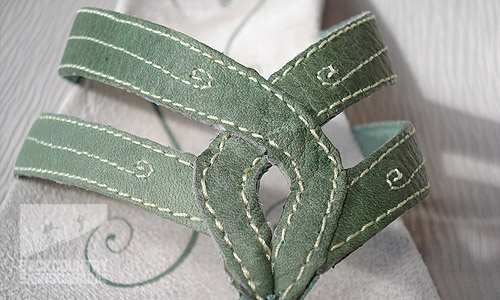 The Hanaas are a sturdy flip flop.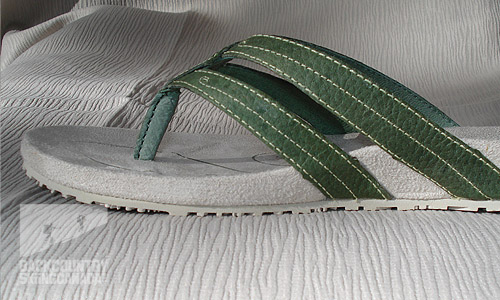 PROS:
- Comfortable
- Easy to walk in
- Subtle design
- Light arch support
- Stay on
CONS:
- Topsole shows dirt easily
Rating: 8/10
Innovation 1.5 /2
Function 1.5/2
Aesthetics / Fit 1.5/2
Features 1.5/2
Quality / Price 2 /2
---
Women's Ahnu Arabesque Shoes:
Price: $119.99 CAN
Colours: Mood Indigo, Rugby Tan, Sea Spray, Chocolate Chip, Black
Sizes: 5-11 (including half sizes)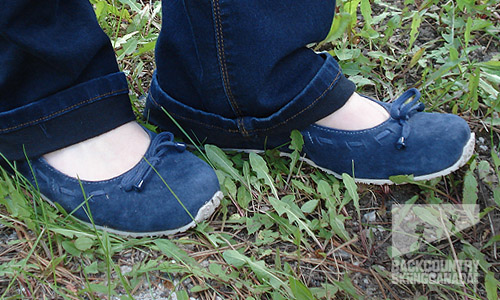 I really like the look of the Arabeques. They come in great colours and I really like the style of the lace going around the shoe finishing at a bow in the front. I also really like the elastic at the upper heel of the shoe which, along with the soft material, made them easy to get on and off and meant no problems with blisters. Furthermore, unlike many ballet flats where you feel like you're walking on the ground, with the Arabesques you feel like you're wearing shoes.
Despite these positives, overall these were my least favourite of the three Ahnu shoes I tried. Although the Arabesques are really cute to look at, I found they weren't that comfortable to wear. The main problem was that toe box is hard (unlike the rest of the shoe) and this was uncomfortable for my big toes. I am always a size 8 across all brands so I ordered the Arabesques in a size 8. I wonder, however, if they would be more comfortable in an 8.5. Other reviews I read on the internet indicated that a few other people had had some discomfort for their big toes and found a half size bigger to be more comfortable. Based on this I would recommend trying these shoes on rather ordering them online (unless you live in the US where return shipping is free). In addition to the sizing problem, I found that although I love the dark blue (Mood Indigo) colour of my Arabesques, it scuffed easily and lost its new look really quickly.
Features:
Fit: Slim fit
Support: Ergonomic
Upper Materials: Soft leather
Footbed: Microfiber suede with antimicrobial treatment
Designed for: Commuting, Travel, Apres yoga
The laces would be better off without the plastic ends.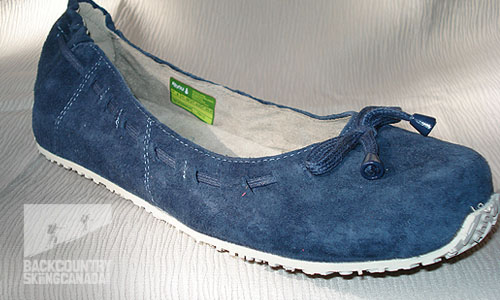 The bow is a cute touch to the Arabesques.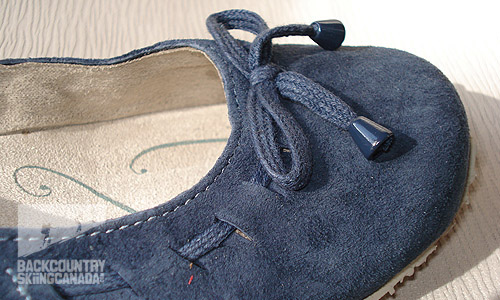 PROS:
- Cute
- Not as flimsy as most ballet flats
CONS:
- Mood Indigo wore easily
- Hard toe box uncomfortable
- Sizing may be half size different than other Ahnu shoes
Rating: 6.5/10
Innovation 1.5 /2
Function 1.5/2
Aesthetics / Fit 1 /2
Features 1.5/2
Quality / Price 1/2
---
Verdict:
As stated in the introduction, all three shoes that were reviewed here were built with the same sole, midsole, and topsole construction. Overall this design works well and makes for cute shoes that still have some support, don't make you feel like you're walking on the ground and are easy to wear.
The sole for all three types of shoes is made of rubber and provides an appropriate amount of traction for sandals. The pattern on the soles is innovative and leaves interesting footprints. The soles on all three shoes are white which means they get dirty quickly. Being white, however, also means they are nonmarking.
All three shoes reviewed have an EVA midsole. EVA stands for ethylene vinyl acetate and is a foam. EVA is made up of thousands of air filled bubbles which make the midsole flexible and lightweight. It is also resistant to impact because when your foot strikes the ground the air is pushed out of the bubbles but as the weight is lifted from the shoe the bubbles fill again. I found that the midsoles provided a good amount of support for my feet and were indeed lightweight and flexible. The Ahnu midsole also provides some light support which was just enough for my feet.
The topsole of these shoes is made with suede which is perfectly comfortable against barefeet. It is also treated with an antimicrobial treatment to prevent unwanted odours. Although I have not worn the shoes much in super hot weather, so far my barefeet have been comfortable in the shoes and none of the shoes have started to smell.
I found both the Karmas and the Hanaas fit true to size. The Arabesques, however, may have been better a half size bigger than I normally wear.
All three shoes are flexible and squish down, so they pack well. They can also all be worn with a variety of clothing. The Karmas and the Hanaas are super comfortable and easy to walk in. All three shoes reviewed are super cute and have subtle detailing which really adds to their appeal. I am thrilled to have been introduced to Ahnu and am excited to see what else they come out with over the coming years!

Back to the rest of the reviews.
---