49R Goggle Case and Gondom Goggle Cover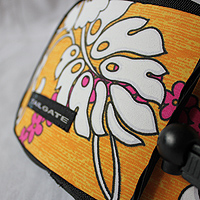 Every once in a while you come across a product and think, "huh, why didn't I think of that?" The 49R Goggle Case and "Gondom" Goggle Cover from Tailgate industries are two such products. For years I have cringed every time I put my $200 goggles into their flimsy, cheap manufacture supplied fabric bag that protects them from absolutely nothing,… other than maybe dust and dirt. If you were to spend the same amount on a pair of quality shades you would get a swanky protective hard case to keep your investment safe - not so for most goggles. Sure, you can invest in a hard case for your goggles but they would be super bulky, heavy and overkill. I have relegated my goggles to isolation in the top lid pocket of my ski touring pack but even this solo shelter is not ideal as they can get crushed when loading up the car with too many packs or other unforeseen incidents. Tailgate Industries has offered up two new innovative products the 49R Goggle Case and the Gondom Goggle Cover.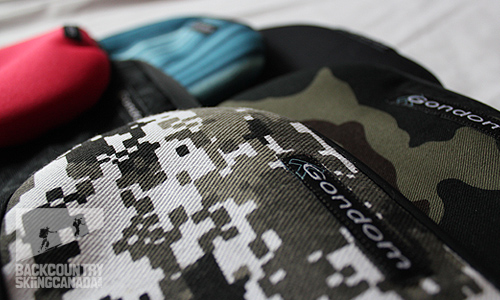 49R Goggle Case:
The beauty of the 49R Goggle Case lies in its simplicity and design (ok the fabrics are pretty cool too). In order to reduce bulk and weight the 49R Goggle Case is simply a rigid piece of 100% recycled HDPE plastic with a cloth backing enclosure system. The plastic protects your goggles lenses from rouge impacts and crushing forces often found in your pack over the course of a day of ski touring. The plastic is pre-formed to fit most goggles, however you can customize the curvature to better fit your specific needs if you wish. The interior of the case is fleeced-lined to offer plush protection of your optical booty. The back side closure system is a Spandura fabric encasement which is used for its Cordura like properties while still being soft and stretchy. The elasticized closure ensures your goggles stay put thanks to the stretchy Lycra material used. The 49R Goggle Case comes in a rainbow of flavours and they are complimented by the equally fun interior fleece liner.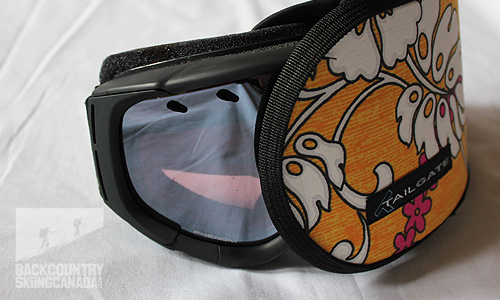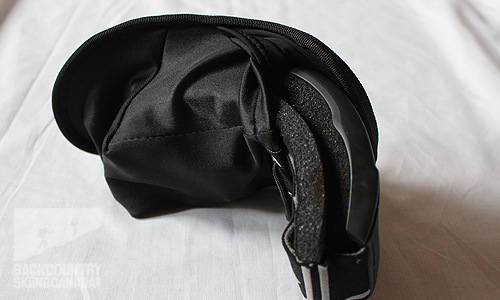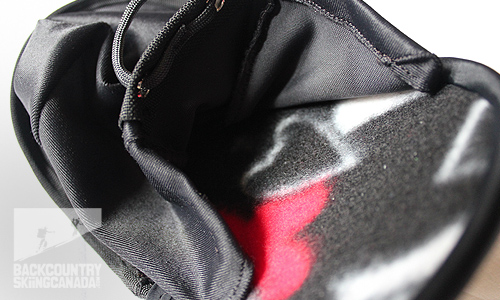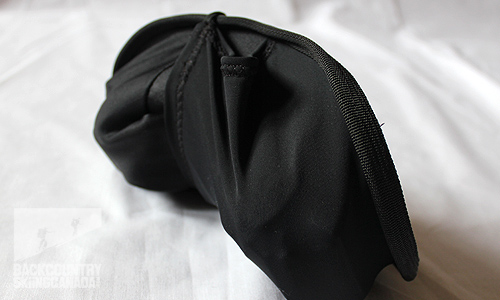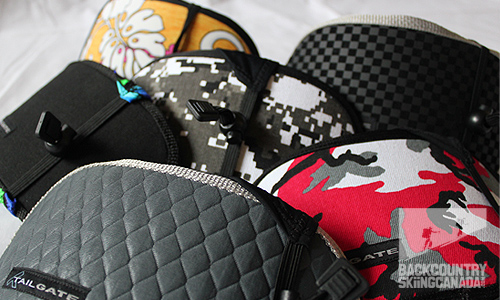 The old solution for protecting my $200 goggles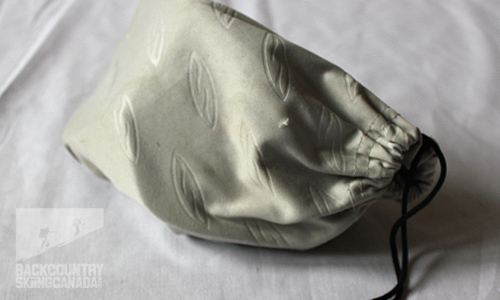 Gondom Goggle Cover:
The Gondom Goggle Cover protects you goggles for those helmet heads who store their goggles on the helmet when not in use. The thick neoprene fabric cover simply slips onto your goggles once you are finished your days skiing and stays put thanks to it's elastic shock cord trim. While the Gondom (great name BTW) will protect your lenses from scratches and bumps it does not have any rigid properties so it doesn't provide any impact protection. A simple solution for those who ski/ride with a helmet but maybe not as essential for most backcountry skiers. One add on feature that would be a 'nice to have' is a built in grommet or clip so that the Gondom can be safely stored in your pack and limit the chances of loosing it (even within your pack).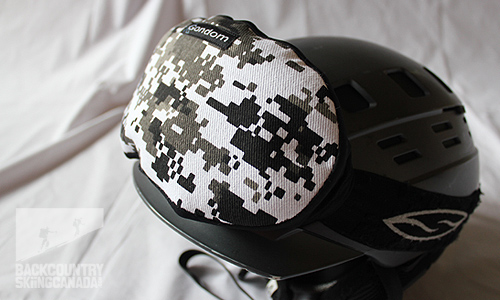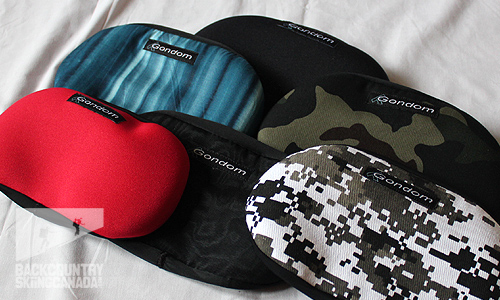 The Verdict:
Jeff and the crew at Tailgate Industries in Oregon have been at it for a few years now and I think they are onto a winner with these products. I have been fastidiously protecting my goggles for far too long and it's nice to finally be able to stop the incessant pampering and just focus on the bigger picture, and ski. Protecting my $200 optical investment with the twenty-four dollar 49R Goggle Case is a no brainer.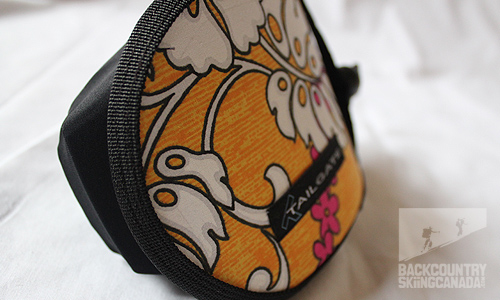 SPECS:
49R Goggle Case
Price: $24.00
Weight: 3.2oz / 91grams
Size: 4 5/8" x 9" x .25" / 12cm x 23cm x .6cm
Colour: Black and Green, Red and Black, Camo, Digi, Check, Urban Camo
Gondom Goggle Cover
Price: $18.00 US
Weight: .8 oz / 23 grams
Size: 5"x 9" / 13cm x 23cm
Colours: Black, Camo, Red Digi
PROS:
Protects your optical assets, is light and streamlined with no unneeded bulk.
CONS:
Draw cord cinch is never really utilized and can occasionally come into contact with the goggle lenses.
Rating: 9/10
Style 2/2
Features 2/2
Function 1.5/2
Quality 1.5/2
Price 2/2
This is only our opinion. Do you disagree? Did we miss something? Are we totally out to lunch? Join the discussion in the forums here, and let us know what you think. People like/dislike gear for different reasons so chime in and we'll get a well-rounded evaluation.
Back to the rest of the reviews.
---

---
UPDATE APRIL 2013:
The 49R goggle case continues to protect my goggles after two years of owning this product. My goggles may have changed over the years but my goggle case hasn't. This is a unique product that has saved me a small fortune on cracked goggle lenses. The design is rather simple but it works. This is a small start up company and the owner is doing things right so why not support the little guy and visit their web site and pick up one (or two).
---