Celebrating 50 - Mount Rainier Style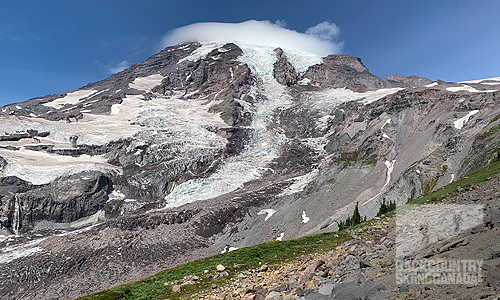 Turning 50 is a milestone that stirs something inside you to get up off your ass and do something of importance, or at least challenge yourself to prove that you still have what it takes. At the very least it's a good idea to simply mark the milestone and ensure that the day is more meaningful than all the rest. Personally, for me, it was a little of each of these and more. When I turned 40 I celebrated by climbing Mount Rainier for the first time and I vowed to go back for my 50th and repeat it. That day came in mid-August and I decided to take my 16-year-old son along for the ride.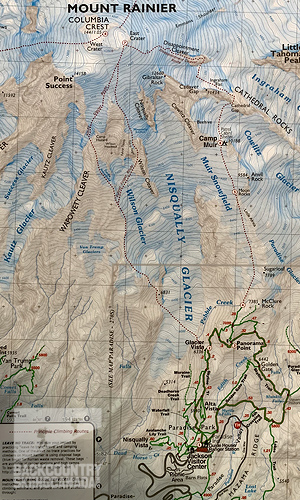 Mount Rainier is the second highest peak in the contiguous US after Mount Whitney in California which is taller by just 29 meters or 95ft. Having climbed Mount Whitney previously I can tell you that even though it is taller there is no comparison with Mount Rainier. For one, Mount Whitney is a simple hike with no exposure or glaciated terrain, Mount Rainier, on the other hand, is a training ground for Mount Everest wanna-be's given that it is the most heavily glaciated mountain in the lower 48 states.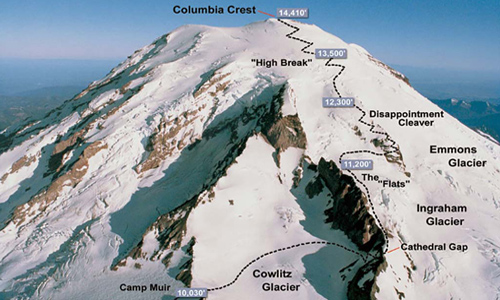 Mount Rainier, also goes by the name of Tahoma or Tacoma and is an active stratovolcano which is located 59 miles southeast of Seattle Washington, in Mount Rainier National Park. The mountain is guided by several companies so the route to the summit is flagged but still requires glacier travel experience and crevasse rescue training. With over 50% of those who attempt to reach the summit unsuccessful, it's a mountain that takes physical training and dedication.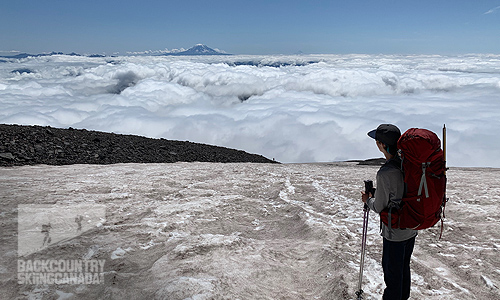 With packs fully loaded and ready to climb we left the Paradise parking lot at the non-alpine start time of 11:00 am which gave Mother Nature a chance to get her act in gear and clear away the valley cloud that had been choking low lands since the previous day. After 3.5 hours we'd covered the 4,800ft climb to Camp Muir and set to work erecting our tent for the very brief night's sleep to come. Camp Muir is the cobbled-together halfway point of Mount Rainier that consists of a few shelters, biffies and not much else. After digging out a safe location on the snow for our tent, melting snow for drinking water and cooking up a dinner-in-a-bag, we set about getting ready for bed—at 7:00 pm. This much earlier than usual bedtime is a requirement on Mount Rainier as most people get up between 10:30 and midnight to set out on their summit bid. Knowing we'd be faster than most we decided to bank a few more z's and slumber until the leisurely hour of 2:00 am.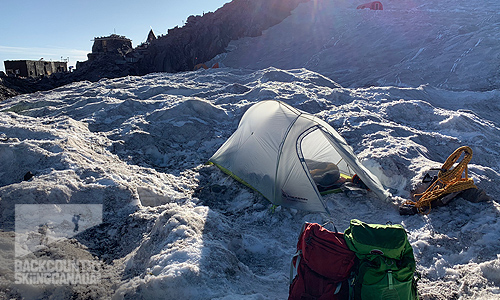 When we left camp the sky was cloudless and the large 1/2 moon high in the sky was reflecting off the snow and illuminating the entire mountain. We crossed the Cowlitz Glacier and ascended Cathedral Gap in the distance. After crossing Ingram Flats and navigating the sphincter restricting 'Bowling Alley' which was littered with fallen seracs the size of Volkswagen Beetles we reached the relative safety of Disappointment Cleaver. Here we transitioned from ice to rock and short roped up the trail braided face in the dark reading the mountain's features like braille.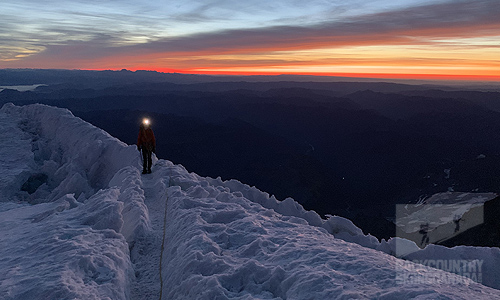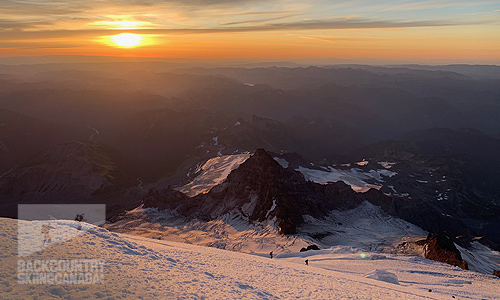 At the top of the Clever we took a short rest and affixed our crampons to our boots for the more technical section that lay between us and the summit. With 2,000ft still to go, we were only at the 1/2 way point but we were making good time and both feeling strong. We'd already passed a few other parties that had left before us from Camp Muir and had other guided groups within sight.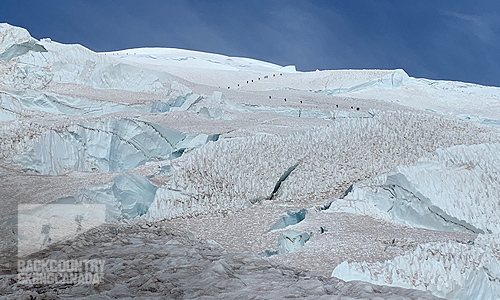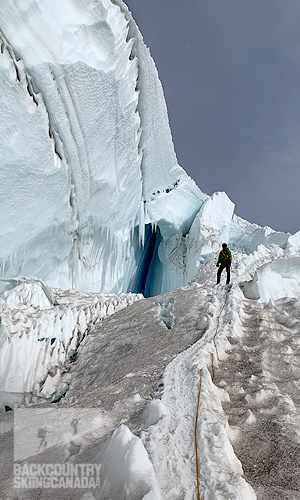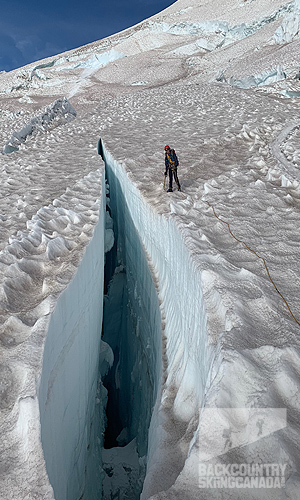 Above Disappointment Cleaver, the Ingram and Emmons Glaciers collided to form a jumbled mess of seracs and crevasse which took on an orange/red glow as the sun crest to the east. Sunrise at 13,000 feet was breathtaking and fuelled us up the mountain with renewed determination. Navigating several crevasse fields and one rather uncomfortable overhanging ice face, we made our way to the ladder or rather ladders. Two 12ft aluminum ladders were lashed together and jankily anchored in the ice to allow us to get up and over a 20ft wall of ice that had risen up out of the glacier. Making easy work of this man-made bottleneck we continued higher in the warm glow of the morning's sun. After cresting two moral-crushing false summits we could see the rocks of the East Crater ahead and made slow work of the remaining elevation ahead of us. Once at the crater, we traversed its length and gained the true summit of Rainier to the west which lay just past Register Rock.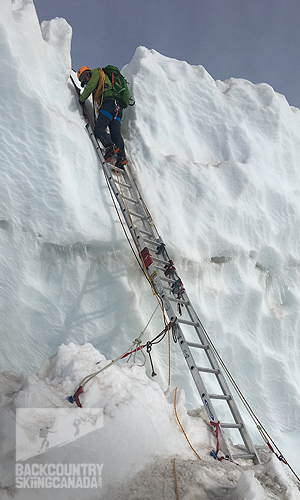 The summit, or halfway point as I call it was short-lived as the winds were beginning to gain momentum and we wanted to descend before the heat of the day and mid-day convective cloud built up. The four-hour climb from Camp Muir was a taxing one but we still had to descend the 9,000ft to Paradise where our car awaited as well as the long drive back home to Nelson.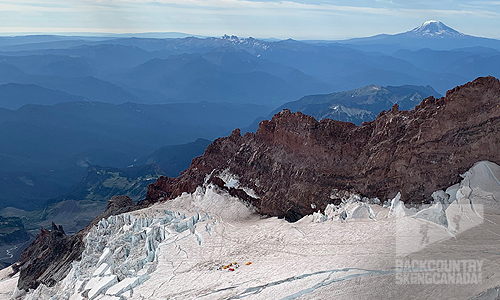 Overall we covered the 12.9km and 2,743m / 9,000ft elevation gain in 7 hours and 24 minutes and at the end of it all my 16 yr old son is still talking to me and keen for more. Not only was this a fitting celebration of a half-century of existence on this planet but also an invaluable father-son adventure and one that will not soon be forgotten, but will be repeated again in ten years time.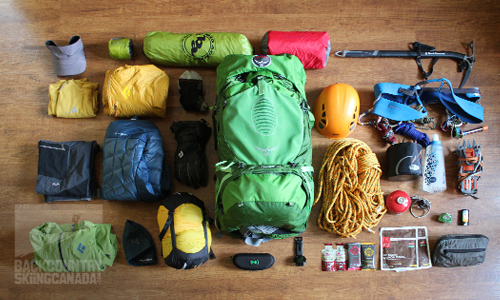 Here's a list of the gear that we took a long and that's essential for a summit big of Mount Rainier:
Rab Scimitar Soft Shell Pants
Black Diamond Helio Active Jacket
Voormi Thermal Beanie
La Sportiva Phase Down Jacket
Black Diamond Access LT Hoody
Big Agnes Fly Creek 2 Platinum Tent
Darn Tough Socks
Black Diamond Helio Gloves
Sea To Summit Spark SP IV Sleeping Bag
Native Ward Sun Glasses
Garmin Fenix 5X GPS Watch
Osprey Atmos Pack
Sea To Summit Comfort Plus Insulated Mat
Four Points Energy Bars
Good To Go Dehydrated Meals
GSI Pinnacle 4 Season Stove
Petzl Zipka Plus 2 Head Lamp
GSI Dualist Pot Set
Katadyn Be Free 1L
Black Diamond Solution Harness
Black Diamond Venom Ice Axe
Sea To Summit Aeros Pillow Premium
Westcomb Tasman Crew Merino Wool Shirt
Black Diamond helmet
Petzl Glacier Rope
Petzl Crampons
Beyond Coastal Active Face Stick Sunscreen
Personal Bag of Tricks
Primus Fuel
Untapped All Natural Athletic Fuel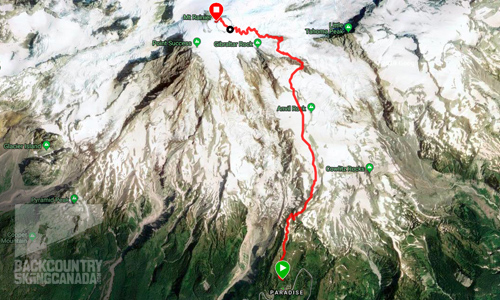 For a closer look at the entire route and all the stats you could ever want, check out our Gamin Connect page that has all the info from my Garmin Fenix 5X GPS Watch.