The lightest of the three products is the GSI Outdoors Pinnacle Dualist, which is built for a party of two and weighs in at 612 grams. The Dualist includes a 1.8 litre pot (with strainer lid), 2 insulated mugs, 2 bowls, (ingenious mini) cutlery and the sink/stuff sac. This option is geared towards light and fast backcountry trips. With a reconfiguration of the bowl/cup sets you can even stow your fuel canister and stove inside the Pinnacle Dualist. Although this is a great concept, I prefer to store fragile food inside my pots as I do not like to mix a dirty stove and fuel canister with residues inside of my cooking kit. The collapsible pot handle locks everything together with a squeeze and flip action and eliminates the need for a stand alone folding pot gripper. Outdoor and Backpacker magazines both bestowed 'Editor's Choice' accolades on this product; a sure sign of a great product.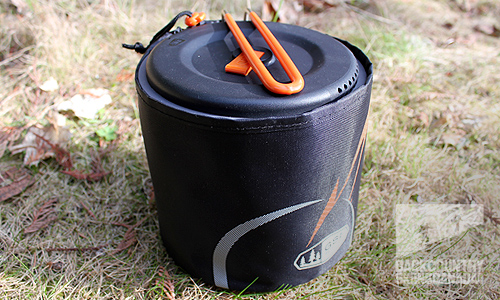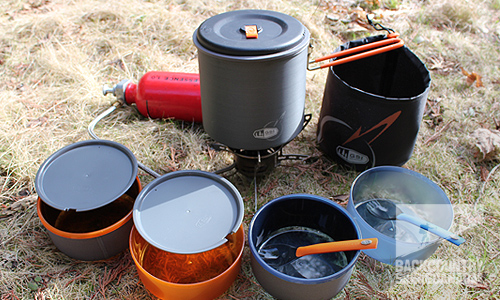 The larger version of the Pinnacle Dualist is the GSI Outdoor Pinnacle Backpacker, which offers a larger 2 litre pot and an 8" frypan. What you gain in cooking space you also gain in weight though, and at 33% heavier than the Pinnacle dualist this is for those who want multiple pots and more cooking options in the backcountry but do not mind the extra weight. A folding pot gripper is contained in one of the cup/bowl sets and unfolds and clips into the pot or frypan to provide a sure grip on even a full pot of boiling water. The lid is interchangeable with between either the pot or frypan and comes is crush proof, heat resistant and even strains your pasta! There is no cutlery included with the Pinnacle Backpacker so you may want to look at the GSI Outdoor Stacking Cutlery Set which comes colour coded to match the bowls and mugs in all three cooking sets. At only 20 grams you get a knife, fork and spoon that clip together and easily fit in the empty space of the Pinnacle Backpacker set.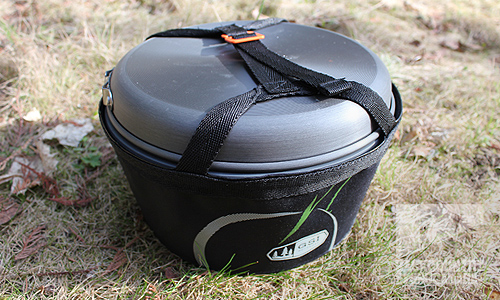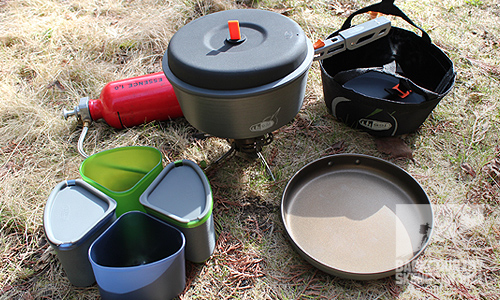 The granddaddy of the three cooking solutions is the GSI Outdoor Pinnacle Camper, which is built to serve four people. Much like the Pinnacle Backpacker, the Pinnacle Camper comes with a 2 litre pot and frypan but this time the frypan is 9" and there is also a 3 litre pot, allowing you to get really creative with your cooking. There are also two straining lids to fit both pots sizes and the frypan. As in the Pinnacle Dualist and Backpacker the mugs come with an insulating neoprene sleeve and "sip-it" tops to keep your beverages warm and off your cloths. The big bonus in this kit is the addition of plates; 4 BPA free colour coded plates, which match the mugs, bowls and cutlery, so you will never have to accidentally share group cooties again. All this extravagance comes at a cost though: at 1.6 kilograms this is by far the heaviest option at almost three times the weight of the Dualist. Like the Backpacker, this set does not come with cutlery. Unlike the Backpacker, however, and the Pinnacle Camper does not have a lot of space to accommodate any and, as such, you may want to consider the GSI Telescoping Foon (that is combination spoon and fork) which is the same cutlery that comes with the Pinnacle Dualist.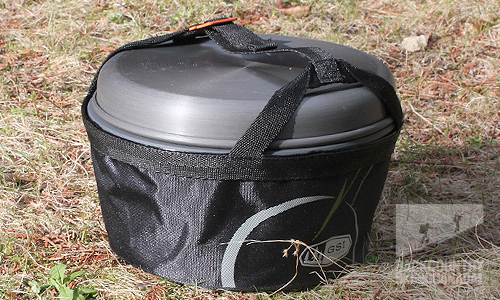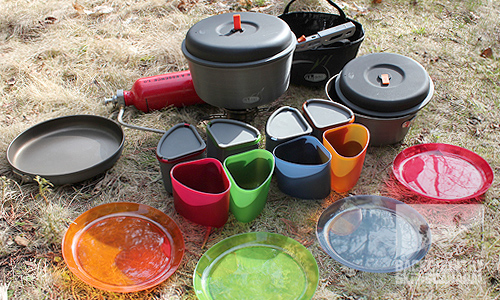 Materials:
The cookware in the GSI Pinnacle series uses Teflon with radiaence technology, which reportedly reaches cooking temperature 25% faster by dispersing the heat more evenly and eliminating hot spots. The underside of the cookware also has concentric circular grooves to further help heat transmission. This three layer coating developed by Dupont also resists scratch and abrasion far better than traditional non-stick coatings - but I would still recommend you use only plastic utensils and no backcountry gravel wash to remove the eggs benny sticky bits.
All of the plastic tableware pieces are made from what GSI Outdoors calls "Infinity". Perhaps this is because they remain strong when hot or cold and are not supposed to absorb any food odors or leach chemicals into food or beverages over time. They are made from Bisphenol-A free polypropylene and are completely recyclable. The colour palette is bright and cheery and makes it easy to determine which mug, bowl, cutlery and plate is yours.
Verdict:
Overall, the GSI Outdoor pot sets are well designed and constructed of with quality materials. I found that the teflon pots and pans were easy to cook on and provided even heat distribution. My only concern is about long-term wear, as this is backcountry cooking after all, but only time will tell. The integrated stuff-sac/sink is a brilliant addition for clean up or hauling water for cooking.
The bowls in the Pinnacle Dualist are big and have a low centre of gravity to avoid spills. The neoprene sleeves keep the contents warm and your hands safe, while the lids ensure minimal mess for those early morning coffee and tea drinkers. The bowls in the Pinnacle Backpacker and Camper, however, are really more like cups, tall and narrow. It is difficult to really eat anything out of them other than soup. On the other end, the mugs in the Pinnacle Backpacker and Camper are very 'cup-like' whereas the mugs included with the Pinnacle Dualist are really more like bowls given their dimensions. A nice feature on both the mugs and bowls is incremental measurements on the inside for measuring food or water before cooking.
I like the ability to nest all of the contents in each kit to optimize space (thus the constraints on the bowl and mug dimensions) and the additional space in order to trick-out each solution. I added a small container of soap, matches and washcloth to each unit so that they were truly ready to go off the shelf. You can also customize any of the Pinnacle series in order to lighten the load, for example, I would leave behind the cups and lids on the Dualist if I really wanted to go super light.
The final "nice touch" is the colour coded dishes. Not only do they look bright and cheerful they also avoid mix-ups if you want to be lax on the cleanup. Assign each person in your group a colour and they chose to wash it daily or weekly. Somehow food tastes better when you have a nice cook set, and bright colours even make the morning oatmeal seem to be more of a joy.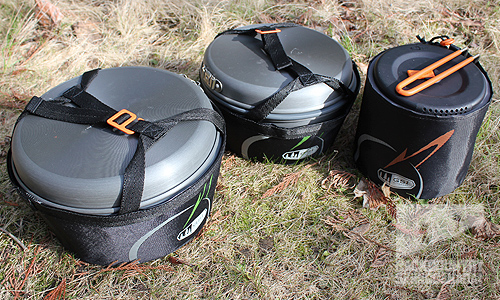 SPECS:
Pinnacle Dualist
Price: $64.95 US
Weight: 21.6 oz / 612g
Dimensions: 5.90" x 6.40" x 5.90" / 15cm x 16cm x 15cm
Included: 1.8 L Pot, Strainer Lid, 2 20 fl. oz. insulated mugs, 2 20 fl. oz. bowls, 2 Sip-It tops, 2 Telescoping Foons, Stove Bag, Welded Sink
Group Size: 2 Person
Pinnacle Backpacker
Price: $89.95 US
Weight: 28.8 oz / 816g
Dimensions: 8.20" x 8.20" x 5.40" / 20.8cm x 20.8cm x 13.7cm
Included: 2 L Pot, 8" Frypan, Strainer Lid, 2 14 fl. oz. insulated mugs, 2 14 fl. oz. bowls, 2 Sip-It Tops, Folding Pot Gripper, Welded Sink.
Group Size: 2-3 Person
Pinnacle Camper
Price: $129.95 US
Weight: 57.9oz / 1641g
Dimensions: 9.10" x 9.10" x 5.80" / 23cm x 23cm x 14.7cm
Included: 3 L Pot, 2 L Pot, 2 Strainer Lids, 9" Frypan, 4 14 fl. oz. insulated mugs, 4 14 fl. oz. bowls, 4 7.5" plates, 4 Sip-It Tops, Folding Pot Gripper, Welded Sink.
Group size: 4 Person
Stacking Cutlery Set
Price: $4.95 US
Weight: .7 oz / 20g
Dimensions: 6" x 1.5" x .8" / 15cm x 3.8cm x 2cm
Includes: Spoon, Fork, Knife
Colours: Orange, Red, Blue, Green
PROS:
All-in-one solution with nesting items to save on space. Different size solutions for different groups sizes. Quality design and materials - you can tell the folks at GSI thought long and hard about each solution. Did we mention that a couple of Canuks started the company eh?
CONS:
Not all of the Pinnacle kits have cutlery included. It would be nice to integrate soap, dish cloth and matches in each kit to make them truly complete.

This is only our opinion. Do you disagree? Did we miss something? Are we totally out to lunch? Join the discussion in the forums here, and let us know what you think. People like/dislike gear for different reasons so chime in and we'll get a well-rounded evaluation.
Back to the rest of the reviews.
---