Darn Tough All Weather Performance Socks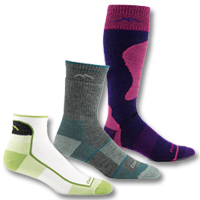 Combining a name like Darn Tough to a pair of technical socks and then backing it up with a lifetime guarantee is enough to peak the interest of most committed backcountry skiers and hikers. It did for us here at Backcountry Skiing HQ and so, since spring, we have been testing a few of Darn Tough's specialty ski and hiking socks. The humble sock is an afterthought for some adventurers unless feet are in pain or discomfort, which is crazy when you think about the fact that we spend all of our time on our feet. We have learned through this review that not all socks are created equally, many are built to perform but few are really are designed to perform and last a lifetime. So what is it that makes a sock a Darn Tough sock?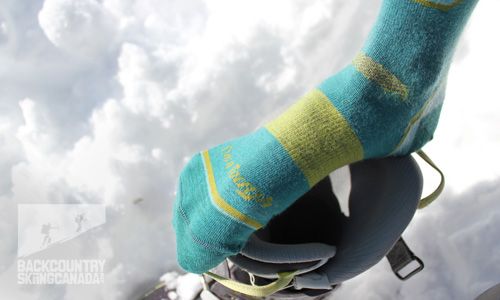 Fine gauge, high density knitting
Darn Tough uses the latest generation of italian knitting machines to produce the industries highest density knitting at 1441 stitches/inch. This results in cushioning with less bulk as well as more and finer stitches which feels softer on the skin and increases durability. The density of knitted loops that create cushioning shown below.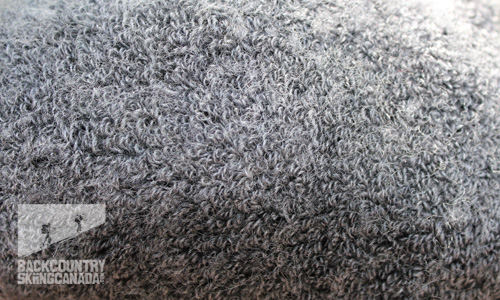 High quality Merino wool blend yarns
Don't get me started on the wonders of Merino wool, since growing up on a Merino wool sheep farm in Australia it's close to my heart. Sentimentality aside, it really is the wonder fibre that they say it is which is why it's so widely used for perfmormance apparel these days. Merino wool regulates temperature, naturally moves moisture away from the skin and is natures answer to foot deodorant since it is inherently anti-microbal. As a bonus it is a renewable resource so is better for this planet we love exploring so much. Darn Tough combine superfine (21.5 micron) shrink-treated Merino wool with hard-wearing nylon to enhance long-term durability.
Performance Fit
Darn tough customize their socks for hiking, running, biking, skiing, hunting and lifestyle activities. To suit the demands of each sport or activity they utilize a combination of the following techniques so the sock doesn't move around or bunch, ultimately avoiding blisters and hot spots as well as creating comfort.
High density, strategically placed, articulated cushioning either under foot or on the shin provides support and comfort as well as additional warmth. Shown here on the shin of DarnTough's Over-the-Calf Ski/Ride sock: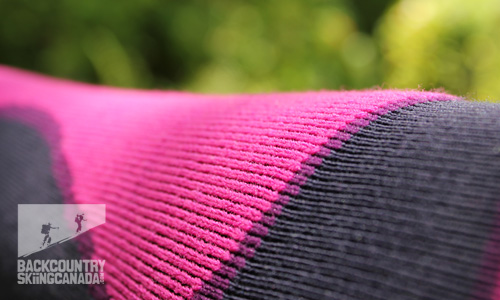 Cushioning around toe shown here on a Hike/Trek Boot sock turned inside out so you can see the density and placement: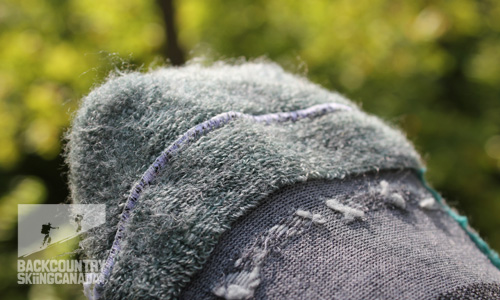 Elastic support around the arch (see the green band below) ensures the sock hugs your foot.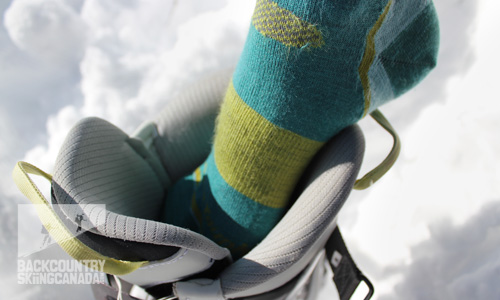 Reinforced heels and toes add durability.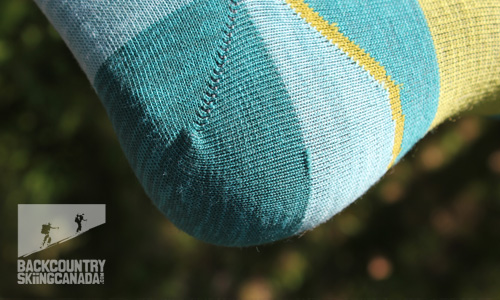 Ribbing above the ankle and on the calf keeps the sock in place. The ribbing detail shown below prevents bunching and folding on the front side of the ankle.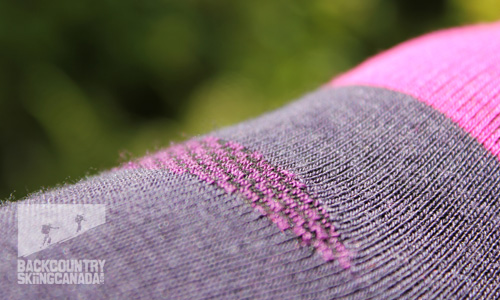 Ring toe construction means no seam on the toe so no hot spots or unnecessary rubbing.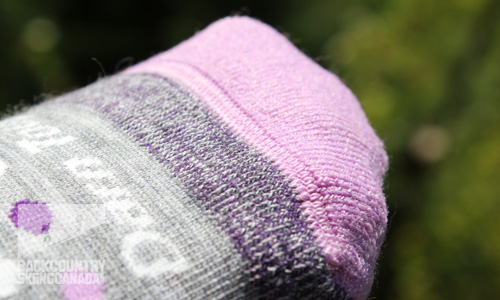 Open mesh construction enhances breathability.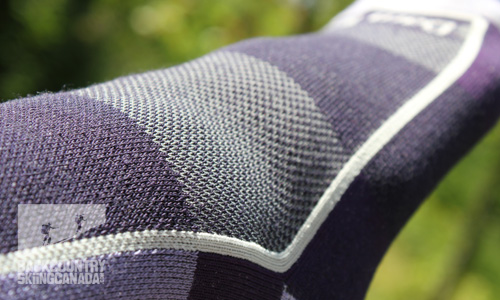 It's in the family
Darn Tough have remained a family owned and operated business in Vermont since 1978, that's over 30 years and three generations of making socks. They have crafted their socks in response to hiking, climbing, biking and skiing Vermont's cool winters and humid summers. They stand by their locally made product one hundred per cent by offering a lifetime guarantee. A tough deal to ignore.
---
In this review we looked at the following ranges:
Run/Bike
A tailored fit specific to the demands of running or biking offered with high-density cushioning or open mesh construction for maximum breathability.
1/4 Sock Cushion
Contruction: 65% Merino Wool, 31% Nylon, 4% Lycra® Spandex
Price: $16.95US
Colours: RicRack Plum, RikRack Eclipse (Women's); Black, Jalapeño, White (Men's).
Sizes: S, M, L (Women's); M, L, XL (Men's)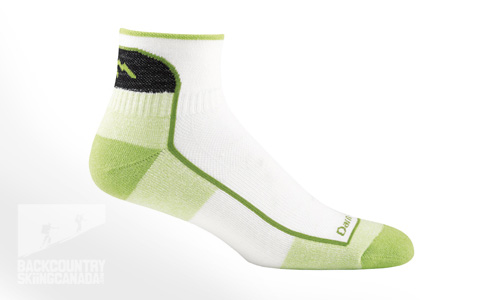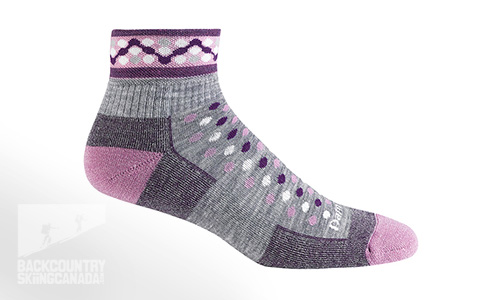 3/4 Micro Crew Mesh
Contruction: 58% Merino Wool, 35% Nylon, 7% Lycra®Spandex
Price: $15.95-$17US
Colours: Coral, Team DTV (Women's); Jalapeño, Team DTV (Men's).
Sizes: S, M, L (Women's); M, L, XL (Men's)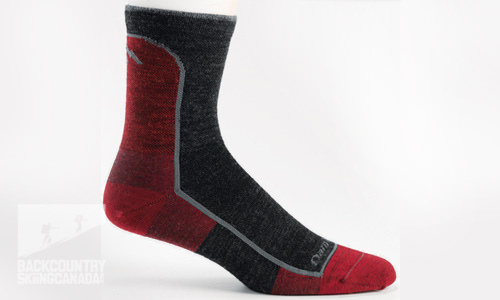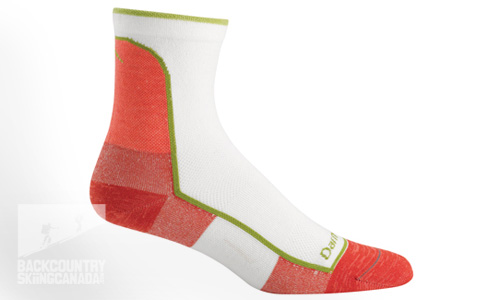 ---
Hike/Trek
Offered with cushion, extra cushion or full cushion, these socks are made to support you feet on long days of hiking. The high-density terry loop padding under foot and on shin areas is designed not to flatten under pressure. The merino wool will keep your feet drier and sweeter smelling.
1/4 Sock Cushion
Contruction: 65% Merino Wool, 31% Nylon, 4% Lycra® Spandex
Price: $16.95US
Colours: Taupe, Light Denim, Seaweed, Tomato (Women's); Black, Jalapeño, White (Men's).
Sizes: S, M, L (Women's); M, L, XL (Men's)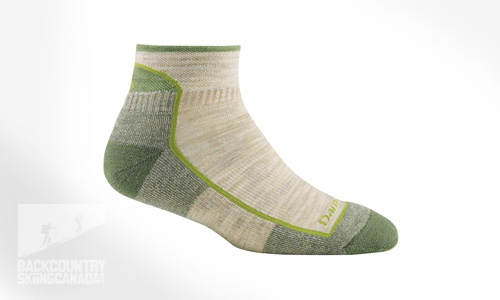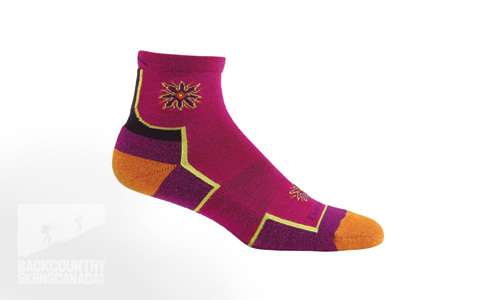 Boot Sock Full-Cushion
Contruction: 67% Merino Wool, 29% Nylon, 4% Lycra® Spandex
Price: $21.95US
Colours: Mustard, Moss Heather, Green Tea, Slate (Women's); Lime, Olive, Chocolate, Oatmeal, Black (Men's).
Sizes: S, M, L (Women's); M, L, XL (Men's)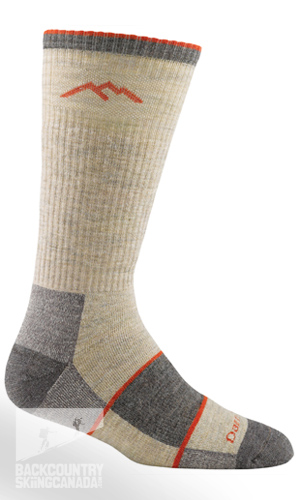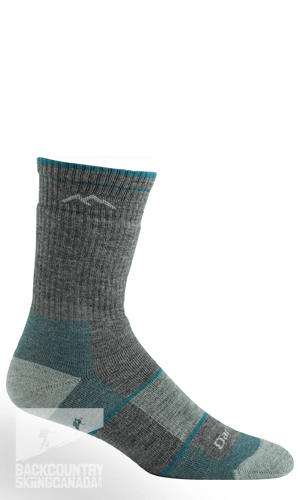 ---
Ski/Ride
According to Darn Tough there is no difference between ski and snowboard socks, so their ski/ride socks are designed to provide cushioning protects from forward lean in both. They also offer an ultralight version for those who prefer the least bulk possible in a ski or snowboard boot - ideal for ski-touring.
Over-the-Calf Padded Ultra-Light
Contruction: 64% Merino Wool, 33% Nylon, 4% Lycra® Spandex
Price: $23.95US
Colours: Night Shade, Teal, Sweedish Blue (Women's); Black, Rad Red, Groovy Green, Charcoal (Men's).
Sizes: S, M, L (Women's); M, L, XL (Men's)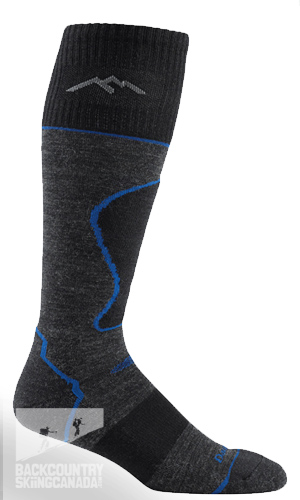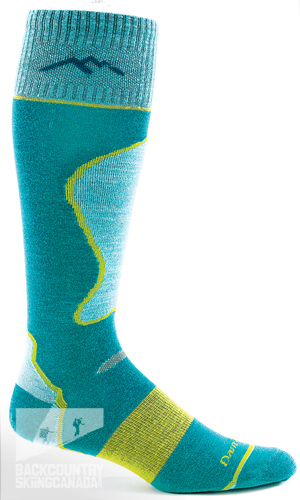 Over-the-Calf Padded Cushion
Contruction: 67% Merino Wool, 30% Nylon, 3% Lycra® Spandex
Price: $24.95
Colours: Night Shade, Teal, Sweedish Blue (Women's); Black, Rad Red, Groovy Green, Charcoal (Men's).
Sizes: S, M, L (Women's); M, L, XL (Men's)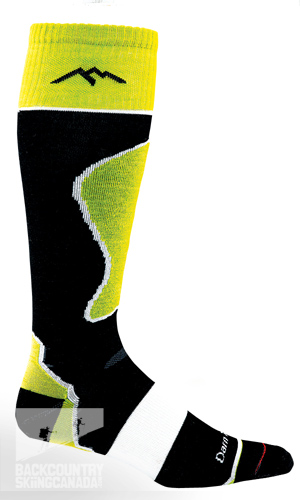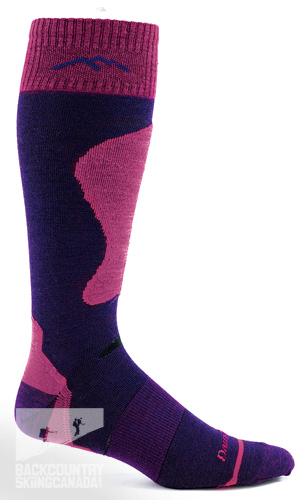 Verdict:
After a only couple of months of wearing Darn Tough's socks, I am finding it hard to fault them. Darn Tough seem to have a winning formula of superfine knitting techniques, custom merino yarns, quality workmanship and an uncomplicated technical approach that ensures the sock is optimized for the activity it is intended for. The Boot Sock and the Ultra-Light Ski Sock both feel dry or only slightly damp even after a full day of hiking/touring. One of our testers was an avid wick sock user and has since thrown his wick socks away. He wished he had found Darn Tough's socks 20 years ago as he found not only did they keep his feet dry they also felt comfortable on his skin (which the synthetic wick socks didn't). From the moment you put on Darn tough socks, your feet feel supported particularly from the articulation but also from the dense (not bulky) cushioning. Darn Tough have made every effort to reduce bulk including eliminating toe seams where they can. The most recent trip I tested Darn Tough socks on was a two-day backpacking trip to Kokanee Glacier where I took one pair of Boot socks only. They (and my feet) were in great shape at the end of the two days with no odour and no diminishing of comfort after a day.
The Over-the-Calf Padded Ultralight sock is made for backcountry skiing. It's fine-gauge, dense knit results in a sock that is not at all bulky, accommodating foot swell over a long day. There is zero bunching, thanks to articulation as well as elastic support around the arch, the ankle and the top of the calf. The cushioning is right where you need it—on the shin. Looking forward to trying the Over-the-Calf Padded Cushion ski sock in bounds this coming winter.
Darn tough socks are firmer to touch than a lot of other hiking and ski socks, this is probably because they are made using a merino/nylon blend for durability. I have often fallen for soft (fluffy) socks only to find them go out of shape quickly or wear through quickly at the heel or ball of the foot. I don't expect that will happen with the Darn Tough socks.
With little to fault, the only thing that remains in question is the long-term durability. So far all indicators are in support of Darn Tough's namesake but time will tell if they are a perfect score. Check back in a year when we have tested the socks year round. For now I am rating these socks a nine out of ten.
PROS:
Fine quality knitting. Merino wool blend yarns that are durable, breathable, wicking and anti-microbal. Dense, not bulky cushioning. Technically articulated for your activity. Good range of colours/designs. Well branded and packaged.
CONS:
Haven't found any as yet. Check back to see if they live up to their brand promise on durability.
Rating: 9/10
Fit/Comfort 2/2
Durability 2/2
Warmth 2/2
Features 1.5/2
Quality / Price 1.5/2

Join the discussion in the forums here, and let us know what you think. People like/dislike gear for different reasons so chime in and we'll get a well-rounded evaluation.
Back to the rest of the reviews.
---