---
Rab Scimitar Pants
The Rab Scimitar Soft Shell Pants naturally follow along the same lines of the Rab Scimitar Jacket as you have likely guessed given the similar moniker. The fabrics are the same technology and weights as in the jacket but with the knees being reinforced this time. The same breathable, water resistant properties still hold true and thanks to the Beluga (grey) colour the Scimitar pants won't heat up too much in the mid day sun. The two tone soft shell fabric cranks up the aesthetics while the soft waistband, belt loops, double snap closure and zippered fly keep things fitting right. Zippered adjustability at the boot cuffs let them fit over larger high-cut boots (unfortunately not alpine touring ski boots though) while not making you feel like John Travolta. An added thigh zippered pocket provides more storage space as well as helping with venting on those warmer outings.
Features:
Adjustability: Tricot lined waistband, double snap waistband closure, belt loops and YKK fly zip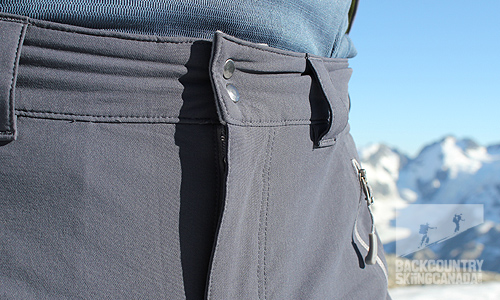 Pockets: 2 YKK zipped hip pockets and 1 YKK zipped thigh pocket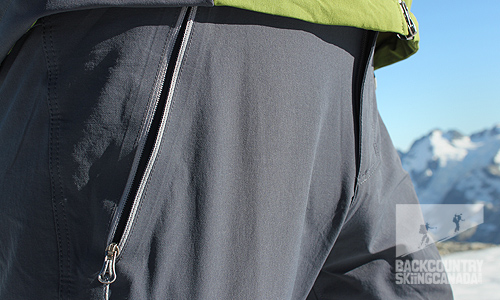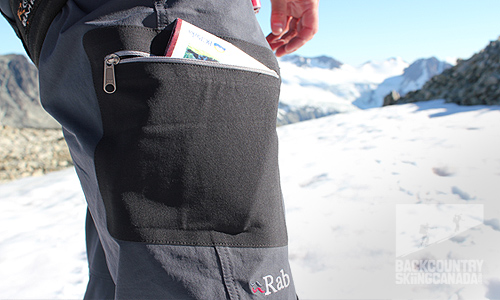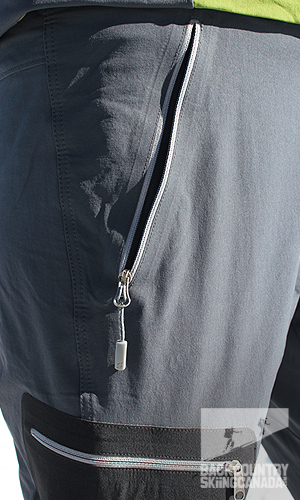 Fabric: Soft shell Matrix DWS in 182g/m weight, reinforced knees are 275g/m weight, reinforced cordura kick patches at the ankles.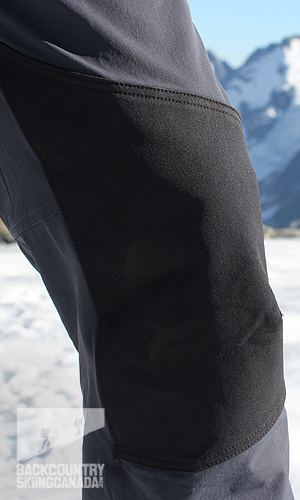 Cuffs: YKK zipped leg closure with hem drawcord and reinforced kick patches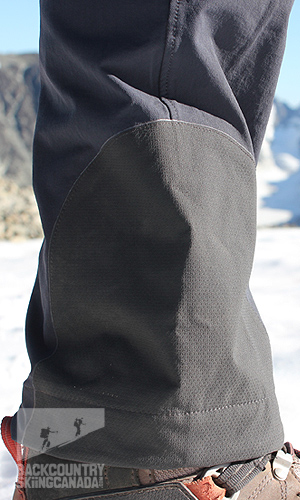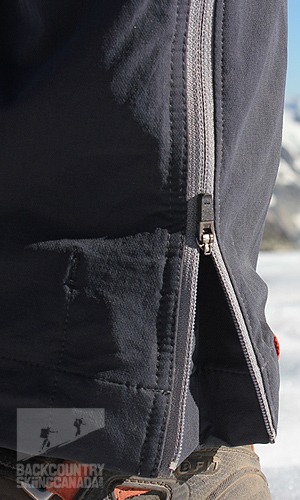 Verdict:
I like these pants. A lot. Similar to the Rab Scimitar soft shell jacket the pants just fit really, really well and were very comfortable to wear thanks to all of the micro adjustments mentioned above and the super-soft and stretchy soft shell fabric. The knee articulation reduced bunching when walking and the double wear fabric on the knees and the cordura at the cuffs provided some great durability on rocks and those dreaded crampon spikes. I found the thigh pocket very useful for carrying a small map while on a recent mountaineering trip in the Spearhead range around Whistler. I found that I did not over heat thanks to the beluga colour (instead of traditional black) but, nonetheless, would have liked the option of a zippered thigh vent to dump additional heat when climbing steeper terrain. The three pockets did have a mesh lining on one side to provide some venting but you can always use more in those summer and fall months. If the Rab Scimitar Pants were able to fit over my Dalbello ski touring boots then these would also be a staple for spring tours in April, May and June.
The Rab Scimitar also accompanied me on a 35 day Nepal trekking/climbing trip this fall and performed flawlessly. They even made it to the 20,000' summit of Loboche East, within spitting distance of Everest in the Khumbo Region. As it stands these will be my go to mountaineering and climbing pants as they are simply made for this stuff!
SPECS:
Price: $180CAN
Colours: Beluga, Beluga/Black
Sizes: S - XXL
Weight: 380g / 13oz
PROS:
- Fit is spot on and comfort is off the charts
- Great looking two tone fabric design
- Grey colour does not overheat like black soft shell pants
- Thigh pocket is ideal for smaller items that need to be accessible
CONS:
- Cuffs don't fit over ski touring boots
- A thigh zipper for quick venting and heat dumping would be a nice addition
Rating: 8.5/10
Fit / Mobility               2/2
Packability                  1.5/2
Warmth / Breathable  1.5/2
Features                     1.5/2
Quality / Price             2/2

This is only our opinion. Do you disagree? Did we miss something? Are we totally out to lunch? Join the discussion in the forums here, and let us know what you think. People like/dislike gear for different reasons so chime in and we'll get a well-rounded evaluation.
Back to the rest of the reviews.
---