Dynafit Stoke Touring Skis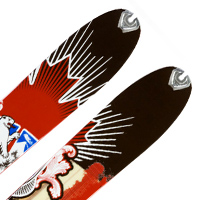 Like is the situation with most things Dynafit, the Stoke skis may have been one of the first to usher in the fast and light (but not too skinny) ski category that many manufacturers are now offering. The Stoke, now in its third or fourth season, was a collaborative effort between local backcountry wunderboy Greg Hill and Dynafit. The idea behind it was to build a ski that could get you far into the backcountry and be a lot of fun on the way down. The Stoke delivers. I can't claim to understand all the technology that goes into a ski. Nor can I tell you how each of the skis' features impacts how you get down (or up) the hill. What was immediately clear to me though? This ski keeps its promise. It's an exceptional, light-weight touring ski that works like a dream in the pow.
If you ski tour and you don't know Dynafit, you should get to know them. They make bindings, skis, boots and apparel—all with the same slightly tweaked, hyper-functional design. The company is German and comes from a racing and long Euro-tour background. These guys invented fast and light. Working with Greg Hill on the Stokes, Dynafit (pronounced dee-na-fit, by the way) acknowledges the importance of freeriding and skiing powder. Perhaps they were also interested in taping into the North American market and growing the sport of backcountry skiing. My first experience with the brand was their bindings—what a game changer. Look for a review of the Dynafit Radical bindings (and other gear) in the coming months. To have a look at other Dynafit gear we've already tested, see our take on the Dynafit Eruption Down Jacket, the Dynafit Breath Jacket and the Zzeus Alpine Touring Boots.
It was recommended that I go with the 191 cm version because the tip rise was more pronounced than with either the 173 or 182 cm. If you look to the various dimensions below in our "SPECS" section, you'll see how the numbers change as the skis get bigger. I skied the Stoke a bunch last year—most notably for a week up at Valhalla Mountain Lodge where I grew to know and love it (and heck, the guide was skiing on them too. Always a good sign). I have them mounted with Dynafit ST vertical binding and Dynafit speedskins. If you are thinking of picking up this ski, I suggest you look into going for the full Dynfit binding/skis/skins system. It's not one of those irritating situations where you have to buy other components from the same manufacturer, you just should. Three things struck me about the Stokes: 1) their float and skiability (is that a word?) in powder, 2) their remarkable light weight and 3) the crazy easy way the skins come off and on.
Shall we take a look?
Here they are. Note the TLT vertical binders. You can see the graphics pretty well. I think they are a European graphic designer's idea of what it is to be Canadian (see the maple leaf). I, as a Canadian don't think the skis represent the country well—but that's just me and who really cares. Luckily, stuff like this is entirely subjective and has nothing to do with the ski's performance.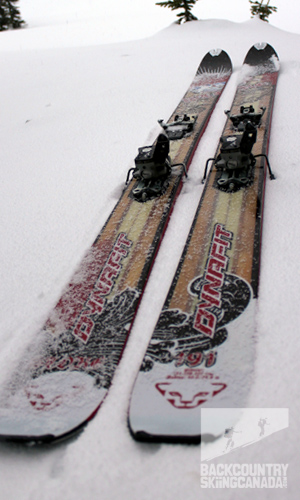 Here's a snap of the tips (again, with skins on). The early rise is more pronounced than it may appear here. It becomes obvious when the camber is engaged. You can see the rubber tip "stopper" mechanism here. Until the Stokes, I could never manage taking skins off will leaving my skis on. Now I can. Look for a full review of the speedskins in the coming months.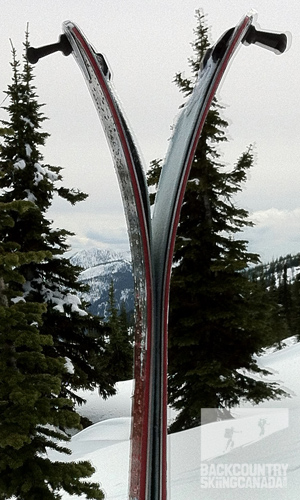 Here a shot from behind. Note the skin notch and slight rise on the tails. I toured on a pair of skis recently that didn't have the tail rise. You wind up dragging your skin hardware through the snow with every step. No thanks.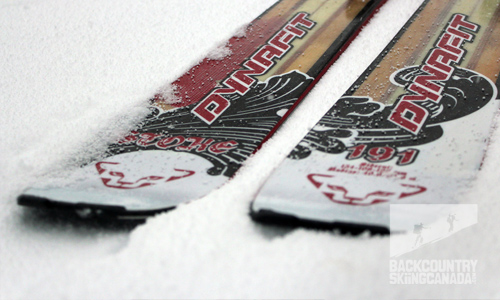 Close-up of the tip showing three attribute worthy of mention: 1) the tip notch that makes the skins-off-and -on process remarkably easy, 2) the tip rise, which seems to show up more in this photo than others and 3) the maple leaf graphic, eh.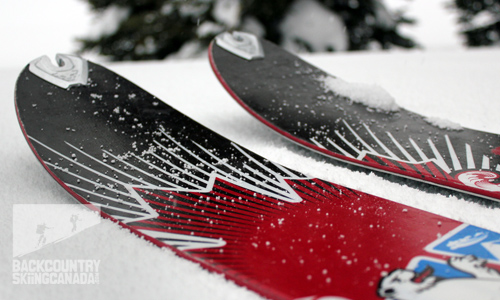 Verdict:
The Stoke is remarkably on target for a long-distance touring ski that performs very well in the powder on the way down. I also took the ski out for a late season tour in May and it did perfectly well in heavy corn. It feels like a light ski when you are on it but it performs like it should be heavier. Would I ski it on ice? No sir. Would I use it as a quiver of one ski if I spent half my time at the resort? No sir. This ski belongs in the backcountry where your legs will appreciate them on the uptrack and where your entire being will appreciate them on the down. I tested the 191 cms and they skied like a much shorter ski. I also skied the 182 cm for a 5-day hut-based session in the Adirondacks. We didn't find much snow but I sure loved them for walking around in the woods.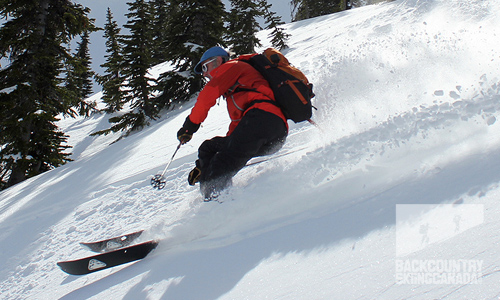 SPECS:
Length: 164, 173, 182, 191
Weight (g): 1410 (164), 1540 (173), 1670 (182), 1780 (191)
Sidecut: 128-104-118, 129-105-119, 130-106-120, 134-108-122
Radius: 31.2/16.8, 34.5/20.1, 37.6/23.3, 40.0/24.9
Colours: Wood/red/white
Field of use: FreerideTouring
Core construction: Isocore Paulownia Ultralight wood with stringers in beech and bamboo
Laminate: Biaxial prepreg in lower and upper layer with fiberglass d carbon reinforcement
Running surface: Sintered graphite coatings – more resistant, with improved gliding characteristics and better wax resorption
Rocker: Ski Touring-specific rockered tip construction with different characteristics specific to each ski length.
PROS:
Super lightweight, high performance ski—ideal for the stated usage. Great in the powder. Take these with you if you ever go for a weeklong heli-in hut trip to the interior of BC. Mounting bindings is also very simple with the insert feature. Good range of sizes.
CONS:
None to speak of. I am not a huge fan of the graphics but it's not a big deal. I also don't really want to see anyone else's name on my skis either. I'm the star, no?
RATING: 7.5/10
Powder Performance 1.5/2
Groomer Performance 1/2
Stability 1.5/2
Weight 2/2
Value 1.5/2

This is only our opinion. Do you disagree? Did we miss something? Are we totally out to lunch? Join the discussion in the forums here, and let us know what you think. People like/dislike gear for different reasons so chime in and we'll get a well-rounded evaluation.
Back to the rest of the reviews.
---