Patagonia DAS Parka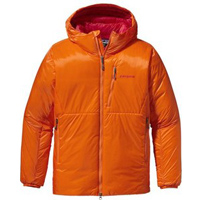 It's 11:30am, minus ten and overcast with a few flurries falling overhead. You've just done three morning laps of your favourite backcountry stash and your stomach is starting to tell you that it's lunch time. Time to find a sheltered area, and pull out some snacks to refuel for an afternoon's worth of charging. Staying warm while stationary? This is the domain of many a backcountry skier's puffy coat; when lugging around the (at times) large and bulky pack fillers pays off. Yes, a good puffy coat is like a warm hug on a cold day. Patagonia's DAS Parka has been a long standing champion in the field. For 2013 they've made some significant changes to the coat adored by many. While not the same as its previous brethren it still maintains that cozy and comfortable warmth you demand from your puffy, and if you've got the same retina burning orange colour that this reviewer had, it functions (perhaps unintended) as an orange safety beacon.
Of note to past Patagonia DAS Parka owners, and puffy coat connoisseurs of all flavours, is the slim fit of the 2013 model. Whereas you can often feel like you're swimming in a typical puffy, the updated version wears close to the body, which in theory should allow for more warmth with less air space to heat. Utilizing duckling friendly synthetic down, the 120-g PrimaLoft Synergy insulation throughout with an additional 60g PrimaloLoft One layer around the midsection the coat has an exceptionally lightweight feel to it. At 669 grams it has shaved a few grams off its previous incarnation making it a lightweight option that takes up minimal pack space when utilizing the included stuff sack.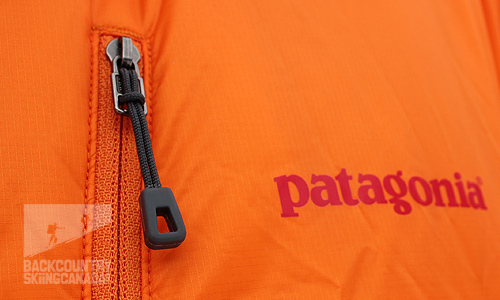 The first negative I noticed when sliding on the jacket were the cuffs. The nonadjustable, elastic cuffs felt cheap and do limit somewhat the glove and mitt combo that can be used with it. With no mitts on it fits snug to the wrist. I could envisions challenges however if say switching from a spring touring glove to a heftier mitten while stopping for lunch. I'm guessing its part of the overall snugger fit design of the coat, however I found that the arm length of the size medium (which fits my body near perfectly) felt just a tad too short. Any extension of my arms and the cuff starts to ride up my forearm. The integrated hood on the other hand is oversized if anything. Designed to be helmet compatible, the hood, sans helmet can easily be pulled in to cover all but essential breathing holes for a super snug and warm fit. The built in brim is built "just-right" for my liking in that it fully comes over your forehead and has just enough form to it to keep it shaped and not flying back over your head when drawn tight with the single pull, adjustable cord.
While it won't likely keep you dry in a downpour, the jacket's ripstop shell with Deluge DWR finish does provide a water-resistant and windproof surface. For warming up and staying dry at lunch it'll be great. Patagonia claims their DWR finish will endure years beyond its competitors. I wouldn't put my money on it lasting long if worn while skiing in the trees however, as it feels thin and not likely to take too many branch swipes before spilling its guts. Then again, Patagonia throws in a lifetime warranty on their products, so this may be less of an issues.
The two internal mesh pockets are perfect for turning your own body heat into a glove dryer while resting. Designed as a belaying jacket, some of its climbing features come in handy for the backcountry skier as well. The two way zipper, allowing the belayer to see and access your belay device, comes in handy for the backcountry skier. Nobody likes to sprinkle and shake all over a new coat, so count the two way zipper as a critical element when you need to empty the tank on the move. Drawstrings at the waist help for a tight fit; however the coat is lacking any venting for further heat adjustability.
Features:
Material – 100% recycled polyester
Waterproof rating – water-resistant
Insulation – 170g primaloft one (additional 60g PrimaloLoft One layer around the midsection)
Hood – Over helmet hud with adjustability
Pockets – 2 hand, 1 chest, 2 interior meshInner pockets are plenty big enough for goggles or drying gloves.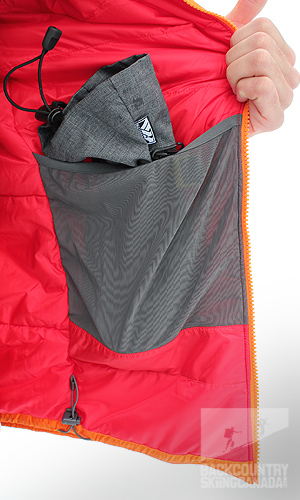 Zipper garage and chin guard.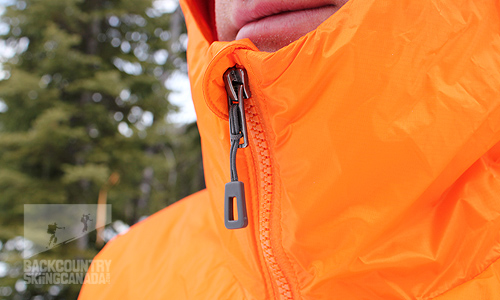 Two hand warmer pockets plenty big.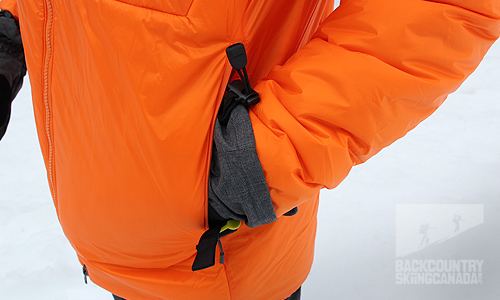 Single handed hem adjustment.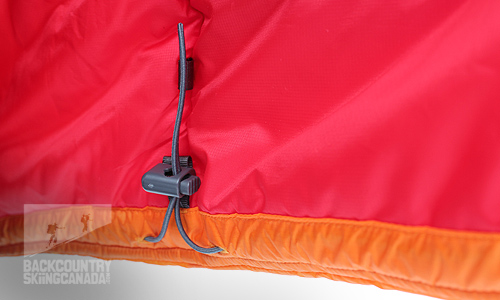 Oversized hood with adjustments to fit over your helmet.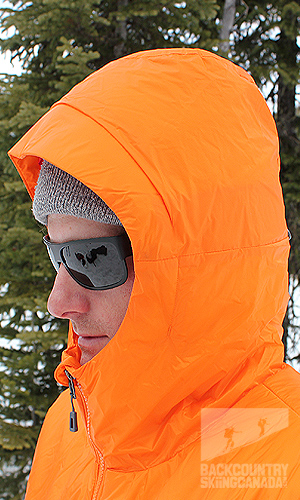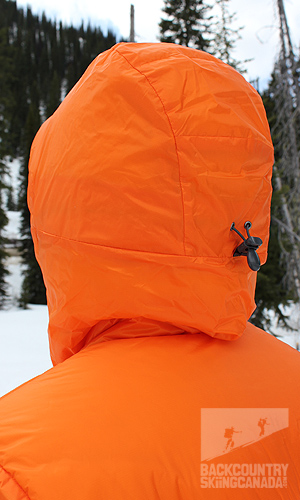 It even comes with it's very own sac to keep it safe and make it much smaller.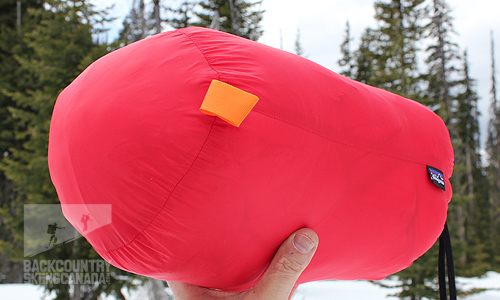 Verdict:
Overall, for a puffy coat, that will keep you warm while stationary, the current version of the DAS does a decent job. If it had a few more vents and adjustability options it could have been more of an all-around coat to be used for more activities in more scenarios. It's light, easily stuff-able to fit in your pack without taking up too much space and fits well. It's not going to keep you dry in the worst of weather for long even given the colour scheme that has it looking like a life jacket. If you're relatively stationary, belaying or hanging out at lunch the pylon looking coat will do the job, if not overly stylishly.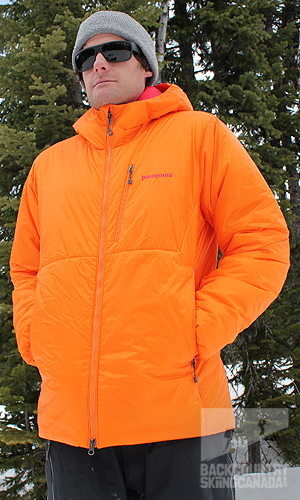 SPECS:
Price: $299 US
Colour: Tumeric Orange, Black
Weight: 669grams
Sizes: XS, S, M, L, XL
Fit – regular
Manufacturer Warranty: lifetime
Recommended use: Mountaineering, climbing, ski touring
PROS:
- Warm and light
- Comfortable snug fit
- Lifetime warranty
- Helmet compatible hood
- Made from recycled materials
CONS:
- Colour scheme makes it look like a huge life jacket
- Lack of venting options for added versatility
- Non-adjustable elastic cuffs
Rating: 7/10
Fit                    1.5/2
Packability        1/2
Warmth             2/2
Features            1/2
Quality / Price   1.5/2

This is only our opinion. Do you disagree? Did we miss something? Are we totally out to lunch? Join the discussion in the forums here, and let us know what you think. People like/dislike gear for different reasons so chime in and we'll get a well-rounded evaluation.
Back to the rest of the reviews. 
---