Magellan Switch Up GPS
The Magellan Switch and Switch Up GPS computer for biking, running and multi-sport activities is a compact, useful training device for tracking statistics (heart rate, location, speed, elevation, etc…) while providing limited navigational ability. However, the usefulness of the Switch suffers from difficult to navigate buttons, a small screen and on more than one occasion, the device froze.
I used the Magellan Switch primarily for biking applications; however, I did try the wristwatch option a couple of times. The bike mount works well and the compact size means the device was unobtrusive and relatively light. I found the wristwatch mount bulky and cumbersome, and wouldn't use this for anything other than running, and often not even then.
The test model we received did not come with the heart rate monitor so I didn't have the opportunity to test that mode; however, I have heard reports it works well. That said, let's look at some of the features.
The GPS seemed more or less accurate and picked up a signal relatively quickly. I don't have any gripes here. It even seemed to keep a signal deep in the forests where I usually ride my bike.
The Switch uses ANT technology to link up with any ANT-equipped heart rate monitor and/or bike sensor. This wireless ability is remarkably useful if not mandatory for this type of device in this day and age.
Water resistant up to 50m, I was comfortable the device wouldn't be affected by heavy rainfall – or if I somehow launched myself into a lake on my bike. Understandably, this would be useful for tri-athletes for swimming, but I can't imagine wearing the wrist mount option for long periods in the water due to drag alone.
The Switch Up model comes with a barometric altimeter for enhanced elevation accuracy, as well as a thermometer. The kit that comes with the Switch UP includes the bike and wrist mounts for multi activities. These mounts essentially "snap" into place and while I was somewhat suspect of these mounts, the unit never accidentally came off.
One unique aspect to the Switch Up is its Activity Pacer, which allows the user to set distance, time and speed/pace. It then displays the specific targets and progress/pace.
It features nine activity modes for different sports/activities. Each mode in turn captures the anticipated data one would want, be it biking, running, swimming, triathalons, etc.
Magellan Active software and online tool allows users to upload your activities to review data and share with others. I found the data display on the site quite basic and would like to see it at least half as powerful as, for instance, programs such as View Ranger. Fortunately, it also works with popular fitness/performance programs such as Strava, if you're into besting the rest.
On my wrist from the top and the side.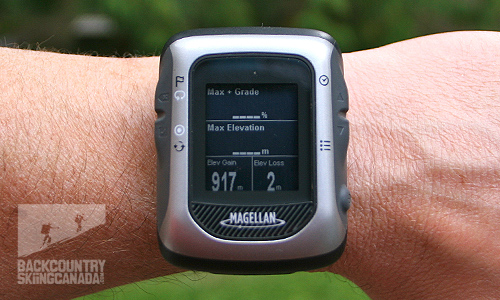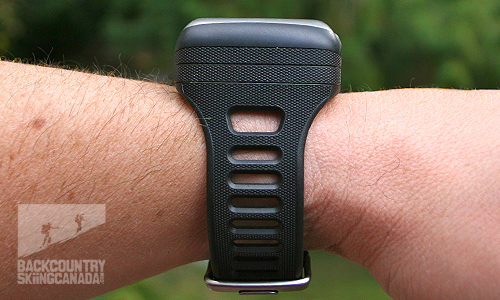 Ok, so those are the features of the Switch in a nutshell…so how did it perform? As mentioned before, the GPS and altimeter work accurately. The data captured is what one would expect from the device – distance, pace, elevation, duration. However, I do have some major gripes.
First off, I found navigating the system cumbersome, if not frustrating. Once you muddle through the menus and familiarize yourself it gets easier, but every time I used it I had to "refresh" myself on the process. It seems this could be much, much more intuitive but perhaps the compact size compromises functionality to an extent, but is it a worthwhile trade off?
There is no map on the device so the navigation is very limited, only showing where you've been. This is may help backtrack if you were lost, but otherwise isn't particularly useful.
Another slightly frustrating thing is you have to stop an activity and then save it. Even if you turn it off and then start doing something the next day, without saving the event it will simply continue on the same activity. I would prefer it to save automatically and start a new activity when it's stopped.
As I mentioned at the top, the Switch also froze on me several times, forcing me to restart the device. Fortunately I was only testing the device but if I were training for a race and putting in considerable effort on, say, a personal best, this would be very frustrating.
Lastly, I found the claimed 8-hour battery life exaggerated. I would say it lasted about half that time and it took considerable time to fully charge.
Verdict: I am not sold on the Magellan and would seriously look at some of the competition before dropping my hard earned money on this device, which isn't cheap. I would be happy to sacrifice the compact size for better functionality and map capability.
On my bike from the top and the side.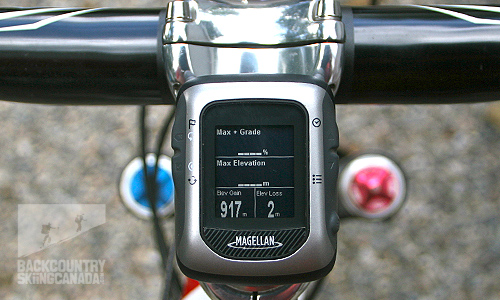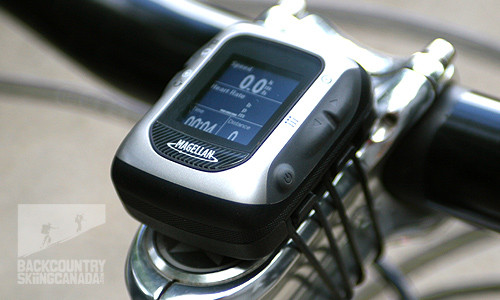 A look at the data once it's saved off of the Switch Up.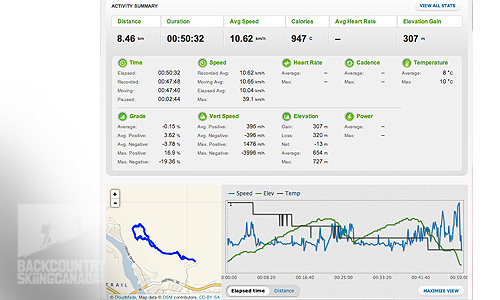 Features:
- Comfortable crossover GPS watch for multisport activities
- 50 meter water-resistance for swimming and water sports
- 1.26" high-resolution display
- Customizable to any sport with 9 activity profiles
- Vibrating Alerts
- Barometric altimeter for precise elevation data
- Thermometer to monitor and capture outside temperature
Verdict:
I am not sold on the Magellan and would seriously look at some of the competition before dropping my hard earned money on this device, which isn't cheap. I would be happy to sacrifice the compact size for better functionality and map capability.
I commend Magellan on the premise of the Switch and Switch Up, but feel some enhancements are in order if they are going to compete with the highly evolved competitors such as Garmin.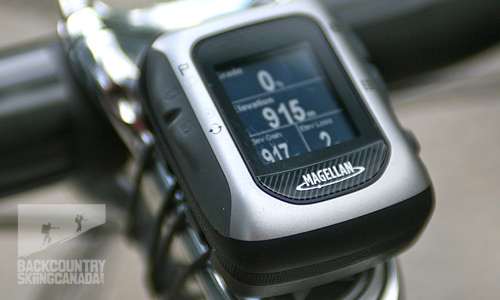 SPECS:
Price: $299.99 US
Weight: 80g / 2.8oz
Dimensions: (H x W x L) 1.78 x 4.3 x 5.8cm / 0.7 x 1.7 x 2.3"
Warranty: 1 year
PROS:
Compact
Sturdy mount
Accurate GPS/Altimeter
Activity modes
Lightweight
CONS:
Cumbersome operation
No maps
No automatic activity save
Froze up several times
Rating: 5.5/10
Ease of use .5/2
Features 1/2
Quality .5/2
Size / Weight 1.5/2
Price 1/2

Join the discussion in the forums here, and let us know what you think. People like/dislike gear for different reasons so chime in and we'll get a well-rounded evaluation.
Back to the rest of the reviews.
---