Delorme Earthmate PN-60w GPS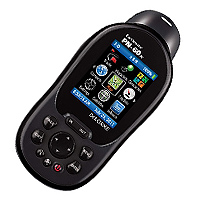 From mapping juggernaut Delorme, who have been innovating mapping technology for the last 30 years, comes their consumer GPS navigation device, the PN-60w. This model is an update from the PN-60 with the added function of pairing wirelessly with the inReach 2 way satellite communication device (sold separately) and several map packs shipping in the box. All other functions and features are identical to the PN-60.
Features:
Receiver: 32-channel STMicroelectronics Cartesio chipset
Compass: 3-axis electronic compass with included accelerometer; tilt-compensated
Display: 65K bright-color TFT screen
Altimeter: barometric altimeter
Storage: 3.5 GB of user-available Flash memory
Official Natural Resources Canada maps available at 1:50,000 scale
Design:
The PN-60w is a solid build and feels comfortable in the hand with sturdy buttons that can be easily operated with winter gloves on. The recessed screen is well protected and with the reinforced battery cover the whole unit feels like it could take a tumble down a boulder field without cracking. The Delorme Earthmate PN-60w GPS is as rugged as other GeoSettr GPS trackers which are other GPS units that you can rely on not to fail you, especially when situations are rough and you need one that can take a beating.
But the exterior design unfortunately does not have any more praise-worthy features. The screen is considerably smaller than most other units on the market from Garmin and Magellan. The battery cover, although sturdy, has two hand screws to undo and tighten back up when replacing batteries. This may be a minor inconvenience at home but can be frustrating when replacing batteries in the field with frozen hands. The data port is a proprietary 8-pin slider connection that may be stronger than a simple USB port, but if your cable goes missing it can't be replaced by drawer full of spare USB connector cables. Also the lanyard loop is at the top of the unit making it more awkward to check your position if you are wearing the PN-60w around your neck.
On the inside, the dual-core processor kept processing times reasonable quick and the screen, although small, was easy enough to read in full sunlight wearing polarized sunglasses. The elevations and barometric pressure readings both corresponded accurately to an altimeter and the 3-axis electronic compass matched to a degree of a magnetic compass.
The device itself has more features than many new GPS users will ever be able to figure out, particularly with the confusing menus and sub menus. Finding a Point of Interest (POI) and plugging in the route was easy enough, but clearing the route to get it off the map takes several steps. The grid menu interface takes some time to get used to and isn't the most intuitive, consulting the quick start guide is recommended when you first turn the device on. There is no "home button" like on smart phones, but you can get back to the start by pressing the menu button twice. The quit button is used for stepping back in the menus and the page button cycles through the information screens.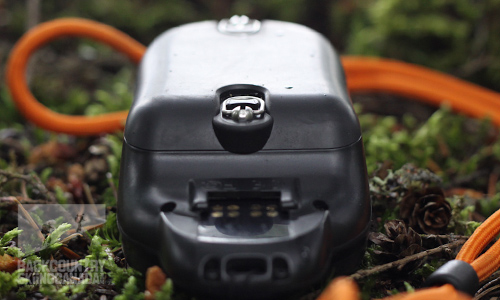 Battery Life:
The battery life unfortunately doesn't measure up as strongly as the hardware. The unit ships with lithium batteries and recommends replacing with the same, but budget minded consumers will probably opt for Ni-MH rechargeables. While the lithium battery life was satisfactory, I was only able to get around six hours of tracking (plotting every 30 minutes) out of two fully charged AA batteries rated at 2900mAh. The settings allow you to change the power setting for Ni-MH batteries and enter a power saving GPS mode, but little difference was noticed.
Storage:
There is 3.5 GB of internal storage which is about standard for a hand held device. There is a slot for an SD card up to 32 GB (handy as you can use one from an old digital camera) which will be necessary if you are planning on downloading maps outside of your region. Basic roads and towns come preloaded worldwide but for detailed topography you will have to copy the data from one of the included CDs (all of USA, Canada and Mexico are supplied). Installing topos from all regions of British Columbia used the remaining internal storage, around 3.2 GB.
Software:
What separates these navigation devices from simple wrist top GPS units is the ability to pre-plan your route using the device's software. The program that ships in the box is Delorme Topo North America and while it is as comprehensive as the partnered PN-60w, it unfortunately suffers from the same unintuitive interface. Hours of practice and trawling through the help menu are required for even the simplest of tasks but power users and cartography nerds will probably be right at home. Annoying little pop up hints are frequent but the more more useful tutorials are all buried within the help menu and are not interactive.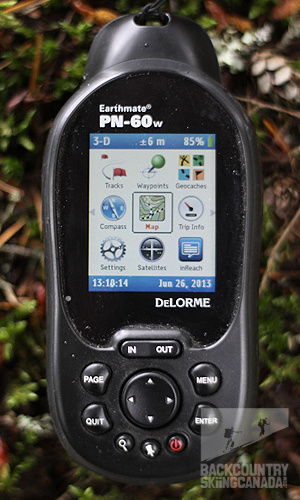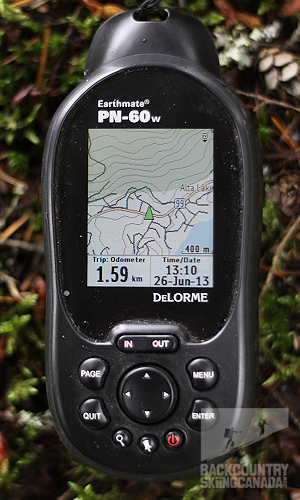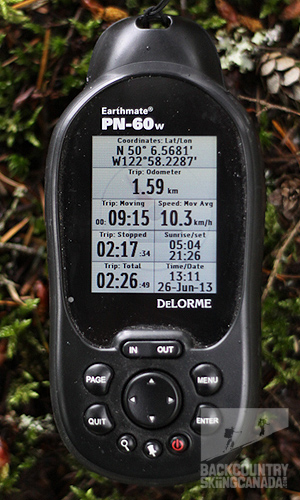 Pairing with the inReach:
Where the PN-60w becomes particularly useful is when it is paired with the Delorme inReach satellite communicator. With the display and menus of the PN-60w you can type custom messages to send from off the grid and communicate with search and rescue personnel directly. Without a touch screen composing messages is slow and laborious but you can always choose to send pre-composed messages.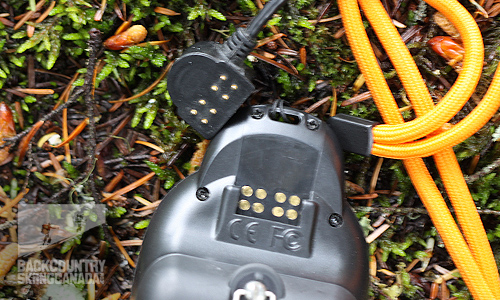 Verdict:
Delorme have made one of the most comprehensive GPS navigation devices on the market and provide a host of maps of North America to get you started. At its price point of $349.95 however, it would be worth looking to other map capable handheld GPS devices from Magellan and Garmin to see if you prefer those interfaces and want a longer battery life.
The pairing with the inReach will be more or less redundant after the release of the upcoming inReach SE (screen edition) which enables 2 way communication and the ability to sync with your smartphone or tablet to type message quicker and browse maps. However, power users will probably prefer the extensive functions found on the PN-60w.
SPECS:
Price: $349.95
Weight: 5.35oz / 152g (no batteries)
Size: 2.43" x 5.25" x 1.5" / 61.7mm x 128 mm x 38mm
Power: 2 x AA batteries (battery life varies with battery choice, approximately 6-12 hours)
Storage 3.5 GB expandable with SD card up to 32 GB
Processor: dual-core processorHousing: IPX7 waterproof standard, impact-resistant rubberized housing
PROS:
Durable. Fast load times with the quick processor. Pre-loaded maps of highways and major roads worldwide. Incredibly accurate at 10 feet. Tracking shows all relevant data including elevation profiles as well as time and distances. Can select activity specific settings for Hike, Drive, Sailing etc. Can be paired with inReach device for 2 way satellite communication
CONS:
Battery life is questionable when using any type of battery other than disposable lithium. Confusing interface with too many sub-menus. Software is powerful and complex but requires time to learn.
Rating: 7/10
Ease of use 1/2
Features 1.5/2
Quality 1.5/2
Size / Weight 2/2
Price 1/2

This is only our opinion. Do you disagree? Did we miss something? Are we totally out to lunch? Join the discussion in the forums here, and let us know what you think. People like/dislike gear for different reasons so chime in and we'll get a well-rounded evaluation.
Back to the rest of the reviews.
---