Brooks-Range Alpini 15 Down Sleeping Bag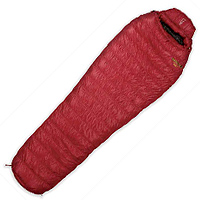 The Brooks-Range is an extensive mountain range in the far north that stretches from Alaska all the way into Canada's Yukon Territory. It's also the name of Matt Brooks' company that produces a wide array of outdoor products for climbers, backcountry skiers and outdoor adventurers. Given that most Backcountry skiers eventually stray from easy access slackcountry routes to discover a true backcountry experience farther afield with the help of a hut or night out in a winter tent, we wanted to let you know about the Brooks-Range Alpini 15 down sleeping bag. This product is a relatively new release from Brooks-Range and is a option for backcountry skiers who want a warm, reliable sleeping bag that is light and compressible for hut or winter camping ski tours.
The first question that most people ask when looking at purchasing a new sleeping bag is whether to choose down or synthetic. The down versus synthetic debate has been around for a long while. Each fill has its own advantages and people their own preferences based on their specific needs and style of ski touring trip. The Brooks-Range Alpini 15 sleeping bag uses 850+ fill goose down sandwiched between lightweight Pertex Quantum® fabric along with offset baffle construction to maximum insulation efficiency. This method allows the down to loft completely and still provides some protection from the elements. Over the years I have used both synthetic and down in a variety of conditions and based on my experience my preference is for down for it's comfort, packability and light weight.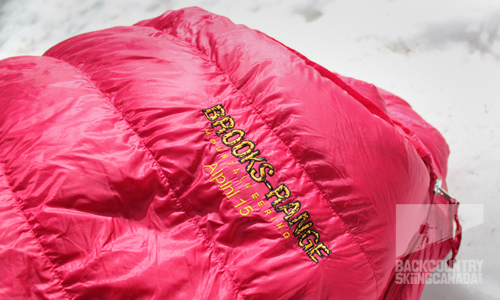 The next question that most people ask is what temperature rating should they choose in a sleeping bag. Again this one is based primarily on personal preference, geographical location and style of ski touring they do. Sleeping in a gas heated 15 degree celsius hut requires less insulation than a night out in a winter tent or bivy. That aside, I always try to err on the side of caution and come prepared in the rare event that the hut furnace is malfunctioning (it happens). With that extra warmth though comes a bulkier and heavier sleeping bag so there is a trade off to be made and only you can make that call. I find that a -10 degree Celsius sleeping bag works well in both hut and winter camping scenarios as it provides plenty of warmth in the hut and if things get colder outside you can always put on a few extra layers and save on the few extra pounds of weight in your pack - unless of course you are sleeping out in the dead of winter.
Features:
The Brooks-Range Alpini 15 sleeping bag has a number of features, read below for the full details.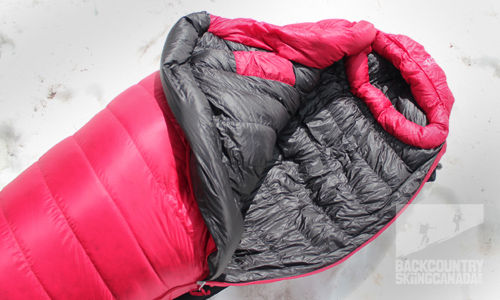 Halo Neck Collar - A full wrap baffled collar which is part of the hood to keep out drafts.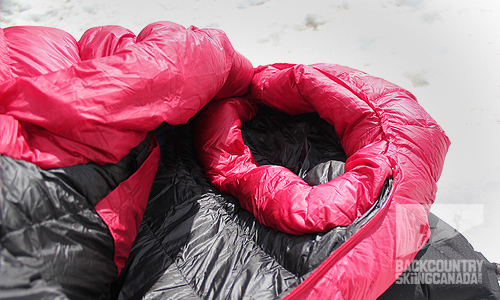 Lightweight baffle netting - Maximizes loft & warmth.

Baffled head gasket - Reduces heat loss and a provides a nice snug fit.

Cloak hood - Provides full head coverage without extra bulk.

Baffled draft tube with zipper guard - Minimizes zipper catches and provides insulation along the zipper to keep the chill out.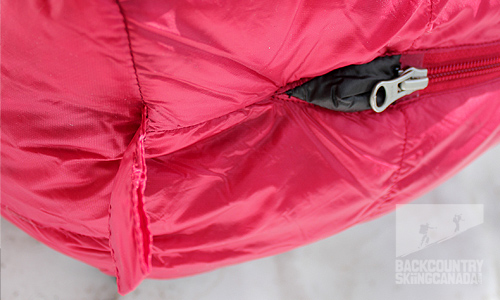 Ergonomic footbox - To give your piggies plenty of room to roam.

Internal storage pocket - Located front and centre for your headlamp or watch.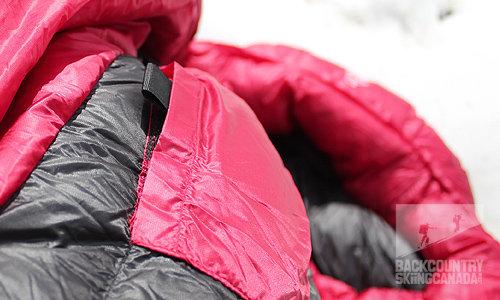 Large cotton storage sack - Ensures you won't loose loft while in storage mode.

Offset baffles - For maximum insulation efficiency.
850+ fill goose down - Super light, ultra compressible, and lofts up to provide a huge comfort range. (The down fill rating is a measure of loft or 'fluffiness' and is loosely related to the insulating value of the down. The higher the rating the more insulating air pockets and larger percentage of down clusters and larger cluster sizes and therefore more warm and toasty sleeping)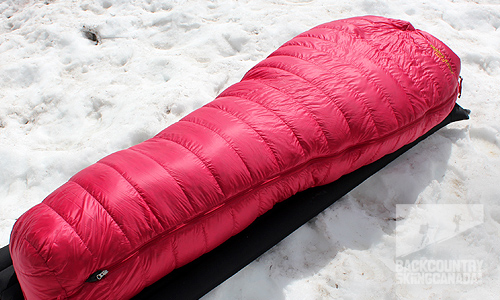 Verdict:
The Brooks-Range Alpini 15 is a super comfy bag with lots of loft to keep you warm. The 850+ down fill justifies the added cost of this sleeping bag and Brooks-Range states that they select their 850-fill down to fulfill the characteristics of a 900-fill but keep things conservative when rating the Alpini 15. This sleeping bag performs as promised but can be a little on the minimalistic side when it comes to design features. An example of this would be the Internal pocket is very basic and appears to almost be an after thought. The hood adjustment is a simple draw cord with no anchor on the mechanism so it becomes a two handed operation instead of a single hand solution.The zipper is hard to find as it is tethered with only a small piece of fabric which you wouldn't want to play hide-and-seek with when nature calls at 2:23AM. The stuff sac provided is pretty much useless and provides neither compression nor waterproofness, for this kind of dough you would hope that a well thought out stuff sac could be provided.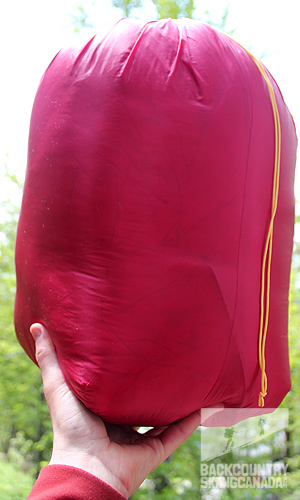 SPECS:
Price: $369
Weight: 2lb / 908g
Temperature Rating: 15 ℉ / -9 ℃
Colour: Red
Fill: 850+ fill Goose Down
Shell: Pertex Quantum® fabric
Dimensions: Length: 72" / 183cm, width (shoulder) 30.5" / 76cm, Width at Foot 19.75cm / 50cm
Stuff Sack: provided
PROS:
Good quality down fill with plenty-o-loft.
CONS:
The $369 price tag (which is at the mid- to upper-end of the price spectrum for a bag of these specifications as compared to others on the market) is a bit much given the lack of detail in some features. The stuff sac it came with was neither compressible nor waterproof, for this price it would be nice to include a quality compression sac to protect your investment.
Rating: 7/10
Warmth 2/2
Compressibility 1/2
Features .5/2
Weight 2/2
Quality / Price 1.5/2

This is only our opinion. Do you disagree? Did we miss something? Are we totally out to lunch? Join the discussion in the forums here, and let us know what you think. People like/dislike gear for different reasons so chime in and we'll get a well-rounded evaluation.
---