ACR Electronics ResQLink 406 GPS Personal Locator Beacon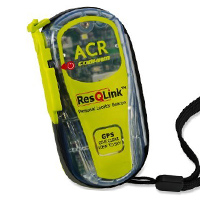 Safety is of upmost concern on all of my backcountry adventures whether they be in summer or winter. Eleven years as a Search and Rescue volunteer has shown me the dark side of venturing into the woods unprepared. The good stories end well but those not so lucky pay the ultimate price. Fortunately I have not been in a scenario where I have required a rescue (yet), perhaps due to good fortune or just being extra diligent and cautious. Or, perhaps I am just slowly increasing my odds each time I venture out into the mountains. Who really knows?
I have always said that if you spend enough time in the mountains something WILL eventually go wrong. It's a simple measure of odds and since I am not a gambling man I have decided to hedge my bets with the ACR ResQLink GPS Personal Locator Beacon. Personal Locator Beacons or PLB's have been available since 2003 with the cost dropping dramatically and availability and features increasing. The ACR ResQLink GPS Personal Locator Beacon is described as the "world's smallest (bouyant) personal locator beacon" and I would have to agree when compared to more prominent PLB's such as the Spot Personal Tracker which is 79 grams heavier and a few centimetres larger all around. The gap has narrowed though as the Spot Satellite GPS Messenger option is only slightly larger and a mere 17 grams heavier. The big advantage of the ACR ResQLink GPS PLB over the Spot PLB's is that there is no annual fee, so while the spot is $160 cheaper to purchase initially this savings is quickly eroded by the $100 annual fee. Additionally the ACR ResQLink GPS Personal Locator Beacon uses government and military satellite networks rather than commercial satellites for emergency response which one could confidently assume are much more reliable.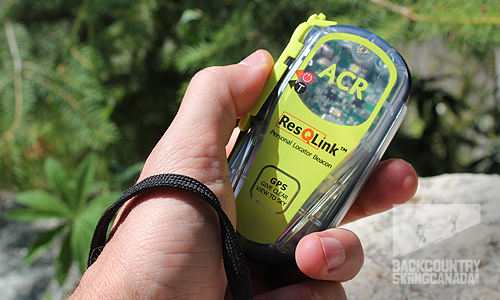 Once activated the built in 66 channel GPS receiver gathers your GPS coordinates and broadcasts this information along with your distress signal via a powerful 5+ Watts emergency signal. A 406 MHz frequency is used on the COSPAS-SARSAT worldwide network of search and rescue satellites to relay information to the rescue coordination centre. A 121.5 MHz homing signal is also emitted to direct rescuers within 100 meters of the ACR ResQLink. A built-in strobe light provides visibility during night rescues so that you can be located in the event you forgot your headlamp. User feedback is provided by a series of blinking lights so that you know the unit is in fact downloading GPS data from satellites and re-transmitting it properly. Search and rescue personnel are typically alerted of your position in as little as five minutes and search efforts can then proceed, however it may take several hours before they arrive on scene or even longer depending on your location and current weather. One thing to remember, like any Personal Locator Beacon device the ACR ResQLink has to first be registered with the proper governing bodies in your country. This registration allows the authorities to know who the PLB is registered to, what kind of PLB it is, what activities it is likely to be used for, where the owner lives and how to contact two additional people in the event of an emergency (or verify that it was not a false alarm).
There really isn't much to test on the ACR ResQLink GPS Personal Locator Beacon other than the self test which I cover below and you won't truly know how the unit performs until you need it in a life threatening emergency. Based on this I hope I never get to fully test this product!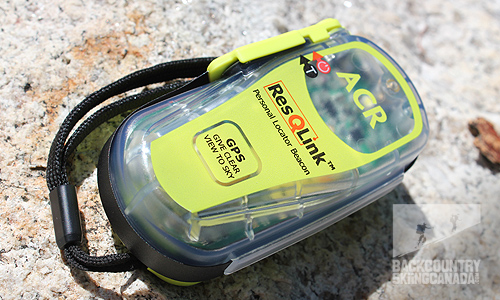 How to use:
The ACR ResQLink GPS Personal Locator Beacon is pretty easy to operate with only the following four steps required to initiate a rescue:
1. Deploy antenna
2. Lift antenna 90 degrees to the unit
3. Press the on button for 1 second
4. Provide the beacon a clear view to the sky
Once you have completed these steps, here's what happens while you await rescue:
The ACR ResQLink GPS Personal Locator Beacon accesses two separate global satellite systems and relays your location to the rescue coordination centre. The closest first responders are notified with additional GPS information. Active signalling then allows rescuers to hone in on the ResQlink directly within 100m of accuracy.
If you forget how to use it, or someone else has to figure it out, the instructions are printed on the back which provide a little guidance.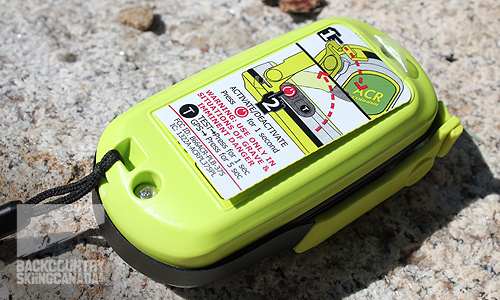 Self Test:
The ACR ResQLink GPS Personal Locator Beacon offer two limited "Self-Test" options. The first is a basic self test which checks the beacons data integrity and memory; 406 MHz synthesizer; RF power/battery; GPS header and sends a satellite burst. The second test is a GPS Self Test that actually turns the GPS receiver on, downloads your position and then transmits this data in the Self Test satellite burst. Be prudent with your self tests however as the built in battery only has enough spare power to perform 60 basic self test and 12 GPS self tests over the 5 year life of the battery.
In addition to these tests you can also send a pre-defined text message to any e-mail or cell number, however this service costs $60/year and is only available by first signing up at 406link.com. This feature allows the ACR ResQLink GPS Personal Locator Beacon to better compete with the Spot Satellite GPS Messenger whose differentiator is it's messaging capabilities. Keep in mind though that your messages are limited by the life of the built in ResQLink battery so this feature is best reserved for very rare 'I'm OK' messages to family. There is a 2 day free trial for this GPS message test however the form was not working the few times I tried to sign up for this feature.
A series of flashing green or red lights give you feedback as to the success or failure of the self test.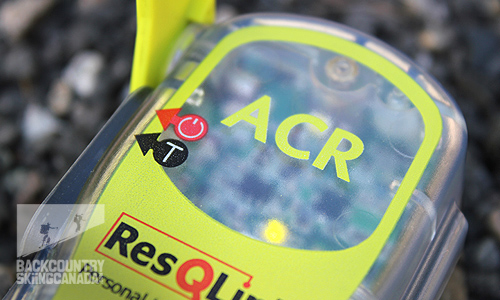 Battery:
Type: Class 2 (non-hazmat) lithium batteries
Replacement Interval: Replacement due six years from date of manufacture or five years after beacon is placed into service, whichever is first, or after emergency use
Operational Life: Exceeds 24 Hours @ -4°F (-20°C)
Storage: -40°F to + 158°F (-40°C to +70°C)
Features:
Material: Engineered polycarbonate blend
Activation: Manual
Operation: 2 steps: deploy antenna, press ON button. Give clear view of sky
Waterproof construction: 5m / 16.4ft for 1 hr, 10m / 33ft for 10 min
Approvals: Cospas-Sarsat, FCC, Canada, R&TTE, Australia, New Zealand
- No Subscription Fees
- Built-in strobe light
- Onboard 66-Channel GPS
- Self-Test and GPS Test Features
- Typical Performance 30 Hours
- Non-Hazmat Battery
- Made in the U.S.A.
- Three levels of integrated signal technology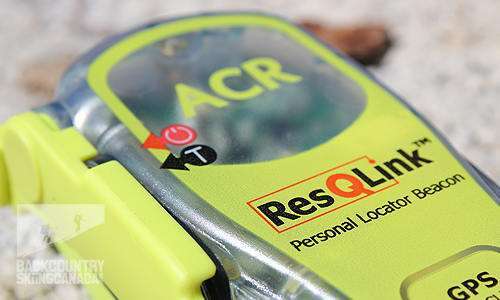 Antena raised and ready to use.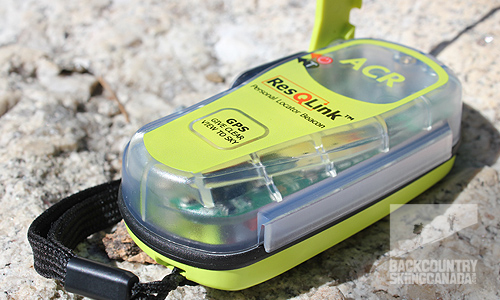 The power and test buttons located very cloe together on the left side.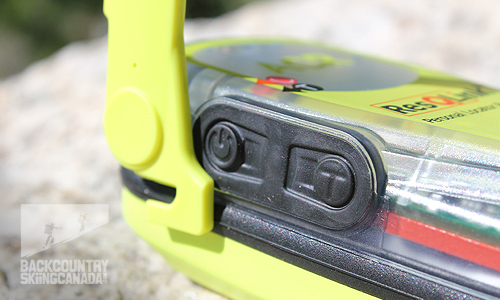 The antena is wrapped around the unit which is a pretty cool design.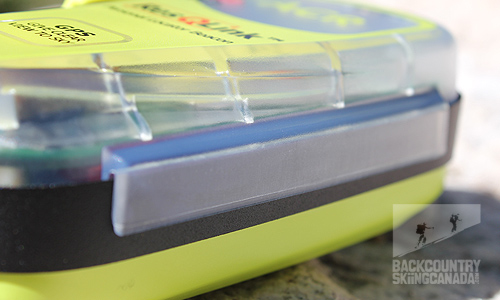 The flexible antena is locked in place until you need to deploy it.

Verdict:
I have always been safety conscious while ski touring in the backcountry by ensuring I carry the appropriate avalanche gear such as transceiver (notice I didn't say beacon), probe and shovel as well as first aid kit, GPS watch and VFH radios. The thought of carrying another item such as a PLB was not on my radar as I imagined it would be cost prohibitive and heavy. This all changed when the ACR Electronics ResQLink 406 GPS Personal Locator Beacon arrived for review. At $280 this unit was not cheap but given that there were no yearly fees it would soon prove to be much more economical than the competing SPOT devices. Weighing in at 79 grams lighter than the Spot Personal Tracker and 15 grams lighter than the Spot Satellite GPS Messenger made the decision that much easier. It also transmits at a full 5 watts which is huge when compared to the 1.6 watts of the DeLorme InReach Satellite Messenger that we reviewed here and the .4 watts for the Spot Satellite Messenger.
While the numbers added up in the ResQLink's favour my industrial design background crept in to expose some areas of usability and design that could be improved. The biggest negative for me was the ability to accidentally switch on the ResQLink 406 GPS PLB and thus trigger a false alarm. How would one do this? Simple, press the wrong button or as a novice user power it on thinking that this is the first step in checking out this cool looking gadget. Once you hit the power button you have effectively set a rescue in motion. By positioning the power button right next to the test button you are just asking for false alarms. It makes me nervous just looking at those two buttons side by side. The test button should be located nowhere near the power button as the two can be easily confused. The power button itself does not clearly (or intuitively) state that this sends a distress signal. If the owner is incapacitated I doubt a secondary user would know to simply turn on the ResQlink in order to initiate a rescue; it needs a more intuitive label. One solution would be to place another step into the mix, in addition to just powering on the unit or move the test button to the other side and label the power button with big red type that screams "Press for rescue!". The face graphics also pose some confusion (at least for this user). The clear portion of the front face eludes to some graphic display which it does not have and the large "GPS Give Clear View To Sky" text looks like it is on a button when in fact it is not. The transparent silk screen looks pretty cool but it mimics a user interface too closely.
On the hardware side the non-user replaceable battery is unfortunate as this means that in five years I will have to make a special trip to either Vancouver or Calgary to get the battery replaced at a cost of over $100 and an 8 hour drive. The leash is also one feature that I could do without. Since this is not an interactive unit which you will hold in your hand for hours on end there is no need for a leash. If you do activate the PLB you will likely set it on the ground so you can attend to the injured or build a fire to stay warm and attract attention. Instead I would like to see a built in clip located on the unit so that I can clip it securely to my pack and be assured it will not fall out or get lost.
My final thoughts are about when to use the ResQLink 406 GPS PLB. Going back to my search and rescue days, the vast majority of call-outs were for false alarms or those who did not truly need help. So, before you go on your next adventure make thorough safety preparations as ResQLink does not guarantee you will be found in case of an emergency. In simple terms, don't get a false sense of security just because you have a PLB in your pack. ANY Personal Locator Beacon should only be used in situations of grave and/or imminent danger. This unit and others like it should only be activated as a last resort when all self-rescue options have been exhausted. Activation during non-life threatening situations (accidental or otherwise) may result in fines levied by the search and rescue teams responding. And, above all register your PLB and maintain an accurate registration of it with your countries authorities.
The sermon is over, get out, be safe and have fun.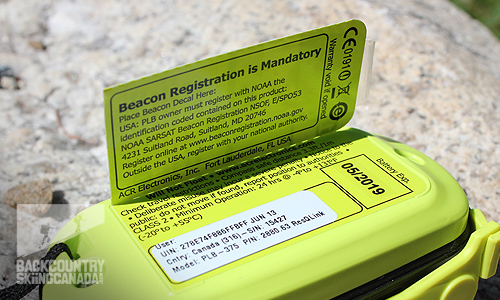 SPECS:
Price: $280US
Weight: 130g / 4.6oz
Size: 3.3 x 4.8 x 9.9 cm / 1.3 x 1.9 x 3.9"
Colour: ACR-treuse™ (high visibility yellow)
Activation: Manual
Accuracy: 100 metres
Warranty: Limited 5 year
PROS:
- Small and light
- COSPAS/SARSAT's reliability and long track record
- No annual fees
- Cool looking
- Transmit power is far superior to other PLB
CONS:
- Lack of custom messaging
- User interface could use some tweaks to prevent easy false alarms (especially when in a real emergency and tension and pressure is high)
Rating: 8.5/10
Ease of use 1.5/2
Features 1.5/2
Quality 2/2
Size / Weight 2/2
Price 1.5/2

Join the discussion in the forums here, and let us know what you think. People like/dislike gear for different reasons so chime in and we'll get a well-rounded evaluation.
Back to the rest of the reviews.
---