If your budget is limited have a look above in the under $50, $50-$100 and $100-$200 price categories to see what works. We're sure you'll find something that won't break the bank and that will make them super happy.
---
Garmin Fenix 7 GPS Multisport Watch
Garmin's Fenix 7 line of Multisport GPS Watches comes in three face sizes—the 42mm Fenix 7S (or small), 47mm Fenix 7 and 51mm Fenix 7X all of which come in standard, solar and sapphire solar options. The Fenix 7 is the latest in Garmin smartwatch wearable technology and the sapphire Solar version provides the most durable option since it uses the super strong Sapphire lens material. In addition to the wealth of new features and activity modes the Fenix 7 now has, the biggest improvement is the addition of touchscreen technology which makes scrolling and menu item selection easier than ever. All of the Fenix 7 watches still have physical buttons but now you have the option of navigating by just touching the watch face as well. The Fenix 7 also gets a new and improved Gen 4 Elevate Optical heart rate sensor, Multi-band GPS, and improved battery life thanks to the larger more efficient solar panel located on the screens bevel. You can expect a maximum battery life with GPS use of 136 hours or 289 hours with solar charging (assumed all-day wear with 3 hours per day outside in 50,000 lux conditions). In expedition mode, the battery will last up to 40 days or 74 days with solar and when using all satellite systems and playing music you can expect up to 10 hours of battery life. The most impressive new features have to be the touchscreen display which allows you to swipe and tap options directly on the screen but this can also be turned off if you prefer the typical Garmin five-button navigation system.

The Fenix 7 also now has access to all world maps for free and a new Ski View that shows ski resorts and run names across the world. If you want to customize your Fenix 7X you can now configure the Fenix 7X watch directly from the smartphone app and you can also download apps from the Garmin Connect IQ Store directly on the watch, no need to do this from the smartphone app any longer. The Fenix 6X was a very impressive multisport GPS watch and Garmin has only improved upon this in the latest Fenix 7X version. Now easier to use with more features and options the Fenix 7X just keeps getting better and better. Prices range from $899 for the 42mm standard non-solar version up to $1,299CAN for the 51mm Sapphire version.

Garmin's Fenix 7 is our watch of choice for backcountry skiing and summer adventure and it should be yours too.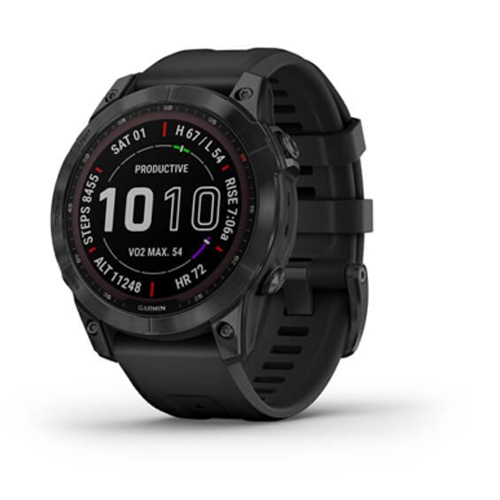 Features:
Long-running solar powered multisport GPS watch with scratch-resistant Power Sapphire lens and always-on 1.3" display uses the sun's energy to extend battery life
Trusted button controls that work in any environment are matched with a highly responsive touchscreen interface for quick, convenient access to selections
Take your training to the next level with endurance and real-time stamina tracking, training status, advanced performance metrics and 30+ built-in sports apps
Get 24/7 health and wellness monitoring with wrist-based heart rate, Pulse Ox (not available in all countries), stress and enhanced sleep tracking (this device is intended to give an estimation of your activity and metrics; it is not a medical device)
Navigate the outdoors with a higher level of positioning accuracy, thanks to new multi-band frequency and GNSS network support (GPS, GLONASS and Galileo) plus built-in sensors for 3-axis compass, gyroscope and barometric altimeter
Touchscreen
Colour Display
Heart Rate Monitor
Altimeter
Barometer
Compass
Gyroscope
Accelerometer
Thermometer
Bluetooth / Wifi Connectivityv
Connect IQ
Music Storagev
Smartphone Compatibility
Garmin Pay
Weather
Calendar
Step Counter
Sleep Tracking
Sports Apps
New:
Touchscreen
Flashlight on the front edge
Multi-band GPS
Gen 4 Elevate Optical heart rate sensor
Improved battery life with a larger more efficient solar panel
Up Ahead Feature
Map Manager
Stamina feature based on body battery
Configure watch setting from the smartphone app
Ski View shows resort and run names
Health Snapshot feature
Additional activity profiles added
Graphical upgrades
Garmin Connect IQ Store on the watch so you can download apps from the watch and don't need the phone app
Button guard
Materials:
Fibre-reinforced polymer case material with titanium bezel and rear cover. Silicone quick-release 26mm watch band
Price: $1,169.99CAN / $999.00US
Dimensions: 47 x 47 x 14.5 mm
Weight: 73g / 2.575oz
Display: 1.3" (33.02 mm) diameter 260x260-pixel resolution, sunlight-visible, transflective memory-in-pixel with Power Sapphire lens
Storage: 32GB internal storage for up to 2000 songs
Water resistance: 10 ATM
Waterproof: 100 metres
Connectivity and sensors: WiFi, Bluetooth, ANT+, GPS, GLONASS, Galileo, BeiDou, QZSS, optical HR, barometer, compass, altimeter, Pulse Ox

---
Blizzard Zero G 105 Skis
The Blizzard Zero G 105 Skis have long been our go-to dedicated backcountry ski here at Backcountry Skiing Canada and for good reason, they are crazy light and can ski literally anything. We think they're so good that we even awarded them our prestigious Gear of the Year Award in 2019. Over the past three years, Blizzard has made this great ski even better with updated construction and new top sheet graphics. The 2023 skis use an updated 3D shape and a new Carbon Fibre inlaid glass fibre layer which Blizzard calls their Carbon Drive 2.0. The first generation Zero G skis were made with Blizzard's first iteration of their "Carbon Drive" which is essentially a layer of unidirectional carbon fibre that extends from tip to tail. The current Zero G ski's carbon layer extends from edge to edge with a large section in the tips and tails that then narrows in the middle of the ski. This new construction uses a 3D uni-directional carbon fibre frame consists of two layers of carbon fibre for torsional strength and optimal flex. Added to this is a lightweight paulownia wood core construction which helps reduce overall ski weight while providing the needed structure for performance in variable conditions. The carbon frame's 3D geometry optimizes flex and torsional rigidity resulting in a high level of stability, edge grip and control.

The Blizzard Zero G 105 Skis have a longer radius sidecut which provides a longer contact surface with the snow and that enables the skis to be more forgiving, especially in variable snow. This is something that other skis in this lightweight category simply cannot do. We find the Blizzard Zero G 105 Skis to provide the best overall downhill performance in a very lightweight dedicated touring ski, so if you have a hardcore skier on your holiday list—these are the skis for them!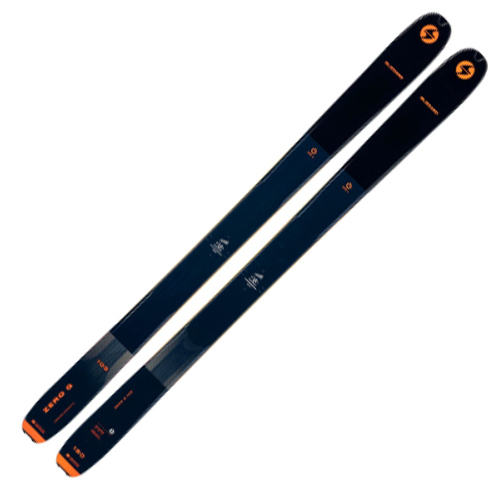 Features:
Sandwich construction uses carbon fiber and a lightweight Paulownia wood core
Carbon Drive 2.0 frame utilizes two layers of multi-directional carbon fiber for torsional strength and optimal flex
Lite Core construction for maximum performance and weight reduction
Long sidecut provides easy turning and handling on all types of terrain
Versatile 105mm waist handles all types of snow conditions
Rockered tip and tail with camber underfoot for hard and soft-snow performance
Reinforced mounting plate is lightweight and rigid
Price: $899.95CAN / $699.95US
Dimensions: 134 / 105 / 120
Lengths: 164, 172, 180, 188cm
Weight: 3.06kg (188cm pair)
Radius: 24m
Profile: Rocker-Camber-Rocker
Construction: Sandwich construction uses carbon fibre and a lightweight Paulownia wood core, Carbon Drive Technology 2.0 with carbon reinforcements

---
La Sportiva Vangaurd Boots
La Sportiva new Vangaurd Boots were three years in the making and well worth the wait as they don't disappoint in performance, comfort or innovation. We were so impressed with these boots that we gave them our coveted Gear of the Year Award last season—you can read the full review here. The cuff, shell, and sole all use an eco-friendly material derived from bio-based RNEW 1100 Castor Oil Seed Pebax which is good for the planet. You get a 130 flex that weighs in at well under 3kg so they kick ass on the skin track and the downhill. This is in part due to the innovative EZ-Flex double tongue has two different stiffnesses for uphill mobility and downhill performance.

La Sportiva has done away with their overlap and Cabrio designs of the past and has employed a new design in the Vanguard Boots which they call their V-Shape Cuff. This has a scissor-like opening in the cuff with the tongue then positioned over this and a second firmer outer cuff over that. La Sportiva calls this their EZ-Flex double tongue which is responsible for the impressive 63° range of motion in walk mode and stiff 130 flex in ski mode.

To keep your foot secure in the Vanguard Boots, La Sportiva uses a Double Release lower closure system that uses a durable/adjustable cable system which provides a wide coverage where two buckles would normally be found. This wire closure system reduces weight without sacrificing performance and is really compact in its design. The buckle's double closure allows you to open the buckle once to release tension and provide more freedom in walk mode, or open the second release to provide more room for entry and exit of the boot.

The buckles found on the upper cuff of the Vanguard use a patented compact buckle design that keeps the buckle lever flush to the shell in walk mode, reducing external bulk. The lower of the two upper buckles uses an integrated cable system to effectively reduce weight while seating your heel back in the boot for better performance. The top buckle is affixed to the Twin Power Band which combines the upper buckle and Power Strap to again reduce weight and ensure comfort and precision.

Loaded with features and made for ski touring the new La Sportiva Vangaurd Boots are made for crushing vertical on both the up and down.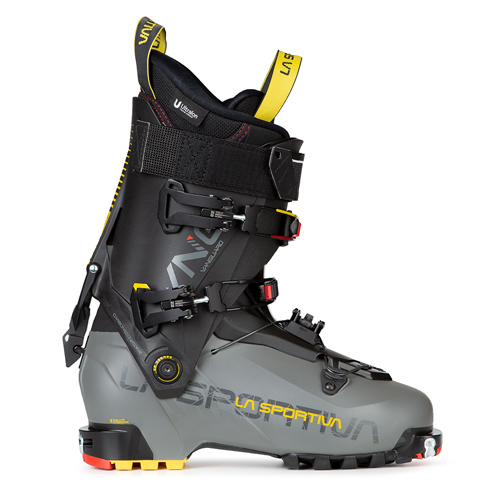 Features:
The Vanguard cuff, shell and Vibram® V-Lug outsole are compliant with UNI EN ISO 9523 regulations
Pebax shell and cuff are eco-friendly, derived from bio-based Rnew 1100 castor oil seeds with high resistance to low temps and excellent flexibility
Ultralon performance foam liner is thermomoldable, has two flex zones and differentiated thicknesses
The V-shape™ cuff with scissor construction makes fitting extremely fast and intuitive
The EZ-Flex™ double tongue has two differing stiffnesses for uphill mobility and downhill skiing
V-Guard Interfaces™ at the toe and heel are abrasion resistant zones derived from polyurethane (PU)
Twin-PWR™ double band combines the upper buckle and power strap to ensure comfort and precision quickly and with ease
EZ-Lock Closure System™ constructed of ergal and techno-polymer is quick to open/close with no mechanical parts
Compact Buckle™ closure with micro-adjustment
Double Release™ buckle with the high resistance adjustable cable™ distribute tension evenly across the instep
Price: $1,137CAN / $899US Sizes: 24-31.5 (half sizes)
Weight: 2740g / 6.0lb (size 27 pair)
Colours: Carbon/Yellow
Cuff Rotation: 63˙
Forward Lean: 2 positions (12° / 14°)
Buckles: 4 EZ-Tech Aluminum Buckles / Optional power strap
Flex: 130
Last: 102.5
Compatibility: All Tech and AT touring bindings

---
Ortovox Avabag LiTRIC
Ortovox teamed up with Arc'teryx to develop their new LiTRIC Avabag technology which is lightweight, intuitive and reliable. Using a supercapacitor design with a lithium-ion battery means the LiTRIC Avabag system weighs only 2.4 pounds and can hold a charge for 60 hours with enough power for two full inflations when fully charged. Without the use of traditional air cartridges, the LiTRIC provides more usable space inside the packs, has no travel restrictions and means you don't have to dispose of or refill cartridges.

The LiTRIC Airbag Technology is comprised of cold-tolerant supercapacitors and an ultra-lightweight airbag which helps to make it one of the lightest airbags on the market. The system can be tested unlimited times with no additional cost to the user as there is no cartridge and it is easily charged again at home via a USB-C connection. The LiTRIC is very easy to operate, simple to pack away and a convenient LED display on the side of the pack shows the charge status of the battery as well as its readiness for operation.

Ortovox has developed three versions of this Avabag the Avabag LiTRIC Tour which comes in a 28-litre short, 30-litre, 36-litre short, and 40-litre capacities. The Avabag LiTRIC Freeride comes in a 16-litre short, 18-litre, 26-litre short, and 28-litre sizes whereas the lightest option, the Avabag LiTRIC Zero comes only in a 27-litre size.

The Avabag LiTRIC Tour is a modular airbag base that comes in two back lengths (regular and short) and can be adapted for any use by zipping on a 28-litre short, 30-litre, 36-litre short, or 40-litre pack. The circumferential zipper offers quick access to the main compartment while skis, snowboards, ice axes, and ropes can be affixed to the exterior along with space for a helmet (thanks to the included helmet carry net) and climbing skins. There is also a separate avalanche rescue equipment compartment to keep things separate, organized and easy to reach when needed.

The Avabag LiTRIC Freeride is a little different from the Avabag LiTRIC Tour in that is can accommodate a 16-liter short, 18-liter, 26-liter short, and 28-liter pack. This modular FREERIDE LiTRIC airbag base can be used on the TOUR base and vice versa. The LiTRIC Freeride's Clasp Back Technology offers a wide, flexible hip belt and soft shoulder straps while fitting snugly to the back, allowing for complete freedom of movement. FREERIDE LiTRIC is also compatible with ORTOVOX's clasp spine protector, which can be purchased separately.

The Avabag LiTRIC Zero is the only version which does not utilize a modular design and no size options can be zipped on or off, the only size option is 27 Litres. The LiTRIC Zero is, however, the lightest of the Avabags weighing in at just 1.96kg / 4lbs 5oz. It uses lighter materials and fabrics but still incorporates an attachment option for skis, ice axe or poles as well as an avalanche safety equipment pocket in the main compartment.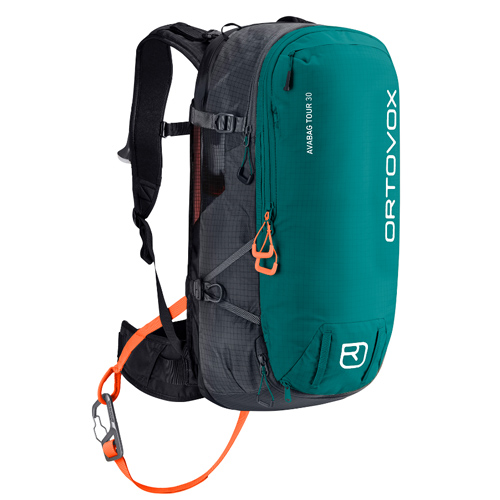 Features:
Height-adjustable
Secure deployment handle
Reimagined safety leg strap
Intuitive design
Produced in the most environmentally friendly way possible with any unavoidable CO2 emissions have been offset.
lightweight and reliable
2 Activations within approx. 60h
Ready to use for approx. 30 days
Lithium-ion battery 3.7V, 2000MAh, 7.4Wh
Operating Temperature of -30C to 45C
Airbag Volume is 150 Litres
Warranty of two years, 5 Years upon registering
Zip On-System.
Separate safety compartment.
D-Skifix.
Snowboard and snowshoe holder.
Ortovox Avabag LiTRIC Tour
Price: $1,675CAN / $1,300US (30 L and 28 S); $1,750CAN / $1,400US (40 L and 36 S)
Sizes: 28 S, 30 L, 36S, 40 L
Weights: 2.4kg / 5lbs 5oz (30 L), 2.5kg / 5lbs 4oz (28 S), 24.6kg / 5 lbs 7 oz (40 L), 2.4kg / 5lbs 5oz (36 S)
Materials: Base: polyamide 420D Cordura; Zip-on: polyamide 400D (77% recycled)
Colours: desert orange, dirty daisy, pacific green, black steel (30 L); mountain rose, petrol blue, dirty daisy (28 L); petrol blue, desert orange (40 L); black steel, mountain rose (36 L)
Ortovox Avabag LiTRIC Freeride
Price: $1,675CAN / $1,300US (30 L and 28 S); $1,750CAN / $1,400US (40 L and 36 S)
Sizes: 16 S, 18 L, 28 L, 26 S
Weights: 2.4kg / 5lbs 5oz (18 L), 2.3kg / 5lbs 2oz (16 S), 2.58kg / 5lbs 11oz (28 L), 2.5kg / 5lbs 9oz (26 S)
Materials: Base: polyamide 420D Cordura; Zip-on: polyamide 400D (100% recycled)
Colours: black raven (18 L); pacific green (16 S); desert orange, petrol blue, black raven (28 L); ice waterfall, black raven (26 S)
Ortovox Avabag LiTRIC Zero
Price: $1,600CAN / $1,200US
Size: 27 L
Weight 1.96kg / 4lbs 5oz
Materials: Base: Polyamid 210D EXTREMA. This pack does not have a base/zip on system
Colours: black raven, desert orange

---
Outdoor Vitals Vario Jacket
Outdoor Vitals new Vario Jacket is named for it's variability of use since its an ultralight jacket that doesn't sacrifice warmth for weight. At just 255g / 9oz The Vario Jacket is truly lightweight and uses body mapping to increase breathability where you need it while the innovative 3DeFX Insulation provides the warmth. The 3DeFX insulation is made from 50% recycled fibres and encased in a durable Ripstop Nylon face fabric. The jacket and hood are designed to stretch with you as you move for added comfort and it easily fits over a base or mid layer to provide good protection from the wind while also assuring optimal thermal regulation. The Vario's soft and comfortable feel means that it can be worn directly over bare skin when the weather warms up and when not needed it can compress impressively small and stowed in your pack. Full of features that you need and none that you don't the Outdoor Vitals Vario Jacket is ideally suited to backcountry skiing in winter and alpine adventures in the spring and fall.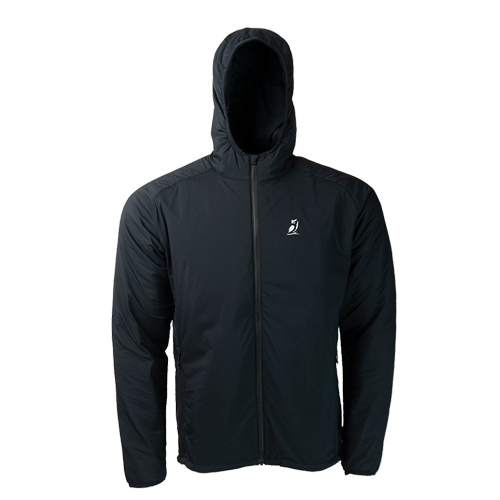 Features:
2 zippered pockets help you keep items secure or your hands warm
Full YKK zipper makes it easy to put it on or take it off
3DeFX Insulation that stretches with you and creates maximum loft and warmth
20D Ripstop Nylon is durable and keeps the jacket ultralight
Body-Mapped Insulation Placement allows the jacket to vent more for the areas of your torso that are typically the hottest
Perforated Underarm Vents are one of the most breathable areas on the jacket, giving you max comfort
Drop Back Hem that keeps you covered whether you are sitting or on the move
Stretch Cuffs make sure the hoodie fits well while giving the hoodie a simple, sleek look
Insulated Hood moves with your head without blocking vision
DWR treatments allow the Vario to be water resistant
Thumb Loops help you keep your sleeves from bunching when you are laying another jacket over the Vario
Athletic Cut gives the hoodie a sleek appearance
Subtle Branding is unobtrusive and gives the hoodie a sleek appearance
Fabrics:
Insulation: 40 g/m2 3DeFX active stretch insulation, 50% recycled
Shell Fabric: 20D Ripstop Nylon DWR treated
Inner Fabric: 20D Ripstop Nylon
Price: $289CAN / $209.95US
Sizes: S, M, L, XL, 2XL, 3XL
Colours: Stellar, Mahogany, Black
Style: Regular / Tall
Weight: 255g / 9oz

---
Arva ST 26 Backpack
Arva's ST 26 is their most technical free touring backpack to date and features a weatherproof PFC-free N400D PU2 ripstop fabric with YKK AquaGuard zippers. This means, that come rain, snow, wind or whatever, the ST 26 will see you through. Highly functional, versatile and with easy access to the interior, the ST 26 has everything you need in a streamlined shape that is comfortable to wear. Remove the foldable/storable waist belt and you have a rain-resistant off-season pack for hikes or around town. In winter the dedicated pouches to stow your avalanche safety gear and your goggles optimize organization and make this an ideal pack for backcountry skiers and riders.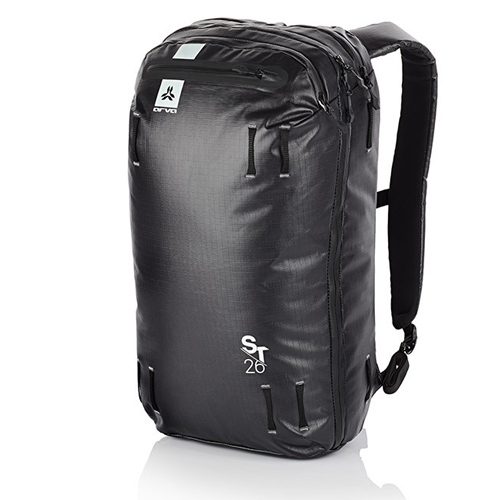 Features:
Easy access 26L backpack.
Lightweight waist belt that folds into the back panel when needed.
Two ice axe loops.
Quick and easy A-frame or diagonal ski carry system.
Carry options for a snowboard or snowshoes.
Compatible with the ARVA helmet holder.
Equipped with our versatile Daisy Chain system.
Dedicated external pocket for snow-safety equipment.
Water repellent, 52cm long, thermoformed back panel designed with our 3D-FIT adjustment system and equipped with our removable ALU-FIT technology.
Dedicated external pocket for goggles or small valuables.
Removable sternum strap with emergency whistle.
Materials:
PFC-free N400D PU2 ripstop fabric.
YKK AquaGuard® zippers.
Price: $268.99CAN / $189.95US
Weight: 1140g / 40oz
Colours: Black, Blue
Dimensions: 33 x 55 x 18cm / 13 x 21.6 x 7in

---
Lacrosse Aero Insulator Boots
These super warm boots are not only functional, fun and stylish but perform when winter throws the worst at you. At 14" high they plow through snow while keeping your feet warm and dry. Their AeroForm technology provides a lighter weight, more flexible, waterproof and durable performance than traditional bulky winter boots. Their flexible design means they are easy to put on and will not crack over time in cold harsh climates. With 15mm of insulation over the top of the foot and 20mm underfoot you will be sure to stay warm while their lightweight won't slow you down. Slip on, slip off and easily adjust them for a custom fit.

Features:
Polyurethane AeroForm Shell wraps the entire foot.
Easy hands-free removal.
Polyurethane reinforcement on the shin over the neoprene provides added durability.
Generous surface area helps this outsole grip on wet surfaces.
Our non-metallic toe does not transmit heat or cold and our AeroForm polyurethane shell wrapping the foot provides metatarsal protection. As expected, it meets or exceeds ASTM F2413-11 M I/75 C/75 Mt/75 EH standards.
Thick polyurethane midsole for best-in-class cushioning and insulation underfoot.
Price: $340CAN / $240US
Weight: 2.5kg/ 5.6lb (per pair)
Sizes: 7 - 15
Colour: Black
Rating: -60 to 32F

---
Cotopaxi Solazo Down Vest
This is a down puffy vest 'Cotopaxi style' which means it uses bold colours and is responsibly made. Cotopaxi only uses Down insulation that conforms to the certified Responsible Down Standard (RDS), which means it comes from ethically sourced down through a transparent, audited supply chain. This ensures ducks and geese are not harmed in the making of their apparel. The 600-fill down is contained in a ripstop nylon/DWR finished shell which has an internal zippered chest pocket and covered zippered hand pockets on the outside. There is a drop-tail hem and an adjustable hem cord for a better fit. The Solazo Down Vest's colours are bold, complimentary and make a statement about who you are. There are of course different colour options available for both men and women.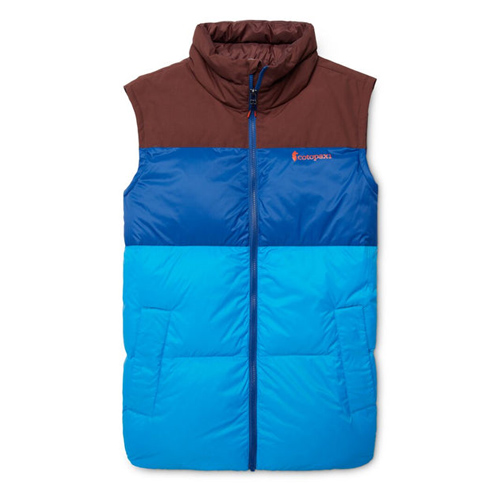 Features:
Internal zippered chest pocket
Covered zippered hand pockets
Structured fabric provides more durability
Interior adjustable hem cord
Price: $225CAN / $175US
Sizes: S, M, L, XL, XXL
Colours: Chestnut/Saltwater, Cavern/Chestnut, Iron/Black

---
POC Elicit Sunglasses
POC's new Elicit Sunglasses are impressively light thanks to their frameless design which also provides exceptional visual coverage. The large wraparound lens with Clarity technology provides complete eye protection and unsurpassed optics. The lenses come with an anti-scratch treatment so they are tough as nails but if you need to switch out the lenses due to changing light conditions a second lens is provided. While designed for biking the Elicit Sunglasses are also ideal for skiing and ski touring thanks to their large wrapping lenses.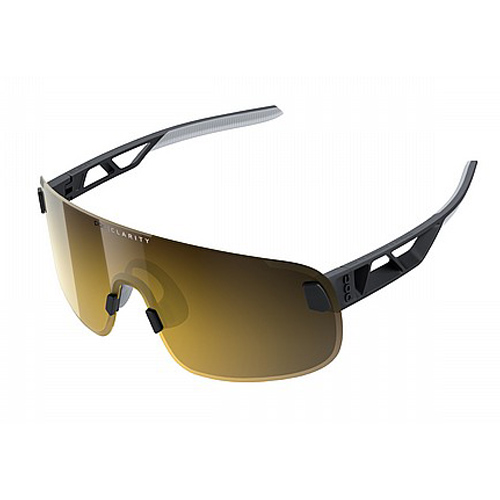 Features:
Bio-grilamid temples
Extra lens included
Interchangeable lens
Anti-scratch treatment
Curved lens
Interchangeable nosepiece
Exceptionally lightweight
Price:$280CAN / $200US
Weight: 23g / 0.8oz
Colours: Several options

---
Faction La Machine Mini 2 Skis
Faction's La Machine Mini 2 Skis are the much littler brother of the La Machine 3 Mega Skis which we reviewed previously. While the La Machine 3 Mega Skis are big mountain powder slayers, the La Machine Mini 2 Skis are more for the advanced skier who wants to lap the backcountry with a super lightweight ski that delivers pretty good float. The Mini 2's also provide maximum edge hold on hard pack and groomers for when you come back in bounds or want some easy hill-assisted turns from the chairlift. Thanks to its carbon construction this ski is light as a feather at only 2.9kg / 6.4lbs. The unique and progressive shape was designed specifically for skiing off-piste but can also handle more compact snow and variable terrain given its medium flex.

The ultra-rockered shape is playful so if you enjoy swishing and smearing through everything then this is the ski for you. The extended tip and tail rocker provide easy turn initiation and the carbon construction makes them torsionally rigid for the strength you need on the down but without all the extra weight of a ski of this calibre. The La Machine Mini 2 Skis are softer and 200g lighter than Faction's popular Agent skis, so if you want something similar in a touring-friendly ski then this is it.

Faction uses a full carbon weave with 8 to 12 strips sandwiched around the La Machine Mini 2's wood core. These strips are woven into the ski's fibreglass to provide strength and stiffness over the full length of the ski. They are also laid unidirectionally, providing extra stability to the ski, without adding un-needed weight. The core is surrounded by a micro construction which is a hybrid of a premium, sandwich sidewall construction fused with a lightweight durable cap construction. This provides improved edge hold and torsional stability and since the ski's top sheet wraps around and meets the sidewall this protects the fragile joint that can be prone to chipping. The La Machine Mini 2 Skis offers the best compromise between float and lightness, and an ideal overall width for snow conditions of all kinds. Check them out!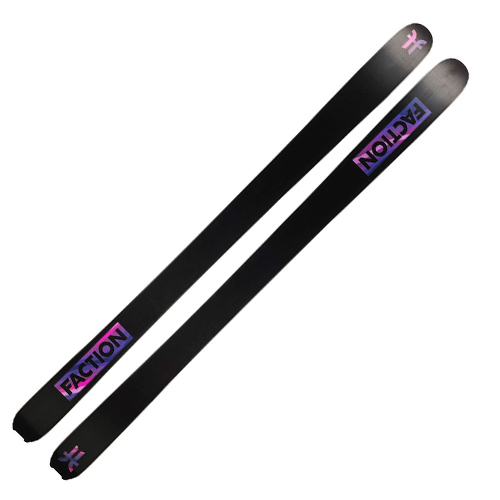 Price: $999CAN / $849US
Lengths: 164, 171, 177, 183
Dimensions: 124 / 99 / 116 (183cm Skis)
Radius: 20m (183cm Skis)
Weight: 2.9kg / 6.4lbs (183cm Skis)


---
Osprey Arcane WP Duffel
Fresh on the heels of Osprey's release of the Transporter WP Duffel (which we reviewed in our Summer Gear Roundup Top picks), they have just announced their new Arcane Waterproof (WP) Duffel. The difference between the two is that the Transporter WP Duffel has a waterproof submersible IPX7 rating to meet the demands of multi-sport outdoor enthusiasts and paddlers alike where the Arcane WP Duffel has a waterproof non-submersible IPX6 rating which is more geared to active urban commuters. With built-in breathable air mesh carry straps that can be used over the shoulder or as a backpack style carry the Arcane WP Duffel is very versatile. Multiple lash points make it easy to attach the Arcane WP Duffel on a roof or cargo bike and because of the waterproof non-submersible (IPX 6) fabric which is bluesign approved and GRS-certified recycled. It will resist water and rain thanks in part to the PFC/PFAS-free DWR.

As Erik Hamerschlag, senior product manager for Osprey says, the Osprey Arcane WP Duffel is "Built for people who rely on their bag rain or shine to keep contents protected, our new Transporter WP Duffel and Arcane WP Duffel offer comfortable carry, simple organization, and reliable protection for whatever conditions come your way,"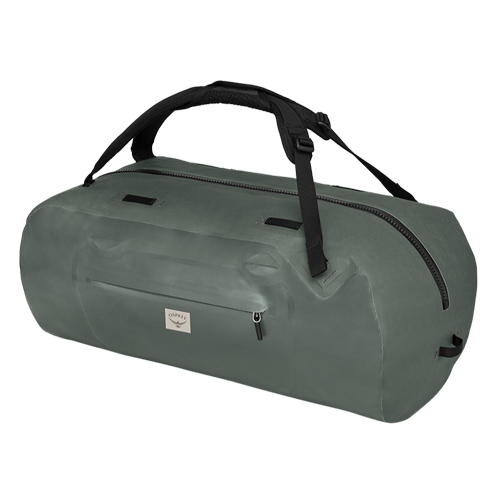 Features:
Waterproof IPX6 rating, non-submersible
Comfortable/breathable backpack straps
Lash points/attachments to secure on a roof, motorbike or cargo bike
Convenient external pocket (not waterproof)
Internal mesh pocket
Durable, oversized zipper pulls
Coordinated with Arcane WP packs
Recycled nylon material with PFC/PFAS-free DWR TPU coating
Price: $320CAN / $230US 40L, $350CAN / $260US 60L
Sizes: 40L, 65L
Colours: Pine Leaf Green, Mamba Black

---
Suunto Peak 9 Pro
Suunto just released their new Peak 9 Pro which is a GPS multisport watch which now has an improved battery and an all new more powerful processor. As Vice President of Product Sami Männistö says: "The Suunto 9 Peak Pro was engineered with a new, more powerful chipset architecture that boosts the performance to a new level while having the best-in-class battery life compared to similar sized products on the market". The larger icons with white and coloured background elements make the watch easier to operate and read during sports.

The Suunto 9 Peak Pro offers the best battery life of any Suunto watch yet, with three battery modes: Performance, Endurance and Tour. The battery lasts for 21 days in daily use before requiring a charge, 40 hours in Performance mode, 70 hours in Endurance mode and 300 h in Tour mode.

The Suunto 9 Peak Pro can connect with up to four satellite systems (GPS, GLONASS, GALILEO, BEIDOU) and up to 32 individual satellites simultaneously. This results in greater accuracy when adventuring or exercising in mountainous environments.

Suunto kept the overall shape of the Peak Pro 9 ultra-thin and elegant, at just 0.4 in/10.8 mm thick it is one of the thinnest and lightest GPS sport watches in its class yet it's also incredibly rugged and durable so you can wear it on mountain adventures and also to the office. The Suunto 9 Peak Pro is available in six different versions with four models built with stainless steel and priced at $699.99CAN / $549US and two models built with titanium and priced a little more premium at $899.99CAN / $699US.

By combining the Peak 9 Pro with the Suunto app you can gain access to a huge array of partner services, there is also a plethora of route finding options, turn-by-turn guidance and advanced training tools. Discovering and creating routes is easy with the Suunto app's heatmaps, 3D maps and road surface map layers. There is also a new snorkelling mode to track your depth and you can now record your bike commutes and see how much CO2e you saved.

Suunto handcrafted the Peak 9 Pro with 100% renewable energy and this is the first Suunto watch to have its carbon footprint calculated and then fully compensated with Verified Carbon Units. During its entire lifespan, the Suunto 9 Peak Pro creates only 7.5 kg / 16.5 lb CO2e – the equivalent of driving a fossil fuel car for 44 km or 27 miles.

This sleek and modern fully functional GPS multipart watch is the ideal gift for that adventurer on your holiday list, or perhaps for you instead?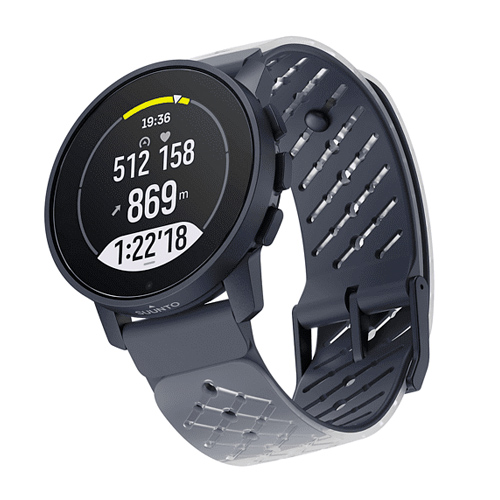 Features:
Ultra thin: 0.4 in/10.8 mm (excluding HR dome). Screen size: 1.2in
GPS watch with the lowest carbon footprint in the market: total life cycle CO2e emissions only 16.5 lb (7.5 kg)
Fully carbon compensated in a reforestation project with Verified Carbon Units (*validated by the international verification program ensuring the quality of carbon offsetting projects) via
Tree-Nation
Tested to the highest military standard of toughness (*MIL-STD-810H). List of tests here
Daily activity tracking: steps, heart rate, sleep, calories, stress and more
Extremely fast charging: 100% battery in 1 hour or 10 h of training time after charging for 10 minutes
Barometric sensor
Wireless software updates
Made with sapphire glass, stainless steel, and two models with grade 5 titanium
Waterproof down to -328 ft (-100 m)
New snorkeling sports mode that tracks activity data down to -33 ft (-10 m)
Materials:
Bezel material: Stainless steel
Glass material: Sapphire crystal
Case material: Glass fibre reinforced polyamide
Strap material: Silicone
Price: $699CAN / $549US
Weight: 64g / 2.26oz
Battery Life: 21 days daily use / 40 hours in GPS mode
Waterproof: 100m / 328ft
Dimensions: 43 x 43 x 10.8 mm / 1.69 x 1.69 x 0.43"
Sport Modes: 95+

---
Cotopaxi Capa Insulated Jacket
Cotopaxi's Capa Insulated Jacket is made from 100% post-consumer recycled polyester and 100% recycled synthetic P.U.R.E. insulation—which stands for "Produced Using Reduced Emissions". This is your go-to puffy for year-round adventures made with the planet in mind. Its mid-weight insulation is made with Primaloft Gold P.U.R.E. synthetic insulation that retains warmth even when wet and the shell is windproof and water-resistant. The Capa Jacket is very packable so it stows away in your pack easily when not needed but when the weather picks up, the available hooded version features a scuba hood which keeps the hood in place while you're moving and locks in warmth. Great for layering when out in the cold adventuring in the mountains or just walking to the coffee shop, the Cotopaxi Capa Insulated Jacket is as good looking as it is functional ad would make any cold blooded adventurer happy.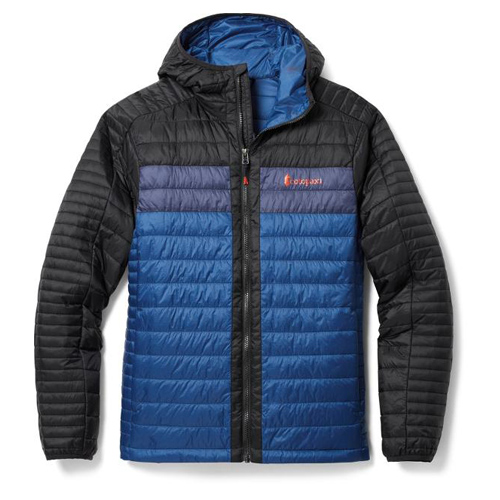 Features:
Windproof, water-resistant 100% recycled shell
The synthetic version of our Fuego down jackets
100% recycled synthetic insulation
Smaller baffles allow for low-bulk, movement-friendly comfort
Outstanding warmth-to-weight ratio
Scuba hood to lock in warmth
Elastic binding at hood and cuffs
Adjustable drawcord waist
Zippered hand pockets
Price: $275CAN / $215US; Hooded $295CAN / $235US
Colours: Maritime/Chestnut, Black/Pacific, Maritime/Bluegrass, Deep Ocean/Forest, Spice/Flame
Sizes: XS, S, M, L, XL, XXL, XXXL

---
Fjallraven Expedition Pack Down Hoodie
Fjallraven's Expedition Pack Down Hoodie is a lightweight, flexible hooded down jacket for taking on winter. It is ideal as an otter layer when taking time for lunch on a ski tour or wearing under a shell on those blustery cold days. It compresses easily into a backpack when not needed and even stows away neatly in its own pocket. It uses ethically produced high quality down which is 100% traceable, it is placed into stitch-through channels, with synthetic insulation over the shoulders for extra resistance against pressure and moisture. With all the features you want from a down jacket, Fjallraven Expedition Pack Down Hoodie will keep you warm no matter your adventure.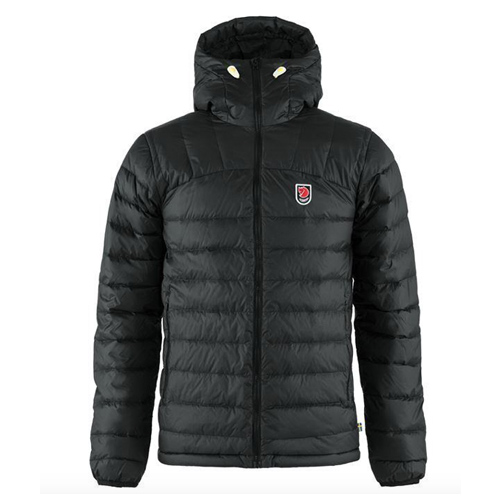 Features:
Insulating
Packable
Packs into self
Lightweight
Fluorocarbon-free impregnation, Recycled, Traceable down
Two-way zipper
Three pockets
Drawcord adjustment
Materials:
Lining: 100% polyamide
Filling: 90% goose down, 10% feather
Price: $350CAN / $275US
Colours: True Red, Dandelion UN Blue, Black, Navy, Deep Forest
Sizes: XS, S, M, L, XL, XXL
Weight: 490g / 17.3oz

---
FW Manifest Tour Hybrid Hoodie PFL
With its origins rooted in the French Alps, FW designs high-performance apparel with new-school style for snowboarding, skiing, backcountry and the great outdoors. Its Manifest Tour Hybrid Hoodie is an active insulation layer that uses Polartec Alpha insulation. This technical insulation is engineered for extreme temperature regulation which is perfect for ski touring. With exceptional breathability for the up when you are expending energy and warmth on the down when you need it. The FW Manifest Tour Hybrid Hoodie is an ideal jacket for ski touring or as a midlayer around town on colder days.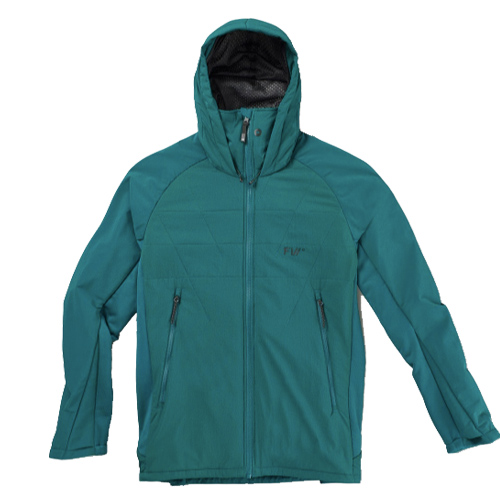 Features:
Insulated hoodie with Polartec® Alpha Insulation
Mesh lining to increase breathability
Stretch fleece panels under arm and at side panels
Stretch Cordura top sleeve and thumb hole
Tall collar and fixed adjustable hood
Front opening with YKK vislon zipper
Two zipppered hand pockets
Raglan sleeves Interior security pocket with media outlet
Hem adjustement by drawcord
Fabric:
Polartec® Alpha insulation
Price: $399.95CAN / $329.95US
Colours: Deep Teal, Light Stone, Slate Black, Antelope Canyon
Sizes: XS, S, M, L, XL

---
POC Nexal Clarity Goggles
Inspired by racing, POC's new Nexal Clarity Goggles feature a zygomatic bone cover under the lens to enhance facial coverage and provide extra sun protection. Their cylindrical lens features POC's Clarity lens technology for un-compromised vision. Constructed with frame outriggers, the goggles can sit even closer to a POC helmet for seamless head integration and protection. Triple-layer face foam and a flexible frame ensure an optimum fit against most face shapes and enhanced comfort. The lenses are of course changeable should the light conditions warrant a quick swap of the lenses. To ensure they never fog up while skiing the resort or touring the Nexal Clarity Goggle's ventilation can easily be toggled on and off for optimum control of airflow.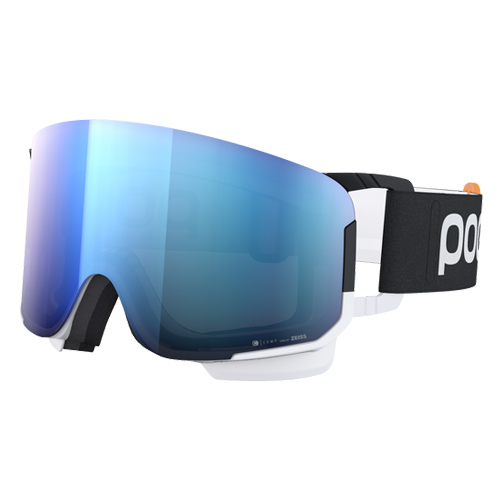 Features:
Frame outriggers give a closer fit with a helmet
Zygomatic bone covers
Clarity lenses
Triple-layer face foam
Adjustable Ventilation
Cylindrical Lens
Anti-scratch treatment
Anti-fog treatment
Price: $270CAN / $200US
Colours: Several

---
Foon Tyfoon Skis
Foon Skis are fully handcrafted in Pemberton, BC and the company is named after their founder Johnny Foon. The Tyfoon Skis are the skis that Johnny always wanted but nobody would make him so he did. They are a rocker/camber profile that's lightweight and ideal for charging the backcountry lines in the Whistler/Pemberton area. They have dimensions of 145/112/128mm so they are ideal for big coastal dumps yet still respectably light enough (at 3.9kg) to get you up the skin track with relative ease. Hand tuned in the Foon Factory, the Tyfoon Skis use a Durasurf 4001 Graphite Black Base with Urethane Bonded Sidewalls, Eco epoxy made with super sap resin and a B.C Coast Mountain Core.

This is Foon Ski's Flagship ride and one that Johnny thinks is the 'ultimate one ski' to rule them all since it shreds pow effortlessly yet can also rail on hard pack. A true one quiver ski. With Mid tail and tip rocker and level 2 camber underfoot it has the response and personality to ensure you have fun on any descent. The long, early rise, active rocker that starts low in the shovel with a subtler tail rocker allowing them to smear as well as carve. With a nice even flex from tip to tail and an optimized sidecut for easy turning without sacrificing stability, the Tyfoon Skis can take on whatever conditions you encounter from knee deep pow to spring crud and variable snow.

The Tyfoon Skis use a sandwich construction with 2 layers of triaxial fibreglass and 2 layers of yellow cedar with a Durasurf 4001 graphite black base to round things out. Their yellow cedar core is milled from a single piece of Coast Mountain yellow cedar which is then split in two to make a pair of identical cores. Yellow cedar is a tight-grained wood so it naturally absorbs vibration and provides a damp, stable ride. The cores are two inches thick and not made from layers of glued wood like most other ski cores—this allows the natural flex of the wood to transmit to the skier.

The environment is important to Foon skis which is why they've partnered with a Certified B Corp - meeting the highest standards of verified social and environmental performance, transparency and accountability using business as a force of good. This quote from Johnny really says it all: "I'm not talking about eradicating the global economy, just tempering it, finding balance. Cut the global transportation of goods and raw materials in half. That would be a real change." - Johnny 'Foon'

So if you are looking for a locally designed and handcrafted quiver of one ski for yourself or that lucky someone on your holiday gift list then consider the Tyfoon Skis from Foon.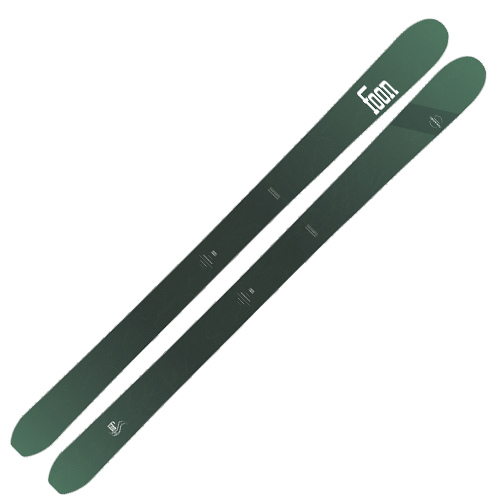 Features:
Fully handcrafted in Pemberton, BC.
B.C Coast Mountain Core
Camber + Rocker Profile
Durasurf 4001 Graphite Black Base
Urethane Bonded Sidewalls
Foon Factory Hand Tune
Price: $1,199.99CAN / $900US
Lengths: 168, 177, 186cm
Dimensions: 145/112/128mm (186cm Skis)
Radius: 26.8m (186cm Skis)
Weight: 3.9kg / 8.6lbs (186cm Skis)
Warranty: 2 years

---
Bolle Eco Atmos Helmet
Bollé continues to expand its sustainable offerings into its helmet collection, with the new Eco ATMOS Helmet. This is a new in mold helmet made with eco-friendly materials that provides comfort and protection with materials that are less harmful for the environment. In total, more than 25 percent of the helmet is made with recycled or bio-based materials. The ECO Atmos features; eight active ventilation vents, removable and washable recycled lycra lining, goggle vents to reduce fogging, 3D ear pads, a click-to-fit system, air extractor channels for cooling and avid progressive EPS for safety. This would make a great holiday gift idea for those looking to purchase a high quality helmet that is also more sustainable than most others.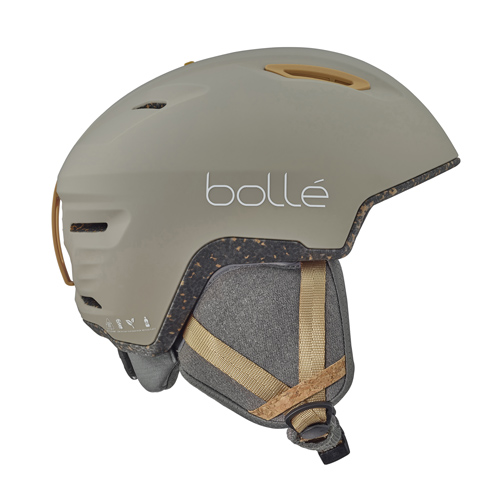 Features:
Adjustable Ventilation, opening channels below the shell it can be fine-tuned to give you the exact amount of ventilation you need for maximized comfort
Click to Fit, rubberized adjustment wheel lets you tighten or loosen the helmet effortlessly, even with your gloves on
25% recycled or bio-based material
3D earpads (removable)
Removable and washable liner
Price: $230CAN / $170US
Colour: Ice White Matte, Black Matte, Oatmeal Matte
Size: S (52-55cm) M (55-59cm) L (59-62)
Weight: 435g / 15.35oz

---
Burton [AK] Cyclic GORE-TEX Jacket
The rugged GORE-TEX fabric of the Burton [AK] Cyclic jacket offers quality, performance and protection from the storm cycle whether it is a wet spring slush day or a mid winter blizzard. This is a bomber jacket for daily abuse that breathes well while on the boot pack while still offering total waterproof protection when it's dumping out. The function-first design and backcountry utility of [ak] line provides the following detailing: ample venting, a systematic mapped lining, water-resistant zippers, and a rider-driven articulated fit. The Burton Cyclic GORE-TEX Jacket makes a great holiday gift idea for the everyday charger that is hard on their gear.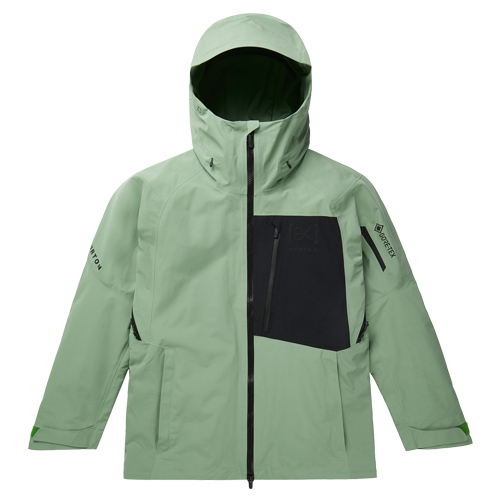 Features:
Stormproof: GUARANTEED TO KEEP YOU DRY™ GORE-TEX keeps you riding in all weather, period.
Mesh-lined pit zips.
Underarm gussets for full mobility.
Adjustable hood.
Water-resistant zippers make for smooth days at the resort and in the backcountry.
A pocket for everything: Hand-warmer pockets, chest pockets, and a bicep pass pocket, plus interior power mesh dump pockets, and a zippered interior pocket with insulation for keeping your device warm.
Bluesign® approved materials reduce impact on humans and the planet during manufacturing.
Price: $549.99CAN / $424.95US
Colours: Forest Night, Limeade, Jake Blue Ossicone, Hedge Green/True Black, Stout White, Salmon Buff/True Black, True Black, Kelp
Sizes: XXS, XS, S, M, L, XL, XXL

---
Dueter Freescape Pro 38 SL Ski Touring Pack
The Dueter Freescape Pro 38 is a women's specific alpine touring pack (hence the "SL") that is designed for demanding multi-day ski tours. On average, women have shorter backs than men and the SL back length is somewhat shorter than the standard Deuter backpacks which is ideal for women. With softstripe pads built into the pack's carry system that flex and offers support with every movement along with the streamlined pack design, the load is always close to your body's centre of gravity. Skis and snowboards can be fixed on the outside with the use of variable fastening straps while the snow safely gear has its own compartment for easy access in case of emergency. The Freescape Pro is also made from 100% recycled material and is Bluesign certified so you can feel better about your gear choices. This is a great holiday gift idea for the woman in your life that loves touring in the backcountry.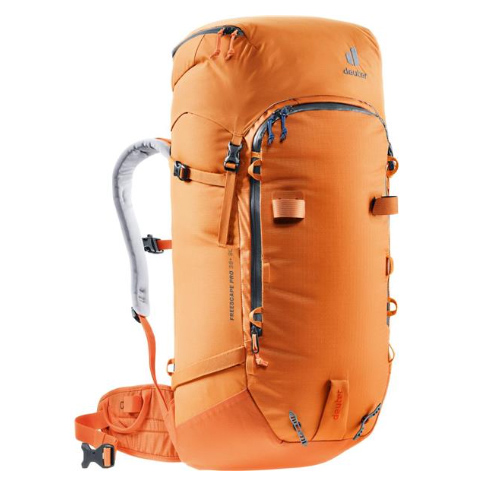 Features:
Snug hip fins
Adjustable sternum strap with signal whistle
Load adjustment straps
Reinforced safety compartment for shovel blade and handle
Delrin® U-frames
Zipped access at the back
Side smartphone pocket
Compatible with 3.0 litre drinking system/bag
Goggle holder on shoulder strap
SOS label
Two ice axe holders
Frame Ski Fixation
Fastening straps for ski diagonally
Integrated and removable helmet net
Height adjustable lid
Compression straps
Water repellent zipper
Snow repellent cover fabric on the back system
Robust and water repellent material at the front
Zippered mesh pocket
Rope fixation belt
SL Women's Fit
PFC free
Bluesign® certified
100% recycled pre-consumer waste
Price: $299.95CAN / $225.25
Colour: Blue, Orange
Weight: 1490 g / 52.55oz
Volume: 38 + 10 litres
Dimensions : (LxWxD) 68 x 32 x 22cm / 26.7 x 12.6 x 8.6in

---
GSI Pinnacle Pro 2 Burner Stove
GSI's highly anticipated Pinnacle Pro 2 Burner Stove is changing the boundaries of what a camp stove can be thanks to its rugged, compact and modern design. GSI spent 4 years designing the new Pinnacle Pro Stove to give us the thinnest, high-performance dual-burner stove on the market. At just 3.5cm thick when folded, the Pinnacle Pro Stove is ultra-thin yet it still provides a full-size camp stove cooking experience with its easy ignition, folding windscreens and locking legs. It is made of rugged stainless steel and incorporates two 11,000 BTU-regulated burners with push-button Piezo ignitions. The in-use dimensions are 20" x 12.4" x 1.4" and when you open the unit the innovative design extends two pot supports and when you close it they retract so there is plenty of room and support for cooking with two posts or fry pans at once. To aid in cleaning these supports rotate out of the way and the integrated non-stick coated drip pan catches any boil-overs or messes that may occur. Be sure to check out the new GSI Pinnacle Pro Stove when it's available this spring as it will take your camp cooking experience to new heights.
The GSI Pinnacle Pro Carrying Bag is a must-have accessory for the Pinnacle Pro 2 Burner Stove as it protects it well when in transport and for storage. Durable handles and zipper secure the Pinnacle Pro Stove and the padded polyester case provides extra protection from dings and damage. A built-in pocket stows the fuel regulator and hose so you always know where it is.

Features:
Dual 11k BTU compact regulated propane burners.
Dual piezo ignition.
Simmers.
Unique non-stick coated drip pan for easy, low-water clean-up.
Suitable for all propane 1 lb. fuel canisters or LPG tanks with the appropriate adaptor.
Folding locking legs for full height table-top cooking and efficient storage.
Integrated carry handle for ease of transport.
Includes:
Regulator, 2 Burner Heads, Pot Support, Upper Windscreen, Side Windscreens, Igniter, Handle, 2 Flame Adjusters
GSI Pinnacle Pro 2 Burner Stove
Price: $249.95CAN / $249.95US
Fuel: Propane
Output: 2 x 11,000BTU
Dimensions: 50.8 x 31.5 x 3.5cm / 20.0 x 12.4 x 1.4″
Weight: 4.9kg / 11lb
GSI Pinnacle Pro Carrying Bag
Price: 38.50CAN / $29.95US
Dimensions: 63.5 x 38 x 3.8cm / 25 x 15 x 1.5in
Weight: .5kg / 1.1lb
Material: Polyester

---
Garmin Inreach Messenger
When you are heading out into the backcountry it is always good to have some extra security and means to communicate with loved ones. The Garmin Inreach Messenger is small, yet rugged and offers ease-of-use and an incredible amount of versatility. Fitting into the palm of your hand it is a perfect choice for anyone who finds themselves without cell coverage and may need to stay connected with the outside world. With its global two-way texting and e-mail, location sharing and SOS capabilities you can feel more comfortable knowing you can communicate with anyone should anything unforeseen happens. Other features include: Interactive SOS, Inreach Weather, Send and receive group messages, Exchange locations with other Inreach devices, Mapshare compatible with tracking, Virtual keyboard for custom messaging, and Inreach remote compatible.

This is a great holiday gift idea for someone who loves to venture off-grid yet still wants to keep in contact with people for safety and/or personal reasons.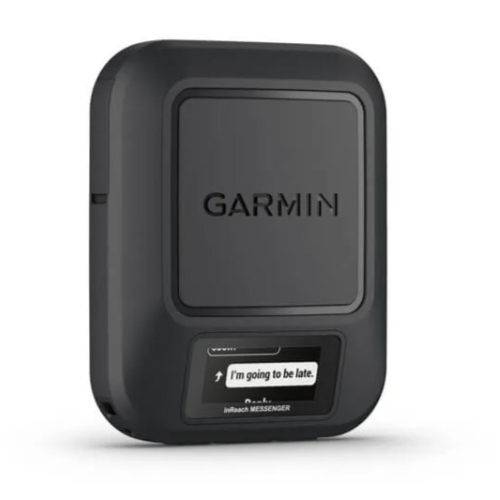 Features:
Interactive SOS
Inreach Weather
Send and receive text messages to SMS and Email
Send and receive group messages
Exchange locations with other Inreach devices
Mapshare compatible with tracking
Virtual keyboard for custom messaging
Inreach remote compatible
Price: $400CAN / $299.99US
Size: 7.8 x 6.4 x 2.3cm / 3.1 x 2.5 x 0.9"
Weight: 113.9g / 400oz

---
Backcountry Cottonwoods Gore-Tex Jacket & Bib Pants
The Cottonwoods Gore-Tex Jacket & Bib Pants were built with durability in mind, this is why Backcountry chose to use Gore-Tex which is waterproof /breathable and a tough, burly fabric. With an updated fit and articulated sleeve patterns for greater mobility and comfort, the jacket is also Bluesign approved so you can feel good knowing that Backcountry is doing their part in helping out the environment.

Similar to the Cottownwood jacket the Bib Pants use a super tough Gore-Tex, canvas-like fabric to give you rugged durability season after season of all weather shredding. With an updated fit for more mobility and greater comfort, the Cottonwood Bib Pants have several smart pocket locations for stashing snacks or whatever else you need to pack for the day. The pants are also part of Backcountry's responsible collection and are Bluesign approved.

This is an ideal big mountain ski kit for those who demand a lot from their apparel.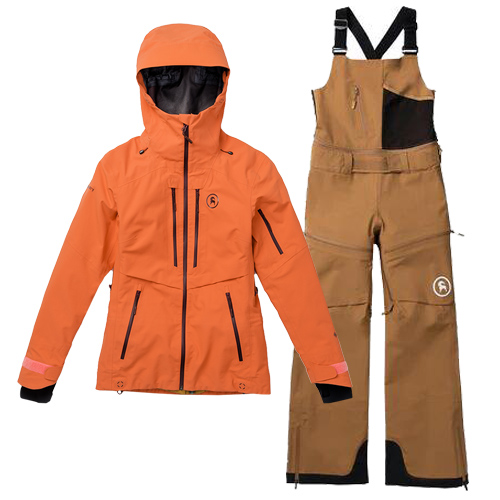 Features:
Backcountry Cottonwoods Gore-Tex Jacket
Updated fit profile for greater comfort and enhanced mobility
GORE-TEX fabric offers waterproof durability for 100-day seasons
Bluesign approved
Unique, burly feel proves its strength ride after ride
Improved hood fit is helmet-compatible without inhibiting vision
Soft wrist gaiters offer sleeve security in a more comfortable cut
Removable powder skirt keeps deep snow out of the kit
Pass pocket moved to wrist for easy scanner access
Backcountry Cottonwood Gore-Tex Bib Pant
Burly bibs for long seasons and all-weather shredding
Enhanced fit for better mobility and comfort
GORE-TEX waterproofing tech keeps the storm outside out suit
Durable face fabric resists wear and enhances water-resistance
Zip-off bibs offer convertible style with or without suspenders
Stretch back panel and improved fit for greater mobility
Mesh-lined thigh zippers for ventilation on high-heat rides
Expertly placed pockets for easy and comfortable access to essentials
Backcountry Cottonwoods Gore-Tex Jacket
Price: $535.95CAN / $399.00US
Colours: Katahdin, Fjord, Black, Caribou
Sizes: S, M, L, XL, XXL
Weight: 935g / 2.1lb
Also available in Womens
Backcountry Cottonwood Gore-Tex Bib Pant
Price: $465.95CAN / $349.00US
Colours: Katahdin, Fjord, Black, Caribou
Sizes: S, M, L, XL, XXL
Also available in Womens

---
G3 Minimist Glide Skins
The G3 Minimist Glide is a skin that is easy to use and designed to be frustration free. We liked them so much that we awarded them our Gear of the Year in 2020 upon their debut. It is the lightest, fully featured mixed fibre skin using a mix of mohair and nylon plush which makes it up to 30% lighter than anything else in its performance class. A carbon fibre insert at the tip of each skin creates a directionally rigid platform that prevents snow creep. On the end of the skins a low profile, elongated tail strap with a refined cam clip stays positioned on the ski tail, reduces wear and allows for easy adjustments. The Minimlist packs small enough to fit in your jacket pocket between laps without feeling too bulky which cannot be said about many other traditional skins.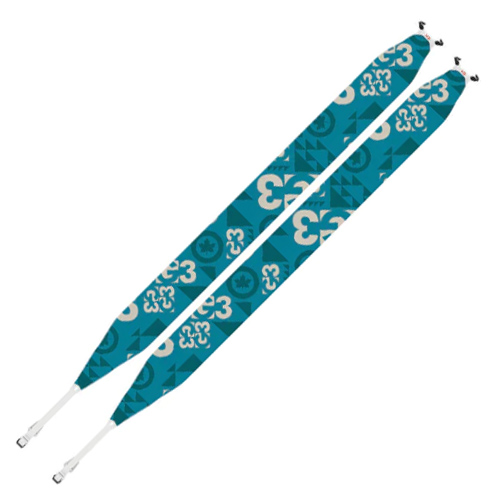 Features:
Up to 30% lighter than anything else in its performance class
Low bulk materials pack small enough to fit into your jacket pocket
Carbon insert reduces snow creep
Improved tail straps
Updated non-toxic adhesive lets you do more laps and cover more terrain
PFC-free waterproofing treatment that exceeds environmental standards
Removable rip strip
Trim Tool & Skin Savers included
Recycled & recyclable storage bag & box
Proudly designed, tested and manufactured in BC, Canada
Price: $242-$254CAN / $180-$189US (depending on size)
Lengths: 150-166cm, 161-177cm, 172-188cm, 183-199cm
Widths: 100, 115, 130mm

---
DPS Daily Duffel
The DPS daily duffel was designed for hauling your ski gear back and forth from the car to the ski hill on a daily basis or on longer ski trips. DPS knows a thing about skis so it's only natural that they now make ski and gear bags. It is fully padded to protect the contents and provides rigidity for easy and quick loading. There are two main zippered compartments to help maximize organization of where things are. The Daily Duffel is designed to work with the Mission Quiver roller ski bag and can be attached directly allowing for convenient mobility while traveling. A great holiday gift idea for someone who could use a hand carrying their ski gear.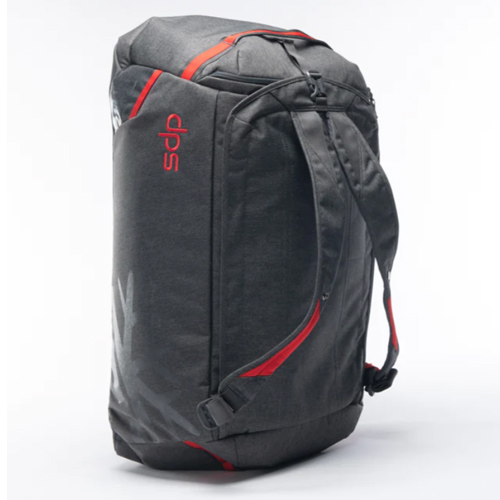 Features:
Designed specifically as a duffel for ski gear.
Fully padded to protect contents and provide haul-bag like rigidity for easy and rapid stuffing.
Two main compartments and zippered organization.
Shoulder straps.
Designed to complement the Mission Quiver Roller and directly connects for easy rolled hauling.
Padded and PU coated 1200D fabric with nylon ripstop for ultimate durability and for when your connecting leg suddenly includes a Zodiac.
90L capacity.
Price: $229.95CAN / $171.74US
Colour:Grey / Red
Size: 90L / 23.78gal

---
Costa Paunch Sunglasses
Costa's latest beach sunglasses take their design inspiration from the white sands, clear waters and legendary surfing of Bocas Del Toro in Panama. These lightweight and durable Bio-Resin frame pair perfectly with the textured Hydrolite grip nose pads to keep the frames comfortably in-place. The partial wrap offers protection from the sun and snow should you want to wear them skiing or ski-touring. The Paunch comes in Costa's colour enhancing, polarized glass and polycarbonate lenses for superior clarity and definition. A great holiday gift idea for that person heading south to soak up the sun before ski season kicks in.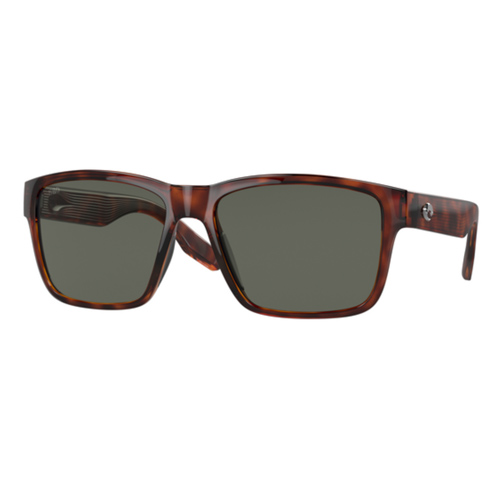 Features:
Premium Polarized 580 lenses
100% UV protection
Bio-resin frames
Scratch resistant and durable
Hydrolite grip nose pads
Comes with a cleaning kit
Price: $325CAN / $271US
Colour: Blackout Black, Black, Tortoise, Matte Smoke Crystal
Lenses: Green Mirror, Grey polarized Polycarbonate

---
BOA K2 Dispatch Pro Ski Boots
Brand new to the K2 lineup is the Dispatch boot, a lightweight, ergonomic boot, outfitted with the new TourFit Pro BOA Liner, Vibram Outsoles, and 60-degree range of motion walk mode. With the addition of the BOA Fit System (dial, lace, guide) to the Tourfit Liners, you get increased adjustability and unprecedented hold across the entire foot. The liner is completely heat moldable and features stiffer foam with an asymmetric tongue for added power and energy transmission. Unlike traditional liners with laces the new BOA Fit System adds a new level of comfort, fit and adjustability to these ski boot liners. It's why K2 has included them in their new Dispatch Pro Ski Boot. K2 doesn't cut corners and only the best liners will do, which is why they chose to use the new BOA Tourfit Liners. With the design of the Dispatch Boots and the BOA Tourfit Liners there are no compromises in downhill or uphill performance.

Keep an eye out for BOA integration on your other favourite footwear brands and products as it's a durable system which improves the fit and comfort of everything they are in.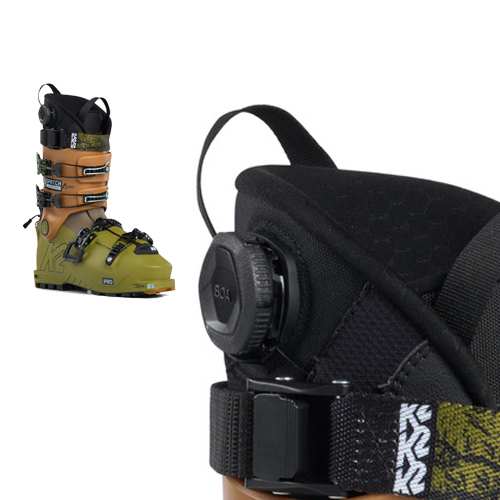 Features:
Tourfit BOA Liner: The BOA liner increases adjustability and even pressure across the entire foot. Features stiffer foam with asymmetric tongue for added power and energy transmission. Completely heat moldable with a pre-molded ankle pocket.
Powerlock 2.0: Improved walk mechanism with locking lever, 9-15 degrees of forward lean adjustability and 60 degrees ROM.
Dynafit Tech Inserts: Dynafit® Certified insert in the toe and heel are fully integrated into the shell injection.
Vibram Outsoles: Designed with adventure in mind. Superior grip and durability. K2 exclusive tread pattern.
9523 iso DIN.
Pebax Bio-Resin: Lightweight, eco-friendly material for energetic and consistent flex across a wide range of temperatures.
Price: $999.99CAN/ $899.95US
Size: 24.5, 25.5, 26.5, 27.5, 28.5, 29.5, 30.5
Weight: 1525g / 53.8oz

---
Eagle Creek Migrate 110L Wheeled Duffel
Carrying your gear just got easier with the new wheeled Migrate 110 from Eagle Creek. With heavy-duty wheels that will keep you rolling no matter how rough the terrain is plus a large wide mouth opening allowing for easier access to your gear. It also comes with tuck away backpack straps that offer multiple carry options as well as exterior compression straps to cinch down your gear and keep it tight. You can also feel better about this duffel knowing that it is made with 100% recycled material and is bluesign approved. This is a great holiday gift idea for someone who always packs too much gear and is continually on the move.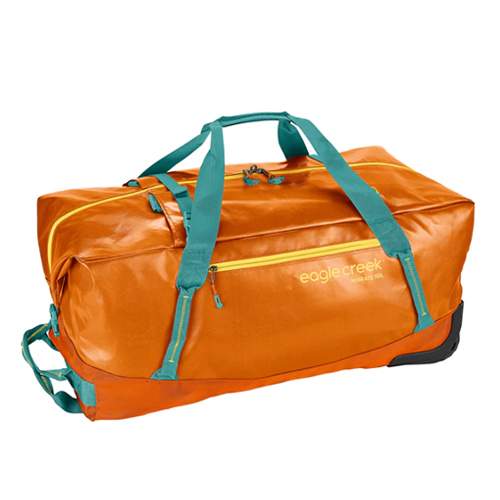 Features:
Front zippered pocket for quick access to your essentials
Full-access, wide-mouth opening 
External compression straps help keep your gear in place
Bottom material coating was developed by harvesting windshield plastics from landfills
Eagle Creek's No Matter What™ Warranty 
900D Heavy Duty Poly TPU main body fabric provides extreme abrasion and water-resistance
Treaded wheels in heavy-duty wheel housing keep the load rolling with minimal effort
Tote and haul handles are connected using yoked webbing system for maximum load bearing
Backpack straps tuck away for easy duffel carry or if checked as luggage
Seamless bottom bathtub construction helps prevent water from entering the duffel if placed in a puddle
Top, side, and end handles serve as tie-down locations 
Internal storm flap deters dust and water entry 
#10 lockable main zipper with large finger loop zipper pulls for easy access when wearing gloves 
Price: $229.95CAN / $169US
Colour: Mesa Blue, Black, Dandelion Yellow, Burnt Berry, River Rock
Size: 110L / 6650cu in
Weight: 2.26kg / 5lb
Dimensions: 37 x 76 x 33cm / 14.5 x 30 x 13in

---
Atomic Backland Helmet
The Backland Helmet from Atomic combines safety, comfort and performance in a well balanced design making it the ideal companion for the uphill as much as the downhill. It is super lightweight and you can use it for biking, climbing as well as skiing so no more having to swap out helmets for each activity. There is a full cap ski lining and a breathable skimo liner so you are covered no matter what the objective or time of the year. For those early morning missions or coming down in the dark there are also clips to hold your headlamp in place. This helmet is a great holiday gift idea for someone looking for a feature packed multi-purpose helmet.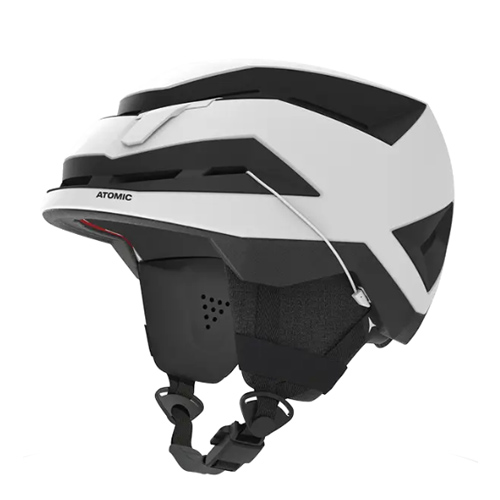 Features:
Amid: Atomic Multi Directional Impact Deflector. Up to 40% more impact protection than industry standards.
Multi Norm Certified: Meets safety requirements for skiing, cycling and climbing.No more swapping helmets!
Hybrid EPP in mold construction: Combines EPP edge protection around sides with an in-mold construction.
Super lightweight and safe.
Recycled Liner Fabric: Liners use a recycled material certified by the Global Recycled Standard.
Reflective Element: At the back of the helmet delivering high-vis protection.
Price: $269.99CAN / $310US
Weight: 350g / 12.35oz
Colours: Scuba Blue, Green, Black, Red, White
Sizes: 51-55, 55-59, 59-63cm

---
Helly Hansen Verglas BC Jacket & Pants
Helly Hansen's Verglas BC Jacket & Pants are made specifically for ski touring. Based around a 3-layer Helly Tech® Professional 4-way stretch fabric that was chosen for its mobility, waterproofing and breathability. The jacket has several ski touring specific features that include a helmet compatible hood and high collar, chest pocket for stashing skins, backpack-friendly vent zippers and harness compatible hand pockets and a longer tail drop. With similar intentions as the Verglas BC jacket, the Verglas BC pants were also created specifically for ski touring and other high-intensity alpine activities. They also use a 3-layer Helly Tech® professional fabric with a PFC-free DWR treatment. There are large side-vent zippers for temperature regulation on the skin track as well as a large thigh pocket for storing maps or a transceiver. Articulated knees keep for comfort and optimal mobility and a gusset in the crotch for added freedom of movement. As a holiday gift, these will surely make any hardcore ski tourer in your life smile with joy.

Features:
Helly Hansen Verglas BC Jacket
Helly Tech® Professional YKK® Vislon AquaGuard YKK® 2-way zipper
RECCO® Advanced Rescue system
3-layer construction
4-way stretch
Recycled inner lining
Waterproof, windproof and breathable
PFC-free DWR
Fully seam sealed
Helmet compatible hood with adjustment cords
Adjustable cuff with fastener
Adjustable hem
Inside stash pocket
Internal mesh pocket
Chest and hand pockets with YKK® zipper
Articulated sleeves for optimal mobility
Brushed tricot inside collar
High protective collar
Tail drop
Helly Hansen Verglas BC Pant
Helly Tech® Professional YKK® AquaGuard
RECCO® Advanced Rescue System
Wind resistant and water repellent
PFC-free DWR
Recycled inner lining
3-layer construction
2-way stretch
Articulated knees for optimal mobility
Gusset in crotch for freedom of movement
Adjustable snow gaiter at bottom leg
Durable reinforced insteps
Ventilation openings for added breathability
Thigh pocket
Detachable and adjustable suspenders (Men's only)
Button waist adjustment (Men's only)
Belt loops and removable belt (Men's only)
Helly Hansen Verglas BC Jacket
Price: $475CAN / $400US
Colours: Cloudberry, Darkest Spr, Blue Fog
Size: S, M, L, XL, XXL
Weight: 730g / 25.75oz
Helly Hansen Verglas BC Pant
Price: $375CAN / $300US
Colours: Malachite, Deep Fjord, Ebony
Size: S, M, L, XL, XXL
Weight: 730g / 25.75

---
La Sportiva Crizzle Evo Shell
La Sportiva designed their new Crizzle Evo Shell specifically for backcountry skiing. It's a hybrid shell jacket made of environmentally friendly materials that provide protection from the wind and rain while still being breathable. The stretchy material on the back provides incredible freedom of movement and breathability for impressive moisture management during intense activity. The Crizzle Evo Shell features a large zippered pocket and two lateral zippers for extra ventilation when needed. La Sportiva also makes matching Crizzle Evo Pants so you can have the same comfort and protection on your legs as on your upper body. If you have a backcountry skier on your holiday gift list then the Crizzle Evo Shell is sure to please.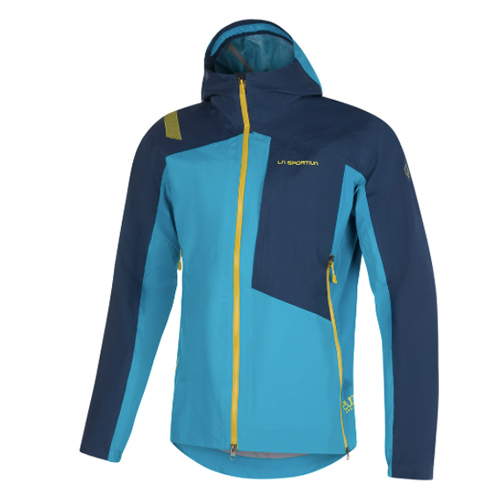 Features:
Fully-featured, eco-friendly, lightweight, hybrid hardshell jacket
Helmet compatible articulated hood with drawstring
One-way zipper with internal storm flap and lined zipper garage
1 oversized, outer zippered chest pocket and 1 internal elastic pocket
Two-way lateral zippers for ventilation and internal access
Waist hem drawstring
Fabrics:
Main: 100% Recycled Polyamide, Membrane: 100% Recycled Polyester
Backing: 100% Recycled Polyester
Back and Side Panel Inserts: 85% Recycled Polyamide, 15% Elastane
Price: $319.95CAN / $249US
Weight: 413g / 14.5oz

Sizes: XS-XL
Colours: Crystal/Night Blue; Alpine/Moss

---
Blackcrows Freebird Xplore Pant
Blackcrows is, of course, famous for its high-quality ripping skis and now they have an apparel line that does justice to the Blackcrows name. Developed specifically for adventure skiing, the Freebird Xplore pants meet the high demands of ski touring. With their simplistic design and high performance waterproof and breathable Xpore fabric, the Freebird Xpore Pants offer the perfect balance between lightness, comfort and durability. A great holiday gift idea for those looking for an ultra-technical garment with a Blackcrows aesthetic.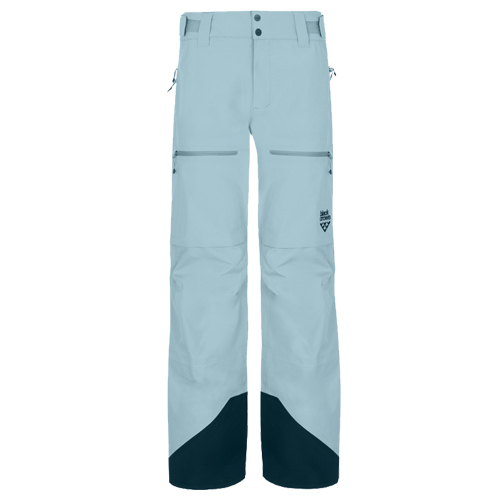 Features:
Adjustable waist with Velcro tabs and belt loops
Thigh pockets with visible YKK water-repellent zips
Hidden lycra jersey pockets in right thigh pocket
Complete openings on the side of the legs with triple function: drop-sit + ventilation + opening at the bottom of the legs, visible YKK water-repellent zips
Stretch snow gaiters with elastic silicone support band + adjustable flap
Lower leg reinforcements
Price: $799.95CAN / $599.95US
Colour: Dark Green, Old Rose, Stone Blue
Size: XS, S, M, L

---
On a budget? Then check out our
Best Gifts Under $50
or our
Best Gifts in the $50-$100
price range. If you want to spend a little more then there is always the
Best Gifts $
100-$200
price ranges as well. Happy Shopping.