Best Gifts $100-$200: 2022 Holiday Gift Guide
Welcome to our 7th Annual Backcountry Skiing Canada Holiday Gift Guide. We're going to start things off easy with the under $50 category, then build up speed to the $50-$100 range, followed by the $100-$200 gifts before we culminate with the $200+ gift ideas. No matter what price range your spending preferences land in we're sure you'll find the perfect gift for that adventurer on your holiday gift list.

Top Gifts $100-$200
This installment of the Best Gifts priced $100-$200 has lots of options to strike your fancy but if your budget is slightly smaller then check out our Best Gifts priced $50-$100 or check out our Best Gifts priced under $50 here. If you've got more to spend, well then hold on as the $200+ gift ideas will be announced next.
---
Arc'teryx Covert Cardigan
Arc'teryx's Covert Cardigan is a warm midnight fleece which is made from 100% recycled polyester and the best thing about it is that it doesn't look like you just left the crag or the side of a mountain. It's ideal for après ski or hanging out in the backcountry lodge after a good day crushing vert or perhaps just hanging at the local coffee shop. Colder fall evenings, winter days and summer nights at elevation are when the Covert Cardigan will keep you toasty warm. With clean lines, advanced design, and versatile thermal performance the Covert Cardigan is a technical layer that doesn't always look the part thanks to its heathered face that gives it the look of wool. With gusseted underarms for a larger range of movement and laminated pockets to help secure small essentials—this is a versatile insulation layerfor all occasions.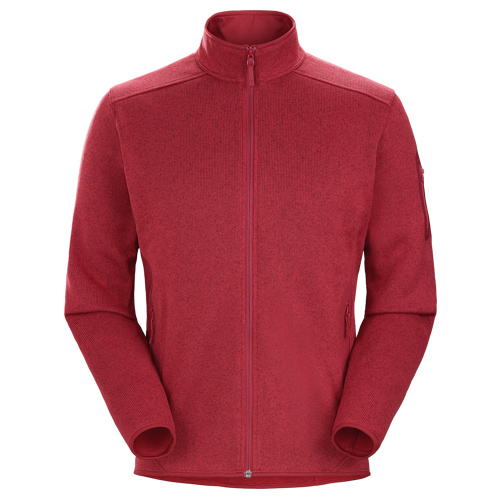 Features:
Technical outdoor functionality, comfort and durability brought to an everyday design.
Made with breathable material which allows moisture vapour to escape, helping regulate temperature and elevating comfort inside garment.
Synthetic fibres made from engineered materials that offer enhanced properties or performance.
Produced in a Fair Trade Certified facility. Building worker well-being into our product DNA.
Full front zip
Sleeve pocket with zip
Laminated hand pockets with glued in zippers
Materials:
Alpenex II - 100% Recycled Polyester - bluesign Approved Material
Price: $200CAN / $180US
Sizes: XS, S, M, L, XL, XXL, XXXL
Colours: Black Heather, Graphite Heather, Bitter Heather / Canvas, Black Sapphire Heather, Forage Heather, Bordeaux Heather

---
Cotopaxi Allpa 60L Gear Hauler Tote
Whether you are carrying gear from your car to the crag, trailhead or simply getting your week's groceries, a solid tote is always in order. Cotopaxi has you covered with their new Allpa 60L Gear Hauler Tote which is an oversized carry-all tote that has a semi-structures design so it's always easy to fill and find your gear inside. Two tote handles give you the option to shoulder carry or hand carry the Alpine while the interior and exterior pockets provide plenty of organization options for your things. There are also built-in top compression straps to help keep your gear secure. Cotopaxi produces the Allpa 60L Gear Hauler Tote in the Philippines at their principal pack factory which is committed to fair labour and environmentally sound practices like helping to reduce fabric waste through Cotopaxi's repurposed Del Día Collection.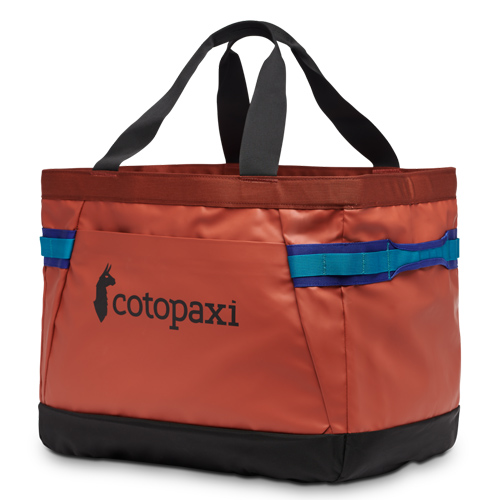 Features:
Semi-Structured for easy loading
Dual tote handles
Side grab handles
Exterior zippered pocket
Interior slip pockets for organization
Top compression straps
Price: $135CAN / $100US
Colours: Pacifico, Rust, Raspberry, Cavern, Black, Suprise
Capacity: 60L

---
La Sportiva Session Tech Hoody
La Sportiva's new Session Tech Hoody uses several fabrics in strategic locations to provide wind-resistant for aerobic activities that optimizes ventilation and protection. This ideal mix of windproof protection and comfortable recycled fleece panels also provides a generous amount of flexibility. With a Polygiene Anti-Bacterial Odour Treatment you can go hard all day and rest assured you won't offend your friends. There are also two large harness and pack-compatible front pockets for storing items you need on the go. This is an ideal mid layer on colder days and works well as a windshield on those long ascents on the up track. The Session Tech Hoody is available for both men and women in several beautiful colour ways.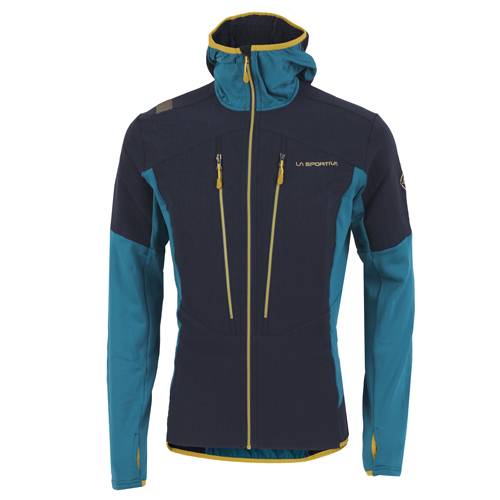 Features:
Technical full-zip softshell fleece hoody with a high range of motion
Variable weight fleece fabrics offer specific body zone heat retention
One-way zipper with internal storm flap and lined zipper garage
2 Large, zippered Napolean front pockets suitable for skins storage
Thumbholes with integrated elastic sleeve cuff
Windproof front body and shoulder fabric, breathable arm and torso side fleece
Stretchy, durable, breathable with brushed interior for comfort
PFC free durable water repellent coating
Made from recycled fabric that also reduces microfiber shedding
Materials:
Main: 91% Recycled Polyester, 9% Elastane
Back Body, Sleeve Insert, Hood Insert: 92%Recycled Polyester, 8% Elastane
Center Back Insert: 100% Recycled Polyester
Pocket Lining: 100% Recycled Polyester
Price: $179.95CAN / $139US
Sizes: XS-XL
Weight: 435g / 15.3oz
Colours: Sunset/Sangria; Night Blue/Crystal

---
Dynafit TLT Helmet
What's better than a super lightweight ski touring helmet? How about a true multi-sport, triple-certified helmet that can be used for mountaineering, climbing, cycling and is also a super lightweight ski touring helmet to boot! That's the new Dynafit TLT Helmet. With its light, yet extremely tough construction and well-engineered ventilation, this multi-sport helmet is not only ultralight but stylish and low-profile. Constructed using an EPS inner lining and an in-mould polycarbonate shell, the TLT Helmet, weighs just 300 grams, while not sacrificing any protection. The adjustable visor serves as a shield from glare and rounds out the sporty, casual look while also ensuring that your ski goggles don't slide back on the helmet—and if it's not your thing you can also remove it. TO customize the fit you can adjust the dial at the back of the TLT Helmet along with the head and chin straps to obtain a precision fit and maximum safety. Why have three helmets when the Dynafit TLT Helmet does it all.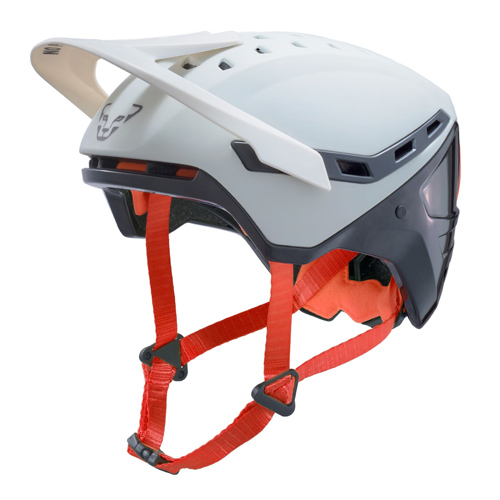 Features:
Chanelled Ventilation
Adjustable and Removable Visor
Adjustment Wheel
Compact Headshape
DYNAFIT Goggle System Compatible
Elastic Headband and Goggle Fixation
ISMF Racing Approved
Lightweight Construction
Minimalistic Padding
Superior protection - tripple certification (bike, climbing&mountaineering, ski)
Price: $179.95CAN / $149.95US
Sizes: S/M, L/XL
Colours: Black Out, Frost, Nimbus, Silveretta
Certifications: ASTM F2040-02 Ski and Snowboard, CPSC biking, EN 1077 B Skiing & Snowboarding, EN 1078 Biking, EN 12492 Climbing & Mountaineering, UIAA

---
Smartwool Intraknit Merino Tech 1/2 Zip Hoodie
Smartwool's Intraknit technology is able to seamlessly knit insulation and ventilation together in a single fabric to limit seems and improve overall comfort. Their Intraknit Merino Tech 1/2 Zip Hoodie has Knit-in wind protection on the front panel and sleeves and targeted mesh ventilation for breathability and abrasion protection on the sleeves. The DWR finish provides protection from the elements while the zippered chest pocket provides storage for smaller valuables and the integrated thumb holes on the cuffs keep the sleeves from riding up and help keep your hands warm. This merino hoody provides a great range of motion thanks to its regular fit and the inclusion of elastane in the fabric. It's ideal as a mid layer on colder adventures and works well as a light insulation and wind breaker on long skin tracks while ski touring.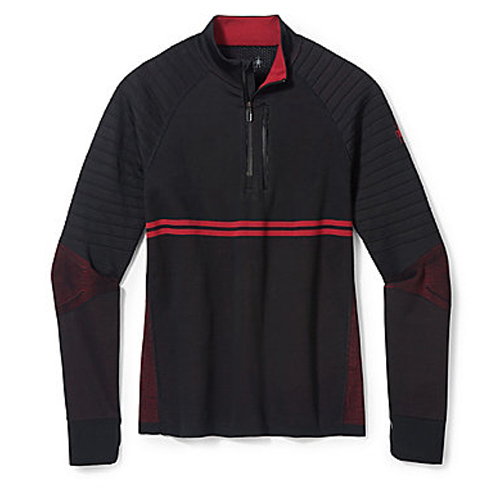 Features:
Our regular fit is intended to give you room to move, without additional bulk
Featuring Intraknit™ technology: Insulation, articulation and ventilation are seamlessly integrated to amplify movement and comfort during high-intensity activities
Knit-in wind protection on front panel and sleeves
DWR finish for protection from the elements
Targeted mesh ventilation for breathability
Abrasion protection on sleeves
Secure zippered chest pocket; thumbholes at cuffs keep sleeves in place and hands warm
Fabric:
68% Merino Wool, 26% Recyled Polyester, 3% Polyamide, 3% Elastane
Price: $200CAN / $175US
Colours: North Woods, Black, Deep Navy
Sizes: S, M, L, XL, XXL

---
Big Sky Mountain Products Rover Skins
Big Sky Mountain Products HQ is located in Bozeman Montana and makes all of their ski and split board skins right there in the USA. Their Rover Skins are made from a 100% nylon plush for maximum grip and durability—mohair-mix skins are coming soon. The Rover's low-angle nylon fibres in the plush are said to make the Rovers some of the fastest nylon skins on the market balancing glide and durability. The Rover Skins come in a universal length (customer trims to length) with a standard print and the tip connector not attached, pre-assembled standard print and pre-assembled jungle print options. The universal length of 200cm means that Big Sky Mountain Products can reduce their costs and pass it along to you the customer. The Rover Skins range in price from $134.99-$184.99 depending on the print you choose along with the width and which configuration: pre-assembled or universal. The Rover with jungle print is $10 more than the standard print and the pre-assembled option is $10 more than the universal length. As you choose a wider skin the price also increases by $10 so you only pay for what you need. With four widths in 100mm, 110mm, 125mm, 140mm, they have a Rover Skin for even the fattest of skis. The self-renewing skin glue is warrantied for an impressive two years as is the plush with life time warranty on the clips. The tip and tail connector clips are very burly and virtually unbreakable and some of the most secure in the industry. The Rover Skins are simple to use, reliable and very durable so their value alone is sure to impress.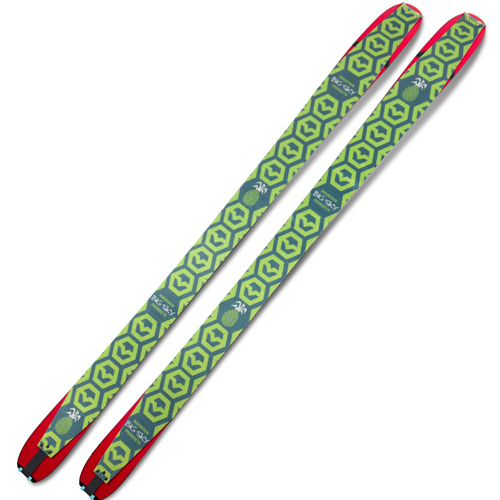 Features:
Made in the USA
Universal lengths to save you money
Self-renewing skin glue
100% nylon plush
Materials:
full-nylon plush with a polyester backing
Included:
Pair of nylon ski skins at your chosen width with tail taper and Jungle Print Graphic
Pre-Assembled Quick-Snap Tail Connectors
Universal Wire Tip Connectors
Skin Wax
Optional Trim Tool & Instructions
BSMP Sticker
Price: $134.99-$184.99CAN/US
Weight: 418g / oz (180cm length, 98mm underfoot)
Dimensions: 100mm, 110mm, 125mm, 140mm (all are 200cm lengths)
Warranty: 2 years on plush and glue, lifetime on clips

---
Arva Ski Trip Shovel
Arva's Ski Trip Shovel has a telescopic shaft with two settings that goes from 35cm when collapsed to 57cm and 72cm lengths providing two digging options. The PIN LOCK locking mechanism makes it quick and easy to put the blade and shaft together and as well as adjust the height or the handle. With an ergonomic, easy to hold, T- grip handle and a strong and durable aluminum blade the Ski Trip Shovel is efficient at moving snow and comfortable to use. A compact, durable and simple design makes the Arva Ski Trip Shovel a must have for your backcountry skiing avalanche kit.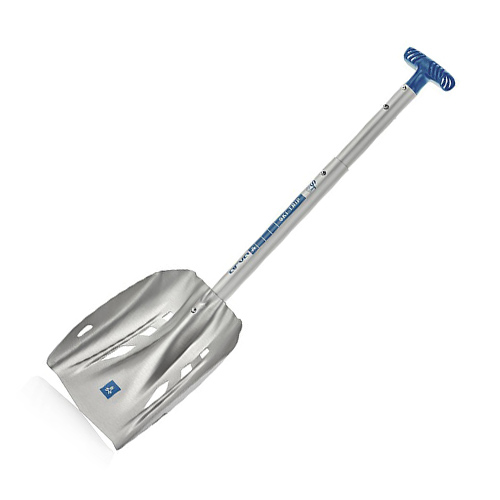 Features:
Shovel with telescopic shaft
Oval aluminum shaft, 35cm long when collapsed
Strong and durable aluminum blade
Optimized blade
The PIN LOCK locking mechanism makes it quick and easy to put the blade and shaft together
Ergonomic, easy to hold, T- grip handle
Price: $109.95CAN / $74.95US
Weight: 620g / 21.9oz
Dimensions: 57cm minimum length, 72cm maximum length, 24 x 24cm x 2.0mm thick blade

---
Fjallraven Abisko Trekking Tights
Fjallraven's Abisko Trekking Tights are made from a highly functional stretch fabric (82% polyamide, 18% elastane) that is durable and ideal for hiking and trekking. Their excellent fit and four-way stretch fabric provides maximum freedom of movement and on colder days they fit well under other pants for extra insulation. With reinforcements where you need them on the butt and knees along strategically placed pockets for practical use. A smaller zippered leg pocket on the left leg is ideal to stow smaller items and valuables while out and about and a larger pocket on the right-hand leg has room for a map or snacks. The waist is wide for better comfort and can be adjusted with a drawcord on the inside hem. There is also a zippered security pocket and a little loop on the left hip to attach gear or a light jacket too. The Abisko Trekking Tights are a girl's best friend since they easily go from mountain hikes to gym workouts and more.

Features:
Packable
Durable, Stretch
Fluorocarbon-free impregnation
Pre-shaped knees
Pockets: Hand pocket(s), Map pocket, Side pocket(s) with zipper
Materials:
82% polyamide, 18% elastane
Price: $200CAN / $175US
Weight: 256g / 9oz
Sizes: XXS, XS, S, M, L, XL, XXL
Colours: Glacier Green, Navy, Dark Grey, Dark Garnet, Black

---
Montane Allez Micro Fleece Pull-On
Montane has a new base layer/midlayer that is perfect for fast moving activities where thermal comfort and performance are key. The Allez Micro Fleece Pull-On is made with Polartec Power Grid which consists of 90% recycled content so it's not hard on the planet. This fabric traps air and wicks moisture simultaneously through a micro grid structure and is treated with Polygiene permanent odour control so you can wear it day after day or on longer adventures and no worry about smelling. The Montane Allez Micro Fleece Pull-On is a super light, packable technical pull on fleece and can be used as either a base layer next to the skin as a mid layer on colder days. It's a great versatile piece for those adventurers on your holiday gift giving list.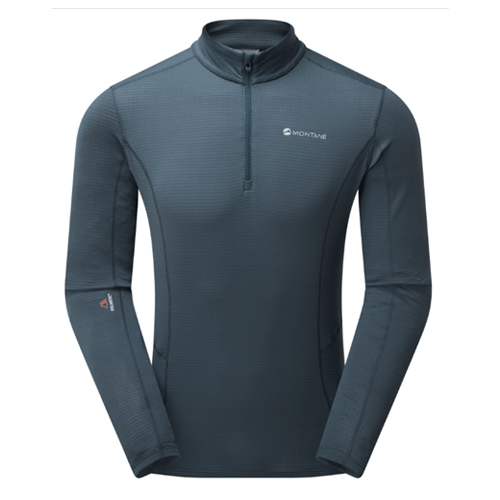 Features:
Flatlocked seams
Snug protective collar
¼ length Montane YKK reverse coil semi-auto front zip with wind-strip
Articulated arms with engineered tailoring
Low profile cuffs
Materials:
POLARTEC® Power Grid™ with 90% recycled content
POLYGIENE® permanent odour control
Price: $125CAN / $99US
Weight: 160g / 5.6oz
Sizes: Men's S-XXL, Women's XS-XL
Colours: Men's Astro Blue, Flame Orange, Black; Women's Pale Sage, Black, Paprika

---
5.11 Load Ready Utility Lima
The Lima is a versatile utility bag full of features and is incredibly durable due to the 1050 denier nylon. With a TPU waterproof internal lining and a double-layer base panel It can withstand years of abuse while keeping its contents safe and dry. The removable zip-off lid has a mesh pocket to secure valuable items when closed or you can remove the lid and use it for grabbing groceries or storing your gear after a day playing outdoors. There are two grab handles at each end along with the two main carry handles. This is a great gift idea for someone who loves to keep their things stored safely while in transit or on the go.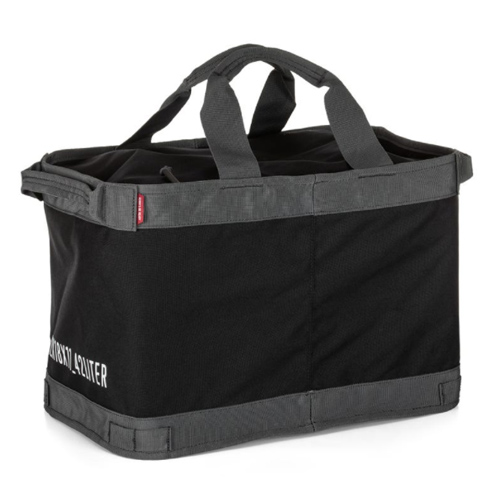 Features:
5.11's signature Center Line™ design
Heavy-duty, haul-all stackable utility bag
Removable nylon lid for open access or secure carry of contents
Underside zippered mesh lid pocket
Waterproof durable internal lining and double layer base panel
Side grab handles, gear loops
6x1 name tape loop
Price: $94CAN / $68.87US
Colours: Black, Kangaroo, Kalamata Green
Volume: 42L / 2.4 cubic inch
Size: 30H x 46L x 28Dcm / 12H x 18L x 11D"
Weight: 730g / 25.75oz

---
Bolle Ascender Sunglasses
With a blending of performance and style, the Bolle Ascender sunglasses are as comfortable on the hill as they are running errands around town. The Thermogrip rubber on the temple tips and an adjustable 3-position nose piece ensure fit, comfort and stability. The rubber is specifically engineered to get grippier when it comes in contact with water or sweat for a more secure fit. They are available with Phantom photochromic lens and Solace4 which is Bolle's new mineral lens for the mountains. These would be a great gift idea for someone who is looking for a multipurpose pair of sunglasses.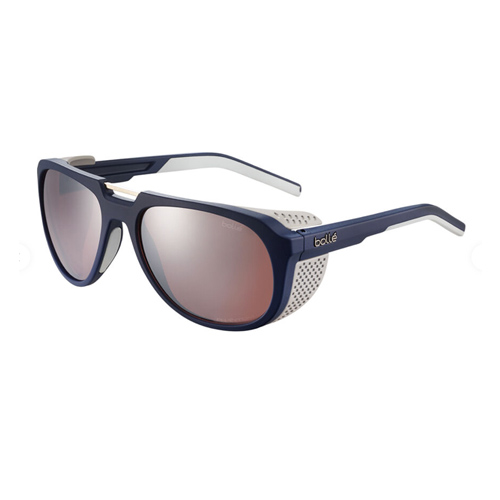 Features:
100% UV protection
Polarized
Thermo grip nose/temple piece
Adjustable 3-position nose
Removable Side Shields
Snap Hinge
Cord for safety strap
Available for RX
Price: $150CAN / $110US
Product Material: Rylsan G850 Nylon
Weight: 35g / 1.2 oz
Colours: Grey Frost (Brown Pink Polarized), Black Matte (Bolle 100 Gun Cat 4) White Matte (Mineral Brown Gun Cat 4), Black Matte (Phantom Black Gun Cat 2-4)

---
Black Diamond Dawn Patrol 25 Pack
When there's good snow to be had, early morning missions are the way to go and the Black Diamond Dawn Patrol pack is made for these adventures. It is a lightweight 25L pack made with 100% recycled main body fabrics and essential features for the backcountry. The front snow safety pocket stores your avalanche safety kit, and an oversized insulated shoulder pocket holds a hydration tube, soft flask or radio. The pack's form-fitting suspension provides a contoured, body-hugging fit, while zippered back panel access provides easy entry. There are also large hip-belt pockets purpose-built to store skins for the downhill. A great gift idea for anyone who loves a good morning mission.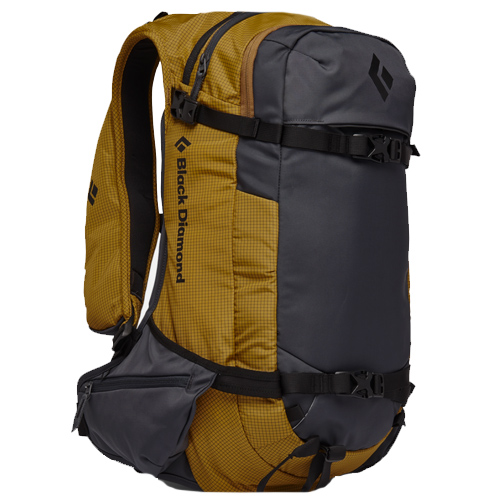 Features:
25-liter storage capacity—enough to carry some extra layers, food, water, and snow safety gear for smaller trips in the backcountry
100% post-consumer recycled body fabric
Separate, easily accessed snow safety pocket
Oversized, insulated shoulder pocket for hydration tube, soft flask, or radio
Internal, zippered pocket with key clip
Durable metal waist belt buckle
Form-fitting suspension with snow shedding fabric construction and zippered back-panel access
Tuck-away diagonal ski-carry or vertical snowboard carry
Dual piolet attachment points and Hi-Lo helmet carry
Price: $200.00CAN / $179.95US
Colours: Storm Blue, Black, Amber
Weight: 1.16kg / 2lb, 9oz
Volume: 25L / 1526cu in
Sizes: S/M, M/L

---
Montec Roast Mittens
Sometimes the weather calls for mittens instead of gloves and the Montec Roast mittens have been designed as the perfect cold-weather and backcountry companion. With extended cuffs, a reinforced non-slip palms, goggle-wipe thumb back, and an internal wrist strap, they're also very durable and versatile. A great holiday gift idea for riders who want to lap the resort or backcountry in perfect, cozy comfort.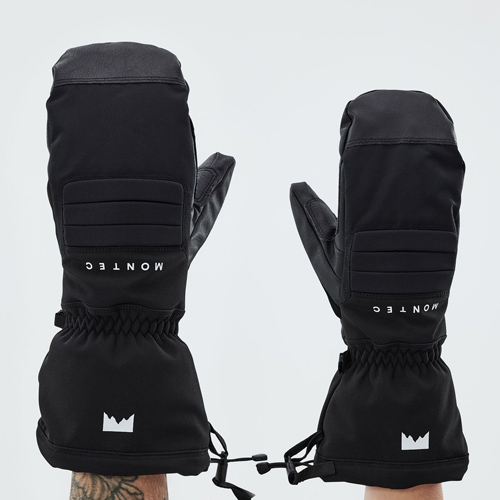 Features:
Extended cuffs
Non-slip palm
Goggle wipe thumb
Internal wrist strap
Price $110CAN / $85US
Colours: Black, White
Sizes: Unisex, XS, S, M, L, XL

---
FUBUKI Niseko 2.0 Boots
The Niseko 2.0 Boots will keep you warm on the coldest of days, with a temperature rating of -30°C and they are also 100% waterproof and windproof to ensure that you stay dry and warm no matter the weather. With a high cut they can trudge through the deepest snow and their cleated rubber sole gives you the grip you need. In addition to this, they also have a cushioned midsole and shock-absorbing heel making them super comfortable. In a world where tough and resistant so often means rigid and boring, FUBUKI offers some bright and fun colours! A perfect gift for someone who always has cold feet during the winter months.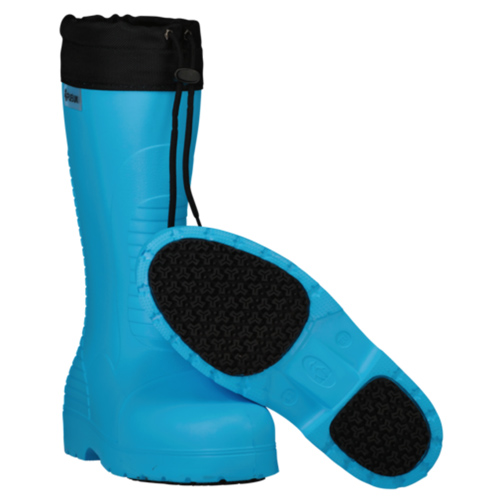 Features:
Cold Resistant (-30°C)
100% Waterproof
100% Windproof
Cleated Rubber Sole
Reinforced Ankle
Cushioned Midsole
Shock-Absorbing Heel
Fun bright colours
Materials:
Outsole/Shell: 100% EVA
Upper/Collar: 100% Polyester
Toe Cap: 100% ABS Composite
Lining: 100% Polyester
Price: $160CAN / $120US
Sizes: EU 37-46
Colours: Orange, Black, Yellow, Pink, Light Blue, Green, Sand, White, Olive, Moss Green

---
Ignik Backside Heated Seat Pad
Tailgate parties just got a lot more cozy with the Ignik Backside Heated Seat Dad. This pad transforms any seat into a heated reprieve while camping, fishing, hunting, or tailgating in cold weather. Available in two sizes, the Backside Seat Pad warms just your bottom and the Backside Heated Pad XL to warm your bottom and your back, and it also works perfectly for two people when laid flat. With a 10-setting controller that works in tandem with internal heat sensing technology so you can fine tune the heat level to meet your individual needs. (it even remembers the setting you last left it on when powering back up). A Durable, weather-resistant cover made from 100% recycled bluesign® approved fabric with built in Cush Foam for added comfort. Ideal for someone who needs just a bit more heat while hanging out in the outdoors.

Features:
Premium Cush foam
Bluesign® approved fabrics
USB- C compatible
Heat level displays
Adjustable heat controls
Auto shut off after 90 min
Next level warmth
Price: $99.99CAN / $79.99US (seat); $124.99CAN / $99.99US (XL)

---
Helly Hansen Alpha Zero Half-zip Jacket
With the shorter days and cooler temps the Helly Hansen Alpha is the perfect companion, designed to be a standalone jacket or as a versatile mid layer. The Alpha combines the warmth of fleece with the stretch and protection of a soft shell. The exterior has a PFC-free, water-repellent treatment to keep you dry in light precipitation and with the environment in mind, the jacket was made with 95% recycled fabric. A great gift idea for someone who is always out exploring and expecting the most in comfort and warmth.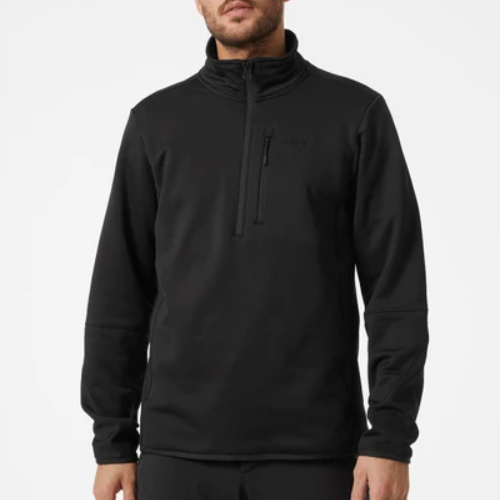 Features:
Chest pocket with YKK® zipper
Anti-chafe chin guard
Flatlock seams for extra comfort
Slick Face Fleece Fabric
Durable Water Repellency (DWR) treatment
Recycled Content
PFC-free
Price: $140CAN / $120US
Colours: Black
Weight: 505g / 18oz

---
Devold Expedition Merino 235 Baselayers
Proven on several polar expeditions, the Devold Expedition base layers are designed with dual layers for extreme weather conditions. The inner is made of 100% Merino wool while the outer layer is 90% Aquaduct treated Merino wool, combined with 10% polyamide to improve durability. Devold® Expedition insulates extremely well and has an effective ability to transport moisture. The Aquaduct Merino wool is specifically designed to move moisture away from the skin side of the fabric to the outer surface where it evaporates. The top has flat seams for optimal comfort and Raglan sleeves with custom made shoulders for maximum mobility.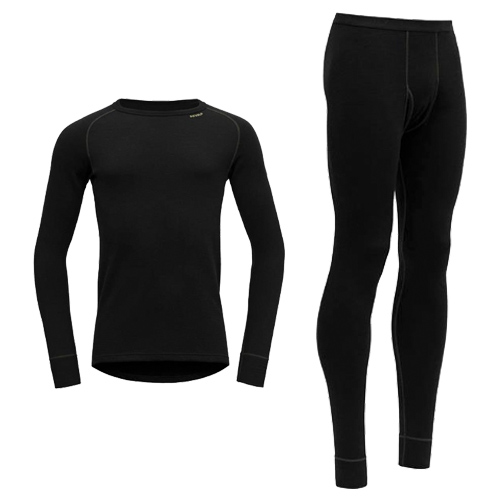 Features:
Devold Expedition Merino 235 Base Layer Top
Inner layer is 100% Merino wool
Outer layer is 90% Aqueduct treated Merino wool
Outer layer has 10% polyamide to improve durability
Raglan sleeves
Flat seams for optimal comfort
Devold Expedition Merino 235 Base Layer Bottoms
Inner layer is 100% Merino wool
Outer layer is 90% Aqueduct treated Merino wool
Outer layer has 10% polyamide to improve durability
Flat seams for optimal comfort
Double cuffs for extra shape stability
Fly for men
Devold Expedition Merino 235 Base Layer Top
Price: $144.95CAN / $109.95US
Colours: Black
Sizes: S, M, L, XL
Devold Expedition Merino 235 Base Layer Bottoms
Price: $144.95CAN / $109.95
Colours: Black
Size: S, M, L, XL

---
Eagle Creek Migrate Duffel Bag
The Migrate duffel has been revamped this year with 100% recycled material. This new recycled waterproof fabric and bathtub construction bottom make this bag excellent at keeping your gear/lunch or whatever dry while hanging out in the snow all day. The monster opening of the doctor style bag has a zip-top which allows for full visibility of its contents and provides an additional 5 litres of packing space over traditional designs. A multi-point harness system – one continuous webbing strap, envelops the bag at critical grab, hoist and tie-down points. Tuck-away backpack straps offer multiple carry options, plus exterior compression straps. And when the adventure is over the Migrate duffels collapse flat for storage. It's also Bluesign approved so you can feel better knowing that the material is safe for the environment, workers and the end user.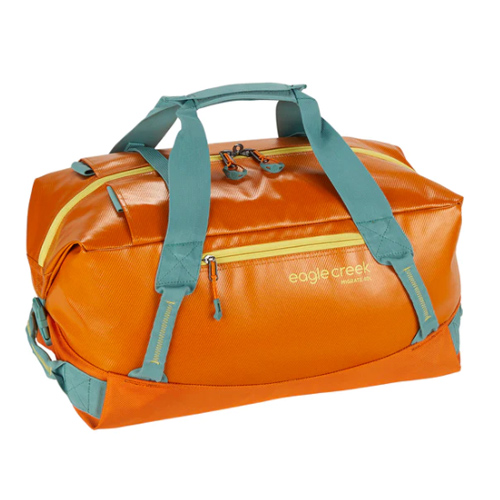 Features:
100% recycled material
Full access, wide mouth opening
External compression straps to keep gear in place
Folds flat for compact storage
Tote and haul handles are connected using yoked webbing systems for maximum load bearing
Backpack straps tuck away for easy duffel carry or if checked as luggage
Seamless bottom bathtub construction helps prevent water from entering the duffel if placed in water
Covered by Eagle Creeks "No Matter What" warranty policy
Price: $130CAN / $100US
Colours: Burnt Berry, Black, Dandelion Yellow, River Rock, Mesa Blue
Volume: 40L / 2685cu in
Weight: 960g / 2lbs 1oz
Material: 100% Recycled 900D Poly TPU /100% Recycled 1680D Ballistic Poly RPVB

---
Rossignol Resort LT Shoes
Rossignol's New Resort LT Boots are made to get you comfortably to the ski hill and back again in style but they are also versatile all season kicks for urban activities. These lightweight high-cut shoes have an injected EVA midsole and grippy rubber outsole keeps you comfortable and sure-footed. The black and red design lends chic yet casual style while tongue and heel tabs make it easy to get these snow shoes on and off.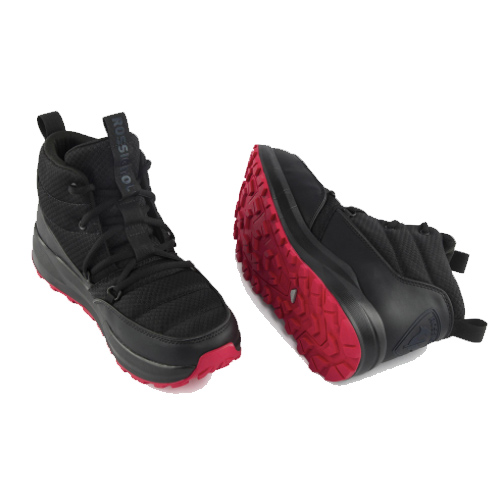 Price: $170CAN / $140US
Colour: Navy
Sizes: 3.5-12.5

---
Arc'teryx Rho Hybrid Crew
Going on a multi-day backcountry trip? The Hybrid crew from Arc'teryx has Merino wool panels in high-odour areas to keep you smelling civilized. The Rho Hybrid's Phasic™ AR II material stretches, provides thermal comfort, and is made with wicking fibres. Layering is easy with its fit and is patterned for maximum mobility. Feel good about wearing this Crew knowing that it is Fair Trade Certified. This is a great gift for someone who would love a performance base layer for adventure in colder weather. And, they also make matching bottom Rho Hybrid base layers as well.

Features:
Thermally efficient base layer with excellent moisture management properties. Has stretch comfort.
Versatile high performance designs for diverse activities and conditions.
Engineered polyester base layer material offers excellent moisture management properties.
Produced in a Fair Trade Certified Facility. Building worker well-being into our product DNA.
Price: $150CAN / $115US
Colours: Black, Bordeaux, Forage
Size: S, M, L, XL, XXL
Options: Also available in a bottom

---
Camelbak Powderhound 12L Pack
Whether you're a weekend warrior or an all day / every day shredder, the Powderhound is the perfect size pack to carry all your essentials for a day at the resort. Stay hydrated with an insulated sleeve (Therminator™) in the shoulder that maintains consistent access so that your water keeps from freezing. A handy QR harness allows you to easily swing the pack around on the chairlift to access the main compartment. A perfect gift for the resort shredder in your life.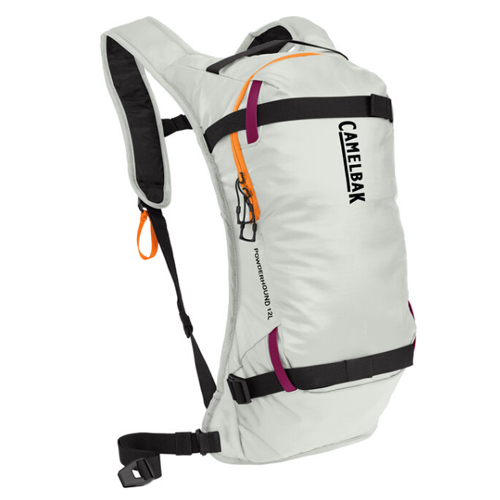 Features:
Snowshield™ material: Repels snow and keeps it from sticking to pack
Therminator™ Harness: Drinking tube zips into an insulated sleeve in the shoulder strap to protect your water supply from the elements
Ski Carry: Use the external straps to carry skis A-frame or diagonally on the outside of the pack
Snowboard Carry: Secure a snowboard for easy transportation
Removable stability belt helps to keep pack secure over technical terrain
Secure zippered pocket for essentials
Adjustable sternum strap slides up and down the harness for a custom fit
2L Crux Reservoir with an ergonomic handle for easier refilling, and an on/off lever that makes it easy to prevent leaks
Lift Access QR Harness: Easily swing the pack around for quick access on the lift
Lifetime Warranty
Price: $184.99CAN / $110.00US
Colours: Black/White, Blue Mist/Black, Vapor/Flame Beet
Volume: 12L

---
Outdoor Research Revolution II Gore-Tex Gloves
Spend more time outside comfortably with the Revolution II gloves that use Enduraloft insulation for increased warmth along with grippy, quick-drying palms and a heat pack pocket for added warmth on super cold days. These gloves also features Gore-Tex waterproofing to help keep your hands dry in any condition. The outer material is also Bluesign approved so you can feel good about wearing them.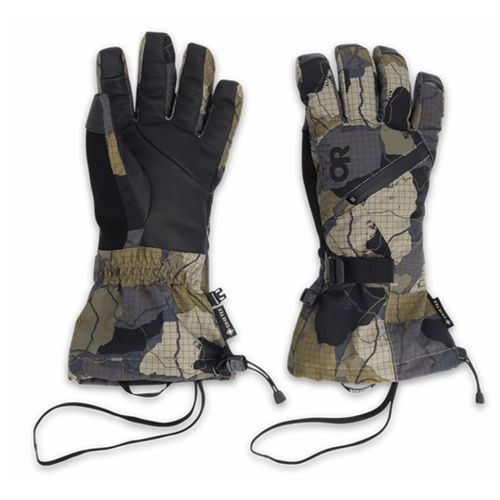 Features:
Gore Tex waterproofing
Enduroloft insulation
Polyurethane diamond grip palm
Touchscreen compatible
Bluesign approved (outer material)
Price: $109.95CAN / $85.00US
Colours: Cranberry, Loden Camo, Black
Weight: 181g / 6.4oz
Size: S, M, L, XL

---
Bolle Mammoth Goggles
On the hunt for a large fitting goggle—then the Bolle Mammoth Goggles are your answer. The largest fit in the Bolle collection the Mammoth Goggles offer a truly wide field of vision and are equipped with articulated outriggers to create the perfect fit with your helmet. Symmetrical ventilation helps to optimize inside airflow and prevent fog for better visibility. Why limit your vision when you can see it all with the new Bolle Mammoth Goggles

Features:
100% UV protection
Anti Fog coating
Anti Scratch coating
Double density face foam
Silicone on strap
Articulated outriggers
Symmetrical ventilation
Phantom Lens. The leading photochromatic lens on the market
Volt Lens. The richest high contrast lens available
Price: $210CAN / $170US
Colours: Black Denim Matte, Black Forest Matte

---
Black Diamond Expedition 3 WR Poles
The Expedition 3 is a whippet ready four-season pole for resort skiing, backcountry skiing and hiking in the off-season. With dual FlickLocks for a full range of adjustability, this pole easily fits in your duffle or pack and then fully extends when it's time to shred. The sticky-rubber, dual density grip-top grabs bindings and buckles with ease for quick adjustments and provides a seamless connection with WR accessories. The Expedition 3 comes with powder baskets, so you can switch them out to match the season and the trip, and the new vari-width strap adds comfort and adjustability while moving through terrain.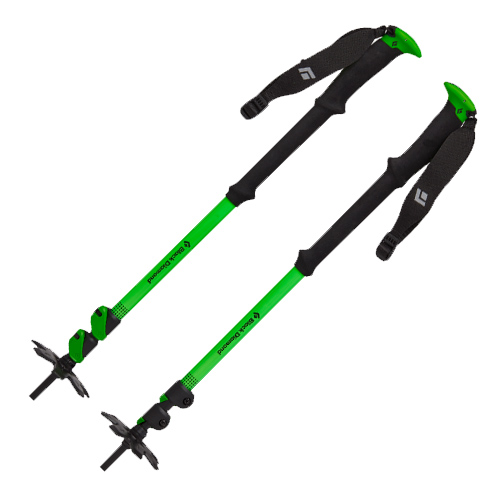 Features:
Whippet Ready grip is compatible with the following accessories: Whippet, Alpine Whippet, Distance Tent, and Universal ¼-20
Adapter (all sold separately)
100% aluminum: 18 mm /.71" upper, 16 mm / .63") mid, 14 mm .55" lower
Four-season extended foam grip with aggressive hooking point for manipulating bars and buckles
Adjustable vari-width strap for ergonomic comfort with or without gloves
Dual FlickLock® adjustability
100 mm (4 in) Powder Baskets
Indexed ferrule for 3/4 basket compatibility
Price: $185CAN / $169.95US
Colour: Black/Green
Weight: 280g / 9.9oz

---
Icebreaker Merino 200 Oasis Bottom & Top
When the temps drop and you need to add base layers to your hiking or skiing kit, the Icebreaker Merino 200 Oasis top and bottom baselayers are a perfect foundation for your cold weather layering. Made from soft and breathable 100% merino wool which provides the natural benefits of temperature regulation and odour resistance. The Oasis are designed to contour your body and will easily move with you allowing maximum movement whatever your activity. They use flatlock seams throughout to prevent any friction and keep you more comfortable and of course are available in a woman's version.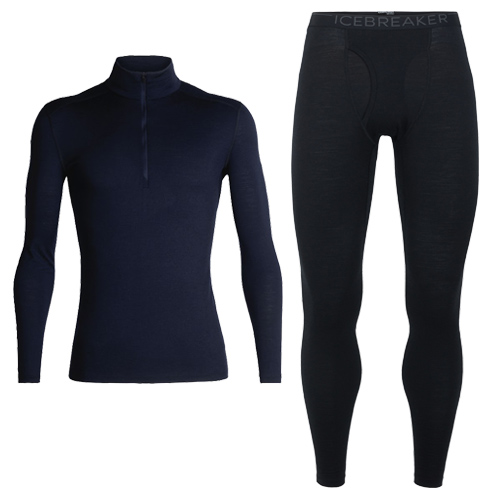 Features:
Merino 200 Oasis Leggings
100% merino, soft merino fibres that regulate body temperature in all weather conditions and resists odours.
Gusset for mobility and comfort.
Flatlock seams to prevent friction
Merino 200 Oasis Long Sleeve Half Zip Top
100% merino, soft merino fibres that regulate body temperature in all weather conditions and resists odours.
Gusset for mobility and comfort.
Flatlock seams to prevent friction
Merino 200 Oasis Leggings
Price: $125CAN $105US
Colour: Black, Gritstone Heather, Midnight Navy, Loden
Merino 200 Oasis Long Sleeve Half Zip Top
Price: $135CAN $115US
Colour: Black, Gritstone Heather, Midnight Navy, Loden

---
Scott Aluguide Ski Pole
Everything you need from a classic ski touring pole, the Scott Aluguide has an easy locking mechanism with a long foam grip and a sturdy aluminium construction. A carbide tip and 90mm Freeride basket work whether you are traversing icy slopes or knee deep in powder. These poles are a great holiday gift idea for someone who is looking for a solid ski touring pole.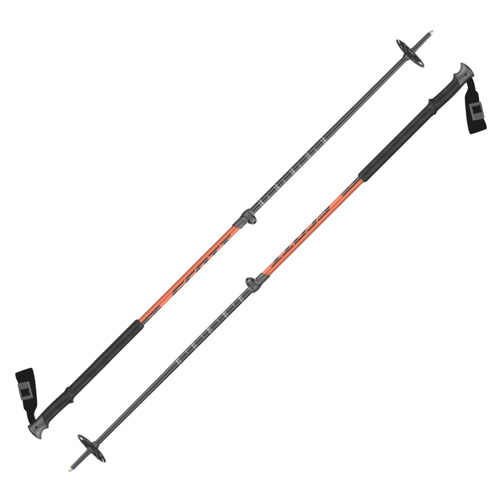 Features:
18-16mm / .7-.6 " Shaft diameter
2 part aluminium alloy shaft
5083 alloy shaft
Carbide touring tip
Easy locking mechanism
EG foam grip
Foam sleeve
Freeride basket 90mm / 3.5"
Touring strap
Price: $195.99CAN / $149.95US
Colour: Grey
Size: 105-140cm / 41-55"

---
Mystery Ranch Superset 30L Bag
Getting in shape for the ski season? The Mystery Ranch Superset is your everyday commuter or gym bag. With a separate compartment for your post workout gear and deployable shoulder straps and a duffel style access to the main compartment—it is designed with your workout in mind. There is also an internal laptop sleeve and an easy grab water bottle pocket on the outside. A great holiday gift idea for the gym rat in your life.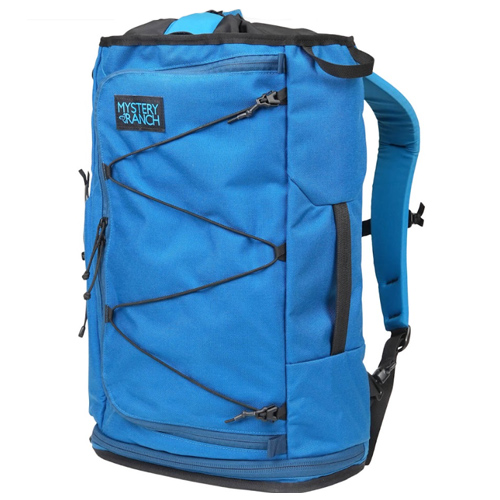 Features:
Top-loading main bag access
Large zippered back pocket
See-through inner vertical pockets
Body panel duffel-bag style opening allows you to open from either end
Stowable, padded shoulder pads accommodate ever-changing carry needs
Internal computer sleeve
Separate compartment on the bottom of the bag for gym clothes/shoes
Side water bottle pocket
Price:$199CAN / $145US
Colours: Black, Splash, Steel
Weight: 1kg / 2.3lbs
Volume: 27.8L / 1695cu in

---
Salewa Wildfire Canvas Shoes
Salewa's new Wildfire Canvas hiking/approach shoes puts an eco-friendly spin on their traditional counterpart without giving up an ounce of alpine performance. Their sustainable design includes an upper that is made from recycled cotton and hemp canvas which helps to minimize the shoe's environmental footprint. This eco-friendly material helps keep the shoe lightweight and your feet cooler on warm days. To ensure that the Wildfire Canvas Shoes are durable Salewa put a full rubber rand around the shoe to help protect against rock and scree abuse. On the bottom, there is POMOCA outsole which provides a secure grip on rock and technical terrain. Inside the eco Ortholite footbed provides comfort and cushion that you don't often find in a technical shoe like this. If you value eco-friendly footwear that performs well on alpine summits and is stylish enough for around town then the Salewa Wildfire Canvas Shoes are worth considering for yourself or that hiker/climber on your holiday gift list.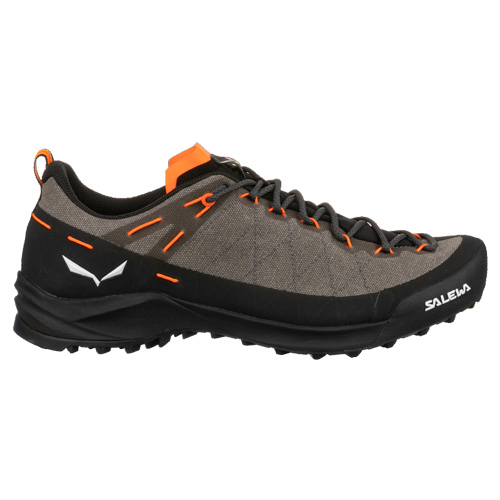 Features:
Sustainably designed with recycled and eco-friendly materials
POMOCA Speed MTN Path outsole
8mm drop
3F System with Kevlar® Cables
Rubber toe cup
Stretch gaiter
Reinforced Rand
Ortholite Footbed
Climbing Lacing
Price: $175.95CAN / $129.95US
Sizes: 6-13
Weight: 512g / 18oz (per pair)
Colours: Blue, Brown, Green

---
Burton Sidehill 25L Backpack
Burton's Sidehill is the perfect size touring pack for shorter backcountry missions and quick sidecountry laps. With a dedicated avalanche tool storage that allows fast access to safety gear and a top zip or back panel entry which offers wide access to the main pack body. The Sidehill also has a dedicated hydration sleeve to keep you hydrated and a board, pole and helmet carry options. Bluesign® approved materials ensure you are doing your part in protecting the planet. A perfect gift for the fresh powder seeker in your life.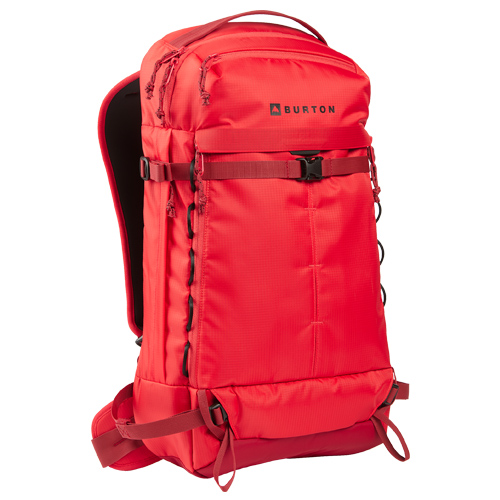 Features:
210D polyester ripstop with 1,500mm PU coating and 420D nylon oxford build.
Main compartment with top zipper and back panel access; Quick access dedicated snow tool compartment; Ergonomic back panel; Padded hip belt.
Cush ergonomic shoulder straps and adjustable sternum strap with built-in whistle; Side compression straps.
Built-in helmet carry with attachment loops.
A-frame and vertical gear carry.
External attachment loops and external daisy chain attachment.
Stowable pole and ice axe loops.
Fleece-lined goggles and accessory pocket; Hydration sleeve; Internal zippered mesh pocket with key clip.
Two side-zip water bottle pockets.
Bluesign® approved materials use only safe chemicals and reduce impact on both humans and the planet during manufacturing.
Lifetime Warranty.
Price: $149.99CAN / 114.95US
Colours: Tomato / Sun Dried Tomato, True Black, Sharkskin
Volume: 25L

---
Kyrgies Moulded Sole Low Back
Nothing beats a comfy pair of slippers for wearing around the house the the Kyrgies Moulded Sole Low Back are all natural slippers that are handcrafted with natural wool felt. They include a thick leather sole that has been specially moulded to provide support to the base of your feet and provide added cushioning. The Low Backs are handcrafted by local artisans in Kyrgies workshop in Kyrgyzstan from wool sourced from small, family-run farms. They are of course naturally sustainable given they are made from wool but they also use a vegetable-tanned leather sole which is much better for the environment than standard chromium-dyed leathers. Kyrgies follows fair trade practices throughout their manufacturing process which means paying their staff in Kyrgyzstan fair and honest wages. Kyrgies is also a 1% for the Planet member and offsets their carbon emissions through Carbon Neutral. If you think you have to give up comfort and fit when wearing a handcrafted natural wool slipper, think again as the Kyrgies Low Back provides impressive arch support and a non-slip grip on most indoor surfaces. The perfect gift for those environmentally conscientious people on your holiday gift list, and yes, they also come in a version for women.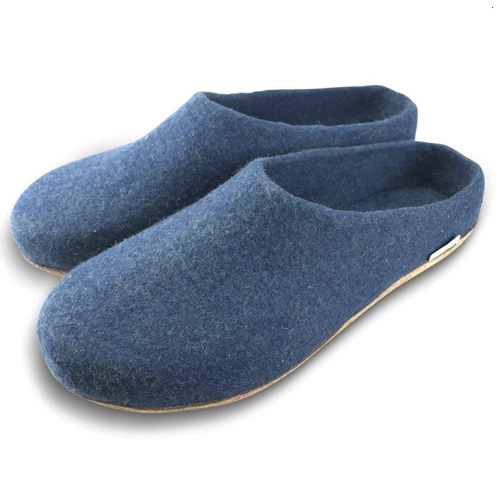 Features:
All natural wool felt
Molded thick leather sole for arch support
1% for the Planet member
Price: $125CAN / $89US
Colours: Charcoal, Grey, Navy, Pine Green
Sizes: 7-15.5 in half sizes

---
ZEAL Hangfire Goggles
The ZEAL Hangfire Goggles takes a minimalist approach to changing the way you see winter by combining two impressive technologies. They use a spherical lenses optical technology which mimick the eye's shape to minimize distortion as well as use ZEAL's award winning Observation Deck Technology pantoscopic-tilt design that allows you to see 20% more of the slope below you with zero distortion. They also use a sleek, rimless design that offers incredible peripheral field of view and helmet compatibility.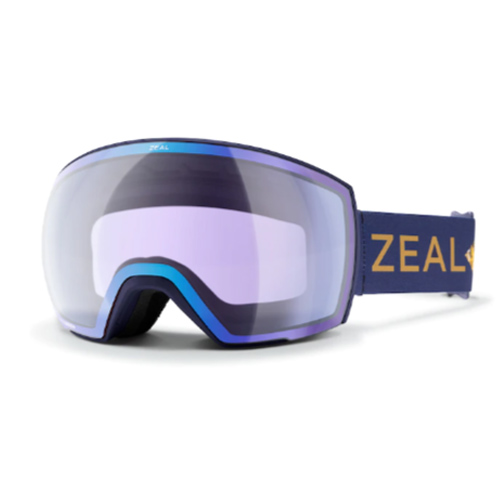 Features:
Photochromatic lens option
Polarized lens option
100% UV protection
Observation Deck Technology
No slip grip
Over the glass ready
RX insert compatible
Triple-layer face foam
Everclear anti-fog
Dual strap adjustment
Helmet compatible
Spherical polycarbonate lens
Molecular mirror option
Price: $159CAN / $129US
Colours: 18 different lens/frame combinations

---
Leki Guide Lite 2 Poles
LEKI's Guide Lite trekking/touring poles now features the new Aergon Air Grip which provides maximum ergonomic support, guidance, control and comfort. The grip has a lightweight hollow core with increased ergonomic grip surface, a positive angle top for a relaxed wrist, and a diamond surface with a fully rubberized back for maximum grip zone. The Guide Lite 2 is fully adjustable from 110-145cm using Leki's bomber proof SpeedLock 2 Plus. Leki also includes their Big Mountain Basket with the Guide Lite 2 which have a straight hard edge that adjusts risers without flipping the pole upside down and another longer edge for scraping your skins. A great holiday gift for the person that loves big days in the mountains.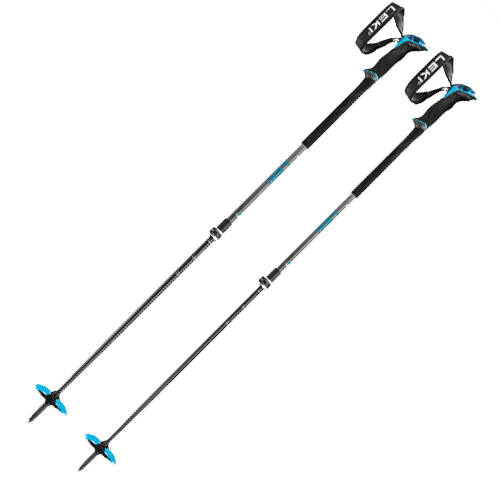 Features:
Aergon Air Grip - Combines lightness with stability. Its ergonomic shape provides maximum comfort, while the fully rubber grip head
provides absolute control.
Lock Security Strap - Adjustable strap with safety release It has been reinforced with neoprene and a comfortable fleece inlay and offers optimal comfort.
Grip Extension - For simple grip adjustment on steep terrain or when traversing.
Speed Lock 2 Plus - The TÜV Süd-certified adjustment system works with an external clamp that enables easy adjustment and offers maximum holding power.
Flex Tip - Robust tip that guarantees precise pole positioning and an optimal grip on nearly any terrain.
Big Mtn Binding - Specially designed basket for touring with a short edge for adjusting bindings and a long edge for scraping icy ski skins.
Can be easily changed by hand.
Price: $190CAN / $129.95US
Colour: Black Petrol
Material: Aluminium HTS (Highest Treated Shaft) 6.5.
Weight: 260g / 9.2oz per pole

---
The North Face Alpine Polartec Full-Zip Hooded Jacket
When the weather turns cold you want a jacket that you can rely on The North Face Alpine Polartec™ 200 Full-Zip Hooded Jacket is one to consider. It has flexible four-way stretch, hem and hood adjustability, and is made from 100% recycled materials that are designed to be reused and repurposed at the end of their lifecycle. The drawcord at the hemline allows for adjustability and can be used to keep the chill away when the wind picks up. A great holiday gift for the eco-conscious and active adventurer on your gift list.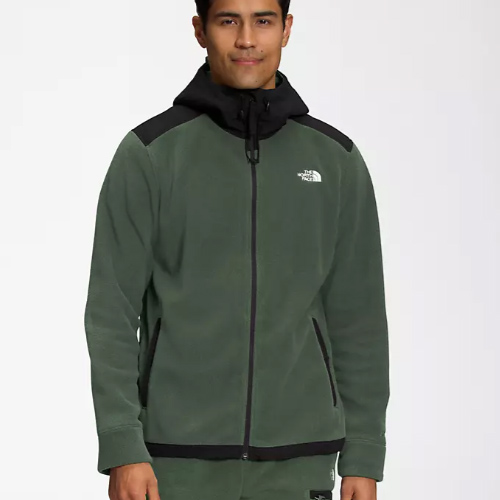 Features:
Standard fit
Designed for circularity—customers can get the product back to us to keep the adventures going
Body and overlay made with recycled polyester
Fabric has four-way mechanical stretch
Three-piece hood with woven overlays and a drawcord for adjustability
Reverse-coil center front zip with a zipper garage at upper neck
Secure-zip, welt hand pockets
Drawcord at hem for adjustability
Embroidered logo on left chest and back-right shoulder; co-branded Polartec® logo on left sleeve
Price:$174.99CAN / $126.99
Colours: Meld Grey/Tin Grey, Thyme/Black, Black
Sizes: S, M, L, XL, XXL

---
Marmot PreCip Eco Pro Jacket
Marmot's newest addition to their high performing PreCip line is the PreCip Eco Pro which features 20k/20k Marmot MemBrain® lamination with 3-layer waterproof/breathable fabric that repels water while reducing internal condensation. It has 100% seam taping for complete leak proof protection and uses a PFC-free water repellent coating that keeps you dry and minimizes environmental pollution. The attached hood comes with a drawcord hem for extra protection and comfort and the pit zips do a great job venting heat if you start to get too warm while exerting yourself. The Marmot PreCip Eco Pro Jacket is a great holiday gift idea for that person who loves being out in all types of weather.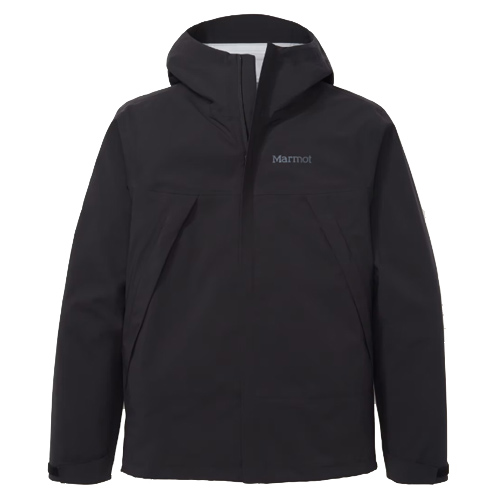 Features:
20k/20k Marmot MemBrain® lamination with 3-layer waterproof/breathable fabric repels water and reduces internal condensation
100% seam taped for complete leak proof protection.
PFC-free water-repellent coating keeps you dry and minimizes environmental pollution.
Attached hood with peripheral cord adjustment for extra coverage
Large pack pockets under a welt for protection
Zipper with storm flap and adjustable drawcord hem blocks drafts
Price: $185CAN / $150US
Colours: Dark Azure, Black, Foliage
Weight: 407g / 14oz

---
Gregory Rhune Pack
Gregory's Rhune Pack is an everyday adventure pack that's ideal for all season travel. It is available in a 20, 22 and 25L versions with each providing a comfortable way to carry those essential items you need. By utilizing recycled fabrics, Gregory was able to reduce the carbon footprint of this new pack by 51% - 57% (depending on the size). The Rhune also uses GRS-certified 100% recycled polyester fabrics throughout. The AirCushion mesh back panel provides unmatched ventilation and comfort through the innovative 3D structure that is comprised of 90% air. Features include an integrated shoulder harness pocket, top zippered quick-access pocket, an externally accessed laptop sleeve (22L size) and an interior accessed laptop and tablet sleeve (22L and 25L sizes). The Rhune's sleek, modern style means that there are no features you don't need and only those you do.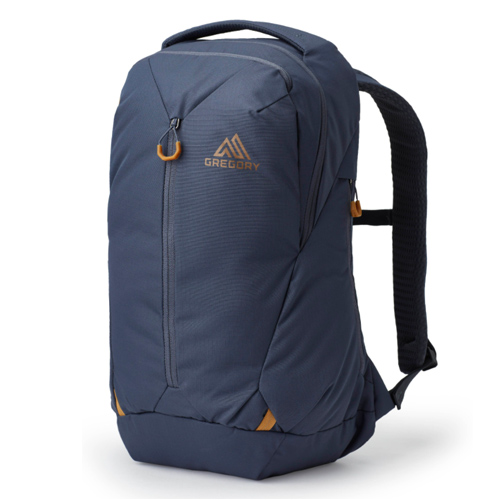 Features:
All fabrics made from recycled content, resulting in 57% reduction in the carbon footprint compared to a conventional nylon pack
AirCushion foamless backpanel provides true breathability, eliminates pressure points, and adds moisture-wicking cooling benefits
Digi harness pocket perfectly fits earbuds, transit passes, chapstick, and other daily essentials and keeps them secure and easy to access
Padded, contoured shoulder harness with removable sternum strap if you want to run the harnesses clean
Large panel loading zippered access to main compartment
Interior accessed laptop sleeve with adjacent tablet/folio sleeve
Front zippered compartment with interior mesh pockets
Interior mesh zippered pocket with pen slots
A top zippered quick-access pocket
Side exterior, swing-around-access stash pocket with key clip
Side stretch-mesh bottle pocket
Front reflective attachment loops
Padded top grab handle
Custom ComfortGrip molded zipper pulls
Materials:
External Material - 75% Recycled Polyester / 25% Recycled Nylon
Pack Body - 100% Recycled 300D Polyester Ripstop with PFC-Free DWR
Pack Bottom - 100% Recycled 300D Polyester Ripstop with PFC-Free DWR
Lining - 40% Post-Consumer Recycled 135D Polyester
Suspension - Lifespan EVA Foam & AirCushion Mesh
Price: $109.95US, $129.95US; $119.95US
Capacity: 20L, 22L, 25L
Colours: Carbon Black, Brick Red, Matte Navy

---
Jack Wolfskin Alpspitze Wool Long Sleeve Half-Zip and Wool Pants
Jack Wolfskin's new Alpspitze Wool Long Sleeve Half-Zip and Wool Pants are the perfect layer for backcountry skiing or other cold weather adventures. Merino wool is breathable, fast-drying, and keeps you warm even when damp so you get not only warmth but also optimal temperature regulation during all of your winter activities. It is also naturally antibacterial and odour-resistant so it's ideal for multi-day use or when you have to pack light. The Alpspitze Wool base layers are made of 87% Merino and 13% polyamide, this added polyamide helps keep their shape throughout the day and provide a little stretch in the fabric. The Alpspitze Wool Long Sleeve has a half-zip to help you dump heat when things heat up and the Alpspitze Wool Pants are 3/4-length which is ideal for wearing with ski boots, allowing your ski socks to be the only layer in your boots. Both the Alpspitze Wool Long Sleeve Half-Zip and Wool Pants are available in a men's and women's version.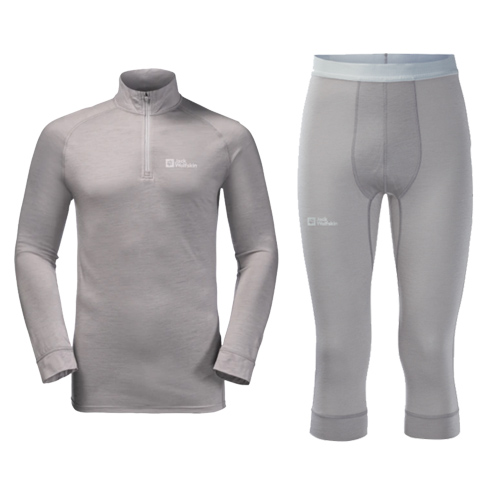 Materials:
Jack Wolfskin Alpspitze Wool Long Sleeve
Price: $149.95CAN / $119.95US
Sizes: S, M, L, XL, XXL
Colours: Colours: Grey Heather, Black
Weight: 155g / 5.5oz
Jack Wolfskin Alpspitze Wool Pants
Price: $119.95CAN / $89.95 US
Sizes: S, M, L, XL, XXL
Colours: Grey Heather, Black
Weight: 195g / 6.9oz

---
Shokz OpenRun Pro Mini
Most wireless earbuds fit in your ears and cut off exterior noise which can be a problem in urban environments or while running. This is where the Shokz Open Run Pro Mini headphones excel since they are Open-Ear headphones which use Bone Conduction Technology. That's right, these wireless sports headphones allow for total awareness of your surroundings in a bud-free design that provides comfortable listening. Most sound is transmitted through the air to our eardrums, however, bone-conduction headphones transmit sound through vibrations on the bones of the head and jaw. The sounds from these headphones bypass the eardrum and relay sound directly to the inner ear so you can still hear your surroundings.

The OpenRun Pro Mini is the lightest headphones to date in the Shokz lineup and are engineered with outstanding sound, a long-lasting battery, and a Quick Charge capability. This new "Mini" version uses a 0.83-inch shorter band than their standard size, making it ideal for smaller head sizes and for those who prefer a more snug fit. Their IP67 rating makes them completely sweat and waterproof for intense workouts and harsh weather and their 8-hour Battery Life has a 10-minute Quick Charge for up to 1.5 hours of battery life. Controls include play, skip, pause, and back-a-track, you can enjoy music, calls, audiobooks, and podcasts all day long. Powered by patented 8th generation bone conduction, Bluetooth 5.1, and PremiumPitch™ 2.0+, OpenRun delivers clear sound, powerful volume, and a rich bass.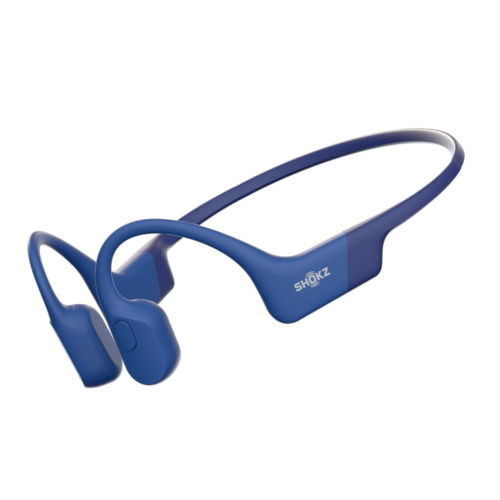 Materials:
8th Generation Bone Conduction Technology
Lightweight (26g)
IP67 Waterproof (Not for swimming)
8-Hour Battery Life + Quick Charge
2-Year Warranty
Price: $169.95CAN / $129.95US
Colours: Blue, Black

---
Ibex Woolies Tech Long Sleeve 1/4 Zip
Merino wool is always the best choice when it comes to base layers thanks to the fabric's ability to keep you warm when it's cold, and cool when it's warm, plus its built-in moisture wicking capabilities. Merino's natural crimp traps heat between the fibres while a hydrophilic core serves as an insulator, but since it's an active fibre it is also able to release heat according to your body's temperature. Merino is made up of naturally porous fibres which means it pull moisture away from your skin, keeping you drier. Ibex's new Woolies Tech Long Sleeve 1/4 Zip is made from their proprietary Pro-Tech fabric which was designed for high aerobic activities in cool and cold conditions. At only 180gsm, it maintains incredible warmth for its weight without overheating. Ibex added nylon to their Pro-Tech fabric for durability and a touch of elastane to maintain its shape for days. The Woolies Tech Long Sleeve 1/4 Zip also has built-in baste stitch thumbholes for optional use and a 1/4 zip neck to help you better maintain body temperature and the durable nylon core merino wool ensures maximum wear and tear over the long term.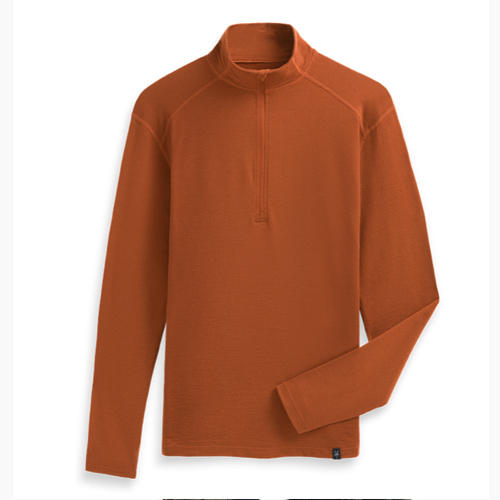 Features:
Nylon Core for Durability
Elastane for Material Recovery
Raglan Sleeve Allows for Extra Movement
Flatlock Seams Reduce Chaffing
Baste Stitch Thumbholes for Optional Use. Please note that once unpicked item cannot be returned
Thumbholes for Easy Layering Under Midweights and Gloves
Zip Neck for Body Temperature Regulation
Fabric Origin: Australia
Materials:
81% Wool, 12% Nylon, 7% Elastane
Price: $180CAN / $135US
Sizes: S, M, L, XL, XXL
Colours: Ginger Bisquite, Black, Deepest Red, Deep Ocean
Weight: 0.235 kg / 0.52lb (size S)

---
Kuhl Free Ryder Pants
Kuhl has always been known for designing well thought out apparel that is tough, durable, and beyond all else, comfortable. Their Free Ryder Pants are a classic and for good reason, they are equipped with Kuhl's innovative articulated knee design which provides more comfort and range of motion while on the move. They also have reinforced pockets and bottom cuffs which add to the Free Ryder Pant's durability while the Stealth Cell Phone Pocket is a must-have feature for anyone these days. Kuhl also uses a unique dying process that delivers a vintage, "lived-in" appearance as fading occurs over time. This is Kuhl's classic jean style that is timeless for any urban or mountain adventurer.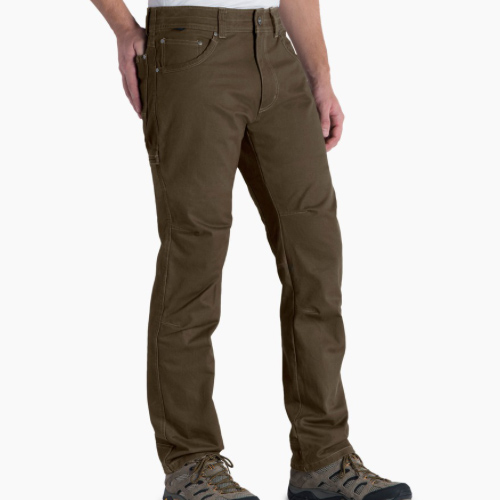 Features:
Articulated knees for freedom of movement.
Stealth™ Cell Phone Pocket.
Reinforced pockets and bottom cuffs reduce wear.
Gusseted crotch.
Double-needle bar tacks at critical junctions for added reinforcement.
Classic "five-pocket jean" style with coin pocket.
Tappered Fit - Tapers from the knee down for a more modern fit.
Enjoy the comfortable tapered fit of classic KÜHL men's work pants.
Materials:
98% Cotton, 2% Spandex
10.8 oz./sq. yd. | 365 GSM
Vintage Patina Dye - "Made to fade"
Price: $115CAN / $99US
Sizes: 28-42
Colours: Several

---
On a budget? Then
check out our Best Gifts Under $50
or our
Best Gifts in the $50-$100 price range
. If you want to spend a little more then there is always the
Best Gifts $200+
price range as well. Happy Shopping.