Highlining at Whitewater
Mia Noblet is at it again, or perhaps better phrased, still at it. Last time I wrote about Mia, she had broken the world record for longest highline walked by a female. Since then, she has crushed that record and not only holds the world record for females, but shares the world record for both male and female athletes after successfully walking a staggering 1.9km highline in Asbestose, Quebec.


Photo by Douglas Noblet.
Today's article is not about record-setting (though it does make for a good intro). Today's article is just about doing something unique, and about a community coming together to make a project happen. That project is, of course, a highlining project, whose backdrop is a wintery mountain scene, tucked away in the Kootenays.
The team consisted of Mia Noblet, Douglas Noblet, and Alex Landry, with support from Whitewater Ski Resort and Summit Mountain Guides. They strung up the highline in 3 different locations around the Whitewater ski area, two in popular backcountry zones, and one over an inbounds chute.
The sessions happened amidst a cold snap hitting temperatures as low as -16. The cold weather was not enough to shut the project down, and the crew was rewarded with beautiful weather.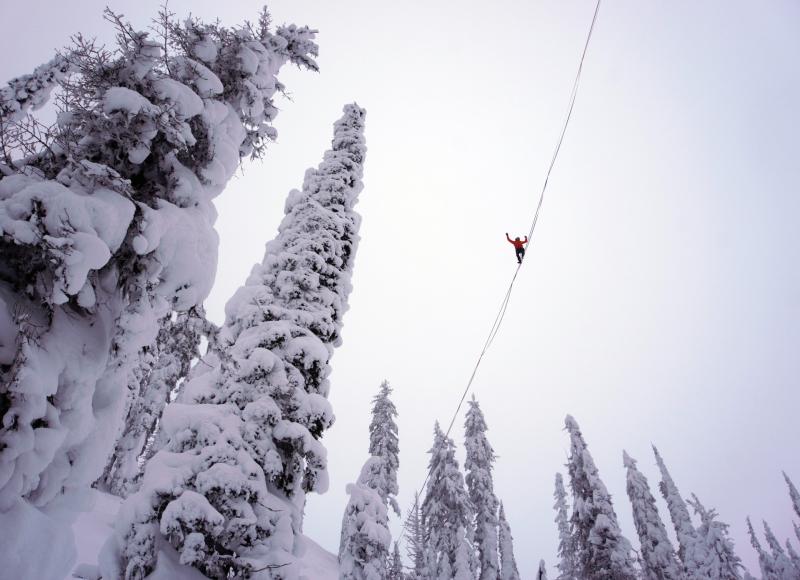 Photo by Douglas Noblet.

For more on this story, check out the article by Jayme Moye. You can also see more of Mia on her instagram page @mianoblet. For more content from the photographer/videographer Douglas Noblet, check out Wildair Photography @wildairphoto.