If your budget is limited have a look above in the under $50, and $50-$100 price categories to see what works. We're sure you'll find something that won't break the bank and that will make them super happy.
---
Gregory Targhee 32 Ski Pack
We did a video review of an earlier iteration of the Targhee 32 from Gregory. We loved it then, and now, since it has been further tweaked, we love it even more. The large version fits me perfectly and the pack comes in three sizes to accommodate anyone on your list. It's fairly low profile and has the cinch straps to adjust the volume. The top pocket is massive and works for more than just goggles.There's also a new insulated shoulder strap/ sleeve to stop your hydration program from freezing up. A lifesaver.
Find out more here.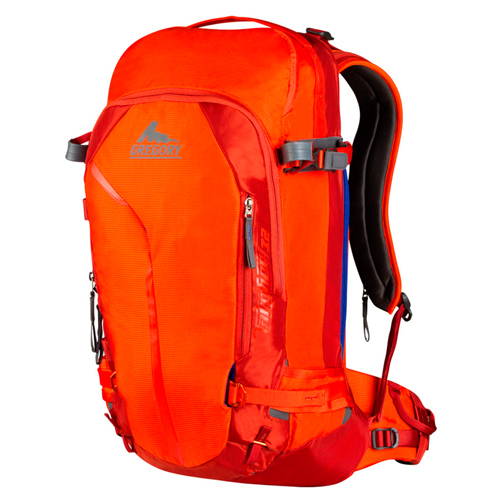 Price: $189.95
Colours: Orange, Black (with accents and without), Blue (with accents and without)
Volume: 32 litres (depends on size, large is 35L)
Weight: 1814g / 4lbs
---
Mont-Bell Plasma 1000 Down Vest
Know someone who's constantly cold? The Mont-Bell Plasma 1000 Down Jacket was a huge success and now they have created the Plasma 1000 Down Vest. Not quite as warm or as much money as the jacket, the Plasma Vest still utilizes the finest 1000 fill power goose down and gossamer 7-denier nylon (bet you didn't know that down fill even went that high? We didn't). The Plasma 1000 Down Vest is light and compact and built to keep your special someone warm all winter long.
Find out more here.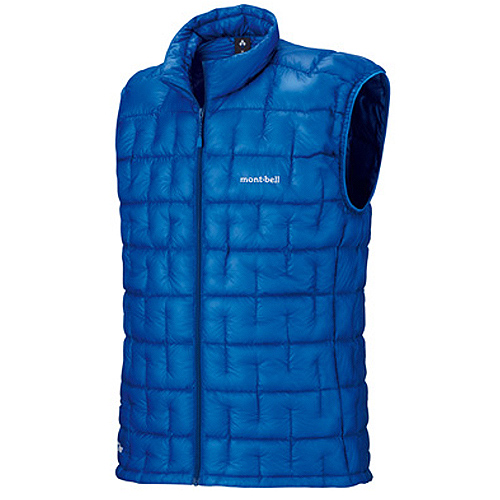 Price: $199 US
Sizes: S, M, L, XL
Colours: Primary Blue, Black
Weight: 89g / 3.1oz
Fill weight: 31g / 1.1oz
Insulation: 1000 Fill Power Down
Compressed size: 10 x 13cm / 3.9 x 5.1"
---
Keen Durand Polar Shell Boots (men's & women's)
Who doesn't want new winter boots for the holidays? Especially when they look this good. The Keen Durand Polar Shell Boots are available for him and her and are a warm-burly boot to protect you from winter's bite. They're also waterproof so you can wear them fall, winter and spring and know they'll take you pretty much anywhere.
Find out more here.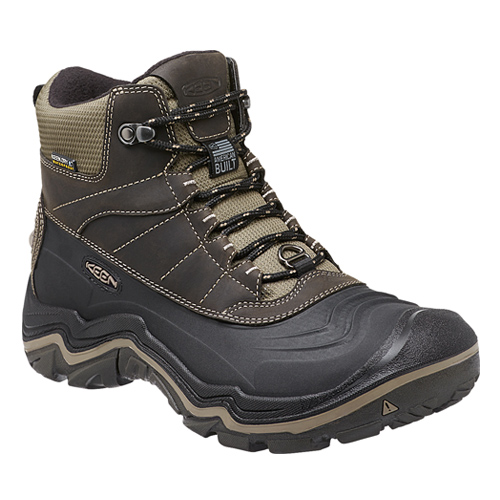 Price: $230 US
Sizes: 7, 7.5, 8, 8.5, 9, 9.5, 10, 10.5, 11, 11.5, 12, 13, 14, 15
Colour: Black Olive/Brindle
Weight: 587g / 20.7oz (per boot)
---
Arc'teryx Satoro AR Zip-Neck Shirt
Again, to please the women in your life. The indisputable quality and cachet from Arc'teryx. Standard merino tends to break down over time; not with the Satoro. It's made with a blend. Merino fibres spun around nylon core. All the best attributes we love from merino combo'ed with the resilience of nylon. A tall collar with a long zip means a wide range of temperature control. Heck, there's even a zippered pocket on the upper arm.
Find out more here.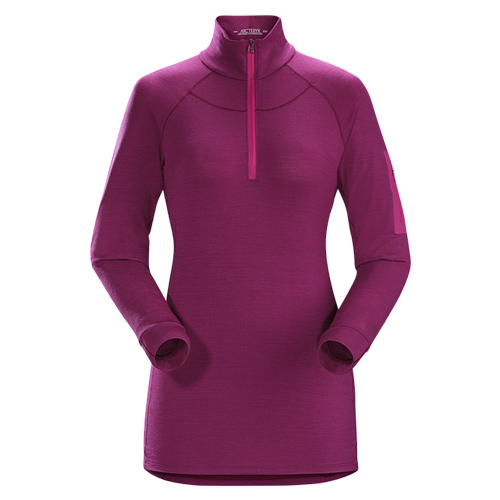 Price: $170 CAD
Materials: Nucliex™ STR - 180 Nylon Core Spun Merino - 81% Merino wool, 12% nylon, 7% elastane
Weight: 196g / 16.9oz
Colours: Black, redish, blueish, greenish (see site)
Sizes: XS, S, M, L, XL
---
Outdoor Research Skyward Jacket
Backcountry skier on your present list and looking for a jacket built specifically for ski touring? Then consider the Outdoor Research Skyward Jacket. It's built for the up and the down with OR's proprietary AscentShell technology, its electrospun membrane provides air permeability with a fully waterproof stretch construction. More comfortable and breathable breaking trail and protected shredding pow on the way down.
Find out more here.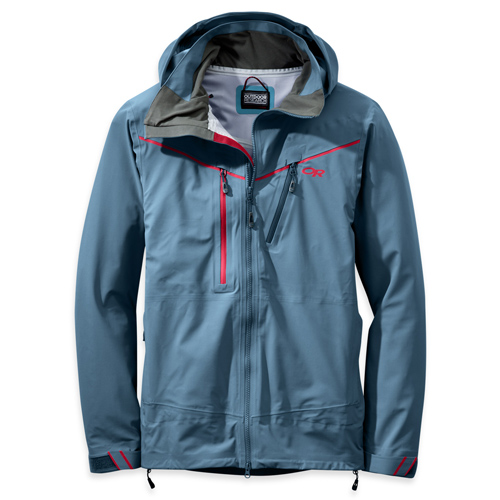 Price: $450CAN / $350US
Sizes: S, M, L, XL, XXL
Colours: Black/Tahoe, Hot Sauce, Vintage/agate
Weight: 735g /26oz
Fabric: AscentShell™ 3L, 84% nylon 16% spandex 70D stretch plain weave face with 100% polyester 30D knit backer
---
Exped DownMat WinterLite
Who says winter hut trips have to be cold adventures. Treat yourself to the Exped DownMat WinterLite Sleeping Matt, it's reported to be the worlds lightest mat at this warmth and comfort rating. It's incredibly compact when packed away and features a tapered shape that fits your body and your tent. It also includes the Schnozzel Pumpbag which helps you inflate it in a flash.
Find out more here.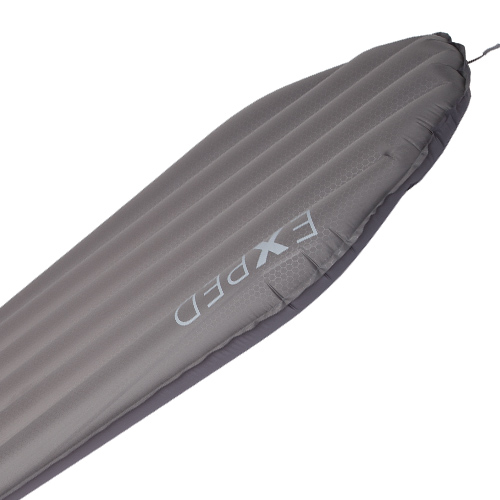 Price: $229 CAN / $198 US
Weight: 475g / 16.7oz
Dimensions: 9 x 183cm / 3,5 x 72"
Dimensions Packed: 22 x 11cm / 8.6 x 4.3"
Insulation: 700 fill power goose down
---
Falke 3/4 Merino Wool Base Layer Tights & Long Sleeve
Merino base layers are the Cadillac of base layers and Falkes 3/4 Merino Wool Base Layer Tights & Long Sleeve are no exception. Their 60% virgin wool, 37% polyamide, 3% elastane fabric is designed to be warm, flexible and anti-microbial. On the bottoms there are ventilation zones to dissipate heat at the back of the knee and on the 3/4 they are located on the armpit and inside of the elbow. Flexible zones are located at the knee, shoulder and elbows for maximum freedom of movement. If you haven't tried merino wool base layers before, give the Falke apparel a try, you'll be pleasantly surprised at how they perform.
Find out more here.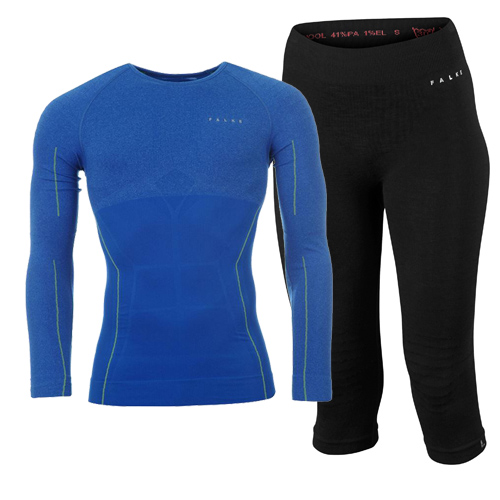 Price: 3/4 Tghts - $150.00 US / Long Sleeve - $130.00 US
Sizes: S, M, L, XL, XXL
Colours: Space Blue, Black
---
UVEX p.8000 Tour Helmet
More and more manufacturers are coming out with ski touring specific helmets--very good news. The latest offering from german-company UVEX features a special twist; the p.8000 is certified for biking, climbing and skiing. Perfect for those multisport days everyone likes to brag about. At 360g, it's light enough that you'll forget it's on. It also comes with an integrated RECCO reflector and a BOA closure system lets you dial-in your fit. Speaking of fit, the p.8000 runs a little small this year and it may not fit you if you've got a big noggin.
Find out more here.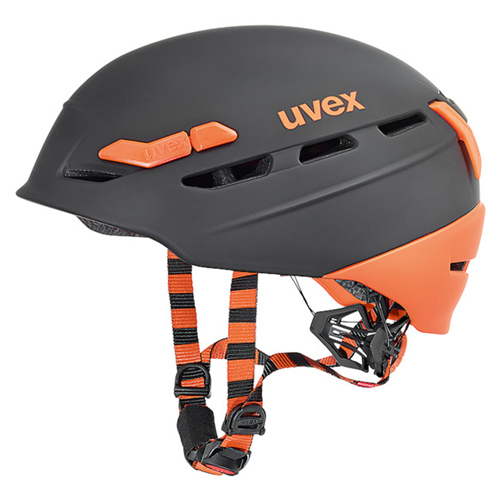 Price: $149 US
Weight: 360g / 0.66 lb
Colours: Black, orange
---
Peak Designs Everyday Backpack
Not everyone wants a technical pack for urban use and this is where the Peak Designs Everyday Backpack comes in. Accessibility, expandability, and organization are the key design principals behind this pack which is rugged and good looking. The Everyday Backpack uses patented MagLatches for fast top access, dual side-loading weatherproof zips, tuck-away straps, 2 expandable external side pockets, integrated luggage carry, configurable FlexFold dividers, internally padded accessory pockets and a dedicated sleeve for 15" laptop, tablet, and documents. The ultra clean aesthetic with minimal dangling straps is perfectly at home in the city and can do double duty on hikes in the mountains.
Find out more here.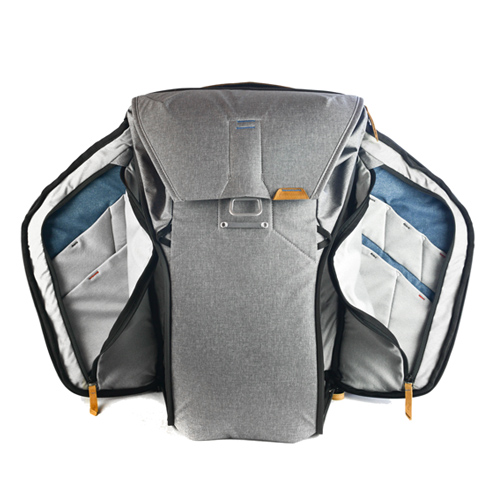 Price: $259.95 US (20L) / $289.95 US (30L)
Weight: 1350g / 2.9lb, 1542g / 3.4lb
---
Eddie Bauer Telemetry Freeride Jacket & Pants
Most ski apparel these days is waterproof and breathable but the Eddie Bauer Telemetry Freeride Jacket & Pants are also athlete designed and tested. World-class freeskiers, Drew Tabke, KC Deane, and Andy Mahre are the brains behind the good looks and functionality of the Telemetry Freeride Jacket & Pants. Some of the features they included are forward facing venting zips on the jacket for gathering air while going down hills, WeatherEdge Plus fabric, hip-to-knee vents on the pants along with articulated knees, and snow gaiters. Everything you need for that powder run at the resort or backcountry ski adventure.
Find out more here and here.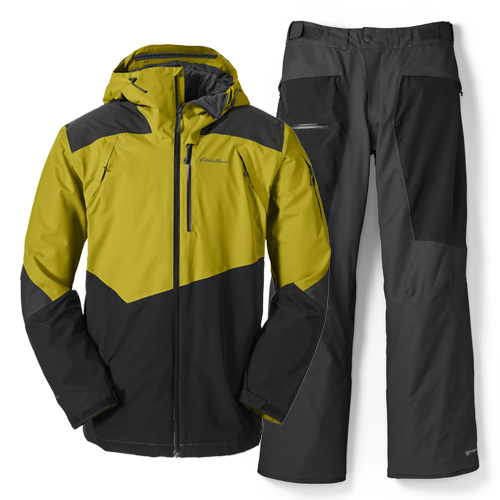 Price: Jacket - $379.00 CAN / $299.00 US, Pants - $299.00 CAN / $229.00 US
Sizes: S, M, L, XL, XXL
Colours: Jacket - Ascent Blue, Reed Yellow / Pants - Dark Smoke, Vibrant Orange
---
Helly Hansen Vor Glove
You know how you can come across some gloves that are so comfortable, you don't want to take them off? The Vor gloves are like this. Maybe it's the super buttery goat skin leather or the rodeo styling (whatever that may mean), the Vors are comfy wumfy from the get-go. Consider picking up a pair for a favourite brother, yer dad or a bud. They'll love them for après or mountain town wear—rather the uptrack.
Find out more here.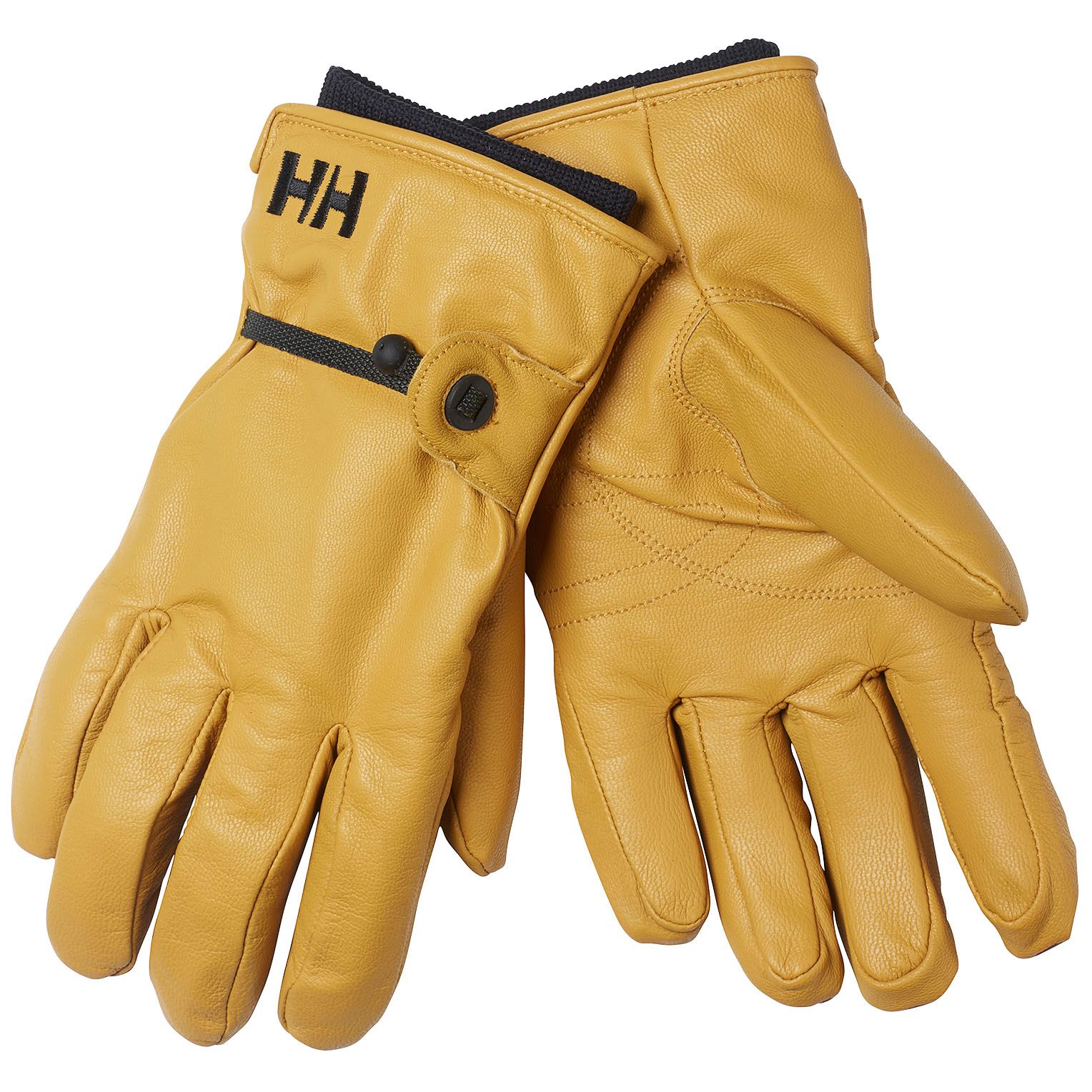 Price: $125 CAD/ $95 USD
Colours: Wheat, black
Sizes: XS, S, M, L, XL
Material: Water repellent goat skin leather
---
Sweet Protection Grimnir TE Helmet​​​​​​​
The Sweet Protection Grimnir TE Helmet is for someone who appreciates the finer things in life, since only the best materials and production technologies are used to create it. This Terje Haakonsen's Pro Model helmet is a pre-preg full carbon fibre helmet which takes days to produce and the price reflects this. The Grimnir TE Helmet is also equipped with MIPS, a technology that reduces rotational forces to keep your brain safe. Always good. This is one of the highest end and safest helmets on the market, don't you deserve that?
Find out more here.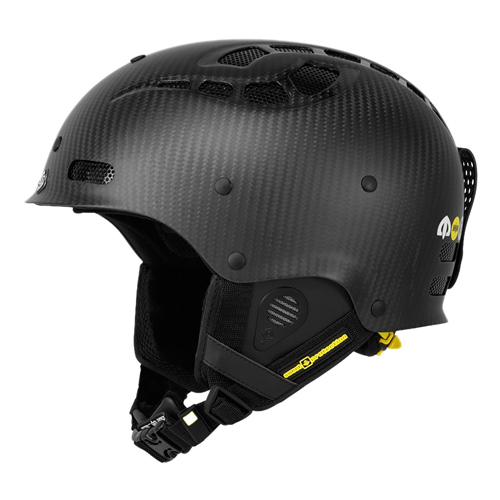 Price: $499US
Sizes: S/M, M/L, L/XL
Colour: White, Black
Weight: 600g / 1.3lb