The Hankin-Evelyn Model
Smithers' unique backcountry experience
After several years of winter road trips that followed the East-West highways (the most travelled being the white knuckle drive along sections of Highway 3), it was time to switch it up.
North.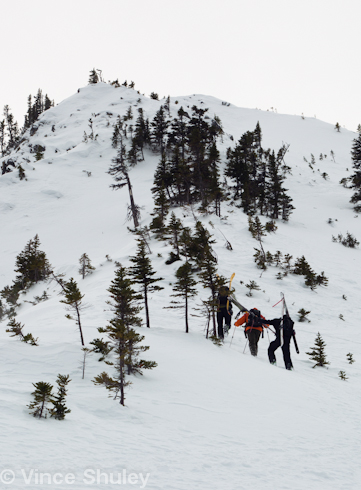 Having never travelled up the province further than Williams Lake, I've never truly grasped the extent of BC. There's a lot of mountains up there and once you pass Prince George it's only the beginning.
Smithers has had a burgeoning ski touring scene for the last few years, but a new addition to its backcountry offering is set to make it a mandatory destination for the travelling touring crowd. Hankin-Evelyn Recreation Area is unlike any other backcountry ski experience. There is a total of nine cut runs (seven on Hankin, 2 on Evelyn) all 20-25m wide, half the width of runs found in a resort ski area. This creates less impact on wildlife and keeps the runs sheltered from the wind.
The local visionary behind Hankin-Evelyn is Brian Hall, who for a man of 58 with a heart condition, moves rather fast up the skin track. He hatched the idea of a non-motorized, multi-use recreation area back in 2008. Today we are enjoying the fruits of his labour and that of all the other volunteers that made it happen.
"We've raised and spent over a million dollars in funding and labour on the project," says Hall.
"That includes over 1000 hours per year in volunteer hours."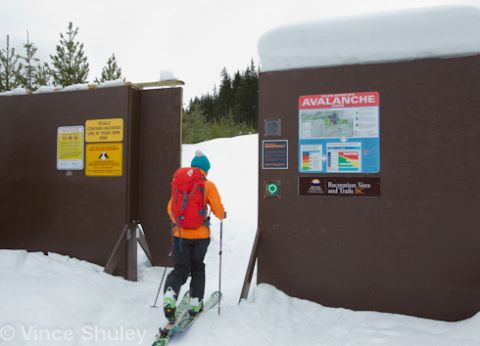 Help from the government was crucial to make a project of this size happen and Hall manage to time its execution rather well. With thousands of displaced resource workers in BC over the last decade, the Province has been willing help with the cost of employing forestry workers to cut trails for recreational use. It's win-win for everybody, including industry and the community.
As we walk through the entrance gate a permanent beacon checker flashes green, assuring us that our transceivers are working correctly. As Hall leads our group up the gentle terrain on the lower slopes of Hankin Mountain we pass several signs pointing to various runs. Signage like this is rare in the backcountry and together with an accurate trail map, makes the area accessible to anyone on skis, splitboards or snowshoes.
Signs pointing the way might seem like excess for the local backcountry purist, but it's a boon for those skiing in the area for the first time. Instead of bushwacking through tight trees you feel like you are touring up a resort run, minus the people. It's a refreshing backcountry experience.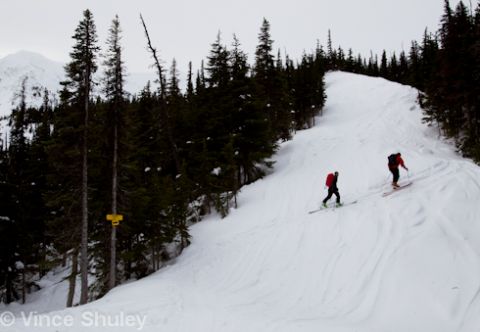 After about two hours of chasing Brian up the skin track we arrive at the warming shelter, just above treeline elevation. Only for day use, the hut has enough firewood to keep folks warm during days of inclement weather.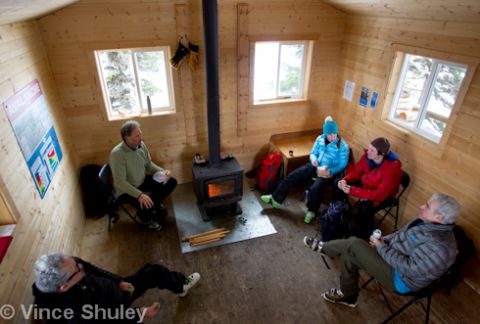 Above the hut is where the terrain starts to to get interesting. Long ridges, massive bowls and tight couloirs are all within reach of a short bootpack and skin. Unfortunately none of them are in very good condition today with little snowfall the last few days and fierce winds that have been cross-loading the chutes. We ski cautiously and grab a few shots anyway, already looking at our goals for our next visit.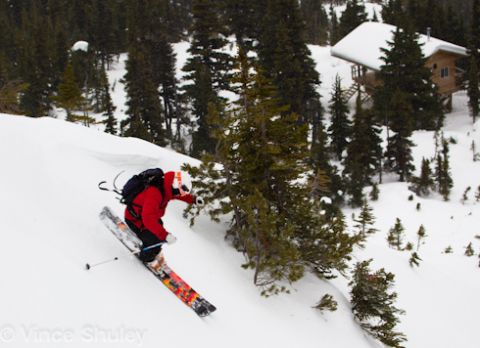 On the drive out from Hankin, on a road ploughed by a local rancher family and paid for by corporate donations, I start thinking about how such a simple yet effective model for a backcountry rec area could be adapted for the Sea to Sky Corridor. I'm not a visionary like Brian Hall, but hopefully others will follow his example.
For more information on the Hankin-Evelyn Recreation Area go to http://www.bbss.ca/hankin
Many thanks to Brian Hall for showing us his backyard and hosting us at The Stork Nest Inn in Smithers.