Salomon Quest Pro TR 110 Boots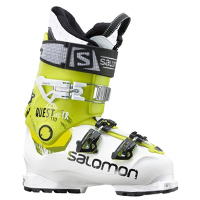 To fully appreciate the new Salomon Quest Pro TR 110 Alpine Touring (AT) Boot it is important to first know about its lineage and the evolution of Salomon's AT boots. Salomon's first AT ski boot, the Quest Max 120, was introduced in 2012 and while it had a walk mode and interchangeable tech soles it was heavy, weighing in at 4400 grams. After the K2 Pinnacle 130 this was the heaviest AT boot we had ever reviewed. In 2013, Salomon updated the Quest Max 120 and added a "BC" (standing for Backcountry) acronym to the name. While the Quest Max 120 BC was 400 grams lighter than its ancestor it still felt like a boot for side country laps and hucksters. New for 2014 is the Salomon Quest Pro TR 110 weighing in at a scant 3526g / 7.77lb (for size 26.5). The Quest Pro TR 110 shaves almost an additional 100 grams off the previous version's weight. While this places the Quest Pro TR 110 boot squarely amongst its competitors in the weight category the real story here is the overall design and comfort.
In addition to weight, range of motion is one of the most important factors in an AT boot. The Salomon Quest Pro TR 110 doesn't push any boundaries in this area but it does provide a respectable 47° of cuff rotation: 17° back and 30° forward. This provides adequate flex for skinning up hill and walking around the resort lodge. While the flex rating is lower than it's predecessors at 110 it still provides enough stiffness for aggressive advanced skiers. With three aluminum buckles and a 50mm power strap your foot is secured in place right out of the box. In addition, the Pro TR 110s come with a pre-shaped liner including an articulated heel which is designed to help eliminate hot spots. The liners can be heat molded to personalize the fit, but I found that even without molding the fit and comfort were adequate to hit the slopes. I did replace the stock foot beds with my custom molded SIDAS foot beds but this is a personal preference and something I do in all my boots.
The Pro TR 110s include interchangeable toe and heel sole blocks which allow the boots to be compatible with either tech or alpine DIN bindings. Since this is a backcountry site the first thing I did was swap out the alpine soles for the tech soles and as you'll read further down this was not the most intuitive process but once accomplished there was no looking back. This is a pretty unique feature for an alpine touring boot and widens the appeal of the Quest Pro TR 110 boots to alpine and backcountry skier. Being a backcountry skier primarily I installed the tech soles and simply left them in place as even my resort skis use an AT frame or tech bindings.
Lets take a 360° view, shall we?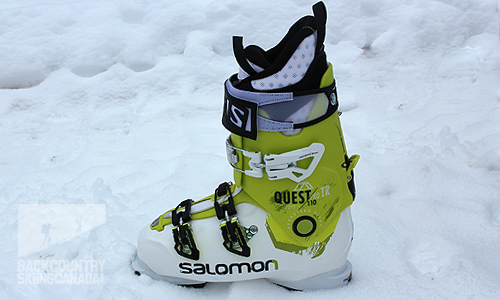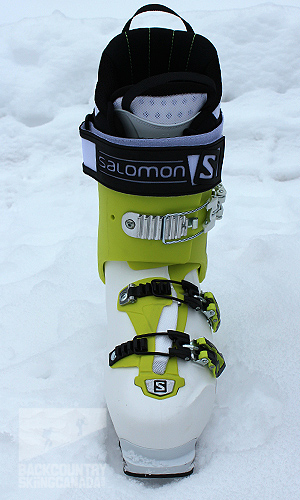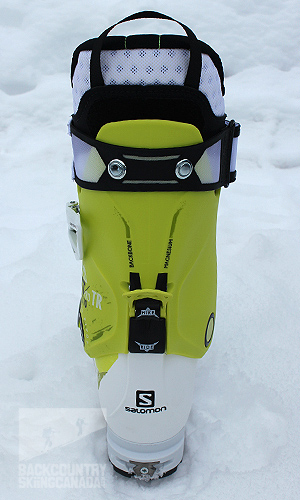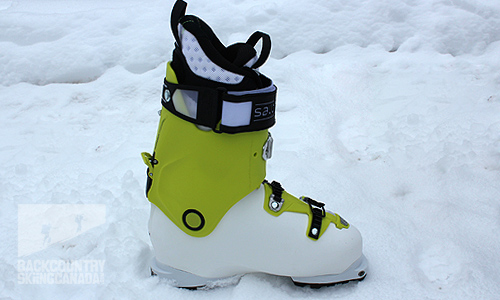 Features:
- Lightweight polyolefine shell and cuff.
- Buckles: 3 Micro Aluminum Buckles.
- Power Strap: 50 mm.
- Interchangeable tech and alpine compatible soles (tech-compatible walk soles plus mounted).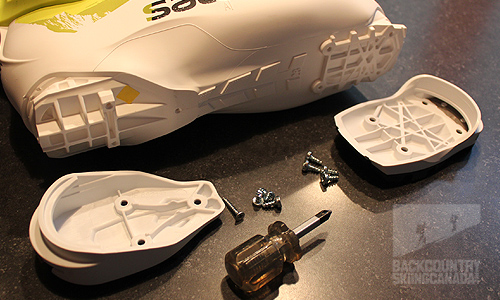 - Sole: Grippy rubber sole.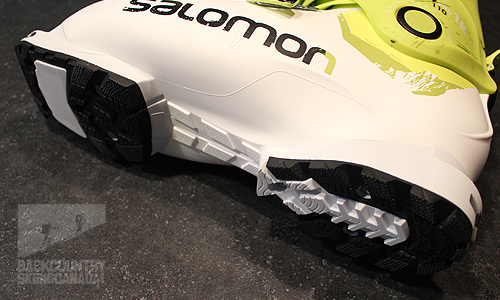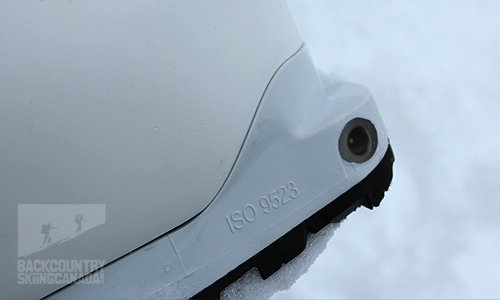 - Heat-moldable liner.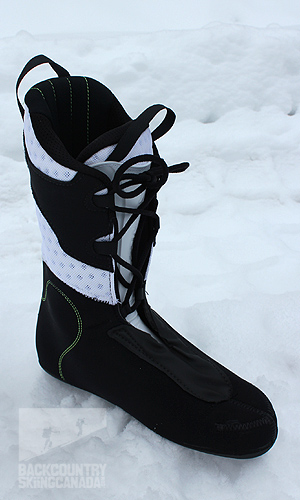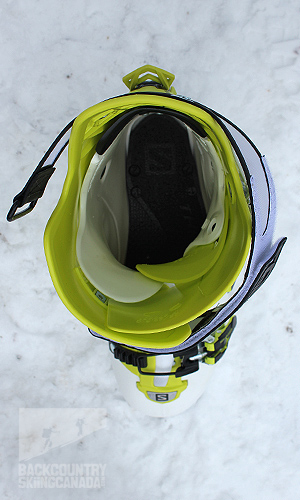 - Articulated Liner: Pre-shaped 3D Construction developed in Salomon's Annecy design centre, thermoform-able inserts around the ankle and heel solve instant pressure point and offer unmatched foothold.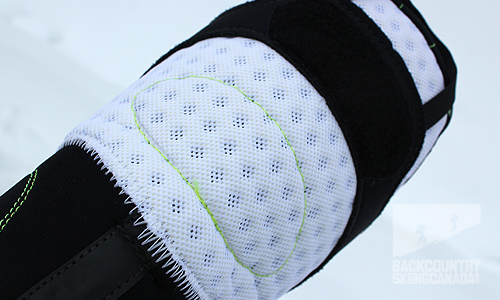 - Ski/Walk Mode: Ride & Hike Technology and Backbone Release allow you to walk naturally when released without giving up performance on the downhill.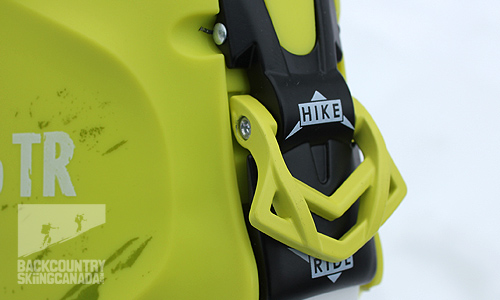 - 3D Buckle: Choose from 3 different positions of the instep buckle for maximum customization. The first tooth catches for touring mode.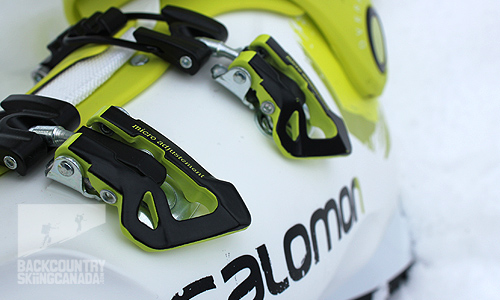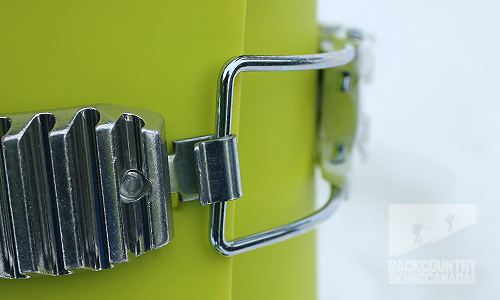 - Oversized 24 mm Pivot: Reduced play for extreme precision and direct power transmission.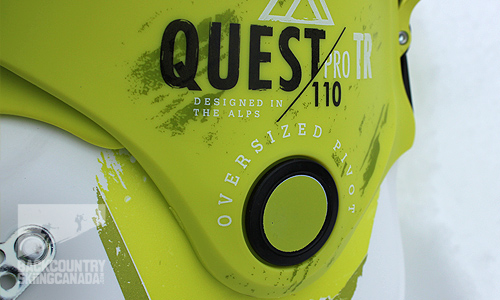 Verdict:
Salomon has come a long way with each new version of the Quest AT boots and so it's only natural that the Quest Pro TR 110 AT Boot is the best yet. On the plus side they are a little lighter (100 grams) and a lot more comfortable and warm thanks to the pre-shaped 3D construction of the liners which are also thermoform-able. The 110 flex rating is slightly less than the previous 120 but as I said above, this is still a stiff boot. When comparing this number across brands, remember that the manufacturer sets this value and, as such, it is subjective.
The Quest Pro TR 110 can easily drive today's big fat powder skis and the transmission of power from boot to ski is easily evident. While getting in and out of the boots may be more challenging than other brands the three buckles are large and easy to use, even with gloves on—as is the walk/ski mode lever on the spine of the boot. The soles (while not Vibram soles) provide good grip on slick floors and I found in my testing that snow build up was not an issue.
The swap-in / swap-out toes/heels provide the option to switch from a DIN alpine sole to that of an AT sole complete with tech fittings (a must these days!). Just a note of caution that the switch-over is not as intuitive as it could be. Be sure to remove the 4th screw at the end of the heel piece which appears to simply fasten the tech fitting to the heel piece. While it does do this it also anchors the heel piece to the boot shell so it must be removed in order to switch out the heel piece. While it's neither intuitive nor logical I see why Salomon designed it this way as it does provides needed support to the heel piece.
In terms of "areas for growth" there are a few minor grievances with the TR 110s some specific to this boot and some which are common to other AT boots as well.
- In walk mode the forward flex is limited unless you unbuckle the top buckle and release the power strap, while this is common with most AT boots there are some that provide exceptional flex fully buckled up such as the La Sportiva Spectre.
- The flex in ski mode is not as progressive ( a gradual flex instead of a solid hard flex) as I had hoped and, therefore, if you are not used to it you may experience some 'shin bang' after a long day lapping the resort while others who prefer a stiff boot may be quite happy.
- While the liners are easy to remove from the shells they are very difficult to put back in which means you are less likely to remove them in order to dry them.
- The power strap needs to have a Velcro-free place to grab it. As it is now, the Velcro goes right to the end of the strap making it hard to grasp and adjust, especially with gloves on.
Overall, after many backcountry and resort laps, I've found the Salomon Quest Pro TR 110 AT Boots to definitely be the best Salomon AT boot to date and I am excited by what the future will bring. Is there a revolution in the works? Me thinks so!
SPECS:
Price: $769 CAN
Weight: 3526g / 7.77lb (size 26.5)
Sizes: 24.5-31.5 in half sizes
Flex Index: 110
Cuff Rotation: 47˚
Last: 100
Warranty: 2 Years
PROS:
- Salomon's lightest and most comfortable alpine touring boot to date
- Great fit right out of the box
- Improved cuff rotation
- Much improved style and appearance
- Salomon is continually improving the Quest boots with each new version and this is no exception
- Interchangeable soles
CONS:
- Addition of Vibram soles and Intuition liners would be ideal, however this would increase costs
- At the higher end of the price spectrum for a comparable AT boot
- Powerstrap hard to undo since it is Velcro right to the end of the strap so there is no place to grasp it
- Difficult to get in and out of boot and also replace liner into the shell after removing
Rating: 8.5/10
Fit/Comfort       2/2
Cuff Rotation     1.5/2
Function            1.5/2
Weight               2/2
Quality / Price   1.5/2

Join the discussion in the forums here, and let us know what you think. People like/dislike gear for different reasons so chime in and we'll get a well-rounded evaluation.
Back to the rest of the reviews.
---