Salomon Quest Pro TR 110 Boots - Review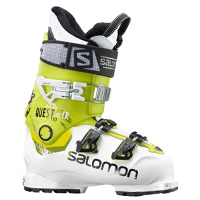 To fully appreciate the new Salomon Quest Pro TR 110 Alpine Touring (AT) Boot it is important to first know about its lineage and the evolution of Salomon's AT boots. Salomon's first AT ski boot, the Quest Max 120, was introduced in 2012 and while it had a walk mode and interchangeable tech soles it was heavy, weighing in at 4400 grams. After the K2 Pinnacle 130this was the heaviest AT boot we had ever reviewed. In 2013, Salomon updated the Quest Max 120 and added a "BC" (standing for Backcountry) acronym to the name. While the Quest Max 120 BC was 400 grams lighter than its ancestor it still felt like a boot for side country laps and hucksters. New for 2014 is the Salomon Quest Pro TR 110 weighing in at a scant 3526g / 7.77lb (for size 26.5). The Quest Pro TR 110 shaves almost an additional 100 grams off the previous version's weight. While this places the Quest Pro TR 110 boot squarely amongst its competitors in the weight category the real story here is the overall design and comfort.
Read the full review of the Salomon Quest Pro TR 110 Boots here.