The toe piece of the Marker Kingpin has six springs instead of the traditional four which theoretically provides better energy absorption and contact pressure with your ski boot. In addition to this Marker took a page from G3's thinking and added in adjustable boot stops to make getting into the Kingpin super simple. This is one feature that I no longer want to tour without, it changes the game completely. All you have to do is watch a new Fritschi Vipec user struggle to align their toe pins and you'll be able to make light of their rookie moves all day long. The pivot point on the Kingpin toe is also further forward than on other tech bindings, which is meant to allow for a more natural foot roll.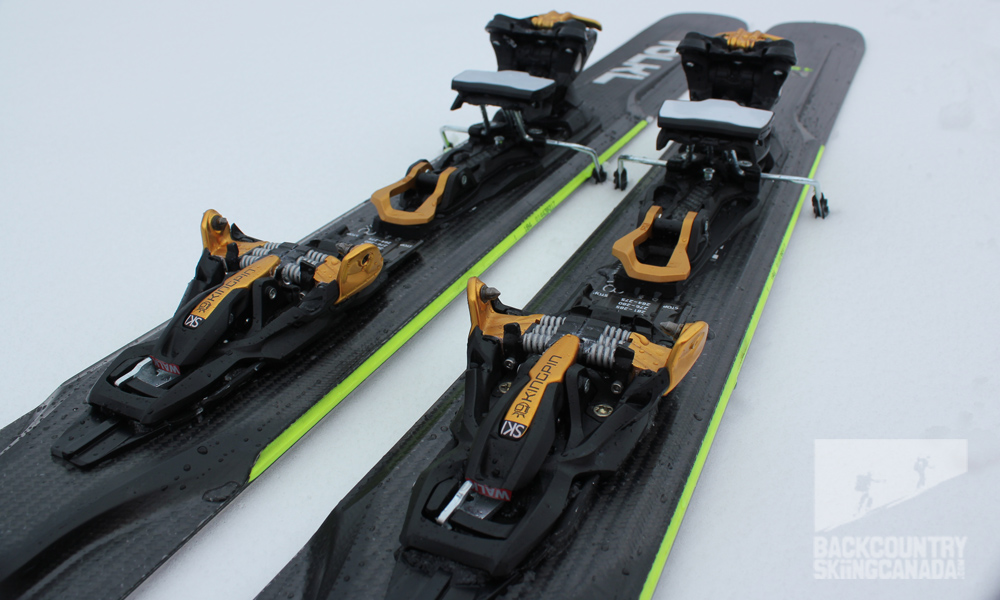 In terms of the heel piece, the Kingpins are comparable to the Marker F10 and F12 frame bindings heel piece only without the frame. The entire heel piece slides back and out of the way when you pull the lever to go into tour mode. On the Kingpin the materials have been upgraded and carbon and hot forged aluminum are used. The heel has three climbing positions 0°, 7° and 13° and they are easily engaged with a ski pole and neatly tuck out of the way when not needed. The brakes need to be stowed manually as you switch to tour mode but when you switch back over to ski mode they unlock automatically due to their spring loaded design. The big news with the heel piece, however, is that it's DIN certified and has side release capabilities. Once the heel releases the toe follows suit and visa-versa. In addition, because the heel is so 'alpine-like' it has greater power transmission to the ski than a typical tech heel piece. Your ski boot is cradled at the outer edges rather than in the centre like with tech pins, so the leverage on the ski is that much more effective. (Please note that the binding tested and in the photos is the adjustable rental-demo version but it performs identical to that of the regular Marker Kingpin.)
Lets look at the riser positions of 0°, 7° and 13°.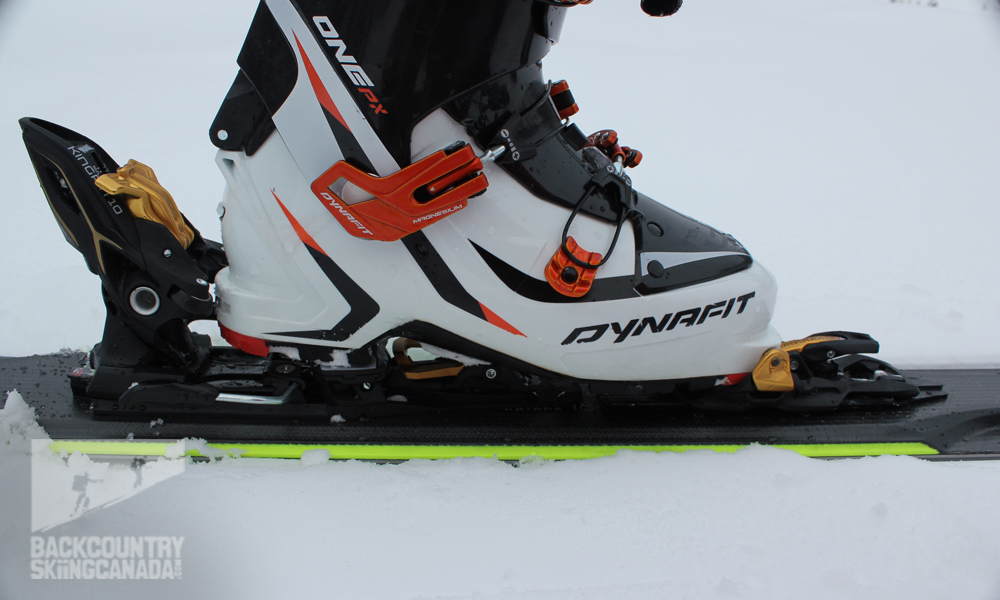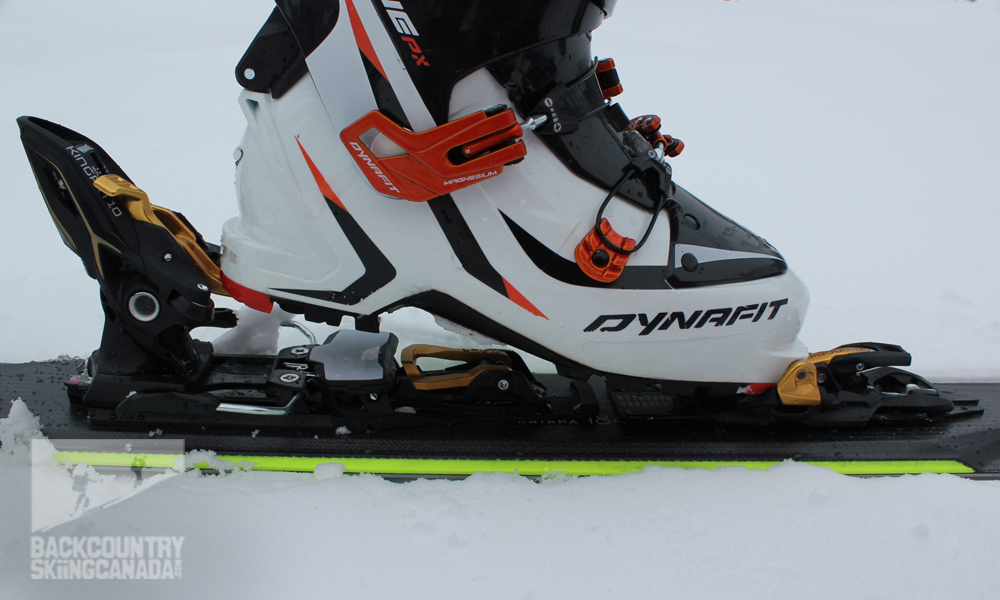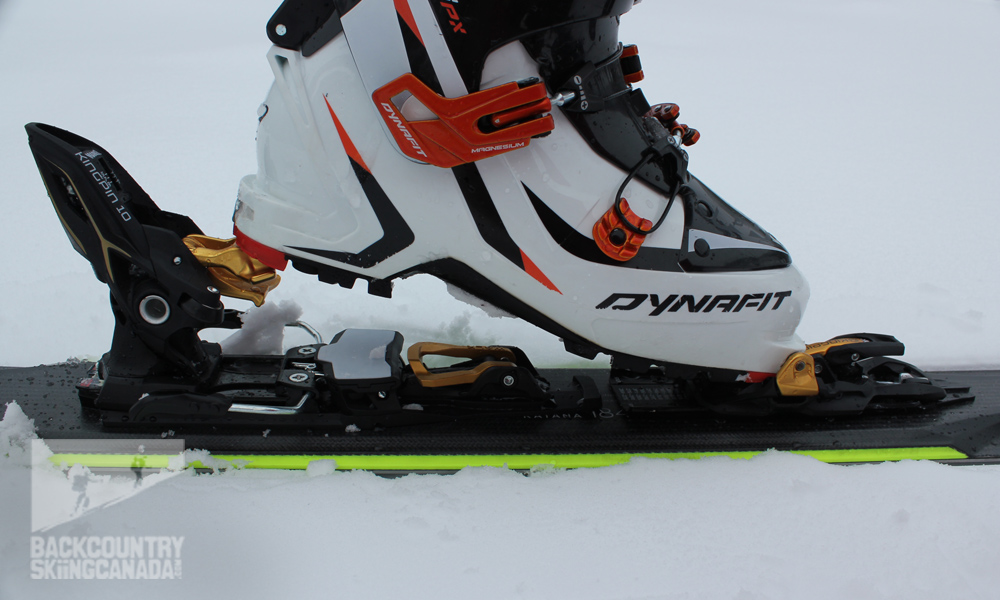 Features:
- Carbon rails and hot forged aluminum parts made by DMM (makers of respected climbing gear).
- Step-in toe has individually adjustable boot stops to work with all ski boot styles.
- Pivot point is pushed toward the toe to let the foot roll naturally.
- Six steel springs offer great energy absorption and contact pressure and have high compression value.
- XXL Power Transmitter heel has contact points that are wide and far apart, so it holds the boot heel along the outer edge for direct power transmission to your ski.
- Brakes are self-locking in walk mode and enage when you switch to ski mode. Brakes are also removable.
- Release function is comparable to alpine bindings. Side release occurs at the heel. Toe releases when the heel does.
- 3-position heel lifts operate with poles 0°, 7° and 13°
- Compatible with all ski boots with DIN ISO PinTech inserts. You don't need tech fittings at the heel, but the ledge at the heel needs to be a standard ski boot shape or you'll need an adapter.
- Awarded TUV DIN certification.
- Adjustable DIN ISO setting.
- Integrated crampon adapter slides onto the toe piece without stepping out of your skis.
On the toe piece 6 springs are always better than 4.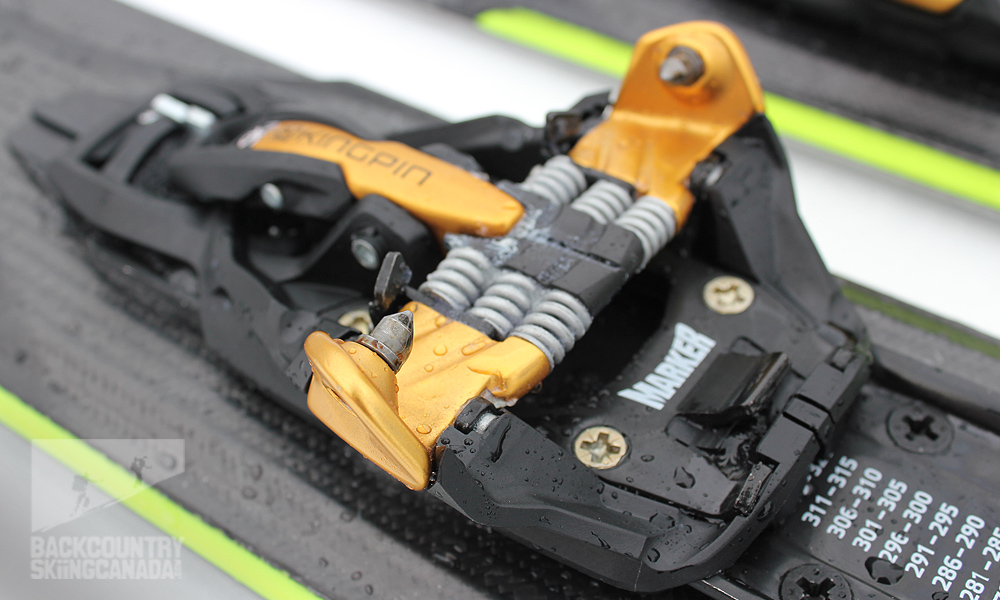 A close up of the boot bumpers which make hitting the pin alignment bang on an everyday occurrence.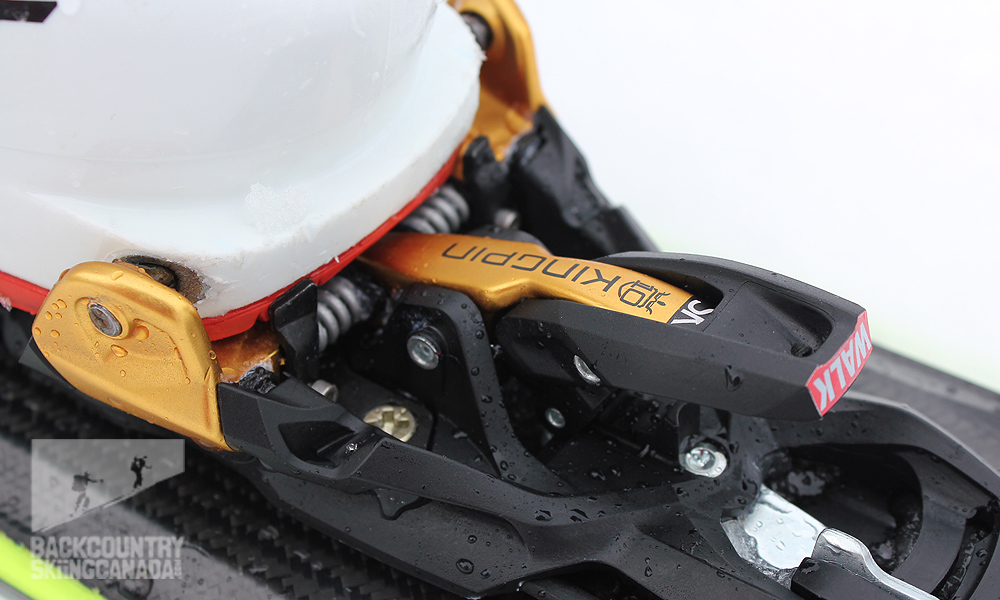 Full 90° pivot for those really big strides.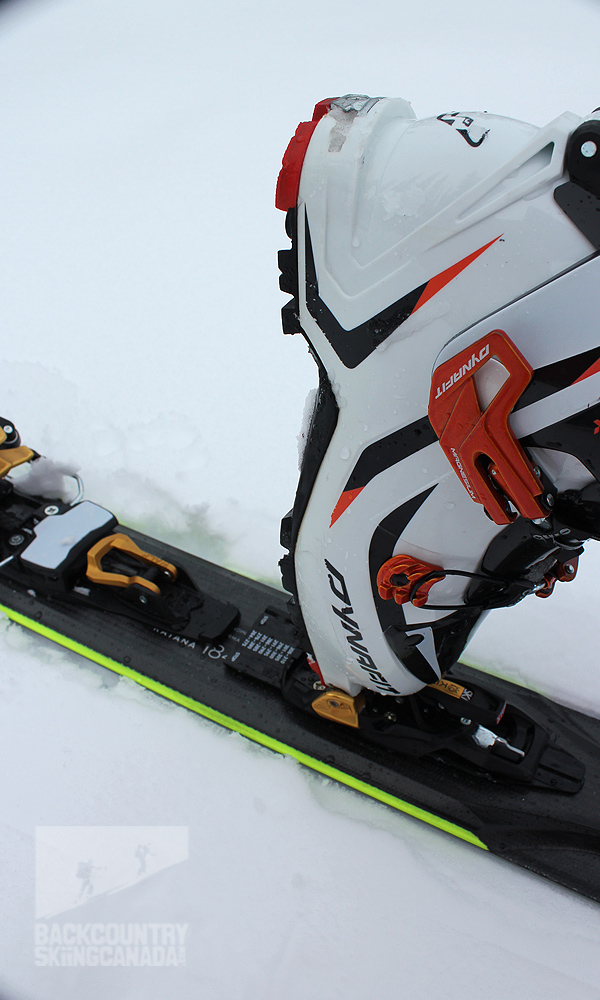 On the heal the release is aided by the rollers which reduce friction.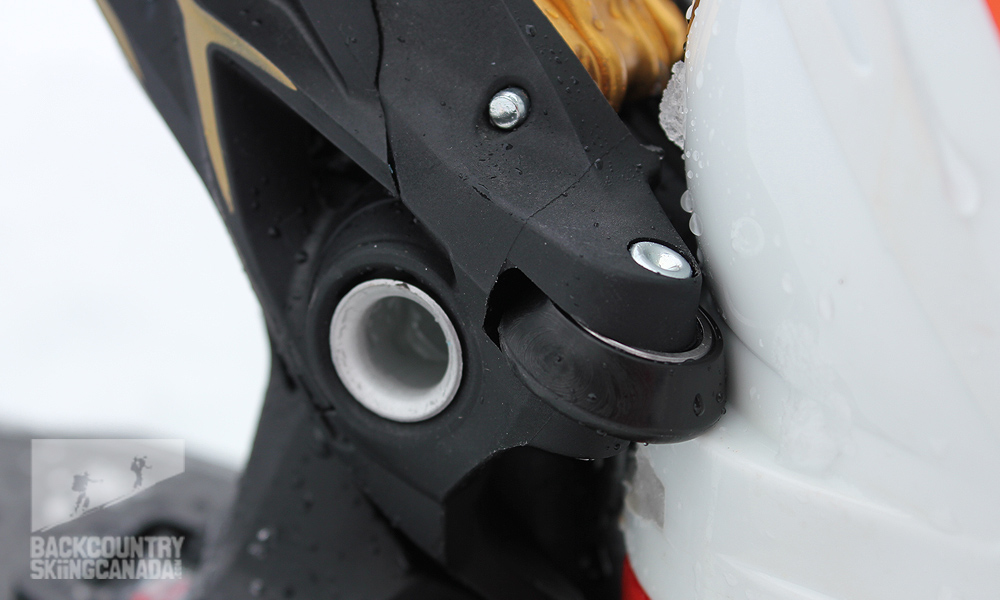 Sliding brake pad further reduces friction when you need the binding to release.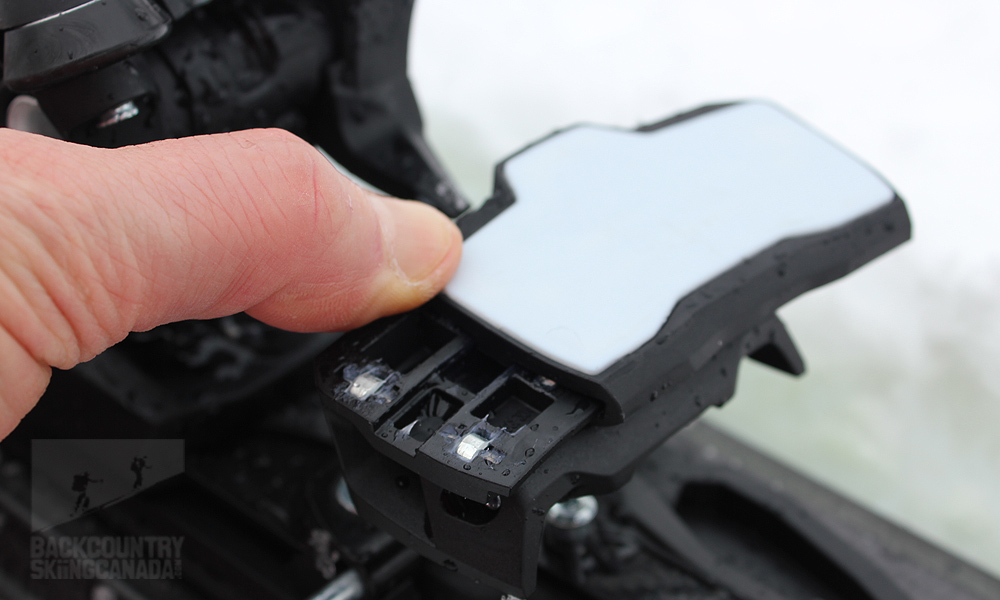 The brakes auto-lock when you step in while in tour mode and are held securely.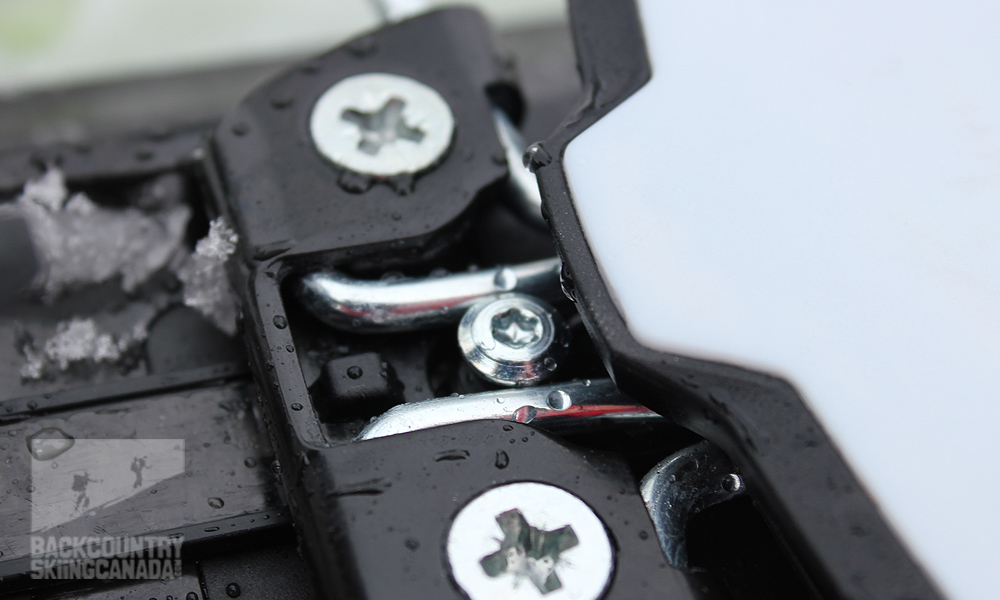 The lever that slides the heel piece back and out of the way is solid and smooth to operate.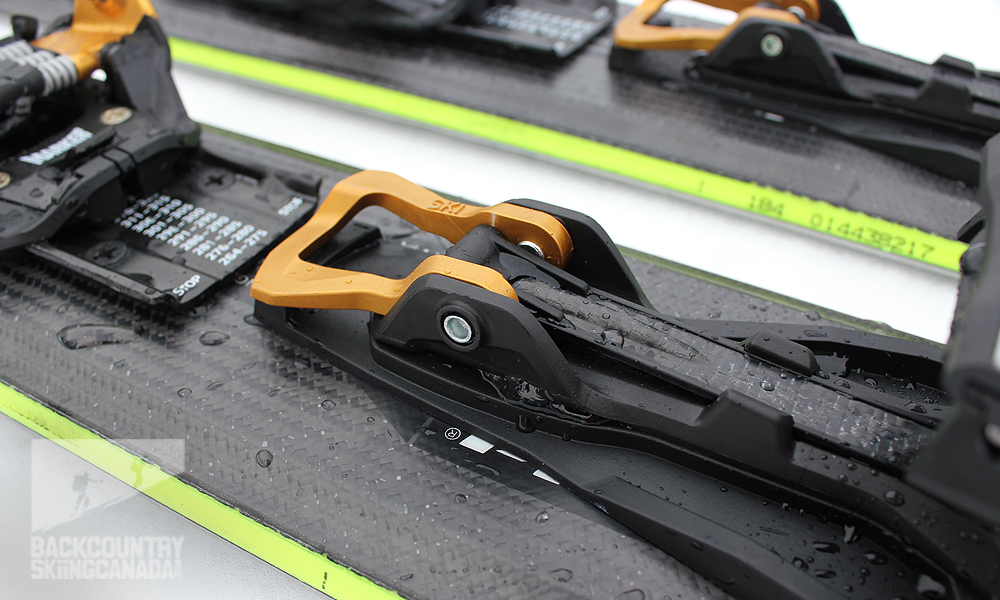 Verdict:
I decided to mount the Marker Kingpin on the new Volkl Vwerk Katana Skis (which I reviewed over here) and since Volkl only recommends a Marker binding on the Vwerks it seemed like a good pairing. I was initially worried about the use of the Kingpin as more of a resort binding than touring set up (I anticipated its use to be 75% resort / 25% backcountry on these skis). My local resort typically gets heaps of pow days and I wasn't sure how easy it would be to step into the tech toe piece with a lot of fresh snow. Luckily the boot stops on the toe piece work as advertised and it has never been an issue. The two small protrusions in front of the toe pins stop your boot from over shooting the toe pins and thus make aligning your boot properly a snap. Another concern raised by others skiers enquiring about the new Kingpins where how they held up to in bound skiing since it is typically more frequent and not as soft and forgiving as the backcountry. As I suspected the durability of the Kingpin bindings was not of concern and they performed flawlessly in bounds as it did out of bounds.
With tech binding weighing an average of 400-700 grams per binding and frame bindings averaging 1100-1500 grams the Marker Kingpin is a very respectable 730 grams. It's more comparable to a tech binding weight than that of a AT frame binding. So much so that on the skin track you can barely distinguish the difference. Given the full alpine like heel piece and additional two springs in the toe the Kingpin skis much more like a alpine binding than a resort binding,… notice I didn't say AT frame binding there. I found that the Kingpin skied far better than any AT frame binding I have ever tested and if I didn't look down I would swear that I had a pure alpine set up mounted on my skis.
Transition from tour mode to ski mode or visa-versa is even more straight forward than pure tech bindings, it's more similar to switching over on a Marker F10 or F12 binding. This is because it operates essentially the same way. The heel piece is moved laterally back and out of the way for tour mode and then conversely moved forward for ski mode. This is an easy move to perform with skis still on (unlike the Marker F10 and F12 bindings) since you can release the heel of your boot and still have the toe of your boot secured with the tech pins. This allows you to free your heel should you need to skate ski for a short distance on the flats between descents with out skins on.
While in touring mode the two riser positions were easy to initiate and stowed out of the way when not required. Unlike Dynafit or G3 tech bindings the Marker Kingpin risers can both be flipped at the same time to go into 'high-heel' mode if needed and bypassing the lower riser altogether—a nice time saver.
So did Marker succeed in combining the best of a tech binding with that of the AT frame binding? You bet. Marker has defined an entirely new segment of the market and one that has a place in my ski quiver. Try them. Period.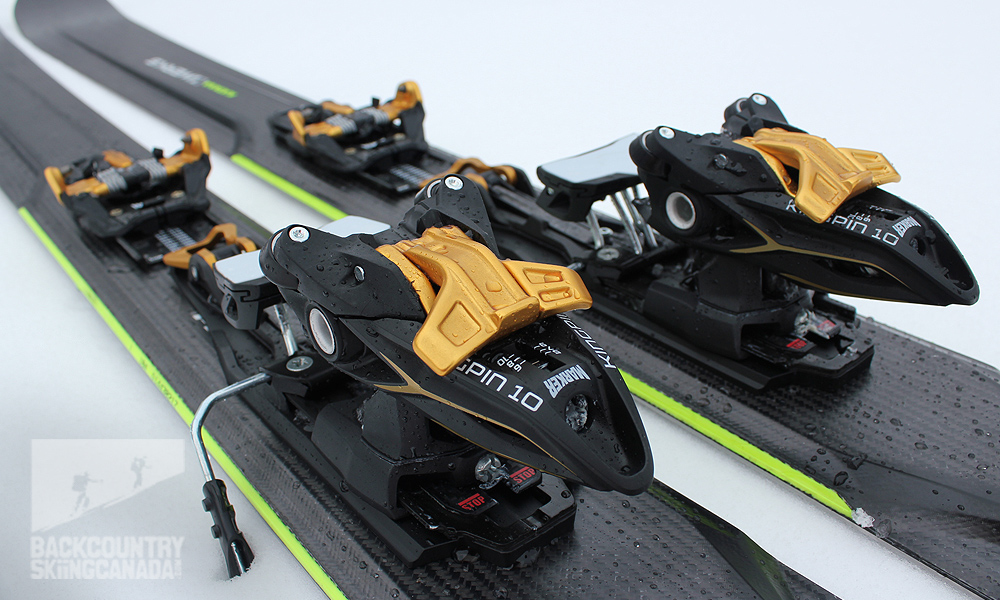 SPECS:
Price: $645 CAN
Weight: 730g / 1.6lb (single binding)
DIN: 5-10; 6-13
Brakes: 75-100, 100-125mm
PROS:
- Heel side release
- DIN ISO Certified tech binding by the TUV Testing Organization
- Six springs in the toe piece
- Toe guides for easy alignment of tech toe pins
- Tough enough to ski the resort, light enough for big ski tours
CONS:
- Not a light as a pure tech binding but still plenty light
- Small learning curve with transitions
Rating: 9/10
Ski/hike performance 2/2
Transition 1.5/2
Durability 2/2
Weight 1.5/2
Quality / Price 2/2

Join the discussion in the forums here, and let us know what you think. People like/dislike gear for different reasons so chime in and we'll get a well-rounded evaluation.
Back to the rest of the reviews.
---