Fast forward three years and the V-Werks Katana Skis have now replaced the very popular (regular version) Katana skis which are no longer being produced. This V-Werks version is considerably lighter (and more expensive) thanks to all that carbon. The lightweight wood core has channels milled out of the bottom for additional weight savings. Typically with weight reduction in a ski, performance is sacrificed but not so with the Katana V-Werks (more on this in the verdict). The layup is composed predominantly of carbon fibre surrounding a wood core. This season, Volkl is using a carbon fibre and Titanal combo in the core to improve torsional rigidity and reduce weight. As you likely already know, carbon offers an incredible strength to weight ratio but it also adds stiffness to boot. Carbon fibre infused with Titanal makes a ski stiffer and stronger than just carbon alone and lighter than just Titanal on it's own. All these fancy materials do have an impact on price however and the Volkl V-Werks Katana Skis retail just shy of $1200 CAN so you have to have deep pockets or simply an affinity for the best money can buy.
The flex pattern of the V-Werks Katana Skis provides a large sweet spot given that the tips are minimally softer than the tails. Poplar is used in the tips and tails while Ash (which is denser) is found under foot to provide a solid platform for binding mounts and ensure a binding pullout is not possible. Volkl recommends that only Marker bindings be mounted on the V-Werks and luckily their new Kingpin tech bindings are now available as they provide a lightweight tech touring option. They just happen to look pretty spectacular together as well.
Lets have a look at the overall shape shall we? Notice the subtle full rocker from tip to tail.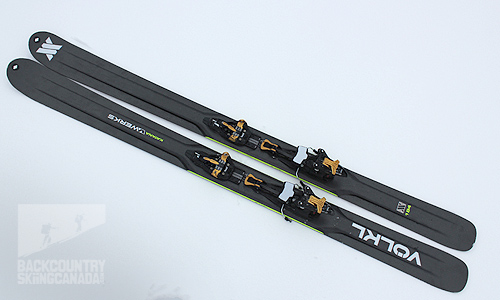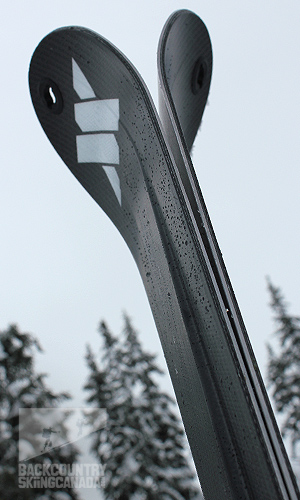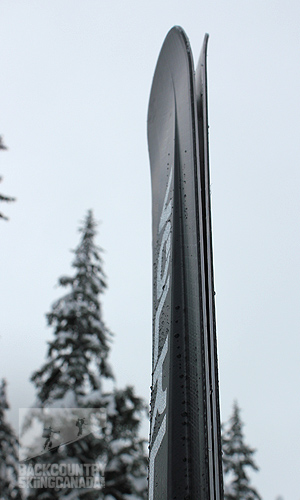 A close-up look at the tips and tails now.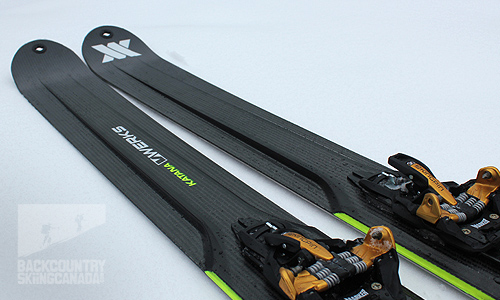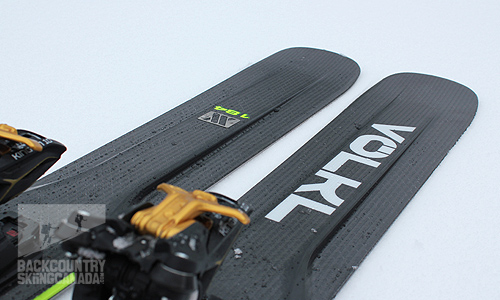 At 112mm underfoot the 112mm underfoot the V-Werks Katana Skis are fat but not too fat.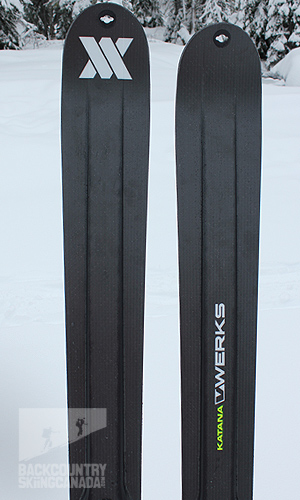 Features:
- 3D Construction
- Full Carbon Jacket
- Multilayer Woodcore
- Full Rocker
- Skin Pin System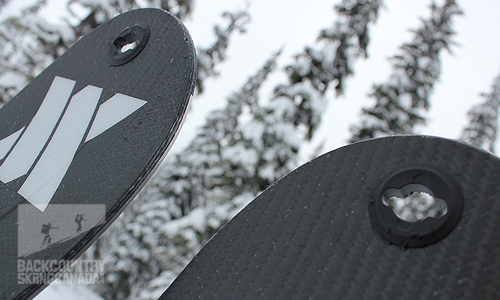 The profile of the Vwerk Katana is super thin but the carbon lay up and thicker spine provide incredible torsional strength.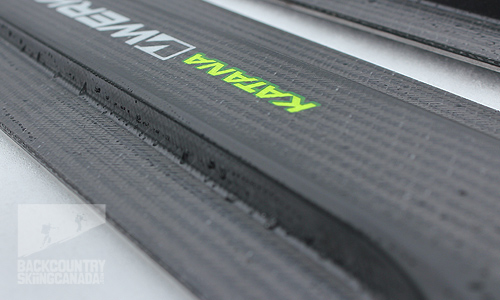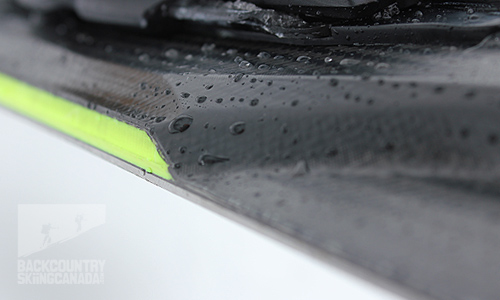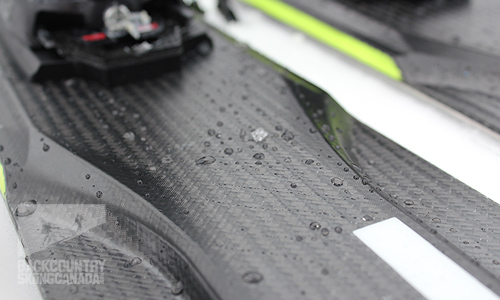 Carbon, carbon everywhere, so beautiful and functional.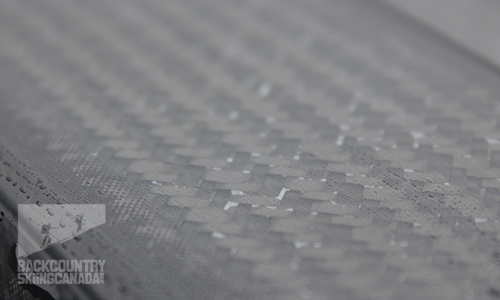 Verdict:
As you have no doubt already guessed I'm a big fan of the Volkl V-Werks Katana Skis and I hold no grudges from my first encounter. Instead, I have welcomed them back with open arms and have a renewed respect for just how versatile this ski really is. I've been trying to find a fault with the V-Werks and have been testing them on groomers, crud, pow, chop, corn, in the trees, bumps, steeps, flats… so far they have excelled in every condition and on every terrain.
At 112 underfoot they are surprisingly easy to put on edge and hold there. Most of this is due to the torsional rigidity which is impressive for such a wide, light ski. Their swing weight is crazy light, turn initiation is effortless (again given the dimensions of this ski) so pounding the bumps or nimbly dancing through the trees is a joy. The edge hold on groomers is better than any ski I have ever been on, even in icy conditions. They're fast, powerful and so smooth at carving a turn. Both short and long radius turns are no problem for the V-Werks and the stability is unmatched. In crud and chop it feels like there isn't anything to fight through as the wide shovel busts through it all, keeping you on course and surprisingly stable. When it comes to deep powder it's obvious these skis will float and given their long early rise the tips never dive.
This is truly a quiver-of-one ski for both resort and touring folks alike.
Since my first test run on the Volkl V-Werks Katana Skis at the SIA show three years ago I have learned how to tame this ski in order to prevent further injury… but now I am not sure I really want to? After all, what's the sense in owning a Porsche Boxter if you don't redline it daily?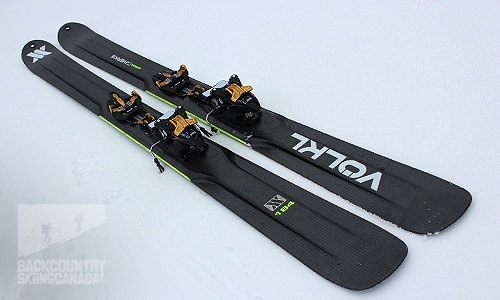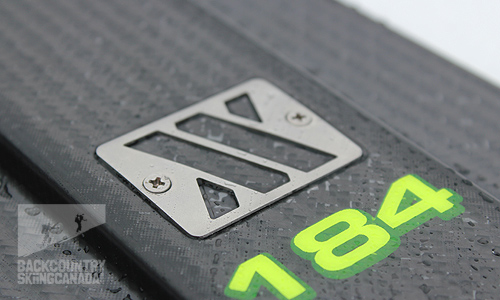 SPECS:
Price: $1199.99 CAN
Lengths: 177, 184, 191cm
Dimensions: 142 / 112 / 132mm
Weight: 3680g / 8.11lb (size 184 pair)
Radius: 23.5m
PROS:
- Super light considering how fat this ski is
- Carves like a race ski on groomers
- Quick easy turns in all conditions
- Floats well in deep pow
- A fast hard charging ski
- Looks like a million bucks
CONS:
- Expensive (but quality is not cheap)
Rating: 9.5/10
Powder Performance   2/2
Groomer Performance 2/2
Stability                      2/2
Weight                        2/2
Value                          1.5/2

Join the discussion in the forums here, and let us know what you think. People like/dislike gear for different reasons so chime in and we'll get a well-rounded evaluation.
Back to the rest of the reviews.
---