Marker Kingpin Bindings - VIDEO REVIEW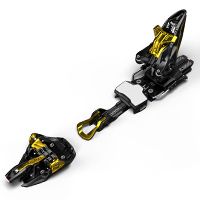 The Marker Kingpin is a binding whose time has come. Frame alpine touring (AT) bindings are heavy, cumbersome and don't provide a natural stride when climbing. They do, however, offer a lower price point for prospective backcountry skiers especially when you consider you don't need a tech boot. Frame AT bindings also provide a safer release over tech bindings. Tech bindings, on the other hand, are much lighter, typically a quarter of the weight. They also provide a smooth, natural stride when skinning. So why not combine the best features of both bindings into one? That's the thinking behind the Marker Kingpin Binding. Marker essentially took an F10/F12 Tour heel piece and paired it with a traditional tech toe piece. I say 'essentially' as both the heel and toe piece are anything but run of the mill stock components, each has been redesigned from the ground up over several years.
For the condensed video review have a watch below:

Or read the complete review over here.