Best Accessories of Summer 2021 - VIDEO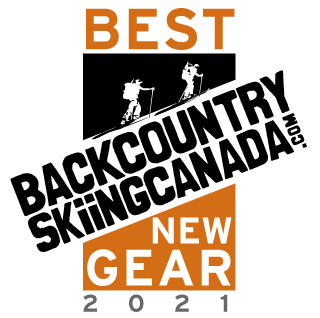 We've researched all the new gear along with some existing classics to provide you with only the best of the best, which we've broken down into three categories: Camping, Apparel, and Accessories. Whether you need to replace an outdated, broken, or well-loved piece of gear—or are just in the market for something new, the following list should help ensure that your hard-earned money is well spent. If you are just window shopping that's ok too, nothing wrong with making a wish list for your upcoming birthday, Christmas, or just because.

We started off the Best Summer Gear of 2021 with our Camping Category (check that out here) and now we'll move onto the Best Accessories for getting outside and having fun this summer. Next week we'll move onto the Best Apparel that you should simply not be without, so stay tuned for that.
Peruse over the list and see what strikes your fancy and if inclined click the 'Buy Now' button and get a great deal too!

G3 PIVOT TREK Poles

Based on G3's innovative

PIVOT Splitboard Poles
which we awarded our Gear of the Year Award last season, G3's new PIVOT TREK Poles are a durable folding trekking pole with impressive packability and strength. Thanks to magnets built into the baskets, the PIVOT TREK Poles wrap compactly around themselves and lock securely so you can store them inside your pack or lash them to the outside easily. This nested format ensures that there are no loose ends or pole segments flapping about which is not the case with most collapsable trekking poles. The PIVOT TREK Poles use a lightweight aluminum construction and are engineered for strength and durability so you could even use them in winter for skiing, you just need to switch out the baskets with G3's All Mountain Baskets that are sold separately. Just below the main grip of the PIVOT there is an extended soft foam grip with a dual-density plastic upper that provides a comfortable grip when you need to choke down while crossing steep slopes. If you need to choke down even further there are two integrated metal rings that provide plenty of purchase lower down the poles. If you don't want to use the ergonomically shaped pole straps they can be easily removed thanks to the fast clip system which is identical to those found on the VIA poles.
These lightweight PIVOT TREK Poles are designed for hiking/trekking and are almost identical to G3's PIVOT Poles which are for winter use, the only difference is the baskets which as mentioned above can be switched out so you only need one pole for both summer and winter seasons.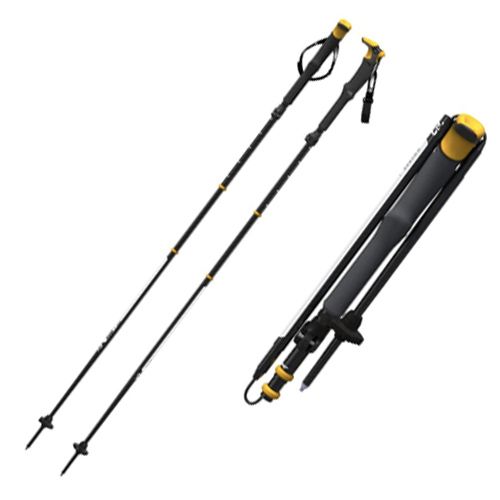 Features:
Secure Packing. Light and Strong.
Comfortable and removable ultralight strap.
Grip Designed for Comfort and Utility.
Extended Utility Tab.
Converts to Winter Snow Poles (All Mountain Basket sold separately).
Specs:
Price: $170CAN / $155US
Lengths: Short - 105-125cm, Long - 115-135cm
Weight: 287g / 296g / 10.1oz (short), 10.5oz (long)

YETI Crossroads 22" Luggage

Nothing takes a beating more than luggage and no one knows how to over engineer products better than YETI. Case in point is their

YETI Rambler
,
YETI Panga 100 Duffle Bag
,
YETI Hopper Flip 18
,
YETI Hopper Two 30
,
YETI Tundra 50 Cooler
or their
YETI Camino Carryall 35
, to name but a few. YETI's new for Spring 2021 Crossroads Luggage comes in a 22"—suitable for carry-on, and a 29" version for checked baggage. Both options use 700-denier water and abrasion-resistant nylon TuffSkin construction on the exterior (which was inspired by motorcycle gear) and the back panel is made from a hard, structured polycarbonate. To put it mildly, this carry-on is beefy, burly, and made to take on dirt, grime, and mud that your adventures will inevitably throw at it.
YETI includes a pair of removable Modular Compression Straps with the Crossroads 22" that can be used internally or externally to minimize the bag's contents and ensure that it stays carry-on compatible. The Front Organizer Pocket is a zippered external pocket ideally suited for magazines, books, documents, a tablet, or your laptop—those things you need close at hand while traveling. To Loft Pocket is located on top of the Crossroads 22" and is ideal for smaller items like your sunglasses, phone, earbuds, and snacks. Inside the large clamshell opening of the Crossroads 22" you'll find one large and two smaller zippered pockets which help to maximize interior organization and accessibility. On the outside, you'll find multiple grab handles (one on each of four sides) along with rugged and fully serviceable wheels and of course, the Two-Stage Telescoping Handle to make transporting the Crossroads 22" a snap. If the Crossroads 22 isn't enough room for your travel adventures then there is also the 29 version which has 80L of storage capacity (double that of the 22 version) but be aware that this larger size is not carry-on compliant.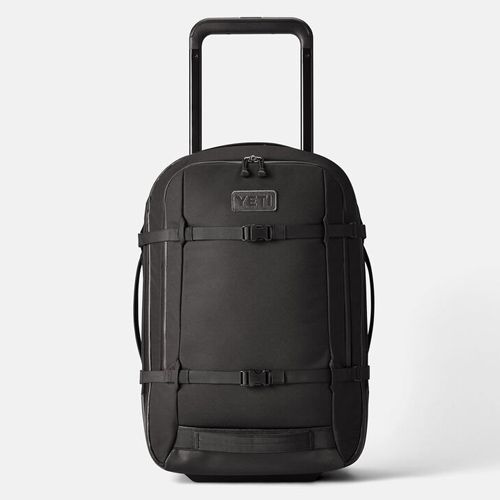 Features:
Removable, serviceable wheels.
Top zippered stash pocket for quick-grab items like headphones, sunglasses, pocket knife, etc.
Front vertical zippered pocket for magazines, books, non-bulky items.
4 gear loops on front, more on sides and top.
Large clamshell opening.
1 medium, 1 large zippered mesh pocket inside top lid.
1 medium, 1 large zippered mesh pocket on main compartment divider.
Full-size (29″ long) main pocket.
2-stage telescoping handle.
Specs:
Price: $449.99CAN / $349.99US
Dimensions: 55.9 x 35.6 x 22.9cm / 22 X 14 X 9"
Weight: 3420g / 7.54lbs
Capacity: 40L / 2441Cu in
Colours: Black, Navy, Aquifer Blue Green
Warranty: 3 years

Jaybird VISTA 2 Earbuds

Just in time for Spring 2021 are the new Jaybird VISTA 2 Earbuds. While we reviewed the previous VISTA Earbuds in our

Best Wireless Headphones Review
, the new VISTA 2's now have SurroundSense with Active Noise Cancellation. This means that you can now get the perfect balance between amazing audio and safety by amplifying ambient sounds when you need to hear the environment around you and blocking them out when you need to concentrate.
These truly wireless sport earbuds provide Jaybird's signature fit by offering 3 sizes of interchangeable eargels so you can find the most comfortable yet secure fit possible. Their 6mm milled drivers provide a premium immersive sound that is sure to impress with rich deep bass and detailed highs. Once you download the free Jaybird App through the iOS and Android app stores you can customize the audio settings along with button functionality and much more.
The VISTA 2's IP68 Waterproof rating means they are sweatproof and can take on water no problem—they are also crushproof, dropproof and meet US military durability standards. This all adds up to what Jaybird calls this their 'Earthproof Durability' which makes sense since these are aimed at athletes and active user—they have to be tough.
With up to 24 hours of battery life (8 hours plus 16 additional hours with charging in the case) you will never be without your music or podcasts. A quick 5 minute charge provides you with 1 hour of playtime and you can charge the case with the provided USB-C connector or by Qi Wireless Charging.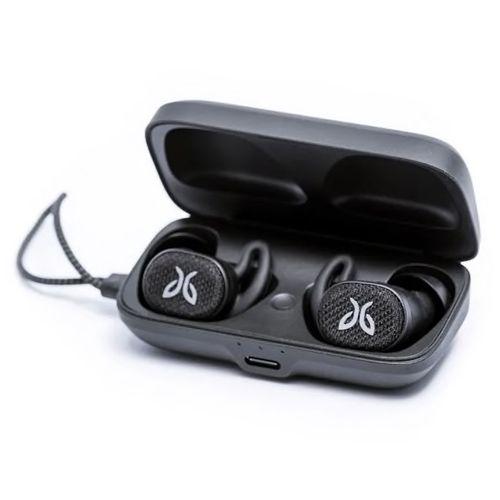 Included:
Vista 2 Totally Wireless Sport Headphones
Secure-Fit Eargels: 1/2/3
Charge Case
USB C Charging Cable
Features:
24-hour battery life (Play Time: 8 Hrs + 16 Hrs in the case)
Active Noise Cancellation
SurroundSense
Sport Fit
Earthproof Durability
IP68 Waterproof & Sweatproof
Specs:
Price: $269.99CAN / $199US
Colours: Black, Nimbus Grey, Midnight Blue
Play Time: 8 Hrs + 16 Hrs in the case
Charging Time: 2 Hrs
Quick Charge: 5 min = 1 hour play time
Noise-isolation: Passive & Active Noise Reduction

HydraPak Skyflask 500ml & Seeker 4L

HydraPak has been designing and producing flexible performance hydration systems since 2001 and for Spring 2021 they have two new products that you should know about. The HydraPak Skyflask 500ml and the HydraPak Seeker 4L.

The HydraPak Skyflask 500ml is designed for runners who need hydration on the go, its built-in adjustable handle is easy to carry and the lightweight design won't slow you down. The soft design shrinks as you drink which reduces water movement and once it's empty it compacts down easily to store in your pocket. The leakproof, twist-locking cap ensures that you can carry it or store it without worrying about getting anything wet.

The new HydraPak Seeker 4L is a high-capacity soft water storage product that has a built-in flexible handle that allows for easy pouring and carrying. Its streamlined shape fits easily in your pack or can be strapped to the outside and once it's empty you can fold it down into the included storage bag to keep it compactly stored away. The attached cap ensures a tight seal without any leaks and the 42mm thread allows for most filters to screw on to provide endless ready-to-drink water. Like all HydraPak soft products, the Seeker 4L is light and compact and gets smaller the more you drink!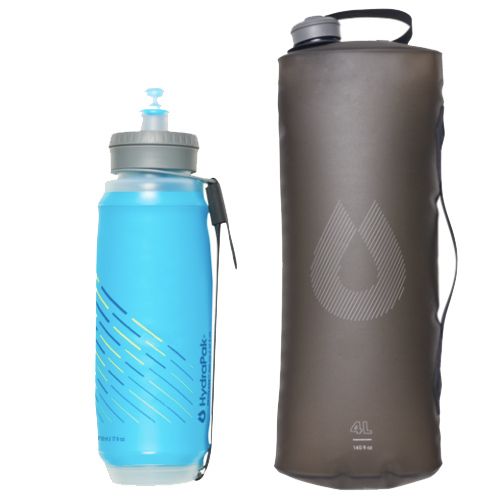 Features:

HydraPak Skyflask 500ml.
The ideal hand-held solution for running, an adjustable strap cinches down to fit different hand sizes.
Soft design shrinks as you drink, reducing water movement.
Easily stores in your pocket when empty.
A leakproof, twist-locking cap allows for spill-free transport.
Soft material conforms to your hand and the precise fit means that you can run with a relaxed hand and still securely hold your water.
High-flow bite valve auto-seals after each sip, eliminating annoying drips.
Large standard 42mm opening lets you fill the flask easily with ice and drink mixes.
Made of ultra-durable, abrasion resistant TPU & RF welded seams for superior durability and elasticity.
Can be frozen or filled with hot water (max temp 60° C / 140° F).
Safe and reliable, 100% BPA & PVC free.
HydraPak Seeker 4L
Low-profile, durable, coated handle for easy pouring and carrying – tear & weather resistant.
Leakproof 42mm screw cap with tear-resistant, removable tether.
Compatible with 42mm threaded backcountry water filters, the Katadyn. BeFree Filter screws onto the top allowing you to filter more water at camp.
A large 42mm opening makes it easy to fill and tethered screw cap prevents the cap from getting lost – creates a convenient carry loop for holding the Seeker upright when filling.
Two load-bearing side lash points, for attaching to your pack or setting up a gravity feed.
The external capacity gauge allows you to track your hydration intake or measure out the contents.
The versatile design can be used as a hydration reservoir or paired with a Plug-N-Play Cap and 28mm filter adapter.
Made of ultra-durable, abrasion resistant TPU & RF welded seams for superior durability and elasticity.
Can be frozen or filled with hot water (max temp 60° C / 140° F).
Safe and reliable, 100% BPA & PVC free.
Specs:

HydraPak Skyflask 500ml

Price: $27.99 CAN / $20US

Weight: 57g / 2.0oz

Dimensions: 200 x 80mm / 7.8 x 3.1in

Capacity: 500ml / 17fl oz

Materials: TPU, PP, HDPE, Silicone, Nylon

HydraPak Seeker 4L

Price: $40.99CAN / $28US

Weight: 104g / 3.7oz

Dimensions: 420 x 150mm / 16.5 x 5.9in

Capacity: 4L / 140fl oz

Materials: TPU, PP, Nylon

Leatherman Skeletool Set

Leatherman has always been the go-to brand for multi-tools and knives and their Skeletool Set includes a few extras to their popular lightweight multipurpose Skelitool doesn't come with. The Skeletool Set includes the Skeletool (naturally), along with Bit Kit Set ($24US if bought separately) which contains 41 different bits and is a must-have as you can see by the log list of bit options it provides:
Square Drive #1 & #2
Torx #6 & #8
Torx #10 & #15
Torx #20 & #25
Torx #27 & #30
Eyeglass Screwdriver
Pozi #2 & #1
Hex 1.5mm & 2mm
Hex 2.5mm & 3mm
Hex 4mm & 5mm
Hex 6mm & 1/4"
Hex 7/32" & 3/16"
Hex 5/32 & 9/64"
Hex 1/8" & 7/64"
Hex 3/32" & 5/64"
Hex 1/16" & .050"
Phillips #1 & #2
Phillips #0 & #3
Screwdriver 3/32" & 1/8"
Screwdriver 5/32" & 3/16"
Screwdriver 7/32" & 1/4"
The Ratchet Driver is also included ($29.95US if bought separately)and is equipped with a compact ratcheting system that fits both Leatherman flat bits and standard ¼" bits. The magnetic bit holder ensures you won't lose a bit while the 3-way ratcheting system provides continuous rotation in one direction while preventing motion in the opposite direction. You can choose from forward, reverse, and locked positions. All of the items in the Skeletool Set fit nicely into the Nylon Sheath ($15US if bought separately) which has pockets to carry the Bit Kit Set and Ratchet Driver.

The Skeletool ($64.95US if bought separately) is a workhorse of a multitool and provides Needle Nose Pliers, Regular Pliers, Hard-wire Cutters, Wire Cutters, 420HC Combo Knife, Carabiner/Bottle Opener, and Large Bit Driver.

The Leatherman Skeletool Set has pretty much everything you'll ever need for field repairs which is why I carry one in my ski touring, hiking, and biking packs.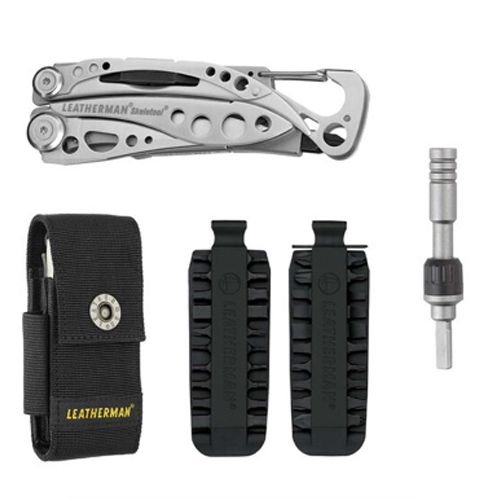 Specs:

Price: $174.99CAN / $133.90US

Colours: Stainless Steel, Blue, Green, Coyote Tan

POC Devour Sunglasses

POC's new Devour Glasses combine the best features of goggles and sunglasses into one while providing maximum eye coverage and protection for cycling and even winter ski adventures. You get the coverage of a pair of goggles without the claustrophobic feel and the flexibility, ventilation, and peripheral vision of glasses. The Devour Sunglasses feature fully adjustable temples and nose piece, allowing for a secure custom fit for every head shape. Clarity lens technology controls the colour spectrum and is fine-tuned for use on the trail, sharpening the greens and browns associated with riding environments, all while giving complete UV protection (UV400). A Ri-Pel anti-dirt and -water treatment protects the lenses from dirt, oil and water, sweat, salt, and dust and also makes it easier to clean them. The lenses also have an anti-scratch coating which ensures durability and unhindered vision. It's also easy to swap out the lenses for riding in different light conditions and a spare clear lens is also included, making the Devour Sunglasses ideal for use in a wide variety of riding conditions.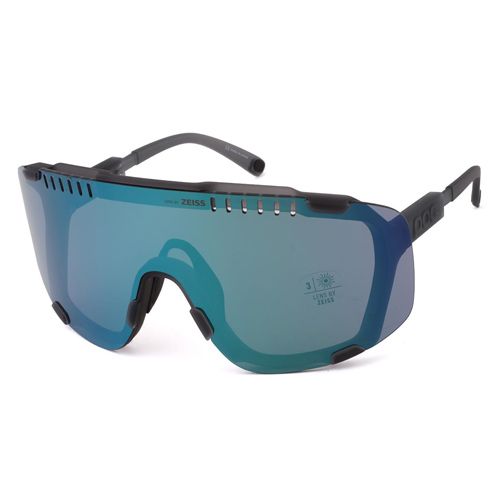 Features:
Comes with a spare Clear lens
Fully adjustable temples
Clarity lenses available
Very large field of view
Adjustable temples
Complete UV protection
Ri-Pel Anti-Dirt and Water Treatment
Anti Scratch treatment
Interchangeable lenses
Specs:

Price: $280CN / $250US

Colours: Uranium Black, Hydrogen White, Uranium Black Translucent, Moonstone Grey, Lead Blue, Transparent Crystal, Basalt Blue

Outdoor Research CarryOut Duffel 60L

Everyone needs a good duffel to store and transport their adventure gear, whether it is climbing, paddling, hiking, or camping gear, you can't beat the versatility of a duffel bag as they're ready to go when you are. The new Outdoor Research CarryOut Duffel 60L is large enough for a days worth of gear and can easily carry anything you'd need for a week away. With a detachable shoulder strap, carry handle, or pack straps you have three ways to carry the CarryOut Duffel, my favourite being a backpack with the removable pack straps. Sleek tow handles (one on each end) provide more options to grab the CarryOut Duffel when you need to pack it in your truck, sled, or maybe even a helicopter. Made from a durable and waterproof 70D ripstop exterior fabric with 600D bottom and sides, the CarryOut Duffel is not only lightweight but it's rugged as well. A zippered external pocket, internal mesh pocket, and expandable interior pocket provide lots of options for organizing smaller items and even sorting out dirty laundry if needed. The CarryOut Duffel is a good-looking, sleek and modern duffel bag made with versatility and adventure in mind.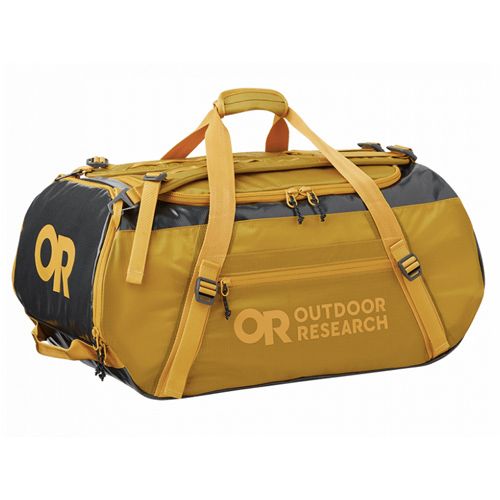 Materials:
100% nylon, 70D ripstop with TPU lamination & 100% polyester 600D with TPU lamination
Features: Waterproof / Durable.
Abrasion Resistant Bottom.
Dirty/Clean Feature.
External Zippered Pocket.
D-Zip Opening.
Zippered Mesh Pocket on Interior Flap.
Detachable and Adjustable Ergonomic Shoulder Straps.
Compression Straps.
Tow Handles with Velcro Wrap.
Grab Handles on Ends.
Specs:

Price: $135US / $150

Sizes: One Size

Colours: Black, Tumeric

Weight: 805g / 28.4oz

Dimensions: 32 x 61 x 36cm / 13 x 24 x 14"

Volume: 60L / 3661 cu in

Hillsound Armadillo LT Gaiter

Hillsound is a Canadian company that produces a small eclectic group of outdoor products that started with their foot traction devices and they have since branched out to camp seats and now gaiters. The new Hillsound Armadillo LT Gaiters are a high-performance, affordable gaiter for outdoor enthusiasts that demand a lightweight and durable gaiter to keep snow, mud, scree, rocks, and debris out of their boots and off their lower legs while hiking, snowshoeing, cross-country skiing or backpacking. The Armadillo LT Gaiter is comprised of a waterproof/breathable upper made of Flexia which is a three-layer fabric that is contour fitting and lightweight. This stretch fabric has a snug fit that won't pinch or fall down and seals up tight thanks to the full-length YKK waterproof zipper. The Armadillo LT is easily adjustable for a snug fit around a variety of footwear so it's versatile from season to season. The lower cuff is a made from a1000 denier high-density nylon which is waterproof (up to 20K), breathable, and also very durable. You simply can't beat the Hillsound Armadillo LT Gaiters for their quality construction, high performance, and affordable price.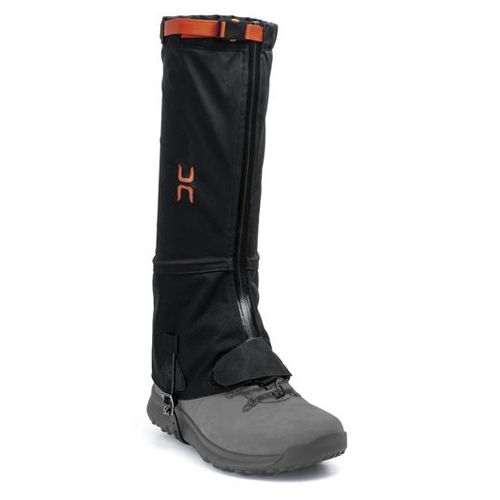 Materials:
Flexia 3.0
1000 denier and high-density nylon
YKK Waterproof zipper
Features:
Waterproof up to 20,000 mm.
Highly breathable.
Stretchy upper section: Fits the form of the leg so there is no loose fabric, this also makes them relatively quiet.
Durable construction: Lower cuff is built to withstand all scrapes and scuffs.
Webbing and cam buckle top closure: ensures the gaiter stays in place when you move around.
Replaceable instep strap: TPU-coated nylon instep strap will endure many miles on the trail and can be replaced if needed.
Secure hook: Upward facing hook that stays in place once attached to boot laces.
Zip from top-down: Fast to put on, take off, and adjust.
Covered zipper: Velcro strap to tuck zipper away.
Unisex (men / women).
Specs:

Price: $89CAN / $59US

Weight: 259g - 324g / 9.1 - 11.4oz

Warranty: Limited lifetime

Mammut 4 slide Climbing Package

While you don't need much gear to go rock climbing it can be confusing for beginners to decide which products to get as the selection can be daunting. Mammut's new 4 slide Climbing Package is the ideal set for novices and even advanced climbers as it includes everything you need to start climbing. It includes the 4 Slide climbing harness, a Crag HMS carabiner & Crag Light belay device, a Basic chalk bag, and 2 chalk balls. The 4 Slide climbing harness has four Slide-Bloc buckles which make it super user-friendly and adjustable to every body size and situation. The Crag HMS carabiner and the Crag Light belay device allow for reliable and correct belaying while the two chalk balls and the Basic Chalk Bag ensure you won't lose your grip out on the crag or in the gym.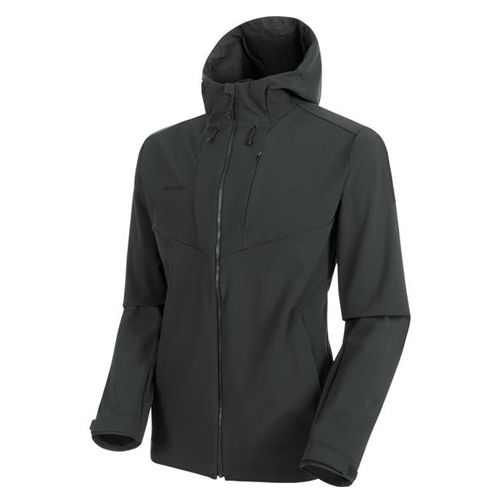 Includes:
4 Slide climbing harness
Crag HMS carabiner & Crag Light belay device
Basic chalk bag colour black
2 chalk balls
Features:
Slide-Bloc buckle harness closure system.
Adjustable leg loop.
Basic cut.
Specs:

Price: $129.95CAN / $95.99

Weight: 764g / 27oz

Sizes: XS/M: Waist: 59 - 89cm / 23 - 35in, Leg: 43 - 59cm / 17 - 23 in; M/XL: Waist: 76 - 110cm / 30 - 43in, Leg: 54 - 72cm / 21 - 28in



---
Hydro Flask Insulated Food Jars

Hydro Flask's new Insulated Food Jars come in three different sizes: 12oz, 20oz, and 28oz and in four beautiful colours: Olive, Stone, Sunflower, Birch. They can keep ice cream cold and soup hot thanks to their unique TempShield double-wall vacuum insulation. They're easy to open since the lids have an integrated soft-grip while their wide-mouth design makes them convenient to eat from. They're made to travel thanks to their leakproof and tough as-nails construction. The durable 18/8 Pro-Grade Stainless Steel won't transfer flavours and ensures your food tastes the way you intended it to. Your next hike or picnic this Spring should be with the new Hydro Flask Insulated Food Jars given how versatile they are.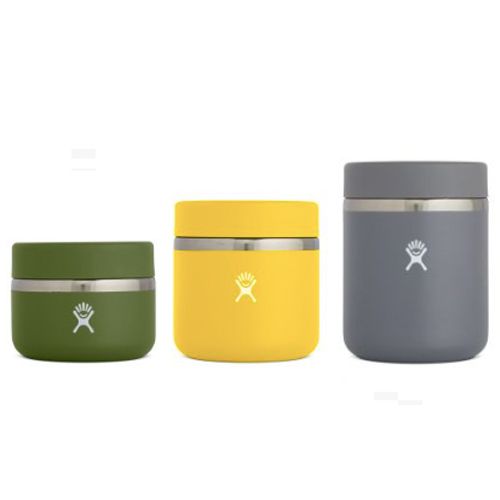 Features:
TempShield insulation keeps cold foods cold and hot foods hot.
Leakproof.
Soft grip is easy to open.
Wide mouth design is convenient to eat from while on the go.
18/8 Pro-Grade Stainless Steel construction.
BPA-Free and Phthalate-Free.
Lifetime Warranty.
Specs:

Hydro Flask 12oz Insulated Food Jar

Price: $41.95CAN / $34.95US

Volume: 354ml / 12oz

Dimensions: 11x7.6cm / 4.3x3.4"

Weight: 363g / 12.8oz

Colours: Olive, Stone, Sunflower, Birch

Warranty: Lifetime

Hydro Flask 20oz Insulated Food Jar

Price: $47.95CAN / $39.95US

Volume: 591ml / 20oz

Dimensions: 11x11.4cm / 4.3x4.5"

Weight: 419g / 14.8oz

Colours: Olive, Stone, Sunflower, Birch

Warranty: Lifetime

Hydro Flask 28oz Insulated Food Jar

Price: $53.95CAN / $44.95US

Volume: 828ml / 27.8oz

Dimensions: 11x14.5cm / 4.3x5.7"

Weight: 485g / 17.1oz

Colours: Olive, Stone, Sunflower, Birch

Warranty: Lifetime



---
Garmin GPSMAP 66SR

GPS navigation is ubiquitous in the backcountry these days and for good reason, it increases overall safety by allowing you to track your route with GPS and view not only topographical maps but also get barometric pressure, altitude, and compass readings. Garmin's updated GPSMAP 66SR handheld GPS unit is a suped-up version of the previous GPSMAP 66st unit. Whether you're hiking, hunting, climbing, geocaching, kayaking, or mountain biking the rugged handheld GPSMAP 66SR with its large 3" colour display, preloaded maps, and multi-band frequency support provides you with the best possible positioning technology. Garmin's Multi-Band Technology provides optimal accuracy in challenging locations such as steep mountainous terrain, urban canyons, and forests with dense trees. With access to 5 different satellite networks (GPS, GLONASS, Galileo, QZSS and IRNSS), an extended battery life, topographical maps, and satellite imagery—you're sure to find your way no matter where your adventure takes you. Preloaded Topo maps for Canada and the US make trip-planning simple and with the free Garmin Explore service, you can use your computer or phone to plan routes. With 16GB of onboard memory and the ability to add extra microSD cards, you are able to quadruple the GPSMAP 66SR's storage allowing you the storage space needed to save routes and thousands of waypoints to accurately track your adventure for future use or sharing.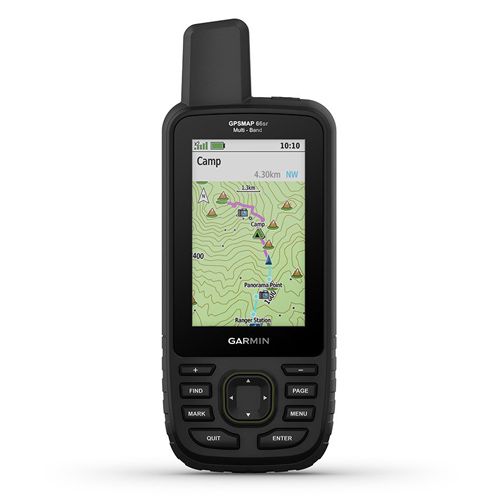 Includes:
GPSMAP 66i
Access to Birdseye Satellite Imagery
USB cable
Carabiner clip
Documentation
Features:
Multiband signal reception and expanded GNSS support (GPS, GLONASS, Galileo, QZSS and IRNSS) provide fast, accurate positioning and elevation data, anywhere in the world.
Preloaded with routable TopoActive maps (Canada and US 100K resolution), featuring streets and trails.
Point of interest navigation lets you search for places you may want to go, e.g restaurants, attractions, accommodation, etc.
Includes access to BirdsEye Satellite Imagery, where you can download satellite images (no subscription required).
LiveTrack™ during activities (through a connected smartphone) shares your location with friends.
GroupTrack displays the location and telemetry of up to 50 contacts with compatible Garmin devices.
Active weather provides real-time radar tracking (via a connected phone running Garmin Connect).
Free Garmin Connect app customizes your 66sr, choosing which widgets to show, review activity data, select apps for push notifications, load and synch geocaching data, and more.
Connect IQ support to download apps, templates, and data fields.
Bluetooth Smart and ANT+ compatibility.
Garmin Explore sync routes, tracks, and waypoints. Download map data to your phone and send plans to your 66sr without cell reception.
Satellite caching saves an extended predicted orbit path (EPO) file so it knows where to look for satellites when you turn it on.
Barometric altimeter tracks ascents, descents, and total elevation changes.
Tilt-compensated 3-axis electronic compass shows your heading even when you're stationary.
Extended battery life, with multiple different GPS modes, let you find the perfect balance of battery life and GPS accuracy.
Internal Lithium-ion rechargeable battery provides up to 36 hours of battery life in GPS mode and up to 3 weeks in Expedition mode.
3in screen is bright and clear even direct sun.
16GB internal memory can be increased via MicroSD cards (not included).
IPX7 waterproofing.
Built-in LED flashlight has S.O.S setting
Specs:

Price: $599.95CAN / $499.99US (Without too mapping $399.99US; with Inreach technology $599.99US)

Dimensions: 6.2 x 16.3 x 3.5cm / 2.5 x 6.4 x 1.4"

Display Size: 3.8 x 6.3cm / 1.5" x 2.5"

Display Resolution: 240 x 400 pixels

Display Type: Transflective color TFT

Weight: 230g / 8.1oz (with batteries)

Battery Type: Rechargeable internal lithium-ion

Battery Life: Up to 36 hours (Up to 450 hours or 3 weeks in expedition mode)

Water Rating: IPX7



---
Tailwind Nutrition Endurance Fuel

Tailwind is a sports nutrition company based in Durango, Colorado that creates hydration products for athletes that are easy to digest, non-GMO, vegan, gluten, soy, and dairy-free. Tailwind is easy to take with you on the trail or longer adventures as it comes in convenient single-serve packages that mix with water. They provide the calories, hydration, and electrolytes needed for the active athlete whether they are recreational or more serious.

The theory behind Tailwind is that water is not good enough for anyone who is active for long periods of time hiking, running, biking, or even backcountry skiing in winter. Water will hydrate you but your body's electrolytes are not replaced and this is where a product like Tailwind comes in. It has Magnesium, Calcium, Potassium, and Sodium in powder form along with some calories and flavouring. It provides the electrolytes that you need and if you are on a day-long mission then this is an ideal product to keep your energy up.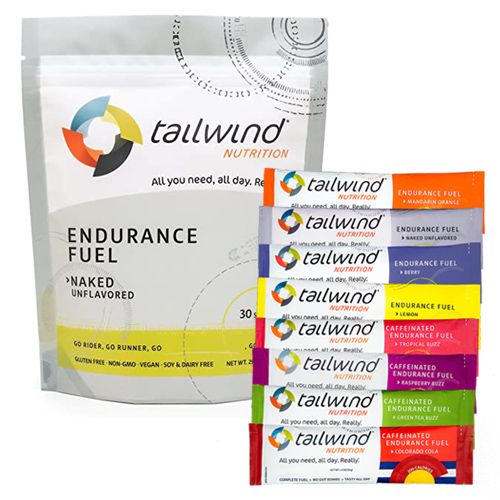 Ingredients:

Non-GMO Dextrose (Glucose), Non-GMO Sucrose, Citric Acid, Sodium Citrate, Sea Salt, Organic Flavour, Potassium Chloride, Magnesium Oxide, Calcium Carbonate. Gluten-free/vegan/no soy/no dairy

Features:
Complete calories, electrolytes, and hydration: Ditch the gels, chews, and pills, and go all day with just Tailwind.
No gut bombs: Stomach problems? You'll love Tailwind. Unless you enjoy being doubled over, retching.
Tasty all day: Clean, light flavors taste better the longer you go.
Hydration pack love: Dissolves on contact with water and cleans up with a quick rinse. No film, aftertaste or science experiments!
All-natural: Crystal clear with no dyes, preservatives or 4-syllable magical ingredients.
Specs:

Price: $3.39CAN / $2.50US (single serving), $35.99CAN / $25.99US (30 servings)

Flavours: Lemon, Mandarin Orange, Naked, Berry

Smith Deckboss Sunglasses

Smith uses their most advanced eyewear technologies in the new Deckboss Sunglasses including their proprietary ChromaPop lenses which amplify detail and enhance natural colour beyond normal capabilities. These high-impact resistance lenses filter two specific wavelengths of light that cause colour confusion and deliver greater definition. This means more natural colour and unmatched clarity which enables you to see more detail. They provide 100% UV protection and feature a backside anti-reflective coating and complete water and oil-resistant lens coating as a barrier against the elements. The lightweight yet durable frames are comprised of a proprietary Evolve eco-friendly material that doesn't sacrifice durability or fit. The wraparound frame design of the Deckboss Sunglasses incorporates super-flexible temples, which you can bend and mold to your liking. In addition to this, there is a no-slip nose pad that provides a secure feel to the sunglasses and assures you that they won't slip off no matter the activity. Whether on the water this summer or on the snow in the coming winter, the Deckboss Sunglasses have you covered.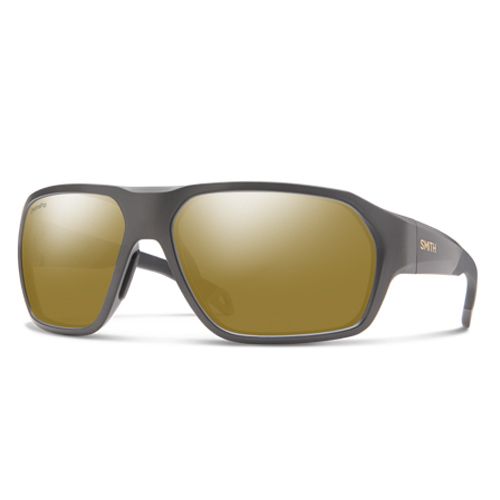 Fabrics:
ChromaPop polarized lenses cut glare and enhance colour and contrast.
Smudge and moisture resistant coating for easy cleaning and clear optics.
Anti-reflective coating improves clarity and reduces eye strain.
Fit / Integration.
Large fit, large coverage.
8-base lens curvature offers a wraparound fit.
Easy-adjust QuickFit temples for a customized fit.
Megol nose and temple pads provide non-slip grip so glasses stay put.
Leash-ready temple tips.
Frames use an Evolve bio-based frame material that is lightweight and durable.
Includes a microfiber bag.
Specs:

Price: $200CAN / $179US

Frame Colours: Matt Black, Matt Black Blue, Black, Matt Gravy, Matt Tortoise

Lens Colours: ChromaPop Polarized Grey Green, ChromaPop Polarized Blue Mirror, ChromaPop Polarized Ignitor, ChromaPop Polarized Bronze Mirror, ChromaPop Polarized Brown, Green Mirror

Hydro Flask 5L Down Shift Hydration Hip Pack

Hydro Flask knows cold so it only makes sense that in addition to their insulated bottles and jars that they branch out. New for this Spring is their 5L Down Shift Hydration Hip Pack which is designed for biking and hiking. Its primary focus is keeping the 1.5 L of water cold using Hydro Flask's revolutionary Cold Flow System that can keep water chilled for 3+ hours. The secret is an insulated reservoir and neoprene reservoir sleeve with reflective lining to seal in the cold. In addition to water, there is room in the interior secondary pocket to carry along a bike repair kit, keys, wallet, sunglasses, and even some snacks. The built-in straps allow you to compress the entire hip pack down or lash an extra layer to the exterior. On either side of the Down Shift you'll find a ripstop bottle pocket with 4-way stretch which provides easy access to a 12 - 24 ounce Hydro Flask bottle.

If you need more room to carry gear on your next adventure a 14L version of the Down Shift Hydration Hip Pack is also available.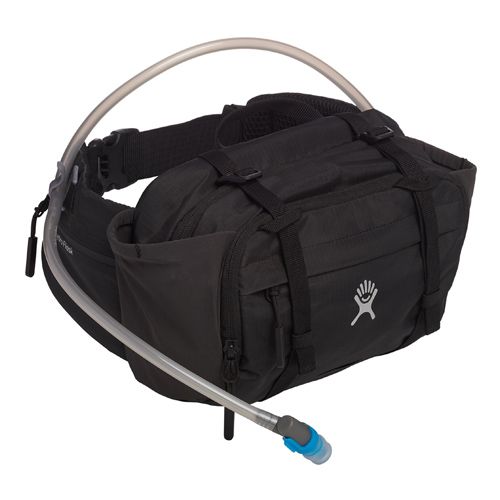 Features:
Cold Flow System keeps water cold for 3+ hours.
HydraPak IsoBound 1.5L Insulated Reservoir.
High-flow HydraPak Blaster Bite Valve self-seals after each sip.
HydraPak Plug-N-Play connect system for convenient refilling.
Dual stretch bottle pockets fit 12 - 24 ounce Standard and Wide Mouth Hydro Flask bottles.
Deployable, adjustable gear and compression straps.
Dual zippered hip belt pockets.
Internal organization for tools, snacks, keys, and other essentials.
Soft-lined media and sunglass pocket.
Bike light attachment.
Reflective logo.
Specs:

Price: $174.95CAN / $99.95US

Colours: Sapphire, Black

Capacity: 1.5L

Volume: 5L

Dimensions: 20 x 26.7 x 15cm / 8 x 10.5 x 6in

Weight: 0.56kg / 1.25lbs

Leatherman Signal Survival Kit

The Leatherman Signal Survival Kit includes a Leatherman Signal Knife along with twelve other items that will help you survive outside when things go wrong. The Signal Knife contains 19 essential tools and is the staple of this kit. Tonquin Trading produces the kit itself and the items contained within it and when combined with the Signal Knife you have pretty much everything you'd need to survive out in the wilderness. Ideal for your pack or perhaps in the glove box of your car, the Leatherman Signal Survival Kit ensures that you are prepared with these essential tools for outdoor survival or when an emergency happens.
Survival Kit includes:
Leatherman Signal
Survival blanket
Handwarmer
Poncho
Pull fire
Face mask
Pocket tissue
Lightstick
Signal mirror
Matches
Paracord 50'
Sawyer Mini water filter
Custom carry system.
Leatherman Signal Includes:
Needlenose Pliers
Regular Pliers
Premium Replaceable Wire Cutters
Premium Replaceable Hard-wire Cutters
Wire Stripper
420HC Combo Knife
Saw
Hammer
Awl w/ Thread Loop
Can Opener
Bottle Opener
1/4" Hex Bit Drive
Bit Driver
1/4" Box Wrench
Carabiner
3/16" Box Wrench
Safety Whistle
Specs:

Price: $225CAN / $175US



---
POC Ventral Air Spin Helmet

POC's new performance helmet, the Ventral Air Spin is designed with ventilation ports and internal channels to control air intake and release at both low and high speeds. Keeping your head cool on those long hot summer rides doesn't mean that you have to sacrifice aerodynamic profile as the Ventral Air Spin's trailing edge reduces turbulence and minimizes overall drag.

To ensure the Ventral Air Spin is lightweight, it uses a fully wrapped unibody shell construction and an EPS liner and SPIN technology which also ensure a high level of rider safety. SPIN stands for "Shearing Pad INside" and is a patent-pending silicone pad technology system that helps reduce forces from glancing impacts.

The Ventral Air Spin also features a lightweight size adjustment system and an eye garage for easy and secure storage of eyewear when they are not in use.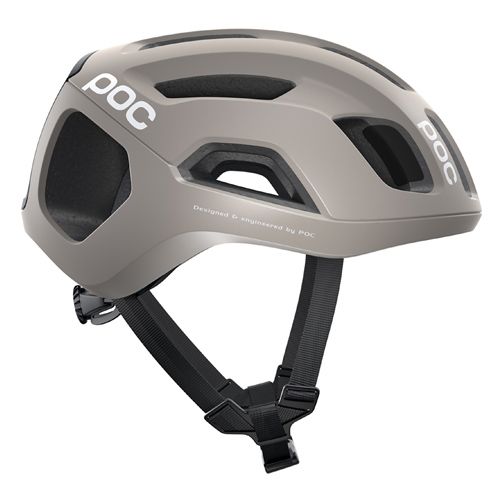 Features:
Structurally optimized helmet with precise ventilation ports and internal channels to control the air intake and release at both high and low speeds.
Features POC's patent-pending silicone pad system, SPIN (Shearing Pad INside).
High-performance EPS liner with targeted and optimized density to provide the ideal balance of low weight and crash protection.
Fully wrapped unibody shell construction to increase safety and helmet integrity.
Light-weight size adjustment system for a personalized fit.
Easily adjustable precision straps anchored to the helmet liner for extra comfort and safety.
Eye garage to keep your sunglasses securely in position when placed on the helmet.
Used by EF Education First Pro Cycling Team
Specs:

Price: $280CAN / $225US

Sizes: S 50-56cm, M 54-59cm, L 56-61cm

Colours: Uranium Matt Black, Fluorite Green Matt, Hydrogen White Matt, Hydrogen White Raceday, Uranium Black Raceday, Lead Blue Matt, Moonstone Grey Matt, Prismane Red Matt, Sulfur Yellow Matt, Zink Orange AVIP, Stibium Blue Matt, Apophyllite Green Matt

Weight: S 245g, M 265g, L 295g



---
If you missed the Camping Edition of the Best Summer Gear of 2021 you can find that over here, and why not check out that video as well below.

Want to get a great deal on some new Camping Gear and help make this website possible in the process? Click the 'Buy Now' button or any of the images in the gear widget below and see what deals await you.