Sea To Summit X Set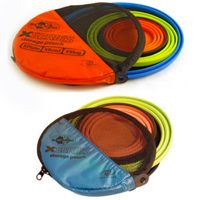 Sea to Summit was formed in Australia by Tim Macartney-Snape & Roland Tyson after Tim's sea to summit climb of Mt.Everest from India's Bay of Bengal. Without oxygen or sherpa support Tim made his second journey to the top a solo one. Aptly named, Sea to Summit is committed to making quality & affordable, innovative gear for backcountry enthusiasts on all continents. Their website is well organized and provides information about all product. From camping to kayaking, towels to electronics. Sea to Summit has products to help travel light, be protected from the elements and leave no trace once you are gone.
If using your swiss army knife to eat beans out of the can is getting you down and you are looking for a more civilized dinner setting, I highly recommend X-Series dish set. These collapsable plates, bowls and cups (available individually or in a set) will turn any savage campsite into dinner with the Jeffersons. 
The X-Series Full Set includes the X-Mug, X-Bowl, X-Plate and a lightweight pouch that keeps it organized in as little space as possible. Also available is the 2 piece set which sacrifices the X-Plate. Sold individually are the X-Cup (half the size of the X-Mug), the 77% larger XL-Bowl which doubles as a plate when sides are folded down and the X-Shot for cooking measurements, espresso or liquor shots.
Planning a hot date in the cold mountains? These dishes are all freeze proof, and will not crack in extreme cold, even if you do. Rated for a chilling -40 or scorching +180 degrees Celsius the X-plates/bowls should hold up against anything you throw at it. All dishes are made out of food grade nylon & flexible food grade silicone rubber. They are unbreakable and dish washer and microwave safe, unlike the Alpha, Delta & Titanium series which are not. 
The cut resistant base acts as a chopping block and is rigid enough to keep your food where it belongs. Quick Tip: When using as a cutting board flip the plate or bowl upside down to reduce chance of the cutting rubber sides.
The X-Cup and X-Mug have a rigid ring around the top to keep beverages from spilling as you drink. The X-Shot, however does not.
The X-set compact and functional.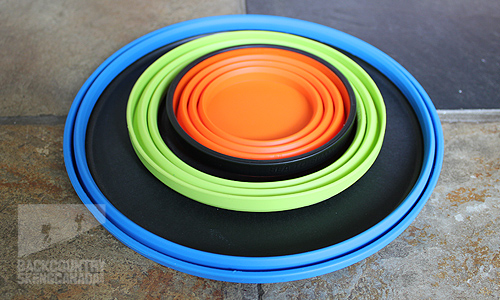 Features:
Comes in assorted, bright colors.
Collapse into discs for compact storage.
Microwave & Dishwasher safe.
Plates & Bowls useful for cutting boards.
Mugs & Cups are self standing with nylon right to grab to prevent scalding hands.
Manufacturer guarantee.
Food grade silicon rubber make.
Fit inside one another like matryoshka dolls.
Verdict:
It is clear that the pros of this dish series outweigh the cons. The best thing about these dishes are their ability to compact down into disc sizes that layer on top one another. I was able to fit an additional X-Cup and XL-Bowl into the 3 piece storage pouch with room to spare for cutlery. This system can replace any backcountry dishes you have currently and will save you space and eliminate extra weight. The materials they are made from won't have any impact on the integrity of the food you put in it. Having a chopping block/cutting board option is just another example of how Sea to Summit combine features into lightweight and functional, innovative products.
For more great Sea to Summit gear be sure to read our other review of Sea To Summit products or the Sea To Summit XT2 Traverse 3D Sleeping Bag which won our 'Gear Of The Year Award'.
SPECS:
X-Plate:
Price - $24.95US
Volume - 39 fl oz (1170ml)
Weight - 5 oz / 144g
Base Diameter - 8" (20cm)
Height - 1.5" (3.5cm)
Colour - Orange, Blue, Lime, Black
X-Bowl:
Price - $19.95US
Volume - 22 fl oz (650ml)
Weight - 2.8 oz / 80g
Base Diameter - 5" (12.5cm)
Height - 2.25" (5.5cm)
Colour: Lime
X-Cup:
Price - $14.95US
Volume - 38 fl oz / 1150ml
Weight - 3.9 oz / 110g
Base Diameter - 6" (15cm)
Height - 2.25" (5.5cm)
Colours: Orange, Lime
X-Mug:
Price: $16.95US
Volume - 16 fl ox (2 Cups) 480ml
Weight - 2.7 oz / 78g
Base Diameter - 4.5" (11cm)
Height - 3.35" (8.5cm)
Colours: Orange, Blue, Lime, Black
X-Shot:
Price - $7.95US
Volume - 2.5 fl oz (75ml)
Weight - 0.9 oz/ 25g
Base Diameter - 2.5" (6.5cm)
Height - 2.5" (6.5 cm)
PROS:
- All dishes are free standing and hold their shape.
- Collapsible option keeps gear compact, especially with the matryoshka doll design.
- Lightweight for trekking with.
- Food grade material ensures safe to use.
- Full sets come with mesh & nylon storage pouch to keep everything organized.
- Flexible Nylon material allows for ease of cleaning.
- Hard nylon ring allows to be held with hot beverages.
- Mugs & Cups designed to be used as measuring cups.
CONS:
- Silicon rubber is easily cut with knife.
- Doesn't retain heat well.
Rating: 8/10
Innovation         2/2
Function            2/2
Aesthetics          1/2
Features            1.5/2
Quality / Price   1.5/2

This is only our opinion. Do you disagree? Did we miss something? Are we totally out to lunch? Join the discussion in the forums here, and let us know what you think. People like/dislike gear for different reasons so chime in and we'll get a well-rounded evaluation.
Back to the rest of the reviews.
---