Sea To Summit Camp Accessories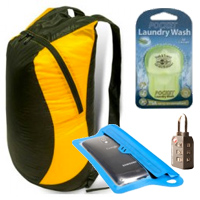 Traveling light is an art, especially when traveling a great distance for a specialized activity. While I forgo some luxuries of home whilst in transit, my travel partners will now appreciate my new found travel hygiene products from Sea To Summit. This company has thrived on simplifying products to make them lightweight and compact enough to take pretty much anywhere. These quality and affordable items can enhance the backcountry experience for you, and those within your smell circle. The following article will highlight some products that lighten your pack and keep your gear protected from both mother nature and the human factor as well.
---
Sea To Summit Trek & Travel Pocket Soaps
Price: $3.95 US
Varieties: Hand soap, Body wash, Conditioning Shampoo, Shaving Soap and Laundry Wash
Quantity: 50 leaves
Weight: 14.2g / .5oz
Sea to Summits pocket soaps come in 5 varieties; hand wash, body wash, conditioning shampoo, shaving soap and laundry wash, each with a green tea fragrance. The cartridges are about the size of a D cell battery and weight about half an ounce. Each contains 50 easily rationed leaves that will support one modest use. They are dry and activate on contact with water, so they won't leak in your pack and are TSA approved for airplane carry on luggage. You don't have to worry about environmental impact either as they are biodegradable and phosphate free. Be sure to grab what you need with dry hands, as you don't want to go back for more and risk getting the entire cartridge wet. The thin, translucent leaves will disintegrate with friction under water. Although it is difficult to decipher much difference between the product leaves, I found the shampoo leaves to be a little thicker and leave a longer lasting residue for a better clean. The combination of all five pocket soaps will leave your trek mates more than satisfied with your hygiene.
Trek & Travel Pocket Soaps are compact and pack a punch of green tea scented cleanliness.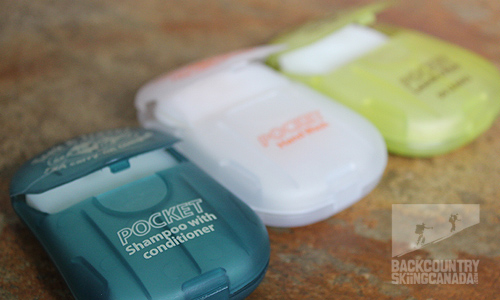 ---
Sea To Summit Mosquito Head Net
Price: $9.95 US
Weight: 36.8g / 1.3oz
Fabrics: Fine, 500 hole per square inch hexagonal multifilament polyester mesh
Bugs can make any camping trip or trek irritable if you are not prepared for the worst. Constantly lathering up with bug dope can be hard on the eyes, skin and wallet. A good head net can solve any excess bug problem and keep a smile on your face. Sea to Summit's Mosquito Head Net is lightweight (1.3oz), durable, and compresses down into a tiny pouch with draw cord for easy storing and saving valuable travel space. The very fine (500 holes per square inch), hexagonal black mesh will ensure high breathability and vision. The mesh is cut wide enough to wear over a hat, but sits nicely without one as well. This one-size-fits-all polyester head net is also available in a permethrin treated model known as the Insect Shield to ensure immunity from insect invasion. Retailing from $10-$13.
The Mosquito Head Net is cut to fit comfortably; under or over a hat.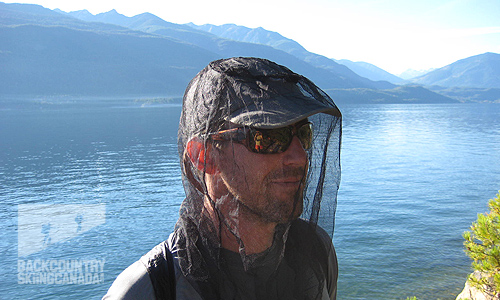 The Mosquito Head Net fits into this palm sized pouch for easy storage and protection while traveling.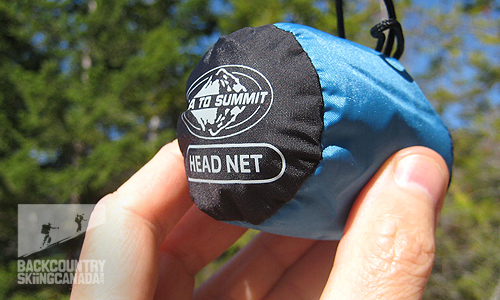 ---
Sea To Summit Ultra Sil Day Pack
Price: $29.99 US
Weight: 68g / 2.4oz
Fabrics: Siliconized Cordura®
Volume: 20L
The 20-liter Ultra Sil Pack is another lightweight (2.4oz) and compactible item from Sea to Summit that is functional and practical. Take this thing anywhere from a mountain summit full of snacks, extra layers, water, etc. or to the grocery store in your pocket or purse. It is made of water resistant siliconized cordura with reinforced stitching on the stress points and a two-way zipper. This low profile pack comes in five different colors (green, grey, blue, red & yellow) and looks sharp over the shoulder. Although 20-litres isn't a lot of room, it is enough for short trips from base camp and because it packs so small it won't take up much room anyways.
The Ultra Sil Day Pack is large enough for a day trek and small enough to pack into a jacket pocket.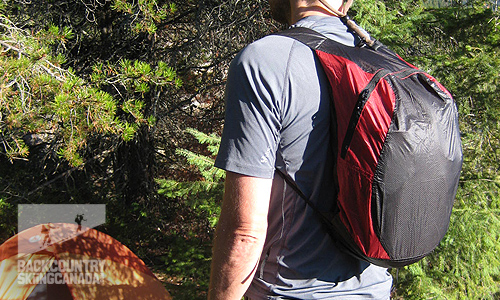 The Ultra Sil Pack is great for day hikes or short trips.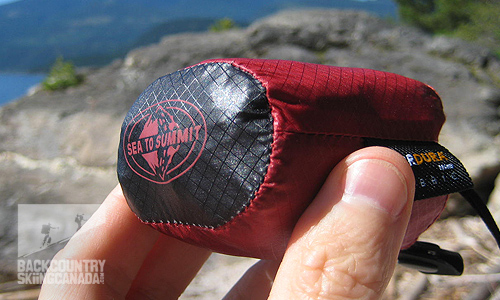 ---
Sea To Summit Traveling Light TSA Travel Locks

TSA Combination Travel Lock
Price: $10.95 US
Weight: 4g / 1.4oz

TSA Combo Cable Travel Lock
Price: $13.95 US
Weigth: 46g / 1.6oz
TSA Cardkey Travel Lock
Price: $13.95 US
Weight: 36g / 1.3oz
Gadgets and gear you have invested in for treks and trips are expensive. You want to make sure this gear is protected while in transit right? Introducing Sea to Summit's TravelingLight TSA Travel Locks. Travel Sentry Approved locks featuring the red diamond alert airport security that the locks can be opened without being damaged. All locks are perfect for holding zip sliders, duel zippers or multiple bags together. A three-dial combination lock & three-dial cable lock are available individually for around $13. The unique TSA Lock Cardkey inserts into the body of the lock to attach/remove the cable. This lock comes with two standard sized cards for your wallet and one small card for your keychain. The Cardkey Lock is about $16. All locks weigh about an ounce and a half each.
TSA Travel Lock Combo (above) or Cable Lock has a 3-dial combination with easy TSA access to prevent damage to the lock through airport security.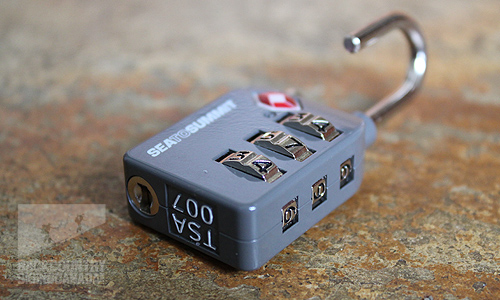 TravellingLight travel locks are great for keeping baggage secure while in transit. The CardKey lock is a unique option from the 3-dial combination lock.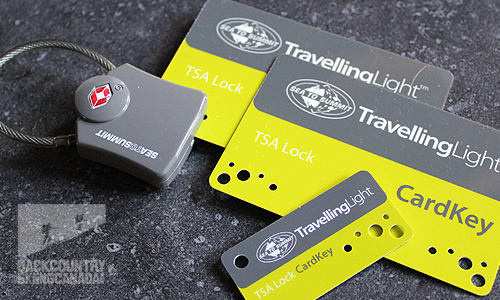 ---
Sea To Summit TPU Guide Waterproof Case for iPhone & Smartphone
Price: $29.95 US
Dimensions: 14.7 x 8.3cm / 5.8 x 3.3"
Weight: 27g / .95oz
Colours: Yellow, Blue, Black, Lime
Smartphones have come a long way with advancements in safety applications and emergency use in the backcountry. Although some may opt to leave their communication devices behind in search of solitude and escape, it may prove to be a valuable tool in stressing situations. Sea to Summit's radio frequency welded Thermoplastic Polyurethane (TPU) and Ziploc, triple-roll Velcro closure waterproof case will ensure your smartphone or other electronic devices remains functional and protected from the elements. It is not only waterproof at 10 meters for 1 hour, but is UV and extreme cold resistant and will not crack. The low profile cut is flexible and durable and works comfortably in the palm of your hand with optic grade and touch compatible TPU screen with a camera port. Weighing in at less then 1oz, it comes in blue, black, yellow or green and retails for around $30.
Waterproof casings are a must when trekking electronics in the elements. The touch compatible TPU allows for a functional smartphone inside the case.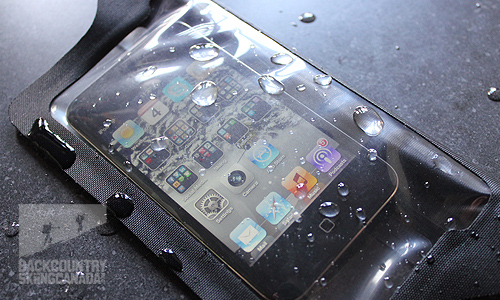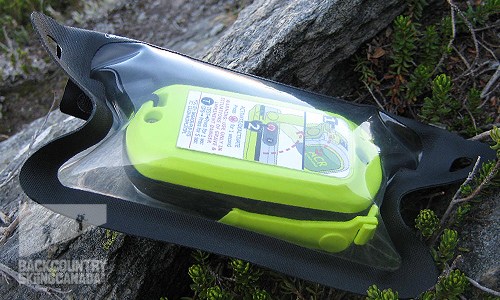 ---
Verdict:
I am very pleased with Sea to Summit and their commitment to making camping trips and treks more enjoyable with affordable, quality products. Although the pocket soaps are elective items that may not be necessary in all camping conditions, it is nice to have hygienic options in the backcountry. The compaction of both mosquito head nets and ultra sil packs is amazing and allows for these items to join you on trips, weather you are sure you will use them or not. The ability to bring electronic devices with you could ensure overall safety and maybe even result in memorable photos. Almost guaranteeing the safety of these items are the travel locks, not quite heavy-duty padlocks but lightweight, TSA accessible gates that protect from criminal elements.
I would recommend each of these products for long or short treks. For more great Sea to Summit gear be sure to read our review of the Sea To Summit X-Set Collapsable Dish Set or the Sea To Summit XT2 Traverse 3D Sleeping Bag which won our 'Gear Of The Year Award'.
PROS:
Sea to Summit offers lightweight, compact, functional items that ensure security and offer options for traveling smart and light. Items are cost effective and there are a variety of colours to choose from.
CONS:
Ultra Sil Pack does not have a waist belt. Locks appear to be easily foiled without combo or cardkey.articulation.
Rating: 8/10
Innovation 1.5/2
Function 2/2
Aesthetics 1.5/2
Features 1.5/2
Quality / Price 1.5/2



This is only our opinion. Do you disagree? Did we miss something? Are we totally out to lunch? Join the discussion in the forums here, and let us know what you think. People like/dislike gear for different reasons so chime in and we'll get a well-rounded evaluation.
Back to the rest of the reviews.
---