Sea To Summit Xt 2 Traverse 3D Down Sleeping Bag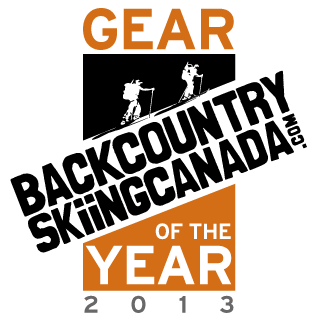 The Sea To Summit XT2 3D Down Sleeping Bag has taken home our prestigious Gear of the Year award due to not just it's warmth, comfort and light weight characteristics but also because it's packed with every feature you can think of, and more. This sleeping bag is number one in our books.
The Backcountry Skiing Canada Team.
---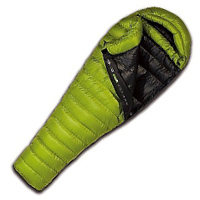 Sea to Summit is an Australian company that was created after one of its founders Tim Macartney-Snape completed a unique ascent of the highest mountain in the world—Mount Everest. Tim had been to the summit once before but felt he had not truly climbed the entire 8,848 meters to the summit since the trek to base camp starts at 2,680 meters in Lukla, Nepal. For his second ascent, Tim started at India's Bay of Bengal and took four months to climb the complete height of Mount Everest, alone and without supplemental oxygen. Soon after this he started a company and called it "Sea to Summit" based on this latest adventure. This dedication and attention to detail can also be found in the products that Sea to Summit creates and especially in the Sea To Summit Xt 2 Traverse 3D Down Sleeping Bag that this review will discuss.
The Xt 2 Traverse 3D Down Sleeping Bag has the longest list of features of any sleeping bag that we here are Backcountry Skiing Canada have ever reviewed and with all these features it's challenging to know where to start the review. Since I have to pick, I will start with the biggest innovations the bag offers: the 3D Nano Shell Technology and the Ultra-Dry Down with 850+ Loft. Typical down sleeping bags on the market today employ a 20 or 30 denier nylon outer shell with some sort of DWR (Durable Water-Repellent) coating, stuff it full of down and you have a sleeping bag. Sea to Summit took this one step further with their 3D Nano Shell Technology. While this shell still uses a high density breathable 20D polyester exterior fabric with DWR, it also uses a unique 3D barrier just below the outer fabric. This non woven silicon encapsulated 3-Dimensional layer is designed to both provide increased insulation and to protect the down from heat robbing moisture. The barrier is hydrophobic and, therefore, creates a layer between your warm body and the cold ambient air as this is where moisture is created from condensation. The 3D barrier traps the condensation and keeps it away from the bag's precious down insulation. Furthermore, to rid the bag of any excess moisture (which is inevitable) the 3D layer again helps out and actually allows much faster evaporation than if the down itself was wet. Moisture problem solved.
What's included: Storage bag, wash bag, compression sac, instructions and content analysis documentation.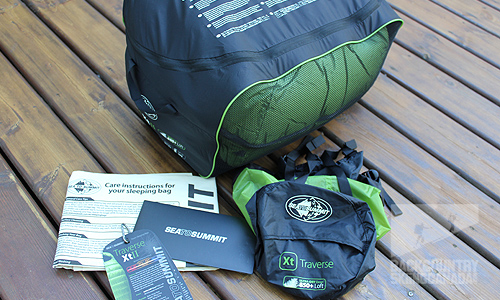 The second big story (or part B of the first point depending on how you look at it) is Sea to Summit's Ultra-Dry Down. Unless you are a total gear-phobe you have no doubt heard about the latest revolution to shake up the down gear market. I am of course talking about treated down that repels water. Most manufacturers are still entering this race that Sierra Design started with their DriDown technology last year. Sea to Summit's offering is a permanent Nano-level water repellent polymer treatment that is applied right to the down itself. This protects the down from internal condensation that your body naturally produces and which collects inside the sleeping bag over long periods of use. It also protects the down insulation from external moisture should it come in contact with your sleeping bag. Tests have show that Ultra-Dry Down absorbs 30% less moisture and retains 60% more loft and dries 60% faster than untreated down. Better yet Sea to Summit states that there is no reduction in effectiveness after 15 washes, which is a whole lotta washing. To validate these exact numbers I would need my own private laboratory and since I don't have one I will just have to take their word for it. In field testing however I did find that the Xt 2 Traverse 3D kept its loft exceptionally well even after multi-day use. Once released from the stuff sac (which is top-shelf) the bag puffed up in no time and provided incredible warmth on colder alpine nights.
The list of features on the Xt 2 Traverse 3D Down Sleeping Bag extends well beyond these two material specific technologies and also includes the zippers, the baffles and the hood/foot box designs.
The 2 way YKK #5 zips used on the Traverse can unzip from the top or bottom of the sleeping bag so that you can vent heat as required. The main zip also has two zipper pulls; one on the inside of the bag and one on the outside to facilitate easy-in, easy-out manoeuvres even when you can't see the zipper pull. There is also a separate zipper around the foot box so that you can open the sleeping bag completely and form a flat duvet. This feature works well for shared use but, if you prefer, you can also zip two Sea to Summit sleeping bags together to make one giant couple's bag. All of the zippers on the Xt 2 Traverse 3D Down Sleeping Bag offer anti-snag functionality thanks to hidden zipper draft tube construction and the use of high-density 210 Denier poly cloth fabric that is stiff and rigid and just stays out of the way of any zipper teeth. Even the zipper on the large interior security pocket located in the chest region has an anti-snag zipper with extra low profile for comfort against your skin.
The overall baffle construction of the Xt 2 Traverse 3D uses three main features to make this more than your typical sleeping bag baffle design. First, there is the "Offset Baffle Construction" which provides more room for the down to loft and thus increases thermal efficiency. This simple design also increases warmth by having the seams off-set to reduce heat loss. A simple yet effective idea. Second, Sea to Summit uses "Side Block Baffles" that separate the top of the bag from the bottom. This allows for 60% of the down to be on the top of the bag where it's needed to retain body heat and 40% to be on the bottom where most of it is compressed by the weight of the user. It also provides room for a 3D side wall or, in layman's terms, a perpendicular baffle in between the top and bottom baffles. Finally there is the "Differential Cut Shell & Lining" which uses different sizes of shell fabrics so the down can expand more and in the most beneficial direction. Down insulates best when it is allowed to decompress fully and reach its maximum loft. To allow for this on the top of the Summit Xt 2 Traverse 3D bag, Sea To Summit uses a larger outer shell than interior lining which gives the down room to expand. On the bottom of the sleeping bag it's the opposite story. Sea To Summit uses a "reverse directional cut" which has the interior lining larger than the shell fabric so the down lofts up and more effectively fills the voids around your body as you sleep.

As we stated above the box foot and hood designs are among the long list of features on the Xt 2 Traverse 3D bag. The anatomical box foot is tapered in three directions to better accommodate the natural relaxed position of your feet. These tapers provide a fit which keeps down close to your extremities in order to prevent cold spots and possibly frostbite by trapping as much warmth as possible in the foot box.
If you take a good look at the hood design you'll notice the it uses a "3D compound differential cut pattern" (say that 3 times fast) that forms a more naturally shape around your head in order to trap warmth. The dual-adjustment drawcord offers additional synching power to ensure drafts don't get in when the mercury drops. The Sea to Summit draw cords, which are found on the hood and neck collars, are embedded in a fabric tunnel to ensure they don't interfere with the user and cause any discomfort. The hood closure uses a non-stretch cord while the neck collar uses an elastic cord to allow for some stretch as you move around in the bag.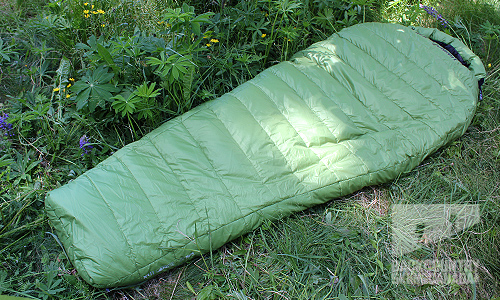 Features:
- 850+ Ultra-Dry Down insulation features 90% down cluster premium European goose features a permanent Nano-level water-repellent polymer treatment that repels moisture, helps inhibit bacterial and microbial growth, dries faster, retains loft longer, and prolongs the overall life of the sleeping bag
- Relaxed mummy shape has a larger hood, broader shoulders and a larger chest area (compared to regular mummy bags) and can be converted to a duvet
- 3D NanoShell™ is treated with Nano Durable Water Repellent for extra water resistance without inhibiting breathability or adding weight
- Differential cut shell, means the lining is cut smaller than the outer shell fabric so the insulation can expand outward for better lofting and to reduce cold spots
- 3D side walls and offset baffles lead to less heat loss while side block baffles prevent down from migrating from the top of the bag to the bottom
- Offset baffles provide a stable structure that allows the down to loft to the correct density and minimizes loss of body heat through seams
- 60 upper / 40 underside fill ratio; a side block baffle allows the bag to be filled with a different amount of down in the top and bottom which means your body is covered in fully lofted down (much warmer than compressed down)
- Anatomically tapered foot box offers a relaxed fit and plenty of unrestricted room when you sleep
- Neck draft tube with dual elastic adjustment
- Lightweight Ultra-Sil® compression bag for easy packing (medium size allows compression from 15 to 5 litres)
- Over-sized mesh storage cell to ensure the down maintains optimal loft during long periods of storage
- Large cotton laundry bag to protect your bag when washing
- Content analysis documentation specific to your sleeping bag's Down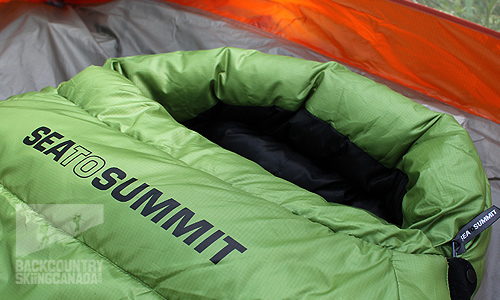 - 2 way YKK #5 zips with separate foot zip - allows you to open the bag into a duvet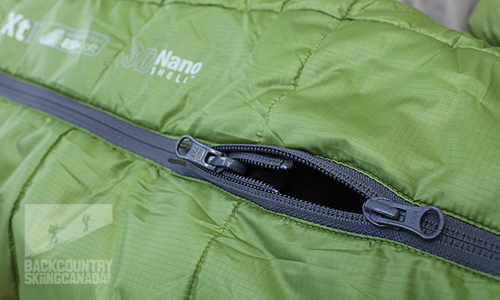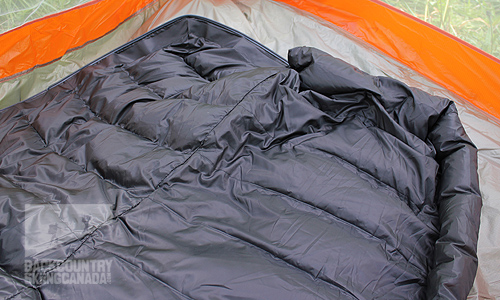 - Single hand adjustable hood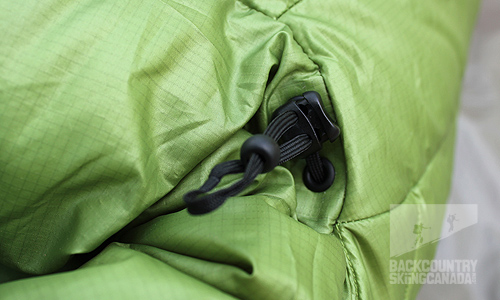 - Zipper draft tube with anti-snag zip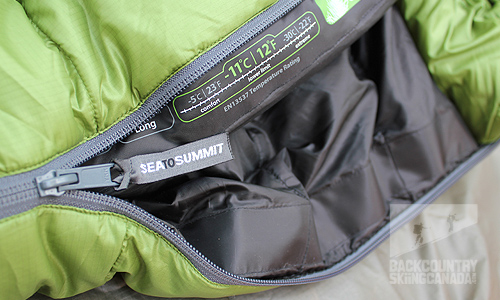 - Medium sized internal zip pocket inside the chest area is ideal for stowing electronics to preserve battery performance in extreme cold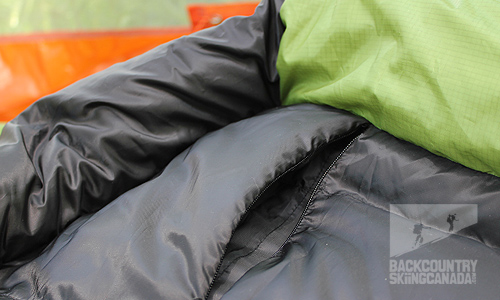 - Cushioned internal hood drawcord with dual adjustment for a comfortable seal around your face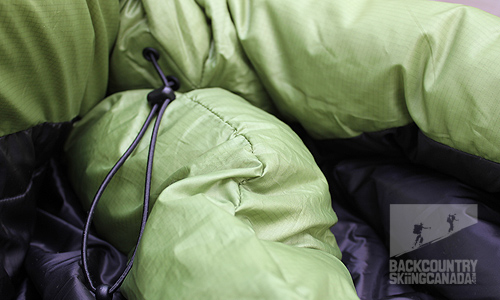 - Anti-snag zip-draft tube and velcro tabs seal in warmth and block out the cold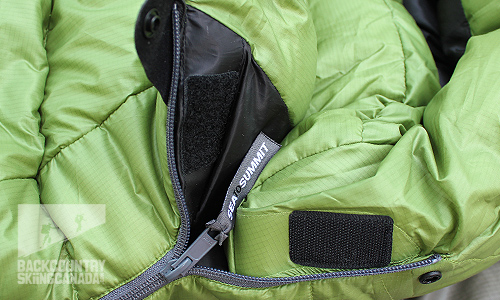 Fabrics:
Outer material - 3D NanoShell™ - 20D polyester with Nano DWR, high-density down proof weave
Inner material - 20D Polyester, soft touch, ultra-breathable, high-density down proof weave
Fill - Ultra-Dry Down™, 850+ Loft, 90% Down cluster, premium European Goose Down
850+ Loft Goose Down is the highest quality down available for sleeping bags and it provides the best insulation to weight ratio. Not all down is created equal and many manufacturers save money and cut corners on the down they use. Sea to Summit uses Eastern European Goose Down which is renowned for its high quality and loft due to the larger clusters. Sea to Summit also tests every batch of down used in their sleeping bags to ensure the quality is consistently above 850 Loft. Sea to Summit is the only manufacturer to actually provide an International Down Feather Laboratory (IDFL) certificate with each bag purchased that identifies the exact Fill Power of the goose down used in your new sleeping bag. If you treat your Sea To Summit Xt 2 Traverse 3D Down Sleeping Bag well, keep it dry, wash and store it properly it should outlast your lifetime.
Verdict:
We here at Backcountry Skiing Canada have been testing a bunch of new sleeping bags this spring in order to determine which is the best sleeping bag for summer alpine camping trips and winter hut based ski tours. I have to be honest I was not expecting a lot from the Sea to Summit bag since I had a preconceived notion that they were mostly in the accessories and outdoor paddle realms. Boy was I surprised. The Xt 2 Traverse 3D Down Bag blew me away. It was hands down the best sleeping bag we reviewed from manufacturers such as Deuter, First Ascent, Mountain Hardwear, Sierra Designs, The North Face and Big Agnes. Each detail was spot on and it offered every feature you could want including Ultra-Dry Down technology and the innovative 3D Nanoshell construction. I could go through each and every aspect and tell you how great they all are and how warm and comfortable this bag is but if you have read this far you already have a boat load of information as to why this sleeping bag is so great. So I will leave it at that. The only draw back I could find was price. At $569 this was the second most expensive sleeping bag we reviewed and well over $200 more than the average sleeping bag we reviewed. It was second only to the Sierra Designs DriDown Cal 6 sleeping bag at $620. However, as they say "you get what you pay for" and if you can afford it this is one incredible sleeping bag, right down to the compression sac!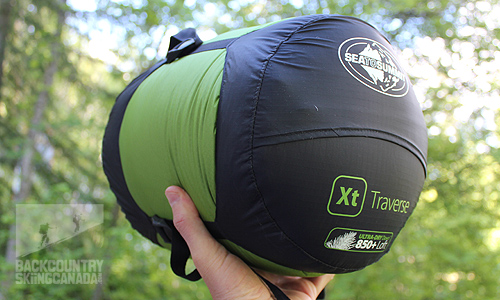 SPECS:
Price: $569 US
Weight: 1360g / 3lbs
Size: Long
Dimensions (L x W x Width at feet ): 205 x 156cm x 144cm / 81 x 61 x 56inches
Fill: Ultra-Dry Down™, 850+ Loft, 90% Down cluster, premium European Goose Down
Fill weight: 580g / 20oz
Stuff Size: Medium 15 L to 5 L
Temperature Rating: comfort -5°C, -11°C lower limit, -30°C, extreme
Warranty: Lifetime
PROS:
- Dual zipper pulls (one on the inside and one on the outside ) as a single zipper pull can be hard to find
- Zipper goes right around the foot box so you can open the bag right up like a duvet
- Large hidden pocket is well integrated and off to the side so it is not in the way when you sleep
- 850+ Ultra-Dry premium European Goose Down
- Nano-level water-repellent polymer treatment on the down
- Long list of innovative features
- Included compression sac
CONS:
- Expensive when compared to other sleeping bags but the quality is unmatched so you truly do get what you pay for
Rating: 9.5/10
Warmth 2/2
Compressibility 2/2
Features 2/2
Weight 2/2
Quality / Price 1.5/2

This is only our opinion. Do you disagree? Did we miss something? Are we totally out to lunch? Join the discussion in the forums here, and let us know what you think. People like/dislike gear for different reasons so chime in and we'll get a well-rounded evaluation.
Back to the rest of the reviews.
---