Sea To Summit Xt 2 Traverse 3D Down Sleeping Bag - Review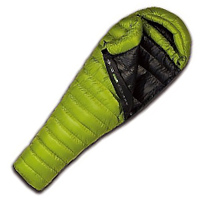 The Xt 2 Traverse 3D Down Sleeping Bag has the longest list of features of any sleeping bag that we here are Backcountry Skiing Canada have ever reviewed and with all these features it's challenging to know where to start the review. Since I have to pick, I will start with the biggest innovations the bag offers: the 3D Nano Shell Technology and the Ultra-Dry Down with 850+ Loft. Typical down sleeping bags on the market today employ a 20 or 30 denier nylon outer shell with some sort of DWR (Durable Water-Repellent) coating, stuff it full of down and you have a sleeping bag. Sea to Summit took this one step further with their 3D Nano Shell Technology. While this shell still uses a high density breathable 20D polyester exterior fabric with DWR, it also uses a unique 3D barrier just below the outer fabric. This non woven silicon encapsulated 3-Dimensional layer is designed to both provide increased insulation and to protect the down from heat robbing moisture.
Read the rest of the review over here in our Gear Review section.