Sea To Summit Spark SPIII Sleeping Bag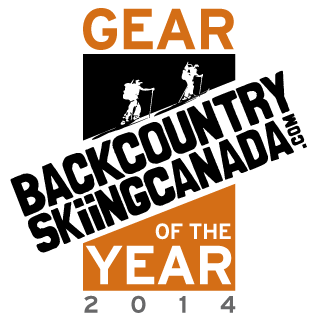 Seat To Summit has already taken home our Gear of the Year Award for their XT 2 Traverse 3D sleeping bag, but this years it's the Spark SP III's turn for the glory. It's ridiculously light weight, compact design and -5°C temperature rating makes it ideal for any adventure, even winter hut trips. Great things do come in small packages!
The Backcountry Skiing Canada Team.
---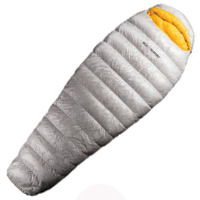 Sea to Summit is an Australian brand that continues to impress. Last season we put the Sea To Summit XT2 3D Down Sleeping Bag through the preverbal BSC review ringer and it came out the other side with flying colours. It was awarded our prestigious 'Gear of the Year Award' for 2013. This time we have the newly released Sea To Summit Spark SPIII Sleeping Bag up for review. This is still an 850 Ultra-Dry Down bag but instead of a -11°C lower limit rating it's a -4°C rating which means it's lighter, more compact and ideally suited to three season camping and winter hut trips. The Ultra-Dry Down is a permanent Nano-level water repellent polymer treatment that retains over 60% more loft and absorbs 30% less moisture when compared with untreated down. It also anti-microbial, anti-bacterial and dries faster, prolonging the life of your sleeping bag. What's not to like there?
Weighing in at just 690 grams the Sea To Summit Spark SPIII is one light Sleeping Bag. It uses 10 denier 28g/m2 mini-ripstop Pertex Quantum face fabric and 15 denier Nylon lining to provide a lightweight yet comfortable and durable solution. To further reduce weight the Spark SPIII Sleeping Bag has a trimmer cut and 1/3 length zipper. Both of these weight saving features don't compromise comfort or mobility which are equally as important as overall weight.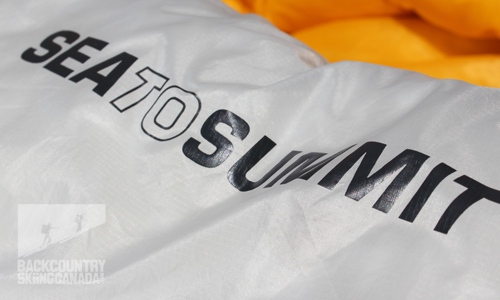 To keep you warm the Sea To Summit Spark SPIII Sleeping Bag uses box wall baffles instead of sewn-through construction (easier and cheaper to produce but not as warm). This includes the foot box, as the extremities are often the first to get cold. The 1/3 zipper has a draft tube to keep cold air at bay and an enlarged neck and hood baffle limits cold air entering from the top. A 55/45 fill ratio is used to place more down where you need it most, concentrating warmth over the core of your body.
The Sea To Summit Spark SPIII Sleeping Bag comes with the best compression sac we have ever seen which isn't surprising as this is Sea to Summit we're talking about; they're known for their Ultra-Sil stuff and compression sacs after all. You'll also receive a cotton sack to protect your investment while laundering and a mesh bag for storage is included to maintain your bag's loft.
Every detail is designed to keep the Sea To Summit Spark SPIII Sleeping Bag light, even the cut as you can see.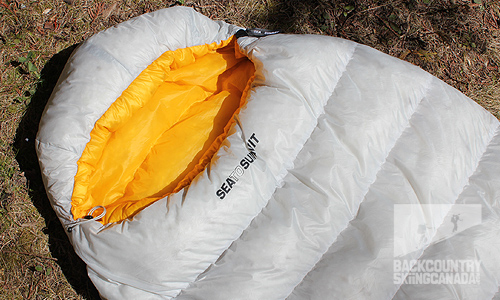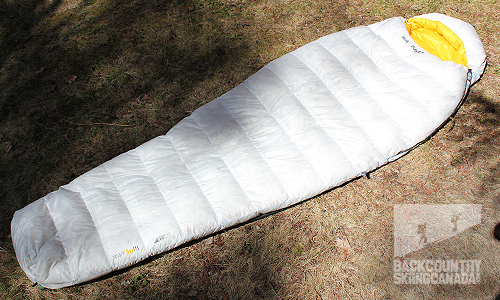 Features:
- Contoured mummy shape
- Box wall baffle construction throughout and draft tube for optimal warmth.
- 55/45 fill ratio.
- Differential fill to gradually concentrate warmth over body core.
- Includes lightweight 15D Ultra-Sil compression bag.
- Includes mesh storage cell and laundry bag.
- Larger zipper pull with garage and draft tube to keep the cold out. A micro 'no-snag' durable fabric to ensure the zipper glides smoothly.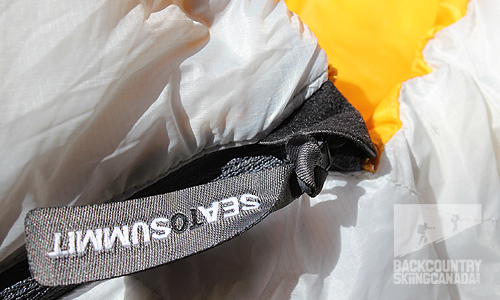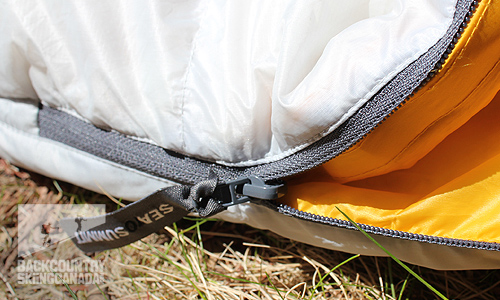 - Contoured hood with drawcord.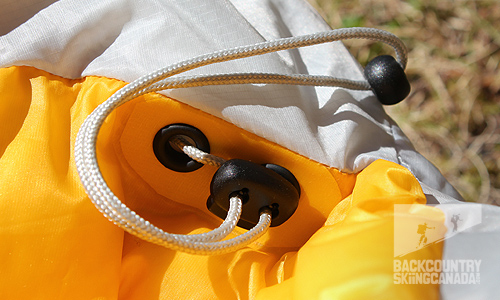 - 10D Pertex® Quantum shell for minimal weight and bulk.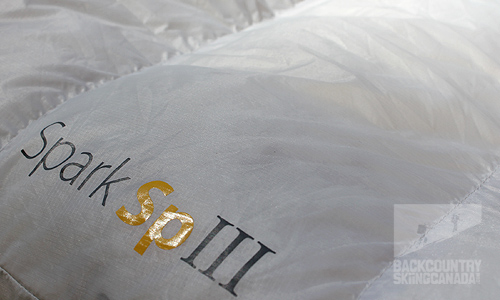 - Tapered footboy.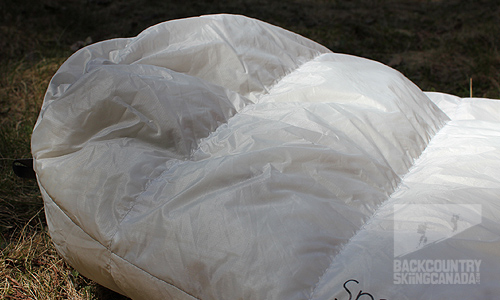 - 1/3 length YKK #3 side zip.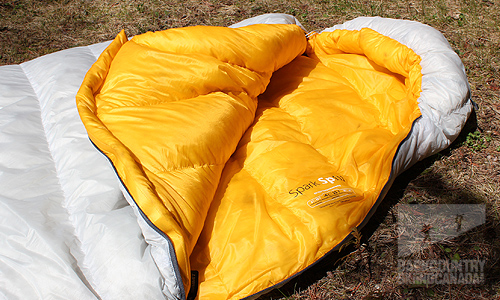 Verdict:
I have come to realize that Sea to Summit which has been known for making the best waterproof compression sacs and storage stuff sacs should also be known for making some of the best down sleeping bags on the market. The Sea To Summit XT2 3D Down Sleeping Bag (rated at -11°C) was an award winner and now the Sea To Summit Spark SPIII Sleeping Bag (rated at -4°C) is close on it's heels as being one of the best three season bags I have tested. Lightweight, compact and warm are three of the most important attributes in any sleeping bag and the Spark SPIII hits it outta' the park on each one.
My testing was conducted over the early spring nights with temps ranging from 0°C to +6°C. I found that there were no cold spots or drafts on any of my nights out however it was still 4°C off the comfort limit. Be aware that this is just a recommendation as everyone is different. The close fitting contoured mummy shape of the Sea To Summit Spark SPIII provided adequate room and I didn't ever feel claustrophobic or cramped. The 1/3 zip was initially an area of concern for me as I have used bags with 1/2 zips before but none with such a limited entry/exit. I found no issue with the reduced zip and appreciated it's weight savings. The only down side is if you over heat there is limited ventilation options with out a full zip.
The Sea To Summit Spark SPIII Sleeping Bag is pretty much flawless and I only have two tiny areas of improvement. The first is the colour. White + camping do not mix. This bag will get dirty fast and a darker colour is always nice to have for drying in the sun on multi-day trips. The second is that I am a big fan of sleeping bags with dual zipper pulls, like the Sea To Summit XT2 3D Down Sleeping Bag. It just makes getting in and out of the bag that much easier. I know why Sea to Summit only provides one zipper pull and that is to reduce weight which I get and can appreciate. I told you they were small gripes.
Overall, the Spark SPIII Sleeping Bag one of the best bags I have tested this year and is right up there with the Mont Bell Down Hugger 900.
Super comfy, just not sure about the white colour and dirt.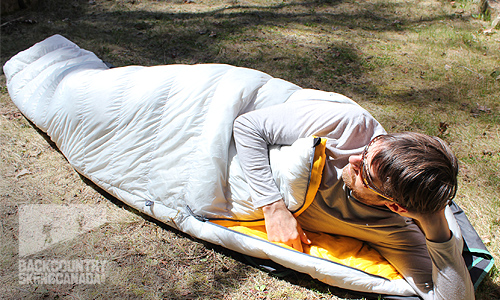 The best stuff sac you will ever get with a sleeping bag - period.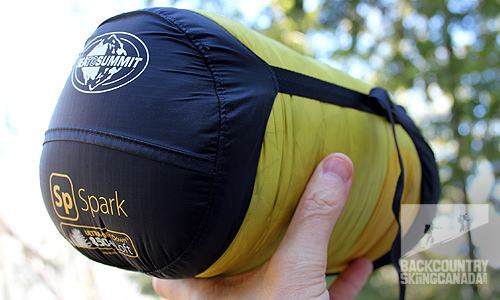 SPECS:
Price: $459US
Weight: 690g / 1.5lb
Rating: Comfort 2°C / 35°F, Lower -5°C / 25°F, Extreme -20°C / -4°F
Fill: Ultra-Dry Down 850+ Loft 90/10 European Goose Down
Fill weight: 435g / 15 oz
Compression Size: 3.7L or 28 x 15cm / 11 x 6"
PROS:
- Ridiculously light and compact down bag.
- Short 1/3 zip saves on weight and was just long enough to get in and out of the bag easily.
- Differential fill and box wall baffle construction keeps warmth over body core.
- Best compression sacs on the market.
CONS:
- No dedicated neck baffle or shoulder collar to help keep the drafts out from the top but rather enlarged head and neck baffles.
- White colour would get dirty very easily and not facilitate fast dry times in the sun if it was to get wet.
- Hood/neck adjustments cord can loosen off when you move around.
- Only a single zipper pull and not a double like on the Sea To Summit XT2 3D Down Sleeping Bag
- Pricey, but quality always is.
Rating: 9/10
Warmth 2/2
Compressibility 2/2
Features 1.5/2
Weight 2/2
Value 1.5/2

This is only our opinion. Do you disagree? Did we miss something? Are we totally out to lunch? Join the discussion in the forums here, and let us know what you think. People like/dislike gear for different reasons so chime in and we'll get a well-rounded evaluation.
Back to the rest of the reviews.
---