Montbell Down Hugger 900 Sleeping Bag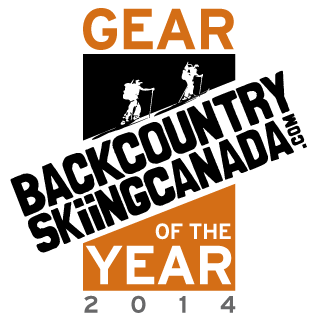 Montbell has always impressed us as we have found every one of their sleeping bags to be top notch. What makes the Down Hugger 900 sleeping bag stand out is its incredible warmth, light weight, compressibility and interior space. If you are looking for the best -5°C bag on the market today, look no further!
The Backcountry Skiing Canada Team.
---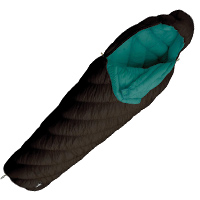 Having already bestowed rave reviews on the Montbell UL Spiral Down Hugger 1 Sleeping Bag a few years back, I was looking forward to testing out the new Montbell Down Hugger 900 sleeping bag. The Down Hugger 900 uses the same "bias-cut" technique to improve interior space as the Montbell UL Spiral Down Hugger 1 Sleeping Bag. "Bias Cut" sounds like a fancy-pants terms but it simply means that fabrics are cut in a way that utilizes the greater stretch in the bias or diagonal direction of the fabric. The gathered stitches are also elastic, which allows them to expand and contract as the sleeping bag moves with you when you change positions throughout the night. This flexibility creates a better contour for your body position. Keeping the 900 fill goose down closer to your body helps eliminate those drafty spaces.
The down is held in place by multi-tube construction which is industry standard these days but the added flow gates throughout these tubes ensures that the down stays put and evenly distributed. The end result is greater thermal efficiency in a really comfortable bag with no weight penalty. Top this all off with a Polkatex DWR (durable water repellent) treatment helping the Down Hugger 900 to repel water and ensuring that condensation from your tent walls does not compromise the insulation.
The Montbell Down Hugger 900 Sleeping Bag comes with a cotton storage bag so that the bag can be stored in an expanded state to promote high loft, which means more warmth in the backcountry. A stuff sack is also provided to reduce overall volume and help maximize the space required in your backpack, however a compression sack would yield much more impressive results in this department.
A full-length zipper with an auto locking feature limits zipper "creep" and dual insulated draft tubes keep out cold drafts. The fabric closest to the zip is slightly thicker and designed to ensure that the draft tubes don't end up getting caught up in the zipper while using it in either direction. To further keep the cold at bay the Down Hugger 900 has an adjustable tunnel hood. The draw cord allows you to customize the face hole to minimize cold air getting in and ensuring your moist breath gets out. The neck baffle and shoulder collar also help reduce the amount of cold air which can enter the bag through the top opening.
The Montbell Down Hugger 900 Sleeping Bag gets the '900' moniker from the fact that is uses 900 fill power goose down which is very rare compared to other sleeping bags on the market. 650 - 800 fill power down is more commonly used given that it's less expensive in this day where down prices are on the rise. 900 fill down keeps you warmer and compresses better than those with a lower number but 900 fill down is also at the premium end of the price range - hence the Down Hugger 900's hefty price tag. Lets look at some features and photos shall we?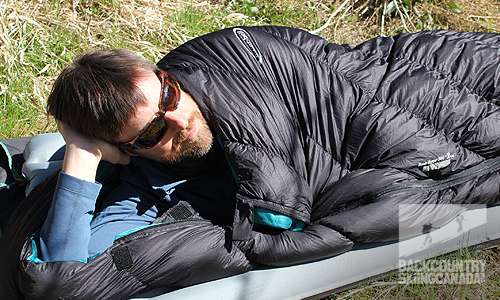 Features:
- Super Spiral Stretch System
- Multi-Tube Construction with Flow Gate technology
- Tapered, bias stretch stuff sack for easier packing included
- Cotton storage sack included
- DWR: Polkatex DWR treatment
- Auto Locking Zipper to limit zipper "slip" during the night. It's 170cm (67in) long and mates with another Mont Bell sleeping bag with a right zip.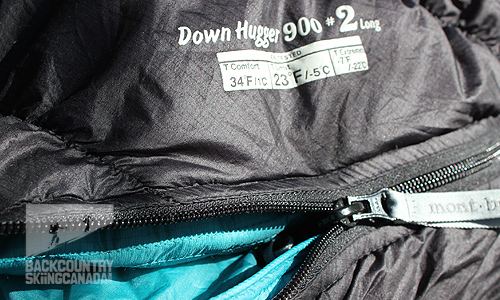 - Dual insulated zipper draft tubes.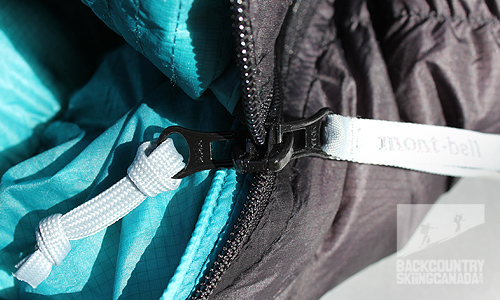 - Super light weight 8-denier Ballistic Airlight nylon fabric and expanding seams.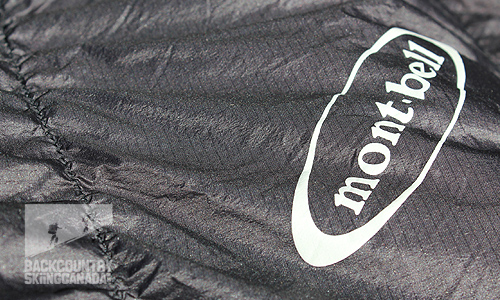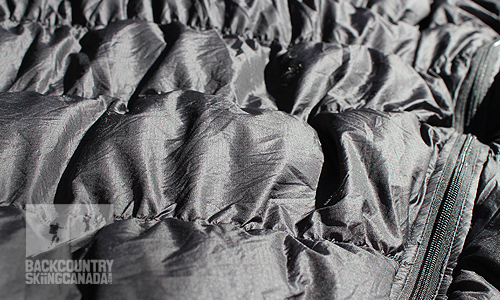 - Heat saving tunnel hood, neck baffle and shoulder collar minimizes cold air circulation through the top of the bag.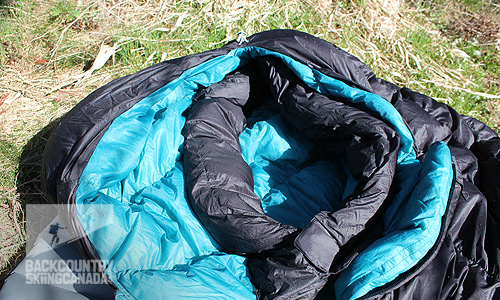 - Draw cord for face hole adjustment.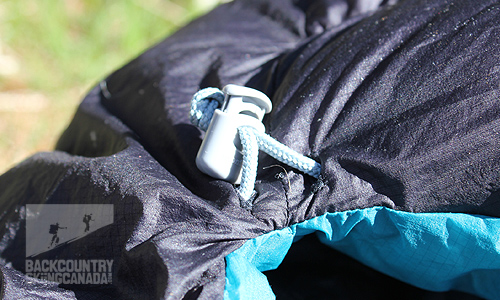 Verdict:
I tested the Montbell Down Hugger 900 Sleeping Bag on several colder spring nights in April where the mercury dipped down to 0°C. There were no winds and I was not in a tent so that I could experience a true zero degrees. With only a base layer on I found that the Down Hugger 900 bag kept me warm but it did have some cold spots on occasion. After putting on some additional clothing I was able to get a truly restful sleep. The biggest thing I noticed aside from the comfort and loft of the Montbell Down Hugger 900 was the room. There is a lot of unimpeded room to roll around and get comfortable. I like to put my knees up and spread out my legs to keep my back from seizing up through out the night and the Down Hugger allowed for this and then some. I would confidently say that the spiral design easily provides twice as much internal room as other traditional bags and allows for a really restful sleep if you like to be able to move around in your sleeping bag freely.
While the black exterior fabric colour is ideal for hiding dirt and accelerating dry times in the sun it does show every little fibre and hair on the bag thanks in part to the static electricity generated.
The full-length zipper has very little extra durable fabric to prevent zipper snags but it seems to work really well. This minimal design affords no snags and keeps weight down. My favourite feature of the zipper and where most companies save a few cents and grams is the double zipper pulls. These make it super easy to get in and out of the sleeping bag as most bags only have a single zipper pull which is always on the outside of the bag when you are on the inside. With two zip pulls you can always find one on the inside and one on the outside, which are well worth the added costs and weight.
The only real gripe I have with the Montbell Down Hugger 900 Sleeping Bag is not with the bag at all but rather with the stuff sack. First off, it's not waterproof and offers little to no compression. I immediately swapped mine out for a better compression bag to make things super-small and easily saved half the compressed volume. For a sleeping bag in this price range it would be nice to have a better stuff sack provided.
Overall the Montbell Down Hugger 900 Sleeping Bag provides a comfortable, warm sleep at a very reasonable weight and size given its -3°C rating. Make no mistake - this is a high-end sleeping bag so if you have the extra cash and want the best, I would say that this is it.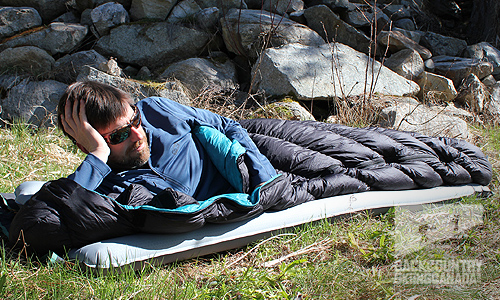 SPECS:
Price: $539 US
Weight: 756g / 1lb 11oz
Colours: Black
Fill weight: 370g / 13oz
Insulation: 900 Fill Power Goose Down
Dimensions: Max User Height 6' 6", Shoulder Girth] 57" - 81", Knee Girth 47" - 67"
Compressed size: 16cm x 32cm (5.1L) / 6.3" x 12.5"
Rating: Comfort 1℃ / 34℉, Lower Limit -5℃ / 23℉, Extreme -22℃ / 7℉
Awards: Winner of Backpacker Magazine Editors' Choice Award 2014
PROS:
- All the features you want in a quality three season bag
- I tested the long version and there was lots of extra space. I am 6'1" and 170lbs and found it had more than enough room for my size.
- Black is not the most exciting colour for a sleeping bag when stuck in a tent for multiple days compared to orange or red but it hides the dirt and dries much quicker.
- Compresses really well for a -3°C bag and is on the light end of the weight spectrum.
CONS:
- Pricey, but quality ain't cheap.
- No internal pocket for storage of small items you may want at night like a headlamp, ear plugs or tissues.
- A simple stuff sac is included and for this price tag it would be expected that a waterproof compression sac would be part of the deal.
Rating: 9/10
Warmth 2
Compressibility 2
Features 1.5
Weight 2
Quality / Price 1.5/2

For more Mont-Bell reviews have a click on over here to read the review of the Snow Banshee Hoodie soft shell jacket, the Mont-Bell Dynamo Wind Parka the Mont-Bell Frost Smoke Down Parka or the Mont Bell UL Spiral Down Hugger 1 Sleeping Bag.
This is only our opinion. Do you disagree? Did we miss something? Are we totally out to lunch? Join the discussion in the forums here, and let us know what you think. People like/dislike gear for different reasons so chime in and we'll get a well-rounded evaluation.
Back to the rest of the reviews.
---