Jottnar Bergelmir jacket and Vanir Pants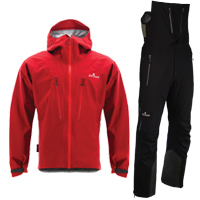 Jöttnar's Bergelmir jacket and Vanir pants showed up at the Backcountry Skiing Canada doorsteps with much curiosity about this new UK-based company. Directed squarely at the serious mountaineering and ski mountaineering purist, this no-nonsense, minimal outerwear is all about lightweight function in extreme environments, and it's certainly up to the task.

Jöttnar was founded by two mountaineers who were formal Royal Marines and spent decades climbing in the Scottish Highlands and other extreme locations around the world. Inspired by a fierce Arctic winter in the Norwegian mountains, Jöttnar was born with the goal of developing "a technical outdoor clothing range that would protect against the raging brutality around us, but also capture the purity and elegance of the Scandinavian landscape."

Jöttnar's philosophy of clean lines and disciplined designs comes through in the Bergelmir jacket and Vanir pants. There are several key elements that make this outerwear stand out: the proprietary Polartec 3-layer Neoshell and the remarkable simplicity and functional fit.

The Polartec 3-Layer Neoshell is based on the Neoshell fabric used by other popular manufacturers, but Jöttnar worked with Polartec to develop a more tightly woven and durable version specific to the Bergelmir jacket and Vanir pants, while maintaining the remarkable breathability for which Neoshell is renowned. What this means is you get a waterproof, bomber outerwear that will allow you to wear it during strenuous activities more than other less breathable fabrics.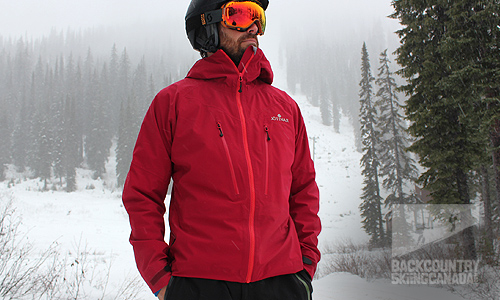 The athletic fit of the Jöttnar Bergelmir jacket is big enough for under layers including a puffy, but is in no way bulky. The functional form and stretch of the Neoshell allows an excellent range of movement required for climbing. Lifting your arms above your head and the jacket remains in place without any unnecessary tension. Two external, harness-compatible outer pockets, a small internal inner pocket and a unique flexible wire-rimmed, helmet-compatible hood round out the notable features of this otherwise streamlined jacket. It comes in a subdued (not as bright as the image on their website) red, blue and black.

The Jöttnar Vanir pants are equally functional with enough room in the legs for the common "chimney" thighs of many ski mountaineers without being baggy, and feature articulated knees that allow a full range of motion. The Kevlar-reinforced instep protectors are durable and the pants offer two sets of removable gators for climbing boots and skiing boots. However, in our test we noticed that regardless of the gators used, the outer shell cuff was an extremely narrow fit, prohibitively so over "freeride" touring boots. While this points directly to the intended mountaineering target of the Jöttnar line, a slightly larger cuff with the ability to fasten it down for slimmer boots would have been preferred in this area. It comes in your choice of black or black.
We tested the Jöttnar Bergelmir Jacket and Vanir pants on several early season ski tours as well as ripping around the resort. Given that the start to the 2014/15 ski season has been unseasonably warm here in western Canada the Jöttnar Bergelmir Jacket and Vanir pants had ample time to in wet conditions and came through with flying colours. Sitting in a puddle of wet snow is not my idea of fun but the Polartec Neoshell kept me bone dry and toasty warm but also not too warm. The Neoshell fabric is said to be twice as breathable as Gore-Tex and after my use I would have to agree. Neoshell also offers up considerable more stretch than other waterproof/breathable fabrics and its welcome on the ski track and while fiddling with gear. The soft touch and quiet texture of the Neoshell were also two more points that made it easy to love the new Jöttnar kit.
Features:
Jöttnar Bergelmir Jacket
- Bemis ST-318 seam tape.
- YKK zippers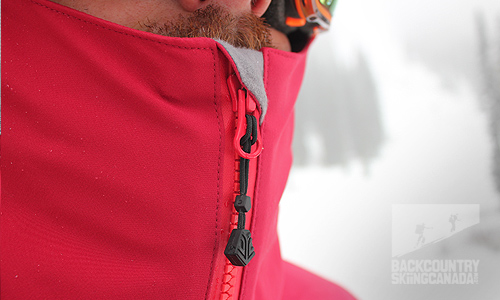 - Fully adjustable helmet compatible hood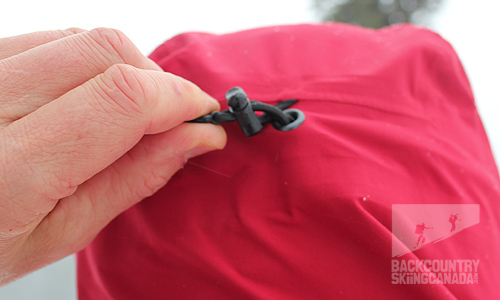 - Soft internal neck rash and beard guard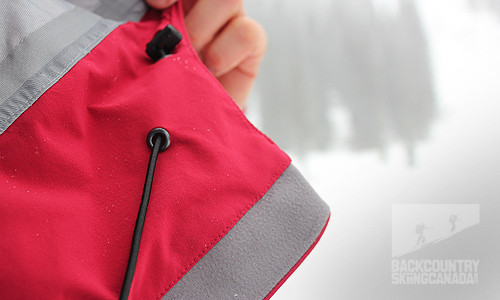 - Wire-stiffend hood brim with fully mouldable peak and internal pull cords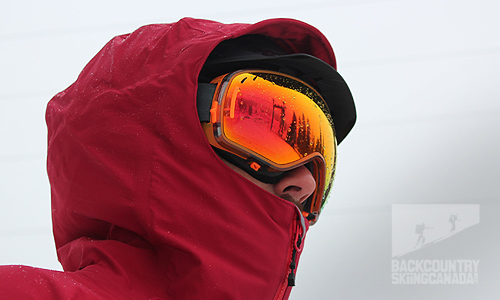 - Harness compatible map compatible chest pockets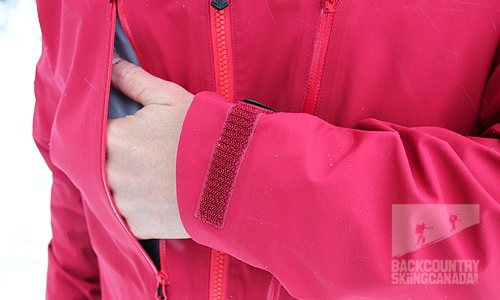 - Corded, glove-compatible zipper pulls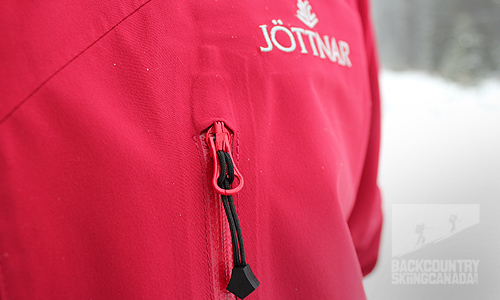 - Internal wallet/phone pocket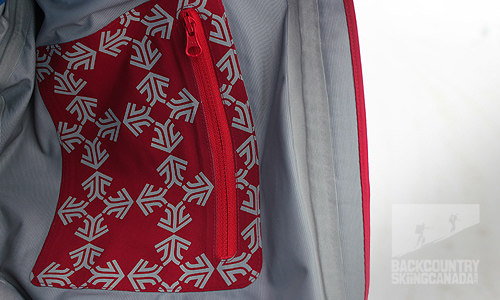 - Velcro adjustable cuffs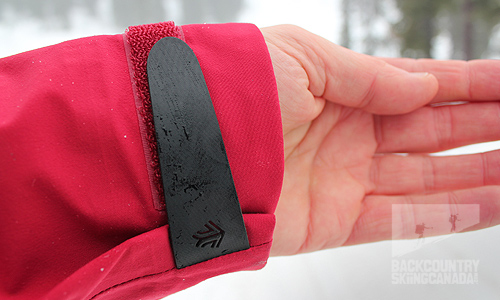 - One-handed, elastic hem drawcord operation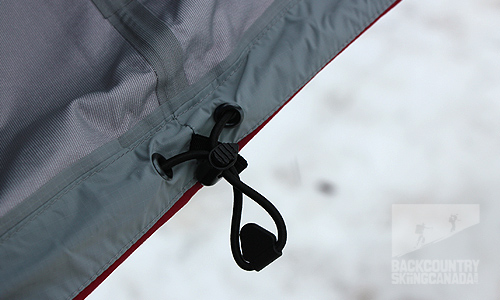 Jöttnar Vanir Pants:
- Bemis ST-318 seam tape
- Vertically aligned chest pockets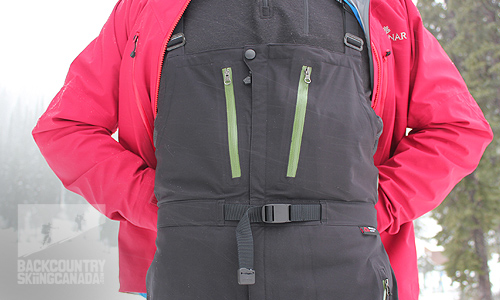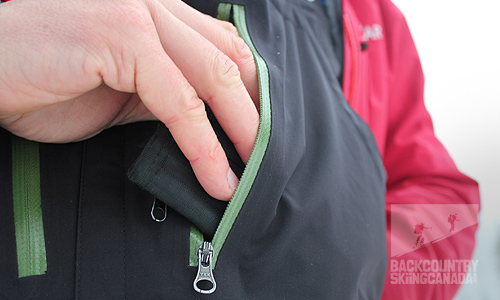 - Elasticized, adjustable, detachable braces with electroplated metal o-rings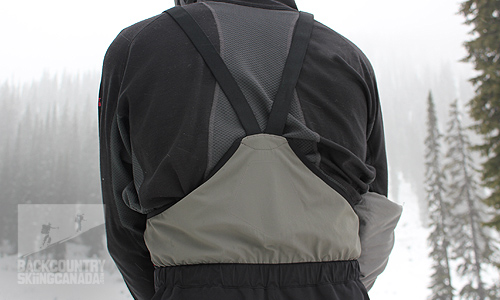 - Corded, glove compatible zipper pulls with YKK zippers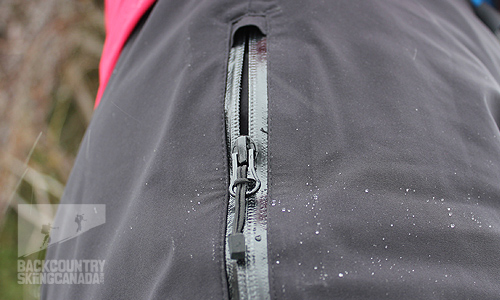 - Two hip pockets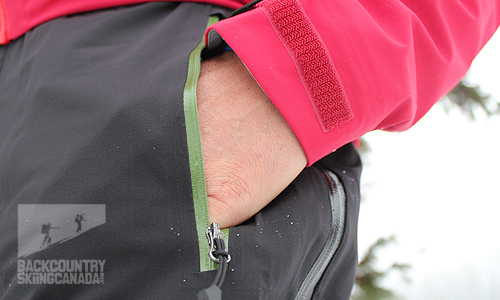 - Kevlar reinforced instep protectors and detachable internal gaiters with elasticized gripper cuff and boot clasp. Two sets provided for ski boots and climbing boots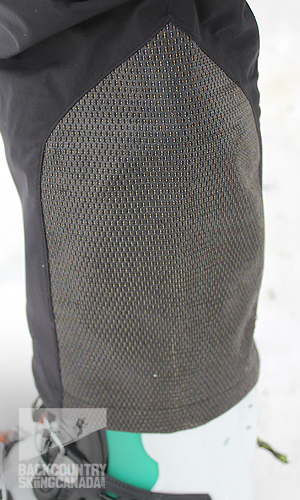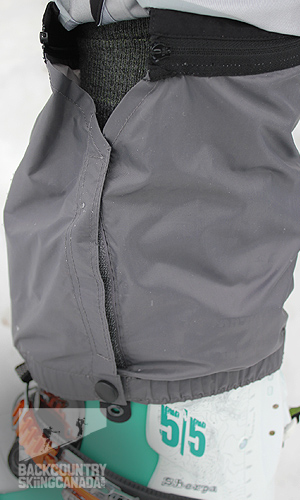 Full frontal and back side.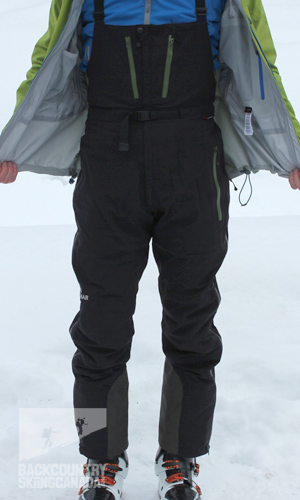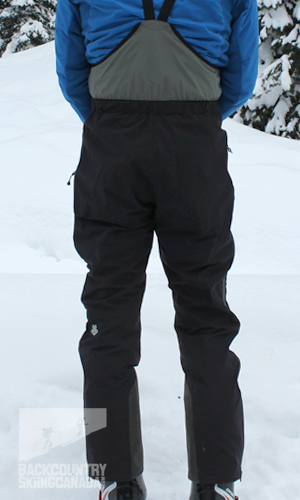 Verdict:
The Jöttnar Bergelmir jacket and Vanir pants is no-nonsense ski mountaineering outfit built to be rugged, lightweight and functional. The athletic fit is top notch with the exception of the narrow pant cuff on the Vanir pants. But for the intended use of this outfit that likely isn't an issue. The Neoshell fabric feels somewhere between a hard and soft shell, but the build, quality and durability ensure this jacket is the business. At $1,100 for the kit, it's at the top of the cost spectrum but the long list of features, quality manufacturing/design and use of Polartech Neoshell set this duo apart from others we've tested.
Some of the favourite features include the single main zipper on the Bergelmir Jacket as dual zips tend to be a pain when hands are cold. The dual chest pockets are super deep and make up for the lack of hand warmer pockets which help keep the bulk and weight to a minimum. The Vanir pants have two additional pockets in the bib which provide more storage for smaller items that need to be protected from the elements. The built in suspenders and belt keep the Vanir pants fitting well so they move with you and not against you. The removable gaiters are easy to leave behind thanks to their zip out functionality and the large scuff guards on the inside legs keep ski edge cuts to a minimum.
The Jöttnar logo is that of the Thor's Hammer which in Norse myth is called a Mjölnir which was a fearsome weapon that provided protection and was capable of levelling mountains. An apropos logo given that Jöttnar makes modern day suites of armour to help you conquer mountain giants.
Curious about more Jöttnar products? Then check out our review of the Jöttnar Alfar midlayer and the Jöttnar Fjorm down jacket.
SPECS:
Price: Jacket $650, Pants $450 CAN
Weight: Jacket 510g /1.12lb , Pants 690g / 1.52lb
Fabric: Polartec Neoshell 3-Layer
Warranty: 90-day replacement; Lifetime repair with a charge
PROS:
- Waterproof, durable and lightweight
- Remarkably Breathable
- Excellent athletic fit
- Streamlined design for mountaineering
- Packable
- Subdued colour (not neon)
CONS:
- On the high end of the price spectrum
- Limited distribution (direct orders available)
- Pant cuffs too tight for regular ski boots
- Jacket colour is safe for dirt and grime but not that exciting for photos
- 90-day warranty
Rating: 9/10
Fit/Mobility 1.5/2
Packability: 2/2
Waterproof/Breathable 2/2
Features: 2/2
Quality/Price: 1.5/2

This is only our opinion. Do you disagree? Did we miss something? Are we totally out to lunch? Join the discussion in the forums here, and let us know what you think. People like/dislike gear for different reasons so chime in and we'll get a well-rounded evaluation.
Back to the rest of the reviews.
---