Jottnar Fjorm Down Jacket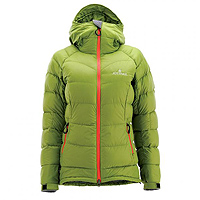 "Jöttnar provides the armoury to Conquer Giants."
With a company philosophy that'll make you give them a fist pump as you read it, Jottnar is building gear to withstand the most hostile conditions. Founded by two climbers/former marines, they value quality, and they make small runs of intelligently designed, beautifully crafted apparel. Intrigued? I was.
I received two jackets from Jottnar to review (the Jottnar Alfar mid layer and the Jottnar Fjorn Down Jacket, both available for women and men) accompanied by a hand written note in the package. Turns out the note was a pretty accurate indicator of what I found: attention to detail is evident in every area of the Fjorm's design.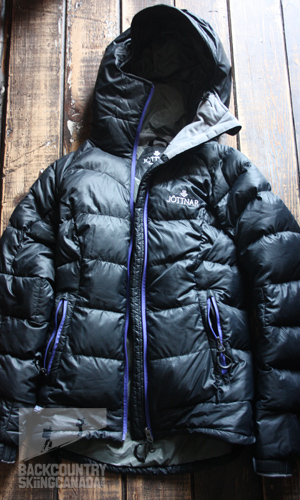 The warmth factor:
The Jöttnar Fjorm's 850 fill rating refers to the loft and warmth of the jacket. On a scale where 400 fill is considered 'medium warmth' and anything above 700 is 'extremely warm', the Fjorm comes in on the high end for both warmth and down quality (not to mention it's also certified non-live pluck, anti-bacterial and anti-microbial). Designed as an expedition jacket, the Fjorm is built to keep you warm in extreme conditions. It also has body mapped fill, which means that there is more down in certain places to provide insulation where you need it, and less where you don't. Box wall construction does an excellent job of retaining heat as well. To top it off, the jacket is coated with ultra-lightweight DWR rip-stop face fabric, which allows for full loft and breathability.
The fit:
Many down jackets out there are cut like a sleeping bag with sleeves, but not the Fjorm. This jacket is tailored to every curve of a woman's shape, with a lower cut in the back, and a snug fit through the hips to accommodate a harness or pack with waist belt. Great attention has been paid to the design of this jacket, and the result is more comfort, more mobility, more warmth, and better performance. I never knew a down jacket could be cut into such a flattering shape, and this element of style makes it all the more appealing.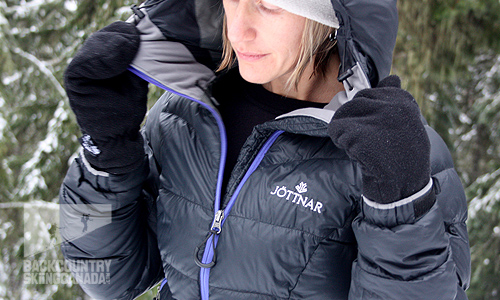 The feature list:
The Jöttnar Fjorm has big helmet compatible storm hood with a mouldable peak. There is an external adjustment on the back of the hood, internal adjustments to avoid wind whiplash and sub-zero cord icing, along with a soft lining around the face. The hood is cut in such a way that when it's fully zipped, it can't possibly be blown off, even without any of the cords cinched. If worn fully zipped with the hood down, it tucks itself neatly into the back of your head so that no snow can blow in from above.
NEUTRON™ 120 synthetic, breathable insulation has been placed in potential wet-out zones at the cuffs, hem and collar. The wrist cuffs are lined with Rentex, an extremely soft quick dry fabric that feels like fleece only better, and the same fabric brushes up against your chin. Other features include a 2 way belay-friendly zipper, generous hand pockets, a large zippered interior mesh pocket, and a drawstring at the waist. There are firm rounded pull cords on the zippers so you can open and close them easily with gloves or mitts on.
Field notes:
The Fjorm performs at the top of its' game in the field, making adventuring all the more fun when the mercury really plummets. I have personally never been so comfortable and happy in -30C degree conditions. When the wind is howling and you're being pummelled by blowing snow, and you barely notice, this is when you know you've found the right jacket.
Movement is easy as this isn't a giant oversized item of gear and I loved how warm I stayed despite feeling like I was wearing something very lightweight. I found the 850 fill to be plenty of warmth with just a first layer under it in many conditions, and it paired well with an insulation layer for the colder days. High winds, blizzards, and wet snow were no match for the Fjorm; I was really impressed with its' performance in the mixed bag of weather we see here on the West Coast. This is the perfect jacket for expeditions, winter camping and staying comfy in the cold Canadian winters. It is so light and packs so well, that I've carried it with me on every single trip since it arrived at my door.
Packs super small in it's own stuff sack.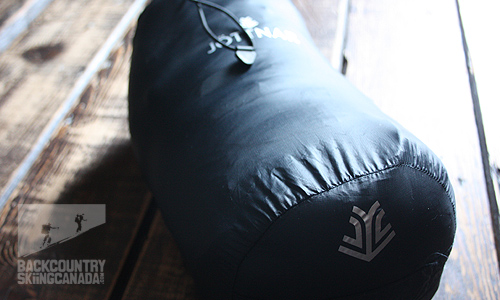 Materials:
- 850 Fill Power hydrophobic (water repellent) 93/7 goose/duck down
- DOWN-TEK™ - dries more quickly + retains loft longer than regular down
- NEUTRON™ 120 synthetic, breathable insulation in potential wet-out zones at cuffs, hem and collar
- Ultra-lightweight DWR rip-stop face fabric
Warm 850 fill, with box wall construction.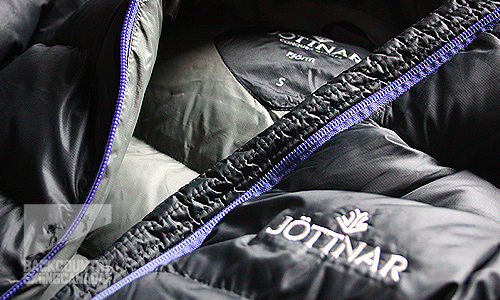 Features:
- Belay-friendly 2 way main zip
- Internal hood adjustments to avoid wind whiplash + sub-zero cord icing
- Body-mapped fill
- Box wall construction
- Oversized zipper baffling
- Helmet Compatible storm hood
- Mouldable peak on hood
- Athletic, streamlined, articulated cut
- Internal mesh pocket; fits 1L bottle
Glove compatible zipper pulls.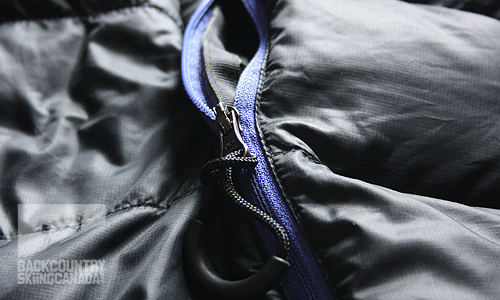 Adjustable cuffs with Rentex lining.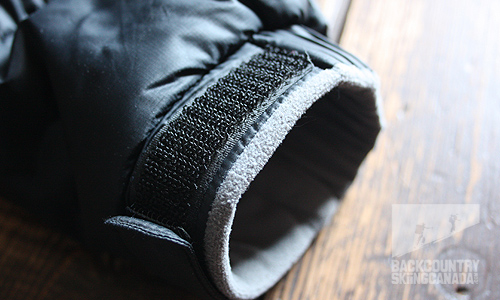 Back of hood adjustment.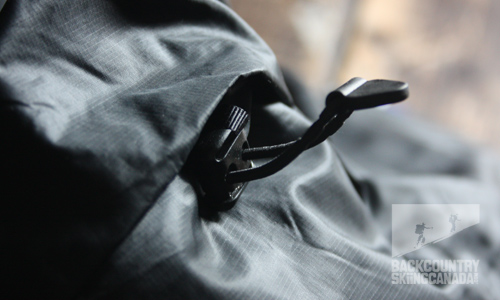 Verdict:
I have been staring at the Fjorm jacket beside me while writing this, wondering if I might spot some oversight that would even out my rave review, but there is nothing. So, amazing piece of gear, Jottnar, I give you a 10! This jacket is thoughtfully designed, performs beyond my expectations in the field, and has a feature list that goes on forever. It even comes with its' own little stuff sac, to keep it safe and tiny in your pack. If this is what Jottnar is capable of producing in their early stages, I can't wait to see what comes next.
Curious about more Jöttnar products? Then check out our review of the Jöttnar Alfar midlayer and the Jöttnar Bergelmir jacket and Vanir hardshell pants.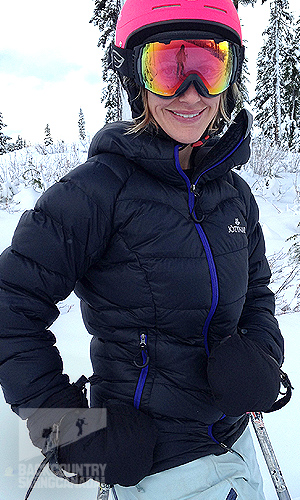 SPECS:
Price: $520 CAN (approximate)
Weight: 537g / 1.183lb (women's medium)
Sizes: S, M, L
Colors: Black, Green (women) / Mantis Green, Ink, Vintage Oak, Black (mens)
PROS:
- Design is amazing
- Materials are top of the line
- Extremely warm
- Feature list goes on forever
CONS:
- Not readily available in Canada (yet), but you can buy it through the company web site.
Rating: 10/10
Fit 2/2
Packability 2/2
Warmth 2/2
Features 2/2
Quality / Price 2/2

This is only our opinion. Do you disagree? Did we miss something? Are we totally out to lunch? Join the discussion in the forums here, and let us know what you think. People like/dislike gear for different reasons so chime in and we'll get a well-rounded evaluation.
Back to the rest of the reviews.
---