Jottnar Alfar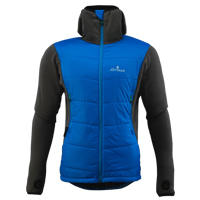 Jöttnar is a small group of adventurers (2 founders and a pro team), who make thoughtfully designed, beautifully crafted apparel. As explorers, climbers and former Royal Marines, they know all about the importance of gear performance in the most hostile conditions. Drawing from their experience in the elements and a desire to make amazing gear in small runs with the utmost attention to detail, Jöttnar was born. Their slogan is 'Conquer Giants' and that's exactly what you'll be able to do wearing the armoury they've created for you.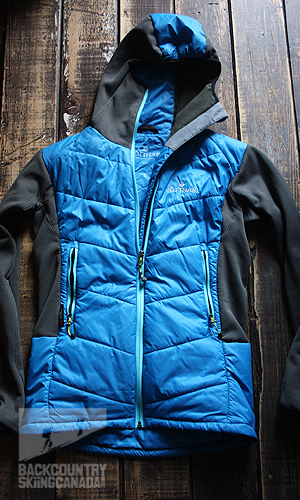 Lightweight hybrid technology:
The Alfar is a lightweight hybrid insulation layer available for women and men, which can also double as an outer layer. It is designed for fast-paced aerobic activity in cold climates where mobility and breathability are key. With a unique hood that acts as a balaclava, back-of-hand protection, a warm vest-like torso and stretchy breathable sleeves, this jacket lives up to its' hybrid name.
The Polartec® Powerstretch Pro® sleeves are paired with a NEUTRON™120 main body of synthetic, breathable insulation. A 30 denier windproof, micro rip-stop nylon with DWR finish coats the body. The Polartec® Powerstretch Pro® areas of arm and partial side panel allow for a greater range of movement, which is ideal for skiing and climbing, while the torso area keeps your core warm. The hood is a mix of both materials.
Fit:
The Alfar is designed with an athletic, streamlined, articulated cut. It is close fitting to provide warmth, and it layers well under other jackets. There is no extra material to hinder movement, and the torso is cut slightly longer, which is great for sports like climbing where you're stretching your arms above your head.
Features:
The Alfar's hood doubles as a balaclava, which can be worn under a helmet. I tried out this combo with my ski helmet, goggles, and the hood zipped right up, and not even a snowflake could get past the Alfar. This pretty much takes care of the snow-down-the-back-of-your-neck situation, as the balaclava/jacket combo is never going to let that happen. This is a great set-up for use with a climbing helmet or biking helmet to keep your ears warm.
There are roll-away thumb loops and back-of-hand protection at each cuff, to offer as much coverage for your hands as possible. This is a nice feature for staying a bit warmer when climbing, adjusting something, or taking photos. The pockets are harness compatible, and are just high enough to be fully accessible but not too high to render them useless as hand warmers. Flatlocked anti-chafe seams, corded glove compatible zipper pulls and a one-handed elastic hem drawcord round out the feature list.
Available in 4 colours, I tested the digital blue which is a gorgeous combo of royal and light turquoise blue with yellow accents on the zips. Impeccable stitching covers every inch of the Alfar, reminding you that this is truly a finely crafted garment.
- Athletic, streamlined, articulated cut
- Flatlocked anti-chafe seams
- Harness compatible pockets with YKK zippers and front facing insulation
- Roll-away thumb loops and back-of-hand protection
- Panelled hood with NEUTRON™ 120 synthetic, breathable insulation in centre; stretch Polartec ® Powerstretch Pro® at sides
- YKK® centre front zipper
- Corded, glove compatible zipper pulls
- One-handed, elastic hem drawcord operation
Performance:
It is clear that the Alfar has been designed with other gear in mind. I loved how the jacket, harness, and helmet all worked seamlessly as a set. Curious to test the limits of the Alfar, I wore it on a strenuous ascent, with some other gear tucked in my pack as backup. I chose a cold windy day and set out to see what I would find. As with the harness, my pack's waist belt fit perfectly with the placement of the pockets. I was impressed with how easy it was to move about, thanks to the stretchy, close fitting sleeves. The breathability was nicely balanced with the warmth factor, and to my surprise I never even opened up my pack for those other layers at all. The Alfar's ability to keep you both cool and warm simultaneously removes the need to be constantly rearranging your gear layers all the time. When I stopped mid way up I found that I stayed warm, which was a welcome change from either: freezing all of a sudden or layering up temporarily. I went on to wear the Alfar in lots of different weather conditions and came home happy after each trip.
Materials:
- Polartec® Powerstretch Pro® sleeves
- NEUTRON™120 main body synthetic, breathable insulation
- 30 Denier windproof, micro rip-stop nylon main body outer with DWR finish
A great hood/balaclava combo, using both materials.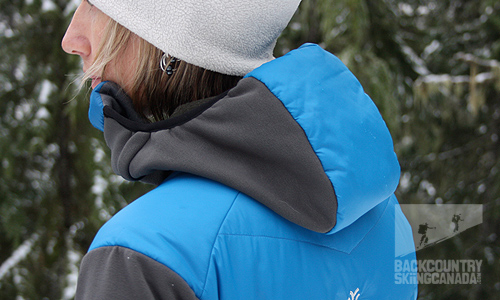 Harness compatible pockets.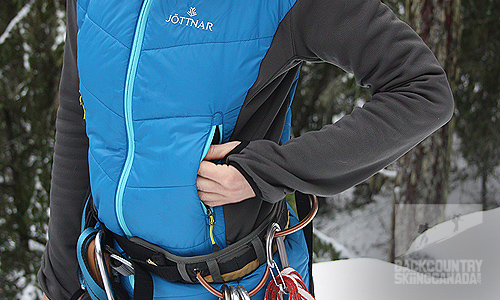 Roll away thumb loops and back of hand protection.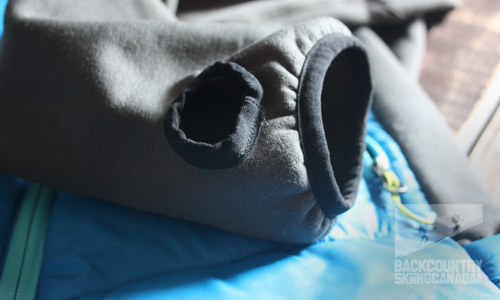 Beautiful color and beautiful stitching.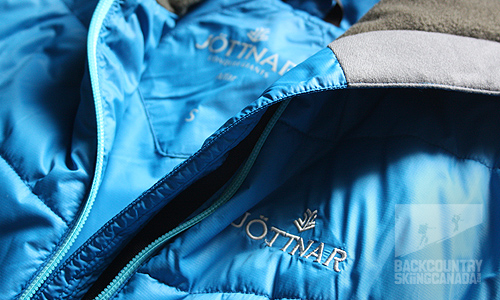 Glove compatible zips.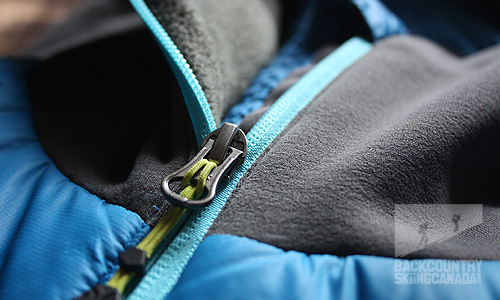 Verdict:
The Alfar is the kind of jacket you can use no matter what you're doing, and I've found myself wearing it pretty much non stop since it arrived. It's a great layering piece yet it also stands alone against the elements just fine too. It's form fitting cut makes it like a second skin, while still being very warm. Breathability is key for mountain travel, and it does a great job of managing excess heat and moisture. The Polartec Powerstretch Pro showed a bit of wear early on, thanks to some scratchy rock, but this is minor, and all around this is a great jacket.
The thing that struck me most about testing both Jöttnar products was their quality and performance. This small company has stepped into the arena of gear giants, and they're poised to conquer.
Curious about more Jöttnar products? Then check out our review of the Jöttnar Fjorm down jacket and the Jöttnar Bergelmir jacket and Vanir hardshell pants.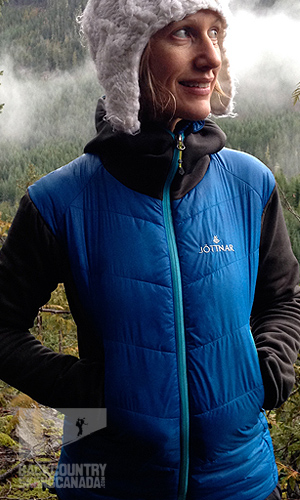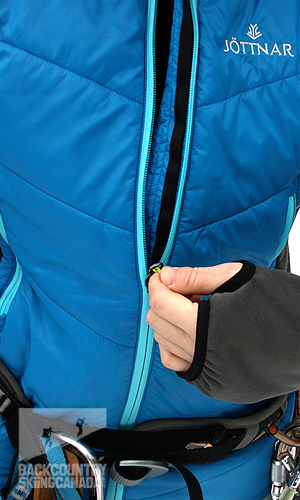 SPECS:
Price: approx $250CDN
Weight: 404g / 14.2oz (women's medium)
Sizes: XS, S, M, L
Colors: Garnet, Yak, Digital Blue, Black
PROS:
- Beautifully constructed
- Materials are top of the line
- The built in balaclava is awesome
- Pairs well with a harness, pack, shell, and first layer
- Lightweight and easy to move around in
CONS:
- Not readily available in Canada yet
- Polartec Powerstretch Pro areas showed signs of wear early on
Rating: 9.5/10
Fit 2/2
Materials 1.5/2
Warmth 2/2
Features 2/2
Quality / Price 2/2
This is only our opinion. Do you disagree? Did we miss something? Are we totally out to lunch? Join the discussion in the forums here, and let us know what you think. People like/dislike gear for different reasons so chime in and we'll get a well-rounded evaluation.
Back to the rest of the reviews.
---

Backcountry skiing is an inherently dangerous activity that requires experience and knowledge to travel safely. Any of the routes on this site may be dangerous depending on conditions. You are responsible for your own safety in the backcounty—the team behind backcountryskiingcanada.com disclaim any responsibility for any injury resulting from people travelling on routes described on this site. To read our Terms of Use and get all the details, read HERE.
---