As is common practice, let's let some pictures do the talking.
Dynafit TLT Radical ST Tech alpine touring bindings mounted on a pair of Dynafit Huascaran skis. A match made in heaven (or somewhere in Germany).

Here's a close-up of the Radical ST toe pieces. See the little pins that fit into the sides of tech compatible boots? These are the pivot points which allow for the toe-only attachments and differentiate tech from heavier, chunkier frame bindings.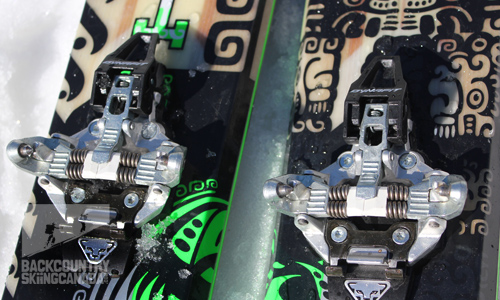 Here, the boot is engaged in the toe piece. It's ALL that attaches you in touring mode, and it's all that you need.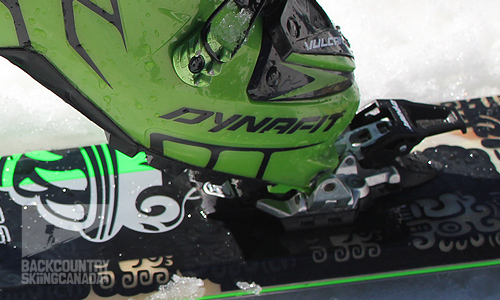 A side view of the heel piece in alpine mode, with the boot out of the picture. These forward pointing posts are what hold in the heel of your boot. The silver, machined components on top are the climbing bail/heel-lifter things that replace the old volcano-style lifts on earlier Dynafit models. They offer two positions, in addition to the flat option, and are a breeze to operate.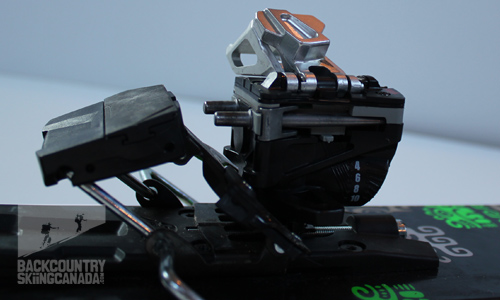 This is a top view to help orient you. Note that the heel piece rotates clockwise to change from tour to alpine modes. This is different than with the older Vertical model but is easy to get comfortable with.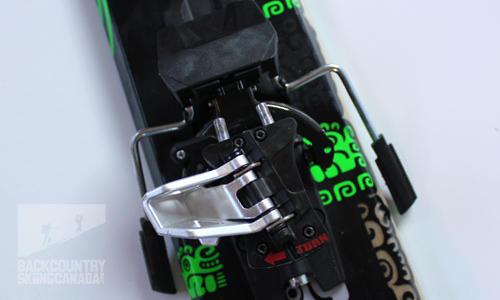 Here, in this action shot, you can see how easy it is to engage the heel lifts—just a simple flip with a pole grip. Because it's so easy, I find myself using the lifts more and saving more energy. Bueno.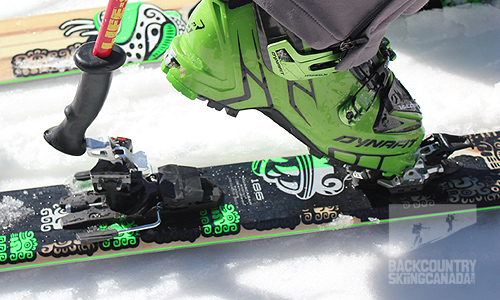 Radical ST binders from behind. They look weird, which is a plus in my books. We're seeing more and more of these at Whitewater Ski Resort and I'll bet at least half of the people we see ski touring are on some kind of tech binding; most of them Dynafit.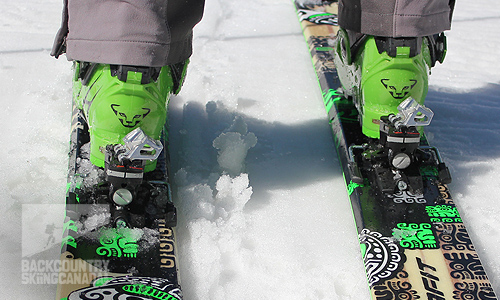 Verdict:
Unless you are a super-aggressive skier who is afraid of releasing, these bindings make total sense. It's no wonder why virtually every ski guide and serious ski tourer uses them. I've been skiing on various Dynafit bindings for seven years and they have never given me a problem. Ever. I suggest you take them out for a tour one day and see just how different they are from a standard "frame" binding. Not only are they remarkably light and easy on the up, they also allow your skis to flex evenly across their length, rather than frame bindings which interrupt this desirable flex. They are up to two lbs less than a Marker Duke binding—on each foot. Over the course of a mile, that literally saves you the trouble of lifting about 4,500 lbs. Unreal.
SPECS:
Price: $485 CDN
Brake sizes: 100, 130 mm
Weight: 531g / 1.17lb (single)
Colours: black
DIN Range: 4-10
Materials: 7075 forged aluminum, CrMo steel, high-strength plastic, stainless steel
PROS:
Lightweight, robust, intelligent design. They work fine on big skis. I originally had a pair of the beefier Radical FT for the Huascaran skis I have (114 underfoot) and I traded "down." Lighter weight and plenty strong they are (as Yoda would say).
CONS:
They may take a little getting used to. Some people take a while to trust that the simple toe and heel interface are sufficient to hold them. It does…get over it. At 500-or-so beans, they ain't cheap. Treat them with love and affection and they'll last you a long time. Because Dynafit products are made in Europe, there are availability issues sometimes. Order early or buy them immediately if you see them.
Rating: 9/10
Ski/hike performance 2/2
Transition 1.5/2
Durability 2/2
Weight 2/2
Quality / Price 1.5/2

Join the discussion in the forums here, and let us know what you think. People like/dislike gear for different reasons so chime in and we'll get a well-rounded evaluation.
Back to the rest of the reviews.
---