Do you like looking at pictures? We do. Here's a picture of the whole family. The speedskins are lighter than "regular" skins because of their 80-to-20% mohair to nylon ratio.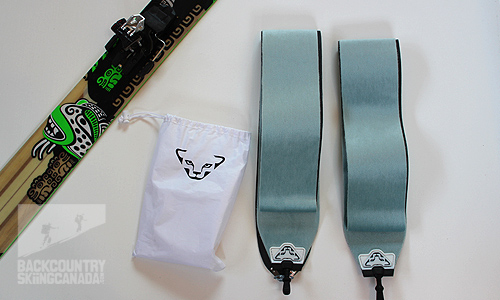 Here's a pic of the toe attachment from the sticky side. See the little rubber ball part? That is what attaches the skin to the ski (you'll see what I mean in a sec.). Note also that the horizontal metal pin you see means the piece is replaceable.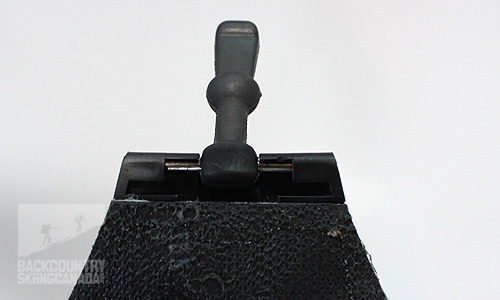 Here's what it looks like "engaged"—with the sticky side now facing the ski. The stretch of this rubber component is what allows for the speedskin's easy on/off action.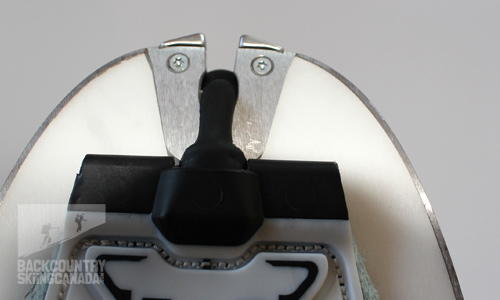 Side view – just to be thorough.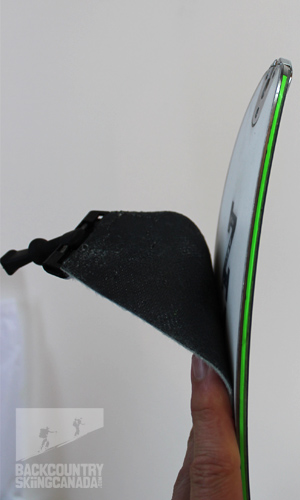 Now to the tails, bottom and top respectively. Here is the metal tail cam that makes for a super-tidy attachment. It's also the part you have to consider when ripping you skins with your skis on. These'll bend if you don't slow down toward the end of your ripping action.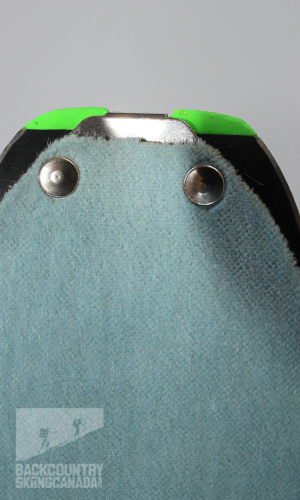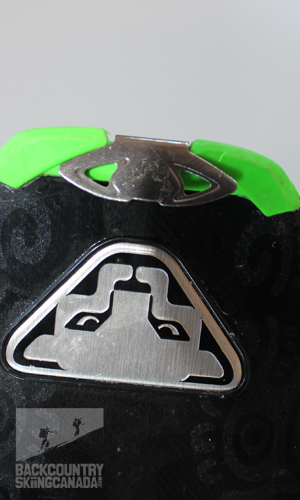 Finally, a side view showing how it all fits together. I think this may have been taken before I bent my tail cam back. This looks a little less tight than it usually is. Regardless, I hope you get the idea.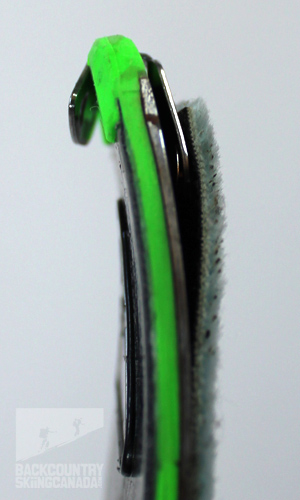 Verdict:
These are the best skins I have ever used. They are lighter and more easily folded than non-mohair skins, their custom tips and tails work marvelously with Dynafit skis and their grip to glide ratio is outstanding. I have used them in the Adirondacks as well as the Valhallas/Selkirks in temps ranging from -15 to around +5C. The glue employed is less sticky than some but this has never been a problem. I've never used them for more than one season—so I can't speak to durability, but they seems pretty
SPECS:
Price: $180ish US (if you can find them)
Weight: 390g for 177cm
Colour: Blue
Material: Mohair 70%, Nylon 30%
Construction: Three layer. "velour, membrane, primer"
PROS:
Light, easy on/off, packable. Laser cut to specific ski models, great glide.
CONS:
Hard to find in Canada, won't work with other skis, a little spendy.
Rating: 9/10
Grip/Glide 1.5/2
Glue 2/2
Attachments 2/2
Weight 2/2
Quality / Price 1.5/2

Join the discussion in the forums here, and let us know what you think. People like/dislike gear for different reasons so chime in and we'll get a well-rounded evaluation.
Back to the rest of the reviews.
---