Kokanee Glacier—all it's cracked up to be and more
Kokanee Glacier Provincial Park just East of Nelson BC offers relatively easy access to Kokanee Glacier which gives the park its name. While there are technically five glaciers in the park, Kokanee is by far the largest followed a distant second by the Woodbury Glacier. While all of the park's glaciers are receding with climate change they still provide easy access to discovering a world that seems prehistoric in nature. For hikers, Kokanee Glacier is found by following the trail to Kokanee Glacier Cabin then taking a hard right to the Slocan Chief Cabin and continuing on a little further until the glacier fills the southern views. For those looking for the more advanced and direct route, you can climb the 800 meters to the Keyhole which holds the entranceway to the top of Kokanee glacier. Having already climbed this route in July of this year to ski the glacier we opted for the easier less direct route of Kokanee glacier Cabin but took a slight short cut up and over the shoulder of Smuggler's Ridge just under the Pyramid.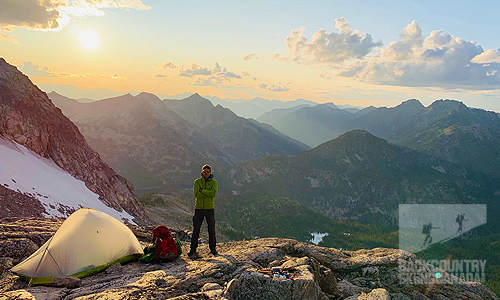 Taking a break on the shores of Kokanee Lake.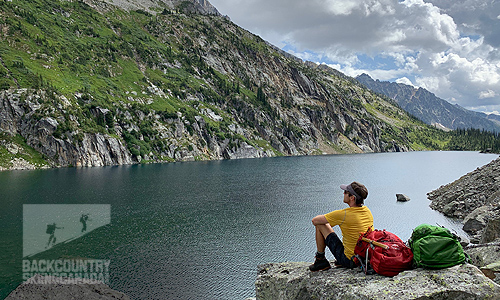 Camp is set up on a relatively flat section of the rock feature known as 'The Battleship'.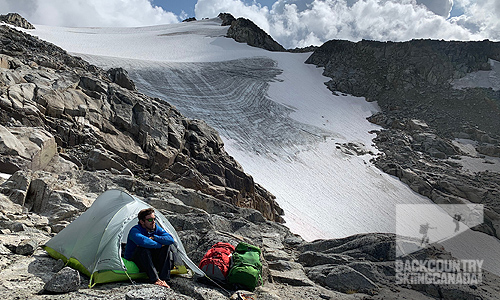 Views of Kokanee Glacier Cabin and Kaslo Lake provide a nice backdrop along with killer sunsets.



After spending the night on a rock feature known as 'The Battleship' we donned crampons/harnesses and roped up for the long walk up and over to Grays Peak. Along the way, there were several large cracks which opened up in the ice—these crevasses were larger than I've seen before and could possibly be attributed to a low snow year and warmer than average summers. None-the-less they provided an intriguing look into the depths of the glacier and reminded us to keep our wits about us.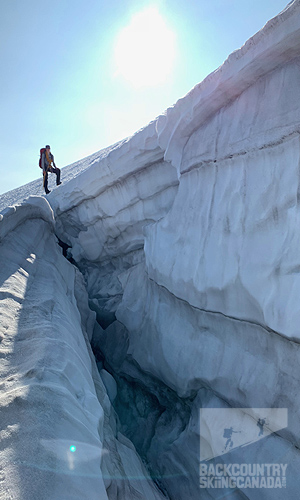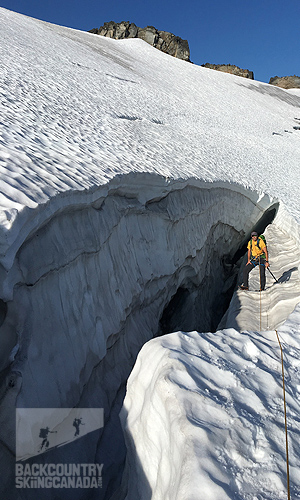 After a few hours of walking, we made it over to the saddle just north of Grays Peak and then continued on up to the summit where we had lunch and took in the views. After a brief and welcome rest, we were soon on our way down and back to the car. We fought through boulder and alder fields dropping 4,000ft in just over two hours, the thought of a dip in Kootenay Lake on the way home kept us motivated and moving at a good clip.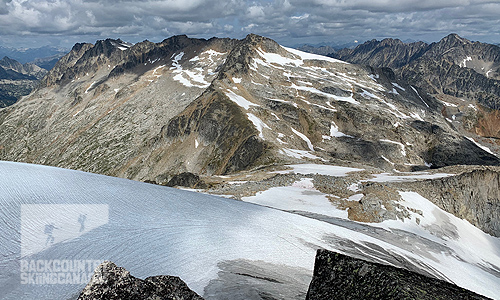 Over the course of two days, we covered a distance of 20km in just under 10 hours and had an elevation gain/loss of 1,600m or 5,250ft.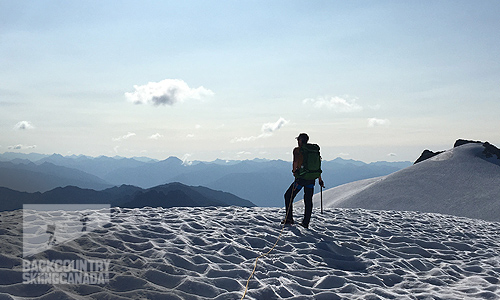 For a closer look at the entire route and all the stats you could ever want, check out our Gamin Connect page that has all the info from my Garmin Fenix 5X GPS Watch.