Skiing Kokanee Glacier in July
While the US is having one of its longest ski seasons on record with several resorts making it to the July 4th milestone, it's been a different story here in the not so Great White North. With a lower than average snowpack for the 2018/19 winter here in British Columbia and a much warmer than normal spring, our snowpack all but washed away in May. This left little options for Summer skiing in July on anything but glaciers. Luckily Kokanee Glacier is a stone's throw away from Nelson where Backcountry Skiing Canada is headquartered, and equally lucky that I have a keen son who was adamant that he wanted to make some turns on his 16th birthday.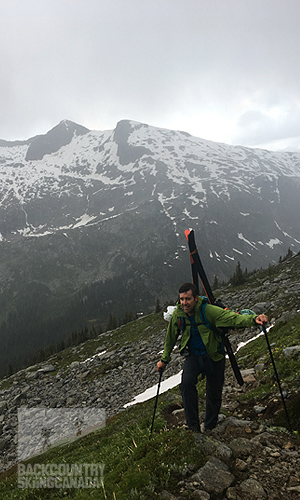 The day started early with a 4:45am wake-up and a 5:30 departure from Nelson. This put us at the trail head at Gibson Lake in Kokanee Glacier Park by 6:30 and at the saddle of 'The Keyhole' before 9:00am. The Keyhole is the most direct route to Kokanee Glacier via a well-worn trail that heads up to Kokanee Lake but turns East just short of the lake. From there its a steep and sustained climb of almost 4,000ft to the ridge where you sneak between rock spires via The Keyhole.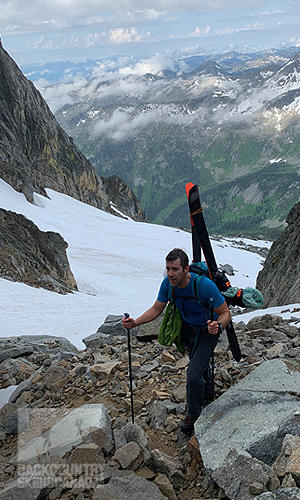 The weather was variable at best with thunderstorm threatening all morning so we didn't waste any time in getting to our destination, the idea was to get up and down before Mother Nature played with us and potentially taught us a lesson we weren't in the mood to learn. After intermittent rain showers and good soaking, we arrived at The Keyhole in record time. We quickly relieved our backs of the omnipresent weight of our skis and boots and transitioned to ski mode.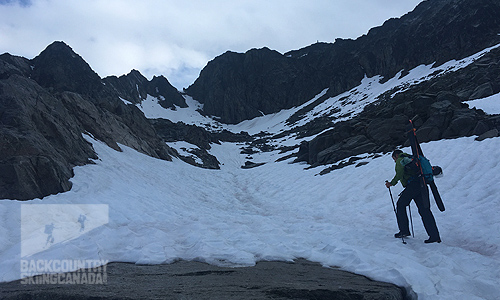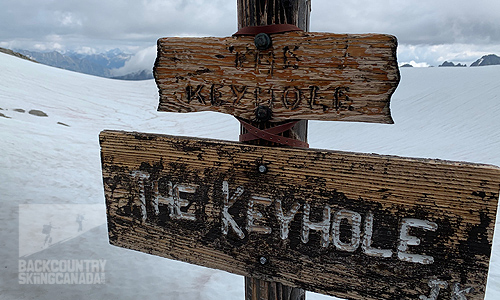 The Glacier was in fine form with 100% snow coverage and no signs of crevasses anywhere. The sun cups were moderate in size and easily skiable given the soft snow that formed them. With only the bergschrund showing its face at the top of the glacier we toured over to the 'Giant's Kneecap' and made long sweeping turns down Kokanee Glacier toward Kokanee Glacier Cabin. Since the snow melt was more than anticipated our turns ended far short of valley bottom so instead of losing elevation to meet the trail we took a short cut over the shoulder of the Pyramid and down to Kokanee Lake which led us back to our car parked at Gibson Lake.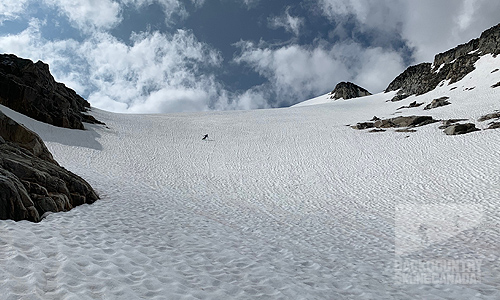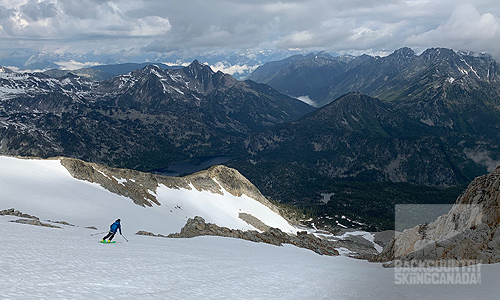 Round trip, Kokanee Glacier via the Keyhole was 16km with 1,284m / 4,212ft of elevation gain which took us just under 6 hours to complete. Not bad for a 16yr old straight off the couch with dreams of Summer ski turns in his head.

Get all the details of this adventure on our Garmin Connect page here as tracked with the Garmin Fenix 5X GPS watch.